The Grivel Evo is recommended by gear tester David Lintern who has owned one of these T-rated axes for nearly a decade.
I'm very familiar with the Grivel Evo ice axe, having owned one for nearly a decade. It's a T-rated axe so can take you onto roped climbs should you wish, but although it's one of the heavier axes in this roundup, it's still light enough to backpack with (and I have, many times).
Rating: 4/5
Cost: £160
Weight: 552g (59cm) including leash, 504g without
Pros: secure grip, massive adze
Cons: durability of grip over long term
Materials: Steel head, pick and adze (1 piece hot forged), Aluminium shaft | Technical rating: Technical (type 2) | Grip: Rubberised | Leash or Pommel: Leash (48g) and a pommel (called the G slider) can be purchased separately | Lengths available: 48, 53, 58, 66cm
The 59cm shaft is long enough to make this ice axe very useful in walking mode. It's perhaps a touch long for very steep terrain for me, but it's a great all-rounder. A very gentle curve sits high on the shaft, so plunging the Grivel Evo into soft snow is relatively easy. There is a sharp, hefty pick and a huge adze which clears snow for steps or a ledge with relative ease.
The rubberized grip is excellent. It's short (1 hand span) but includes slight finger indentations and is feels very secure in the hand. The grip can collect a little snow, but I've never found it reduce the ability to fully plunge the Grivel Evo if needed.
The balance is slightly top heavy but that does mean excellent performance when at the 'sharp' end, in that the weight of the head does most of the work. My single concern is the spike. It will take a sling or leash and gives excellent purchase, but it is thin and prone to wear over time. The plastic stopper that sits between the spike and rubber grip also gets very beaten up.
The Grivel Evo is a superb weight for a T-rated axe, equally at home walking or on steeper ground, with that one caveat about the spike.
Compare this axe with other models in our buyer's guide to the best ice axes. Lucy Wallace reviewed the Grivel Evo in 2021 – you can read her verdict here.
SQUIRREL_BUTTON_12987264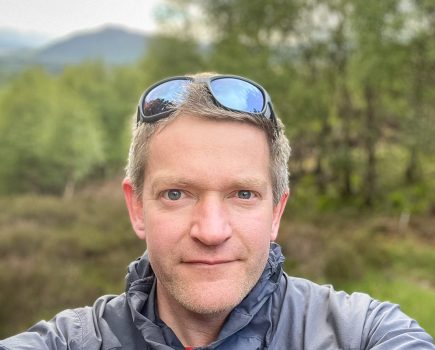 Testing conditions
David is 5 foot 8'', medium build but probably could have better upper body strength (these things are relevant to testing winter metalwork). He tested these axes while hillwalking and on easier graded mountaineering routes during the winter of 2022/3, from Ben Wyvis to Creag Meagaidh. He was often in the Cairngorms with two (or more!) of the review samples to allow comparison of weight, balance and performance, side by side. All axes were weighed on David's digital scales.