Looking for a multi-day hike in a beautiful part of Ireland you might never have heard of? Alex Roddie hikes the Beara Way, finding sandy beaches, rugged peaks, and colourful villages.
Southwest Ireland is a special place. Jutting out into the Atlantic is a series of mountainous peninsulas, each with a distinct character. Although the Iveragh Peninsula is the largest and perhaps the best known to walkers, the others have a lot to offer too. The Beara Peninsula, home of the Beara Way, sits between the Iveragh and Sheep's Head Peninsulas, accessible from the towns of Bantry and Kenmare. Although the highest peak, Hungry Hill, reaches only 685m/2,247ft, don't be fooled; many of these mountains are extraordinarily rough and rocky.
Main image: Approaching the more remote western part of the peninsula. | Credit: Alex Roddie.
Some parts of the Beara Peninsula have a Devon countryside feel, while others resemble Skye if you squint a bit – particularly the many miles of fabulous cliff-ringed coastline. But, beyond comparisons to other hiking areas, this is quintessentially Ireland. Villages are colourful and have a strong sense of community, the people are welcoming, and there is a sense of deep history. Ireland's rural depopulation and economic troubles are also very apparent here – you will pass countless ruined houses.
The Beara Way takes a meandering circuit throughout the peninsula, visiting many interesting spots: hills, passes, islands, secluded bays. It's well signposted and some sections make use of quiet green lanes and tracks, while others take to paths in the hills (these sections tend to be strenuous). Options for resupply and accommodation are frequent too.
If you're looking for wilderness then the Beara Way may disappoint. But if you're looking for a week or so in hills you've probably never heard of, taking side trips out to islands and quiet ocean bays and traversing an ancient human landscape rich with stories and culture, then this is one to savour.
Here's The Great Outdoors' guide to the Beara Way, featuring helpful tips on the following:
The Beara Way: at a glance
Start/Finish: Glengarriff, County Cork, Ireland | Distance: 209km / 130 miles | Ascent: approximately 6,400m / 21,000ft | Duration: 6 to 10 days | Maps: OSI 1:50,000 Discovery sheets 84 and 85
The Route
The trail begins in the seaside town of Glengarriff (from the Irish Gaelic An Gleann Garbh, "the rough glen" – you'll see why when you get there). If you're hiking clockwise, the first day heads straight into the hills for superb views south to Bantry Bay from near the summit of Sugarloaf Mountain (565m/1,854ft). A descent to the village of Adrigole is followed by another steep climb, and for the rest of day one there are several ascents and descents as the trail meanders around the southern flank of Hungry Hill and outlying peaks. This is the Way's most mountainous section, although it doesn't actually visit any summits.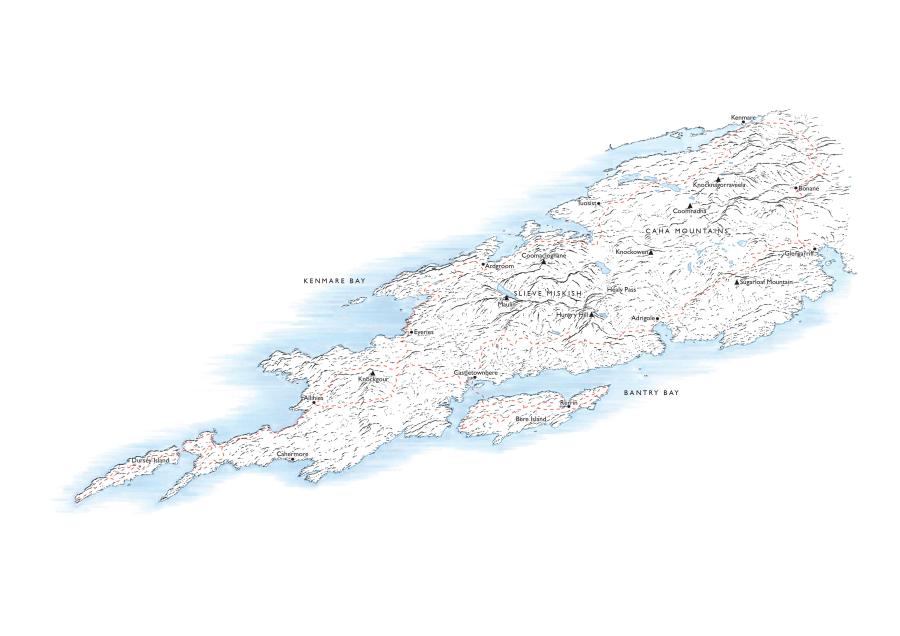 A descent to Castletownbere, a major working fishing port, is a good opportunity to get a feel for the culture of the area – and it's a great spot for seafood. The next stage is perhaps the most interesting. A ferry across Bere Haven will take you to Bere Island: a large island dominated by a range of low but beautiful hills. You will find many small settlements as well as evidence of fortifications dating back to the 18th century, including an artillery battery and Martello Towers.
After taking the ferry back to the mainland, the trail continues west over the flanks of Miskish Mountain and Knockgour to reach the historic copper-mining area around Allihies. The village itself is gorgeous, with pastel-hued houses lining a main street, and the abandoned mines nearby are fascinating. There is also a mining museum in the village.
Further west, the peninsula narrows and the landscape feels wilder. Passing many isolated farms on its way past beaches and coves, the trail heads towards Dursey Island at the westernmost point of the peninsula. At the time of writing the cable car to the island is out of action, but when accessible again it's worth hiking on Dursey for its end-of-the-world vibe.
After heading all the way back to Allihies, the Beara Way passes extensive ruined mines before taking the Old Copper Road over the hills to the northern side of the peninsula. The landscape here is more populated and feels less wild, but there are still some stunning stretches of coastline to enjoy, particularly around Eyeries.
It's worth the detour across the bridge to Kenmare, which is a large town with many amenities. Some hikers finish the trail there, while others will take an easy final day back to Glengarriff on quiet lanes.
When to Go
May and June are the best months. September through to April can be wet and windy, with waterlogged trails. Alternatively, a fine week in early November could be perfect for autumn colours.
Myths & Legends
On the Beara Peninsula you can hardly move for standing stones, stone circles, burial chambers, and other evidence of Bronze Age civilisation. And, thanks to the numerous information boards along the trail, it's easy to learn about specific myths and legends – and there are many!
There is a standing stone on Bere Island said to mark the island's precise centre, but nobody knows how the people who erected it plotted this location. Just past Ballydonegan, south of Allihies, is a tiny beach of yellow sand that, according to legend, is where the Milesians first landed after their voyage from the Iberian Peninsula around 1,000 BC. The Tuatha Dé Danann (believed to be the builders of the stone circles) tricked the Milesians with a magic wind that drove their ships out to sea, but the Milesians eventually returned to conquer Ireland – and drove the Tuatha Dé Danann underground to become the legendary Sídhe.
Transport
The best way to get to Glengarriff is from Cork; it is served by number 236 bus direct from Cork Parnell Place bus station several times a day. Local bus services can be used to access villages through the peninsula, although these often only run in summer. The Bere Island ferry runs several times a day throughout the year (less frequent in winter).
Accommodation
There are many hotels, B&Bs and hostels, although most will need booking ahead in summer, and some don't open until early April.
Camping is a feasible option. There are good campsites at Glengarriff, Adrigole, and Ballydonegan (the campsite at Kenmare has closed). Although wild camping is not explicitly allowed, it's widely tolerated – especially along the coastlines or in the mountains. When I spoke to locals about wild camping on my hike I was often given tips as to the best places to camp.
Resupply
Most of the villages on the peninsula have a well-stocked general store offering hiker staples as well as tea and coffee, fresh sandwiches, and hot food. There are also many cafes, pubs and restaurants. West of Allihies is more remote, however, and there are no real resupply options on this stage until you return to Allihies again – so stock up.
Essential Gear
If wild camping, carry a wind-resistant tent with a small footprint to make the most of cramped pitches on rough ground. Ensure your waterproofing strategy is up to the job: waterproof jacket and trousers, plus a pack liner, dry bags, or pack cover for your rucksack.
With boggy terrain in places, some hikers will be more comfortable in waterproof boots, although aficionados of trail shoes will find them ideal in warmer weather here. Consider carrying lightweight sandals for town stops.
For expert advice on everything from hiking boots and waterproof jackets to tents and sleeping bags, check out The Great Outdoors' reviews, buying guides and recommended products.
The Beara Way: Further Resources
Beara Tourism's website has extensive information about the Beara Way including comprehensive overview maps. The best current guidebook to the trail is The Beara & Sheep's Head Peninsulas: A Walking Guide by Adrian Hendoff (Collins Press).
An older guidebook by Dermot Somers (Beara Tourism and Development) contains the necessary Ordnance Survey Ireland (OSI) maps, but is now out of date. The required OSI maps are 1:50,000 Discovery sheets 84 and 85.
Discover more long distance trails as mapped by our expert contributors.