Wiggling through the glens and over the passes of Scotland's mighty north-west, taking in Knoydart, Torridon and Assynt along the way, 'Britain's toughest trail' is a long-distance walk of a lifetime. Andy Wasley gives us the lowdown on the Cape Wrath Trail.
Combining the challenge of a 370 kilometre (230 mile) multi-day hike with some of Scotland's most spectacular scenery, the Cape Wrath Trail has achieved a certain notoriety as Britain's 'toughest' hike. The terrain is rugged, rocky, boggy and remote; the path is often unclear; and supply points are limited, meaning you have to be self-sufficient for several days at a stretch in isolated country. But any competent hillwalker in reasonable fitness, and with some decent prior experience of backpacking, should be able to complete it, given enough time and determination.
Main image: Alex Roddie on the Cape Wrath Trail | Credit: James Roddie
I followed the Knoydart route for my hike in September 2022. This is a stunning part of Scotland, but is not to be underestimated: bogs, river crossings and rough terrain conspire to make this an exceptionally challenging route. But the rewards are immense, with truly world-class mountain scenery and wildlife often on show. This is an outstanding hike that will live long in your memory.
Here's The Great Outdoors' guide to the Cape Wrath Trail, featuring helpful tips on the following:
The Cape Wrath Trail: at a glance
START: Fort William | FINISH: Cape Wrath | DISTANCE: 370 kilometres / 230 miles | ASCENT: 14,000 metres / 45,951 feet | DURATION: Usually around three weeks
The route
There is no 'official' Cape Wrath Trail: the objective is to walk from Fort William to Cape Wrath (or vice versa), and it is up to you to decide how to do it. Many hikers follow routes described in the excellent guidebook, Walking The Cape Wrath Trail (Cicerone, £16.95).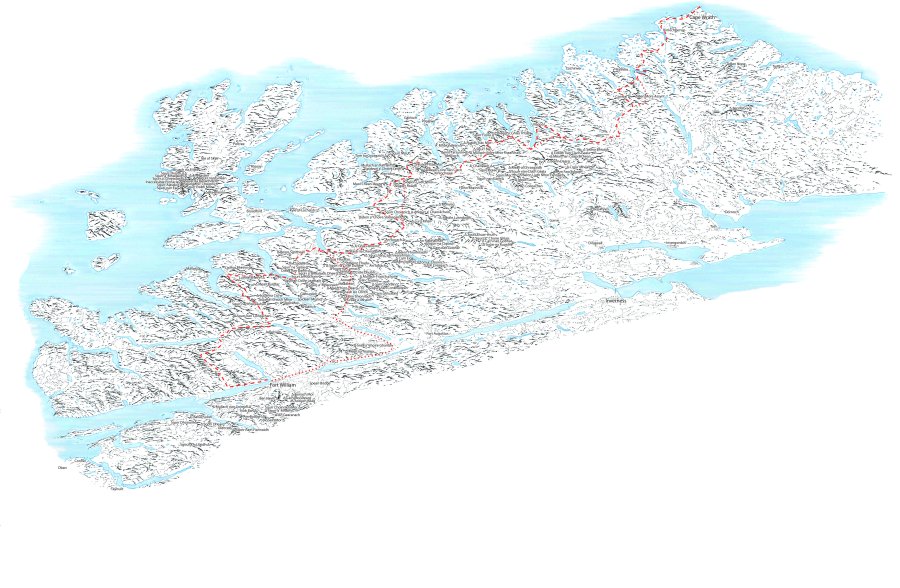 The first stage of the hike, from Fort William to Shiel Bridge, generally follows one of two popular variants: one along the Great Glen Way, via Invergarry and Cluanie; the other, via Knoydart. While in Knoydart you can divert via Inverie for a pint in the Old Forge, Britain's 'remotest' pub.
From Shiel Bridge, the trail heads north through Torridon and Fisherfield, ending in Ullapool. At one point, this stage follows a difficult route between Beinn Eighe and Liathach, clinging low to the northern slopes of Sail Mhòr – quite possibly one of the finest day-hikes anywhere in Britain.
Stage three tracks north through Assynt, running up and down craggy mountains whose tilted rock strata lend a primeval air to the landscape.
The terrain is often severe, with some potentially hazardous river crossings, before the route reaches its spectacular terminus: beyond Sandwood Bay, and north to the Cape Wrath lighthouse. Tea, beer and a warm welcome wait for you there, in the Ozone Café.
When to go
The main hiking season runs roughly from April to late September, when a foot ferry and minibus service is available from Cape Wrath to Durness (weather permitting – check capewrathbus.co.uk).
Early in the season the days are lengthening and the trail is reasonably quiet – but you stand a chance of spring storms, and if snow has clung to the high tops some of the trail can still be treacherous.
Summer months can be very hot and wearying, particularly in stretches of the trail without easy access to streams for clean water. Later in the year the weather can be more forgiving, but midges and other critters can conspire to have you begging for wind and rain – and deer stalking activity can put some bothies out of use.
Whenever you go, keep a close eye on the Ministry of Defence's information page about Cape Wrath, which is a military live firing range. Be prepared to end your hike at Sandwood Bay if firing times change and close the range before you arrive.
Hazards
Scotland's weather can be appalling at any time of the year – keep a close eye on the Mountain Weather Information Service (mwis.org.uk) when you have access to a mobile phone signal.
River crossings can present a significant hazard, especially in bad weather when even gentle streams can become too dangerous to cross. Bridges can and do get taken out of service. Mark your map, GPS device or guidebook up with alternative options in case you need to divert or turn back, or be prepared to wait for surges to subside.
Ticks are a potential health risk for the whole length of the trail, especially in summer and autumn, meaning tick removers are an essential first aid item. If you are bitten, keep an eye out for fluey symptoms or circular rashes around the bite – these could be symptoms of Lyme disease, a serious illness that should be treated quickly.
Water sources in the Scottish mountains are generally clean enough to drink directly from the source, but waterborne illnesses are a risk in lower watercourses and any that run close to where rodents might be active, including woodland. If in doubt, filter or boil your water.
Accommodation
Bothies are part of the Cape Wrath Trail's allure, offering opportunities to rest under cover, hopefully sharing stories (and maybe a nip of whisky) with other hikers by the fireside. Kearvaig, a short walk from the Cape Wrath lighthouse, is a must-visit – as is Shenavall, at the foot of An Teallach.
Bothies can be closed by the estates during deer stalking season (roughly from August to November). The Mountain Bothies Association website (mountainbothies.org.uk) lists up-to-date information about MBA-maintained bothies in Scotland, as well as the Bothy Code, which all visitors are asked to observe.
The Scottish Outdoor Access Code allows you to wild-camp across almost the whole route, but do take some time to read the Code before you set off to understand your rights and responsibilities. Finding a good pitch can be challenging, but wild-camping offers tremendous flexibility to stop whenever you choose. Please treat the land with respect, and leave no trace.
In settlements including Inverie, Shiel Bridge, Ullapool, Kinlochbervie, Inchnadamph and Durness, you can find hostel, hotel and B&B accommodation. Staying in these places means you are directly contributing to the local economy, as well as investing in dry feet and a good night's sleep.
Food and supplies
It is difficult, though not impossible, to depend on shops en route for your food – but if you can spend money in local businesses it will always be appreciated. Many hikers send rations ahead to their accommodation or post offices, limiting the amount of food that has to be carried at any one stage.
Be conscious of the trail's strenuous distances and ascents: a good mix of high-calorie hill rations with plenty of protein will help keep you fit for the trail.
Essential gear
Normal advice on hiking clothing applies: carry the best kit you can afford, and use a layer system so that you can warm up or cool down as necessary. Good waterproofs are essential. You will find plenty of advice on good gear in The Great Outdoors while you are planning your hike.
A personal locator beacon or GPS SOS device, like Garmin's inReach Mini 2, might not count as essential gear, but can be a lifesaver in an emergency – as can a map and compass in case your GPS devices fail. Please do not venture into the mountains without being sure you have the skills and confidence to navigate in all weather.
Footwear is a matter that has divided opinion among Cape Wrath Trail hikers: some swear by full-grain leather boots for their undoubted toughness and support. Others prefer quick-drying trail shoes. In September I wore inov-8's Roclite G 390 boots, a compromise between traditional hiking boots and trail shoes. While not waterproof, they dry quickly and are exceptionally comfortable.
For expert advice on everything from hiking boots and waterproof jackets to tents and sleeping bags, check out The Great Outdoors' reviews, buying guides and recommended products.
The Cape Wrath Trail: Further resources
Cicerone's 'Walking the Cape Wrath Trail', by Iain Harper, is an in-depth guidebook for the trail. Harvey Maps produce a laminated and waterproof two-map set for the route (North and South) at 1:40,000 scale.
For general literary inspiration, check out Alex Roddie's The Farthest Shore and David Lintern's Thunder Road: Voices from the Cape Wrath Trail (both regular contributors to The Great Outdoors). These two books take very different approaches to the trail, the former an account of walking the trail in winter, and the latter a photo-led exploration of people who live and work along the route.
Discover more long distance trails as mapped by our expert contributors.