Hiking sandals vs boots vs trail runners. It's the battle between lightweight minimalism in footwear and a more traditional approach to protection and support.
First, the good news. Innovations in lugs, grip and arch support across footwear designed for outdoor activities means that on whichever side of the fence you fall, you'll be able to find the right shoe, boot or sandal for your unique foot shape and conditions of use. The bad news? There's no 'one size fits all' answer when it comes to trail footwear. Neither your lightweight, water-going hiking sandals nor your sturdy leather hiking boots will suit every single adventure.
Main image: Trail runners in comparison to hiking boots in the Lake District | Credit: Jessie Leong
It's also worth noting here that hiking boots and hiking sandals are not your only options when it comes to trail footwear. Many hikers who seek lightweight but extensive coverage and protection from the elements now opt for trail runners as a happy medium.
For now, let's dive into the specific requirements of trail footwear and see which suits for each: hiking sandals or boots.
Hiking sandals vs boots vs trail runners: head-to-head
Weight
Despite the innovations in lightweight upper materials across trail runners and hiking boots, there is simply more material and more elements – think eyelets, laces and so on – in the construction of footwear with greater coverage. In fact, a lightweight footwear solution for warmer climates is why many hikers turn to sandals suited for outdoor activities.
Why does weight matter? Well, for anyone looking to walk big milage across multiple days, you'll want to keep the weight you're carrying on your back low, so you'd pick your pack and its contents wisely. The same applied to what you put on your feet. The heavier the footwear, the quicker your legs will suffer lethargy. Hiking sandals are perhaps the most lightweight trail shoe option available to walkers today – unless you'd like to try barefoot walking. But that's a story for another day!
Winner: Hiking sandals
Grip
Perhaps the most important factor to consider in terms of your safety when choosing hiking footwear is grip. This especially applies to anyone looking to walk or scramble or climb technical terrain. When the going gets tough and each foot placement counts, you don't want to be let down by what's on your feet.
For this, you want to focus on the footwear's outsole – or in other words, the bottom of the shoe. Soles should offer a level of grip to suit your chosen terrain. There's an easy rule to follow here: The deeper and more densely packed the lugs on shoes are, the better they will grip on wet, muddy and steep ground.
While some hiking sandals designed for long days on rougher terrain – such as the Lizard Super Trek – do have an impressive depth of lug for the weight and density of the shoe, they often don't compare favourably to that which is offered by a traditional hiking boot designed for anything from flat trails to steep scree ascents and scrambles.
Arguably and in general terms, trail runners should win out here as they are designed to tackle similar terrain to that of your average hiking boot, but at speed. Thus, grip is a major concern in their construction.
Winner: Trail runners
Support
Next up is support. If you're walking long distance in ill-supporting footwear you are at greater risk of causing discomfort and injury. For support, you want to focus on the footwear's midsole – or in other words, the bit underneath your foot that cradles your arch. Ideally, the mid-sole will be shock absorbing. This means it takes some of the impact with each step off your foot and leg. I find this particularly valuable towards the end of long days when I tend towards a slow plod rather than brisk, fleet-footed walk.
With more room for midsole support in its hefty design, the traditional hiking boot generally does well in this area.
Winner: Hiking boot
Protection
Simply put, on some terrain hiking sandals simply don't offer enough protection against the elements. At elevation or rough trails, you're more exposed to uneven ground underfoot as well as injuries to the upper foot and ankle. Most trail runners also leave this vital part of your foot exposed. It goes without saying that a foot injury at elevation could be disastrous.
The same applies to weather conditions. Hiking sandals leave you exposed to rain, wind chill and bitter cold.
While accidents do happen regardless of the footwear you choose, you should always make the sensible choice given the conditions you're walking into.
Winner: Hiking boots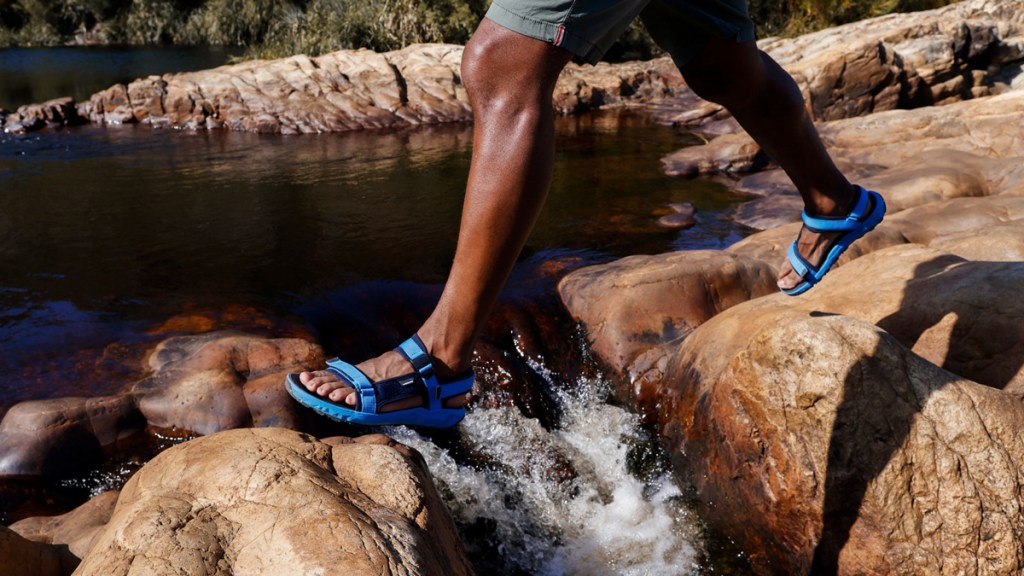 Breathability
There's nothing quite like the feeling of taking your boots off after a long day hillwalking to feel the fresh air on tired and hot feet. Now, imagine that fresh feeling all day long. For some, this is the key benefit of investing in a hiking sandal which offers the ultimate in breathability. Usually, trail runners and hiking boots are constructed with a degree of waterproofing. More often than not, Gore-Tex provides this – but also hampers the breathability of a shoe or boot. This is worth considering as hot feet sweat and swell and are therefore more prone to discomfort from rubbing and blisters.
Winner: Hiking sandals
Versatility
Hiking sandals are an interesting prospect in terms of versatility outdoors. Some enable you to go light and fast across long distance low-level trails. Others are built to be quick drying for river crossings while proponents of hiking sandals say they can eliminate the risk of blisters by allowing your feet to breath and reducing sweat and swelling.
Hiking boots are perceived as less versatile, but design, material and construction innovations make the hiking boots on the market today more complex of an offering than that.
While both hiking boots and hiking sandals can vary in construction to accommodate certain outdoor conditions and activities – some sandals are designed simply to be lightweight in your pack for wear around based camp, for example – they are both essentially designed for the opposite end of the outdoor footwear spectrum.
Again, the middle ground takes the crown here.
Winner: Trail runners
Durability
While boots and trail shoes can become leaky and develop rips and cracks in the upper, or even suffer a frayed lace or two, these problems can be mitigated with the right boot care. They also develop slowly allowing you time to mend and make do and there are plenty of ways to reproof your boots after heavy usage.
Generally speaking, the simplicity and minimalism of a hiking sandal gives less room for wear and tear and requires less upkeep. But should a strap, for example, snap on the trail they are not easy to repair on the go and could leave you with a proverbial paddle. This could mean you find yourself replacing a hiking sandal more often than a sturdier shoe or boot.
Winner: Hiking boots
Overall comfort
The comfort levels in footwear come down to many of the factors discussed above – from weight to breathability and support as well as overall protection. It largely boils down to personal preference. Some walkers feel comforted when their feet are encased in a sturdy leather boot; a factor that can be partly influenced by existing injury or a lack of sure-footedness.
Others can't bear the swelling and sweating as a consequence of a boot without great breathability, preferring to opt for the ventilation of a shoe or a sandal, thus potentially dodging the onset of discomfort and blisters at hotspots. Of course, this is entirely dependant also on the conditions in which you'll be walking. Obviously, walking for days on end in the cold and wet in a hiking sandal is not anyone's idea of a good time.
Much of the comfort of a shoe can be attributed to its stiffness, however. Hiking boots and sandals usually have a stiffer sole than trail runners as walking requires less range of motion in the foot and a lower degree of flexibility in the footwear. Generally, flexibility is favourable but must be compromised upon when walking long distances over which you will need greater support.
Some shoes also have a rock plate. This is a slice of material embedded between the outsole and the midsole for underfoot protection. It can add stability and stiffness to the shoe and helps to protect the soles of your feet from sharp rocks and stones.
Winner: Depending on personal preference and conditions of use
If you're thinking about trialling a new type of footwear for the outdoors, check out our advice on what to look for and some of our recommended makes and models in our Buyer's Guides to the best hiking sandals, the best hiking boots and the best trail runners.