Summer is the season of opportunity for hillwalkers. The days are long, the temperatures hover reliably above freezing, and the tarns and lochans that would normally give you an outbreak of goose pimples are suddenly tempting you to roll your trouser legs up and get stuck in.
Best of all, there's nothing to stop you throwing a few bits in a lightweight pack and hiking from dawn to dusk. For days when the sky is blue, the breeze is balmy and the great outdoors is calling, these walks are just the ticket.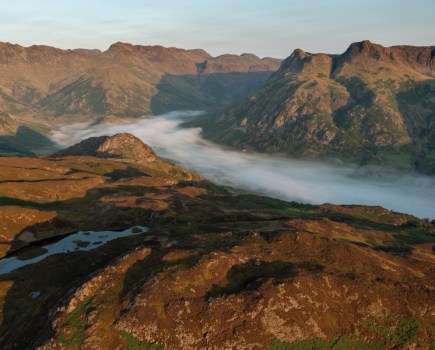 Langdale Pikes, Lake District
Best for: ghyll scrambling
Start/finish: New Dungeon Ghyll Hotel (NY294063)
Distance: 9km/5.5 miles
Ascent: 870m
It's a hard uphill slog from New Dungeon Ghyll into the heart of the Langdale Pikes, but don't worry about working up a sweat – the mirrored expanse of Stickle Tarn offers wild swimming succour when you reach the top.
On really hot days, you might want to bypass the path entirely and just scramble up Stickle Ghyll.
With plenty of waterfalls and deep pools to navigate, you're practically guaranteed to get happily wet. And where from there?
Well, the scramble up Jack's Rake is a high-adrenaline but low-perspiration way to reach the top of Pavey Ark.
Stay up high to take in Thunacar Knott, Pike of Stickle and Harrison Stickle, then watch the sunset from a wild camping spot somewhere high in the fells. 
Loch Coruisk to Elgol, Skye
Best for: messing about in boats
Start/finish: Elgol (NG521142)
Distance: 8.5km/5 miles
Ascent: 726m
What better way to start a long, summery walk than with a boat trip? From Elgol, hop aboard the Bella Jane (bellajane.co.uk) or join a Misty Isles Boat Trips sailing (mistyisleboattrips.co.uk) and scud across the waters to Loch Coruisk.
Surrounded by the slabbily spectacular peaks of the Cuillin Ridge, this is one of the most magical spots in Britain.
There might just about be time for a dip before you strike out towards Elgol. Either take the coastal route
via the Bad Step, or climb Sgurr na Stri (only 494m, but a tough prospect nevertheless) for even more expansive views over the Cuillin before descending to Camasunary Bay.
It's worth lingering here awhile to paddle, unwind and lap up the wild atmosphere. If it's getting on a bit, then the bay has its own convenient bothy. Otherwise, carry on along the coast to reach Elgol.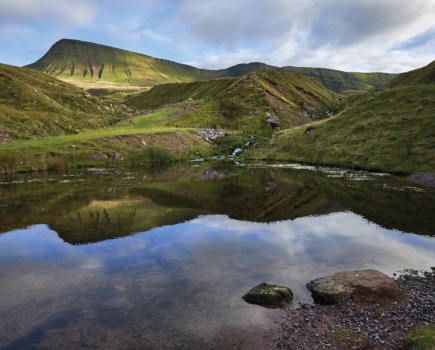 Llyn y Fan Fach and Llyn y Fan Fawr, Brecon Beacons
Best for: wild swimming
Start/finish: Llyn y Fan Fach car park, Llanddeusant (SN796238)
Distance: 15km/9 miles
Ascent: 765m
A series of grassy escarpments rise like great green tsunamis over the Brecon Beacons national park.
Pen y Fan and its subsidiary summits often get the most attention from hillwalkers – but further west there's another tidal wave of a ridge that hangs suspended above the twin lakes of Llyn y Fan Fach and Llyn y Fan Fawr.
A circular walk from the Llyn y Fan Fach car park takes you up Bannau Sir Gaer to summit Picws Du (749m), Fan Foel (781m) and Fan Brycheiniog (802m).
It's a tough order for a hot summer's day, but relief awaits at the base of the ridge in the form of two rather lovely wild swimming spots.
Llyn y Fan Fawr is notoriously chilly, but you'll find the waters of Llyn y Fan Fach (marginally) milder – look out for the famous Lady of the Lake while you paddle.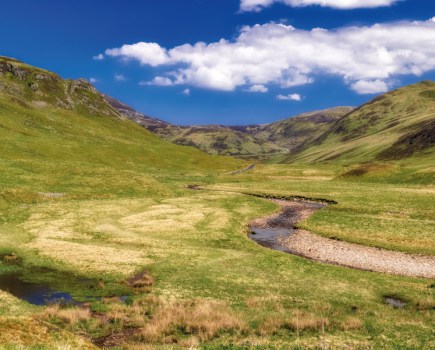 Glenshee Munros
Best for: Munro bagging
Start/finish: Glenshee Ski Centre (NO141774)   
Distance: 30km/19 miles
Ascent: 1690m
Long daylight hours lend themselves to multi-peak walks, making midsummer an excellent time to ramp up your Munro-bagging efforts.
The most Munros anyone has crammed into 24 hours is 33 (Kim Collinson in the summer of 2021), but if you're not a world-class fell runner then there are areas of Scotland where a day of walking will net you seven, eight, or – in the case of Glenshee – even nine mountains over 3000ft.
The route used by the Glenshee 9 Munros Hillrace mainly follows worn tracks, with no truly tricky terrain to slow you up.
Taking in Glas Maol, Creag Leacach, Cairn of Claise, Tom Buidhe, Tolmount and many more, it's the ultimate dawn-to-dusk Munrofest.
More fantastic multi-Munro summer days include the Mullardoch Circuit (tough, remote and only for the experienced), the 9 Fannichs and the 7-Munro Lochaber Traverse.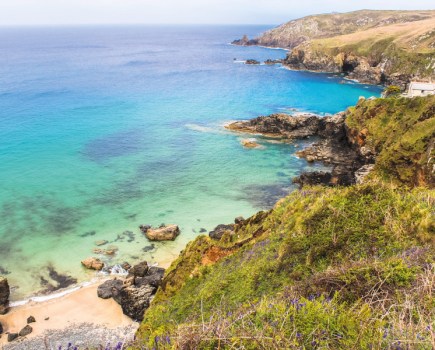 St Ives to Zennor, South West Coast Path
Best for: seaside strolling
Start/finish: Trenwith car park (SW516403)
Distance: 20km/12.5 miles
Ascent: 520m
Possibly the toughest section of the South West Coast Path, with more than 520m of ascent and a decent distance to cover.
This is coastal walking at its best, with heather-carpeted cliffs, rocky inlets and ocean shaded in tropical green wherever you look.
There are several opportunities for a paddle along the route, as well as a succession of swimming-friendly sandy beaches around St Ives Head.
Ice creams on offer in St Ives and Zennor (plus you can pop into the church for a look at the famous mermaid carving).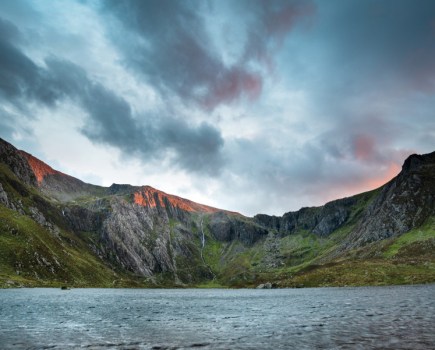 Cwm Idwal and the Glyders, Snowdonia
Best for: mountain flora
Start/finish: Idwal Cottage (SH647603)
Distance: 9km/5.5 miles
Ascent: 793m
The glacier-forged amphitheatre of Cwm Idwal is a pretty spectacular sight at any time of year, but in spring and summer it shows its true colours with an explosion of arctic-alpine flora.
Some of Britain's rarest plants bloom in Wales' first National Nature Reserve, including the Snowdon lily (only to be found at high altitude) and tufted saxifrage.
As you climb up the Devil's Kitchen, look out for the 'Hanging Garden' ledges where mountain sorrels, mountain avens and moss campions bloom.
There's some airy ridge walking between Glyders Fawr and Fach before the route circles back to the start (via a brief dip in Llyn Bochlwyd).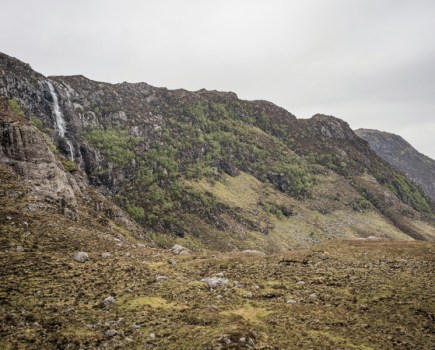 Eas a' Chual Aluinn, Assynt
Best for: waterfalls
Start/finish: A894 between Kylesku and Lochinver (NC239292)
Distance: 10km/6 miles
Ascent: 521m 
There are any number of low-level waterfall walks to enjoy on a summery day around Britain (a quick pick, in case you were wondering: High Force in County Durham, Aira Force in Cumbria, pretty much anywhere in Wales' Waterfall Country…)
Eas a' Chual Aluinn is a true hillwalkers' cascade. With a sheer drop of 200m, it's Britain's highest waterfall – over three times the height of Niagara Falls when in full flow.
It's also set right in the heart of gorgeously remote Assynt, at the end of a tourist-deterring in-and-back walk of nearly 10km.
The lochs en route are good for a spot of wild swimming on hot days too.