When the snow's deep on the hill, sometimes what you really need is a pair of snowshoes
In the April 2018 issue of The Great Outdoors, available now, Alex Nail looks back on a classic day out early in the season, using snowshoes to negotiate deep snows in the Beinn Damh Forest.
Alex is a professional mountain and landscape photographer and a regular contributor in the pages of our magazine. His portfolio was runner up in the 2018 Scottish Landscape Photographer of the Year award.
Here's a taster from the feature, along with some photos that didn't make it into print – and a few other, longer routes that make good snowshoeing missions…
---
By Alex Nail
"Check that the middle switch is up. Try again?…Hang on, I'll ring someone."
Harsharn's phone calls, first to his lodger and then to his electrician, took up half an hour – power showers don't fix themselves. At least it gave me an excuse to stay in the car enjoying the heated seats. Outside, wet snow covered the carpark and a light sleet was falling. It was grey and uninviting. I shuddered and turned the heater up.
Harsharn ended his calls and I put on every layer I had before reluctantly suggesting that we get going. We left at 10am, just as the first light of the day broke through above, striking the slopes of Beinn Alligin across the water. I felt a familiar tinge of regret at having missed the chance of a photo – I'd been trying to photograph snow in Scotland's North West for years; letting any opportunity slide by was painful.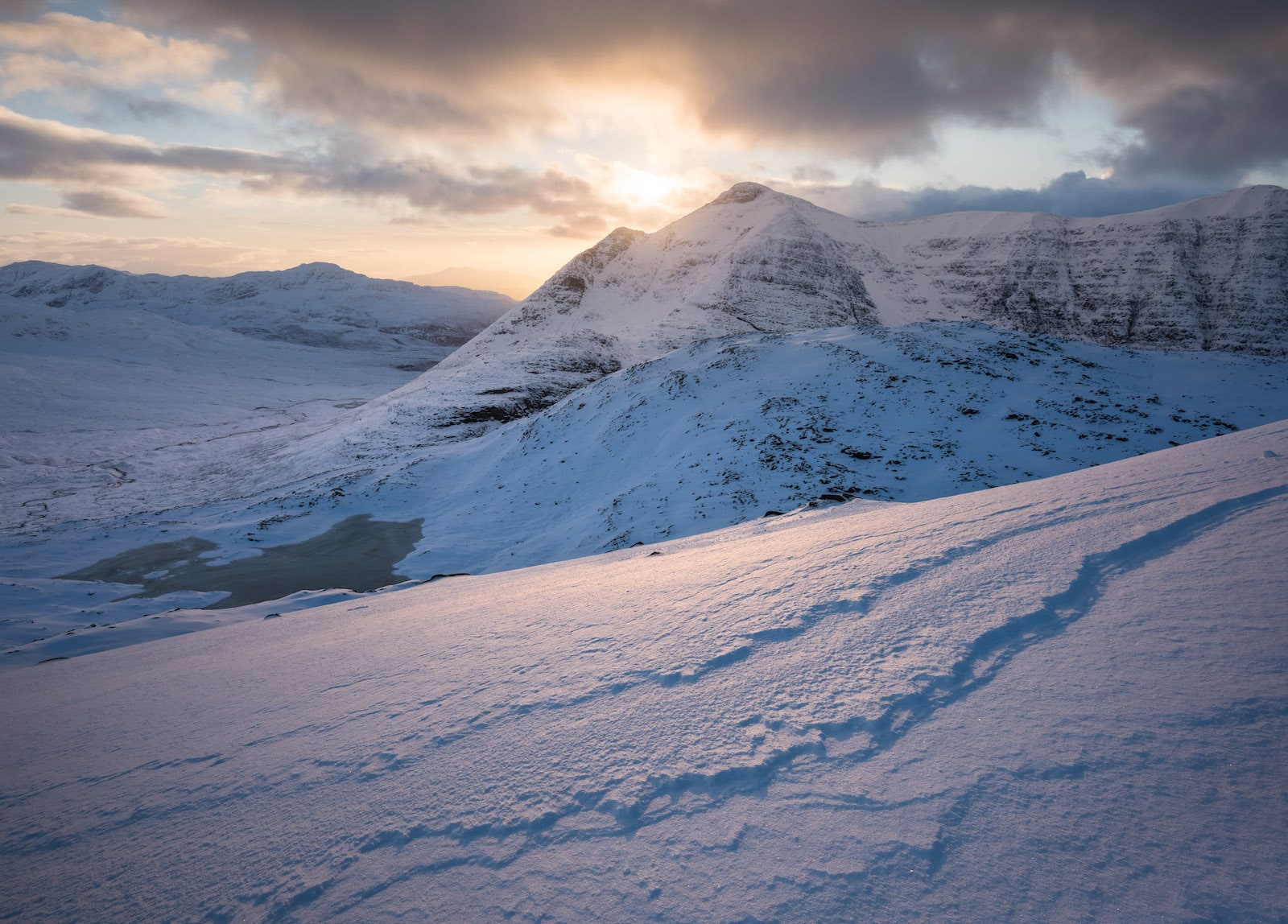 At the start of December, sunlight only lasts for a little over six hours each day this far north. We had five left. Now behind time, we hiked briskly through a woodland of Scots Pine. I promptly overheated. I know you're supposed to start cold, but sometimes I'm a bit soft.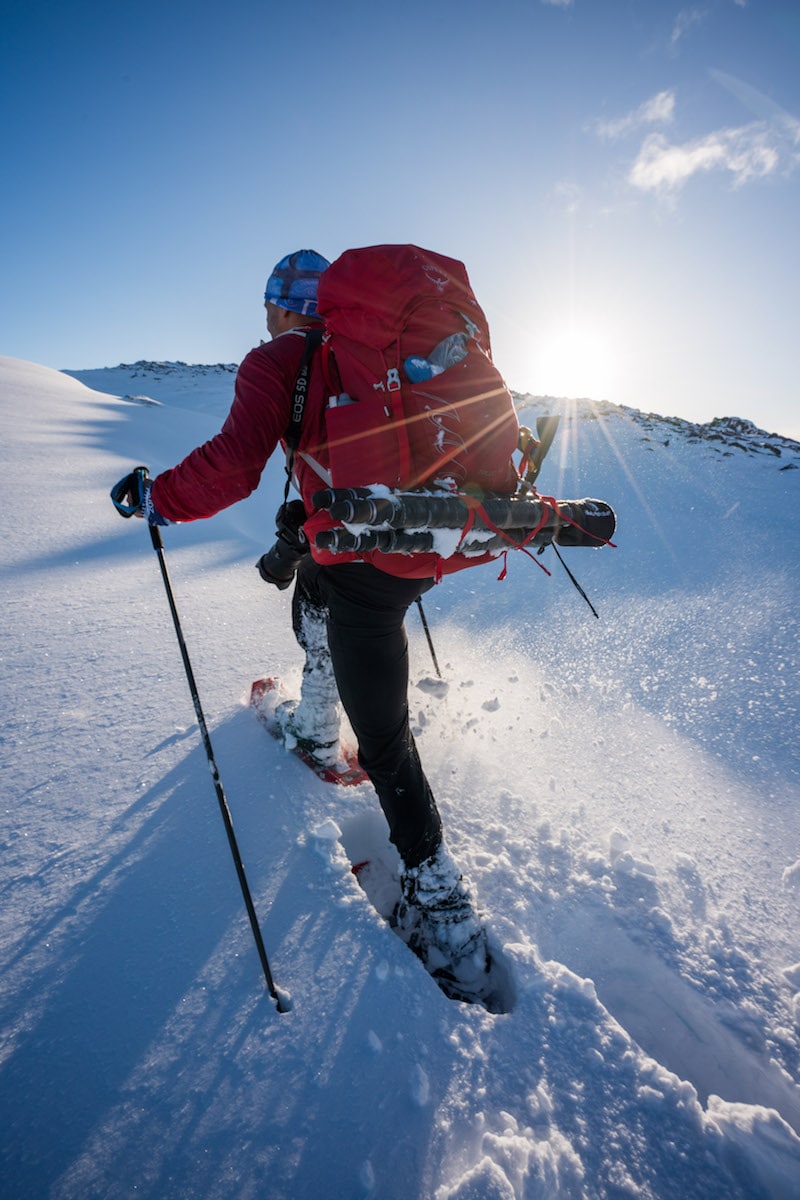 Our goal for the day, and the first peak of our trip, was Beinn na h-Eaglaise in the Beinn Damh Forest. At a modest 736m, it seemed a more sensible target than the Munros of Torridon to the north, particularly without knowledge of the conditions underfoot. Heavy snow driven on north-westerly winds in the preceding days had filled in all the southern- and eastern-facing slopes. Mountains with gentle northern approaches looked like a much better option.
Emerging from the trees after a short ascent, we were greeted with expansive views back to Torridon and ahead to Beinn Damh. Crystal-clear arctic air and a landscape cloaked in white made it hard to contain our excitement.
The footpath became boggier as it joined a small stream dotted with more pines, but the subsequent ford was thankfully easy due to the low water level. The path began to aim us past Beinn na h-Eaglaise and, with no 'official' route up, we left the trail in favour of snowy slopes and the occasional section of peat bog. As we climbed, the snow became gradually deeper, but it did little to slow us down. Constantly stopping to take photos had a much greater effect on our timing than the snow ever could.
After a short rocky section we reached gentler gradients which gradually levelled out as we reached the top. The snow was more than a foot deep for large sections and, having carried them up the mountain, we decided it was time to put the snowshoes on…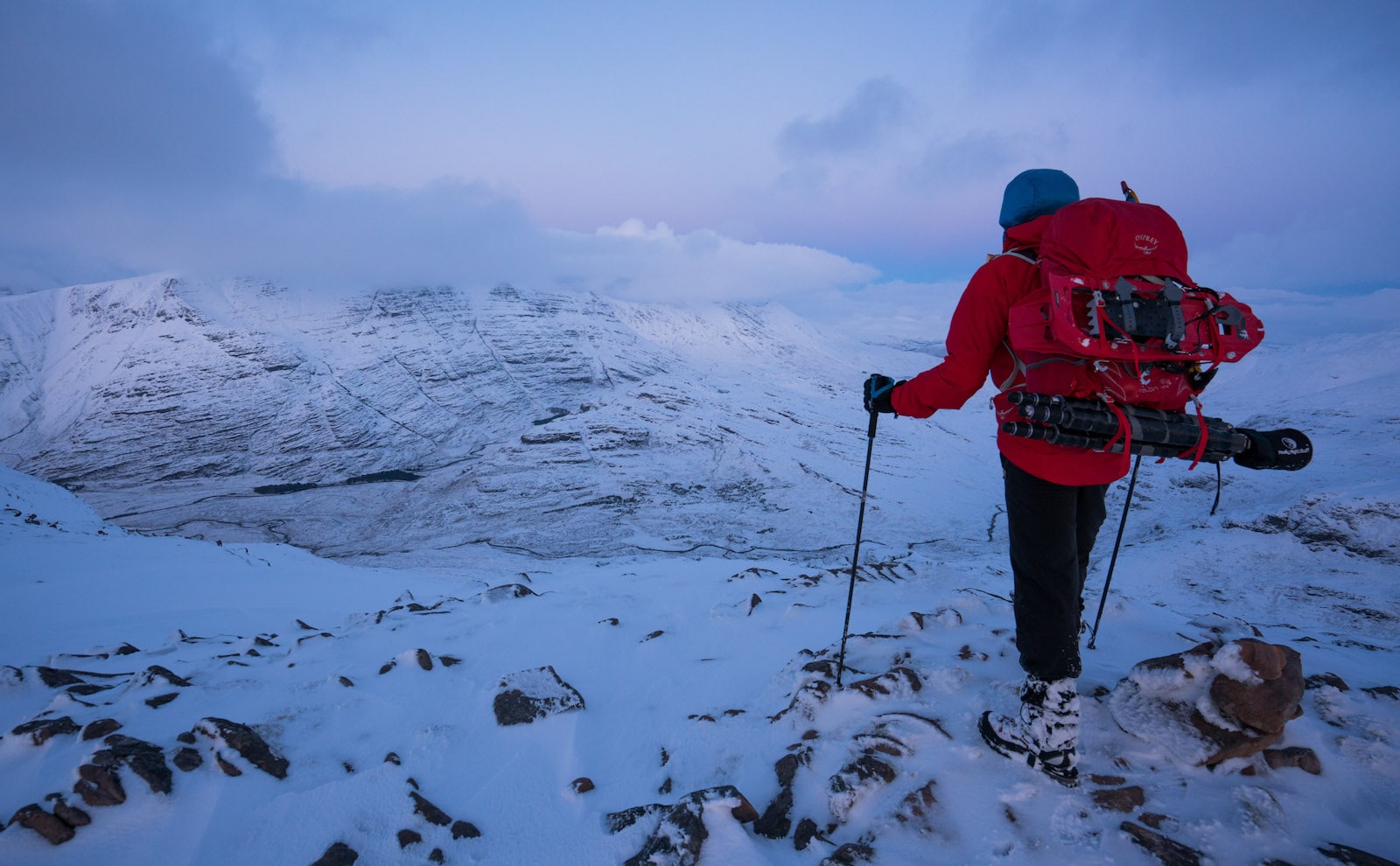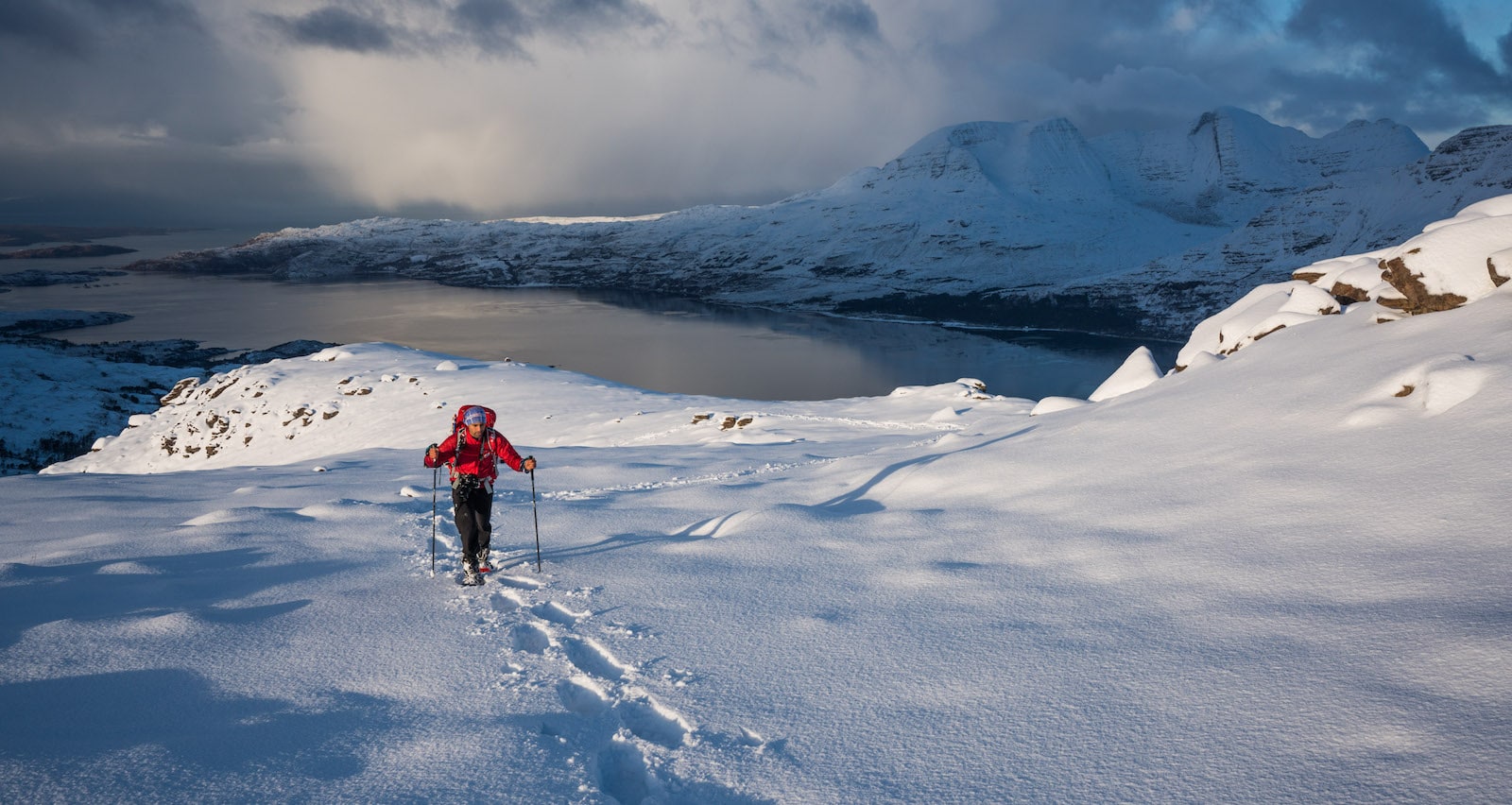 To read the rest of Alex's feature, complete with route map and route guide, pick up a copy of our April 2018 issue.
All images © Alex Nail
---
More snowshoe-friendly routes
Important!
Before considering heading up into the mountains in snowy conditions, it's vital that you have both the skills and the necessary gear to keep you safe. If in doubt, go with an experienced friend, take a winter skills course, or don't go – the hills will still be there, but if you don't respect them you might not be! This is particularly relevant after heavy snow when snowshoes are likely to be most useful, as avalanche risk tends to increase in these conditions.
Further reading:
1. A circuit of Ingleborough and Whernside
This circuit makes a good two-day outing in winter conditions, split up by a stay in Ingleton. With broad, gentle ridges and easy navigation, it's a natural fit for snowy conditions.

2. Carn Dearg, Monadhliath
A more serious route, with potentially complex navigation if poor conditions are encountered, a narrower ridge, and a river crossing. There's a bothy on the way down.

3. Braeriach from the north
More serious and remote still, and only feasible in winter if you break the route up with a wild camp. If you get it in good conditions it'll be worth it, though.