Hiking is often an enjoyable experience but it can also at times be an uncomfortable experience. It can be hot or cold and it can be dry or wet. It can be tiring mentally and physically and it can be painful. And things can be made even worse too – that's if you end up wearing a hiking shirt that's not properly made for the conditions.
Our team here at The Great Outdoors are experienced backpackers and hikers and, over the years, each of us have come to understand what types of shirts work best for hiking and what materials and details to look out for.
If you're looking for tips on what types of hiking shirt you should be looking for then we've already published an in-depth guide to choosing a hiking shirt that will help you there, but as a brief top line before we dive into the best hiking shirts of 2023, you should first and foremost focus on the fabric when you're shopping around. Look for lightweight and breathable materials like moisture-wicking synthetics or Merino wool, which efficiently manage perspiration and keep you dry during strenuous hikes. You should also consider a shirt's fit as well, opting for a relaxed yet not overly baggy cut that gives freedom of movement. Ventilation features such as mesh panels or zippered vents can also enhance breathability. Sun protection is vital, so seek shirts with UPF ratings to shield your skin from harmful UV rays. Additionally, check for odor-resistant properties, particularly if you're embarking on multi-day hikes.
The best hiking shirts
This is The Great Outdoors team's selection of the best hiking shirts available for 2023. We've selected options for different seasons and at different price levels. The majority are synthetic but there are also one or two Merino wool options. Bear in mind that most of these are available with either short or long sleeves and as men's and women's versions.
Alpkit Woodsmoke – TGO Gear Awards winner
Paramo Katmai Light – Chris Townsend's Best Buy
Patagonia Self Guided UPF shirt – Best lightweight hiking shirt
Smartwool Anchor Line – Best hiking shirt for winter
Craghoppers Kiwi Long Sleeve – Best value hiking shirt
The North Face Sequoia
Jack Wolfskin Stretch Vent
Outdoor Research Way Station
Columbia Silver Ridge Utility
Royal Robbins Amp Lite
Alpkit Woodsmoke – TGO Gear Awards Winner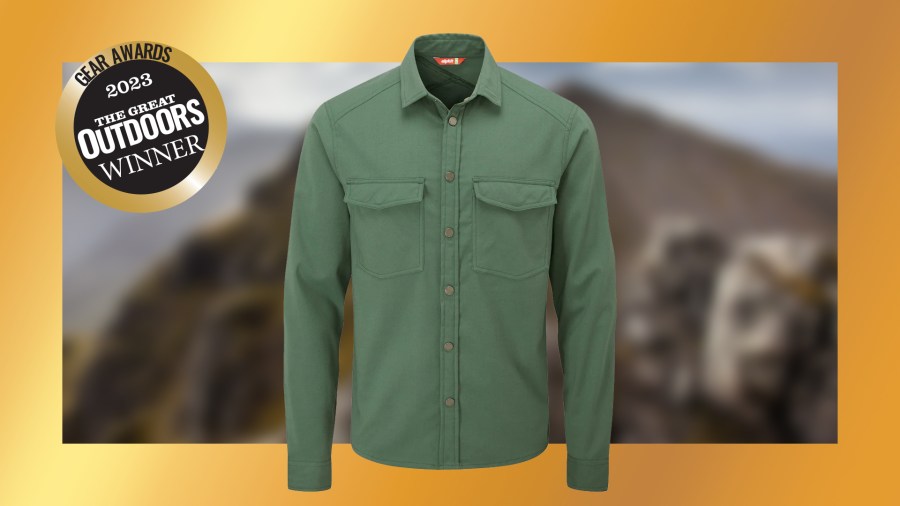 Available in: men's and women's, long sleeve only
Price: $90 / £90
Weight: 12.69 oz / 360g (medium)
Materials: polyester
First on our list to the best hiking shirts is the Alpkit woodsmoke. This might have the look of the kind of casual shirt that someone might wear down the pub or to a mountain film festival but it does in fact have the performance and comfort that's required for outdoor activity. That's why we chose this for a prize in The Great Outdoors Awards this year; it's a shirt that has the kind of moisture wicking and temperature regulation you want when you're out in varied conditions on the trail.
It's made from hollow core polyester fibres that are able to trap body heat to keep you warm whilst also lift moisture off the skin and spreading it out thin so that it can evaporate into the atmosphere quickly. In our tests, we found that sweat would build up, especially under a backpacking pack, but the shirt managed to dry out quickly so there wasn't a lingering dampness.
To counter the risk of odour build-up that can occur with plastic-based garments, the Woodsmoke comes embedded with Polygiene, a brand of antimicrobial treatment used in textiles to prevent the growth of odour-causing bacteria.
The fit is neat but not close and the Woodsmoke layers well over any weight of baselayer. Freedom of movement is excellent with only a small amount of hem movement when you lift your arms up.
Read more: Peter Macfarlane's full review of the Alpkit Woodsmoke
Available at: alpkit.com
Paramo Katmai Light – Chris Townsend's Best Buy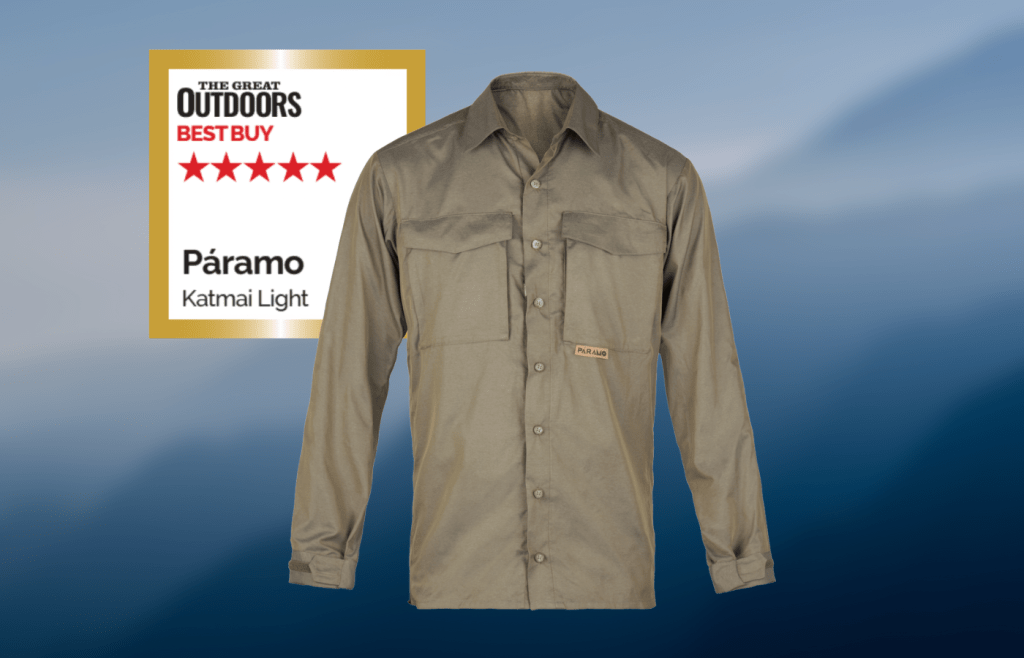 The Katmai Light has been my favourite warm weather hiking shirt for many years. I usually only wear it when I expect it to be my outer layer most of the time. I hoped that would be so on this trip, but it wasn't to be and the shirt was worn under a waterproof jacket most of the time and a windproof jacket much of the rest. It still worked well, though I don't think it would have been as comfortable without the BAM t-shirt under it as my arms sometimes felt a little damp and chilly. It does dry fast though.
Read more: Chris' full trip report from the Rough Bounds, including the Katmai gear test
Fjällräven Abisko Trekking Shirt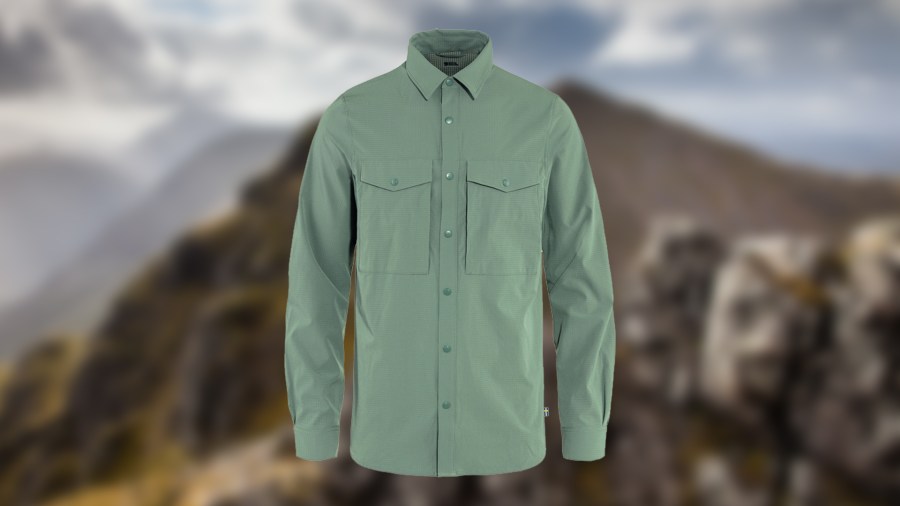 Available in: short and long sleeve, only available in a men's version
Price: $110 / £115
Weight: 11.46 oz / 325g
Materials: recycled polyester
This polyester shirt has a 16% elastane content giving it a nice bit of stretch. The fabric also has little holes in it that allow warm air to escape from inside and cool wind to blow through, making it lovely and fresh-feeling to wear.
In tests, the thin polyester wicked well and dried out quickly. As is the case with most synthetic shirts – at least those like this one that don't have anti-odor treatment – the material did get smelly after a few days without washing it. The little extension at the back of the collar is a handy feature to have on those hot days when skin cover is needed.
It has four pockets in total: two poppered chest pockets and two zipped mesh pockets tucked behind these that double as vents. These pockets are big enough to hold a folded map or a large smartphone. You can also pack up the shirt into one of the zipped pockets for convenient storage.
Our tester (5 foot 10, average build) found the size M quite loose and long. 
Available at: fjallraven.com
Patagonia Self Guided UPF shirt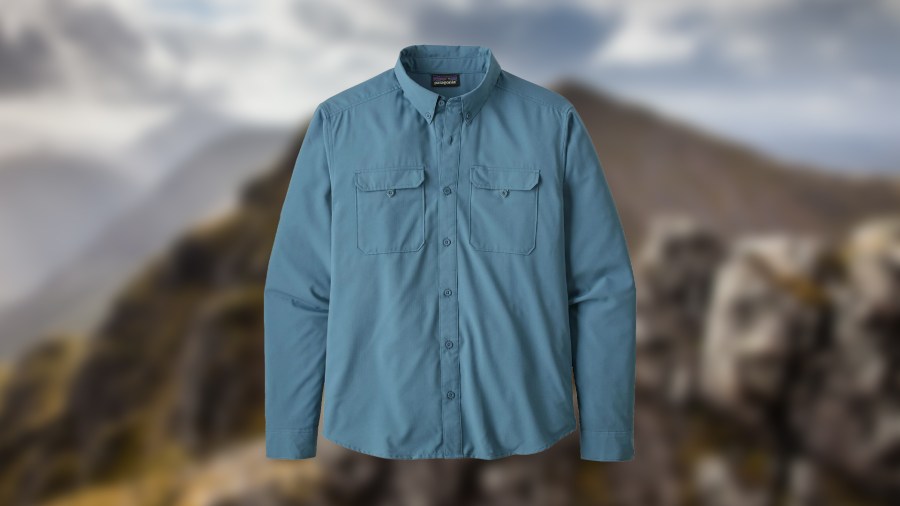 Available in: short and long sleeve, women's and men's
Price: $89 / £80
Weight: 6.5 oz / 184g
Materials: recycled polyester

Another shirt on our list to the best hiking shirts is the Patagonia Self Guided UPF. This is a fantastically airy shirt. In hot conditions, there isn't anything better that we've tried. Made from 100% recycled ripstop polyester, the material is thin and fresh feeling and the vents across the back work well to let hot air escape and cool air in. In our tests, the wicking performance was also very impressive with the fabric lifting sweat and drying out quickly.
You also get 40+ UPF protection from this and handy storage options thanks to the button down pockets on the chest. These pockets are big enough for a wallet but not for a phone.
As is normal with polyester, this did start to smell after repeated use. It would therefore be good to see future iterations using some form of anti-odor technology, like Patagonia's own HeiQ Pure silver-salt-based additive.
In terms of fit, our five foot 10 averagely built tester (me), said that the size M – his usual size – fitted perfectly by itself but it still also had a bit of room for a baselayer on colder days.
Kudos to Patagonia for making sure this is Fair Trade Sewn too.
Available at: cotswoldoutdoor.com
Smartwool Anchor Line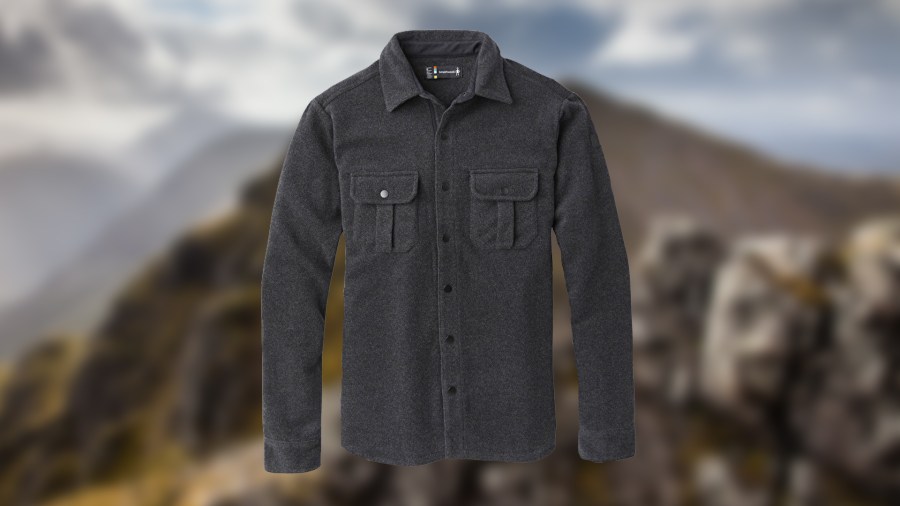 Available in: long sleeve and men's only
Price: $200 / £170
Weight: 3 lb 5 oz / 1502g
Materials: Merino, cotton, wool, nylon

Merino wool is an excellent material for outdoor use; it's warm and comfortable, it's water and odor resistant and it's got a good resistance to flames – so a spitting ember from the campfire won't instantly ruin it. This has a high merino content, with the material making up 79% of the shell. Fortunately for those who don't like the feel of wool against the skin, the interior is made from a smooth cotton, polyester and elastane lining.
Out of all the shirts in this round up, this is the warmest by far. In winter, it serves well as a thick baselayer while in summer, it can work as a mid layer – or even a jacket.
Poppers feature throughout, including across the center front, on the cuffs and on the pockets too. The pockets are quite small in depth, and not big enough for a phone, but the pleat on each one does still create some volume.
Available at: smartwool.com
Craghoppers Kiwi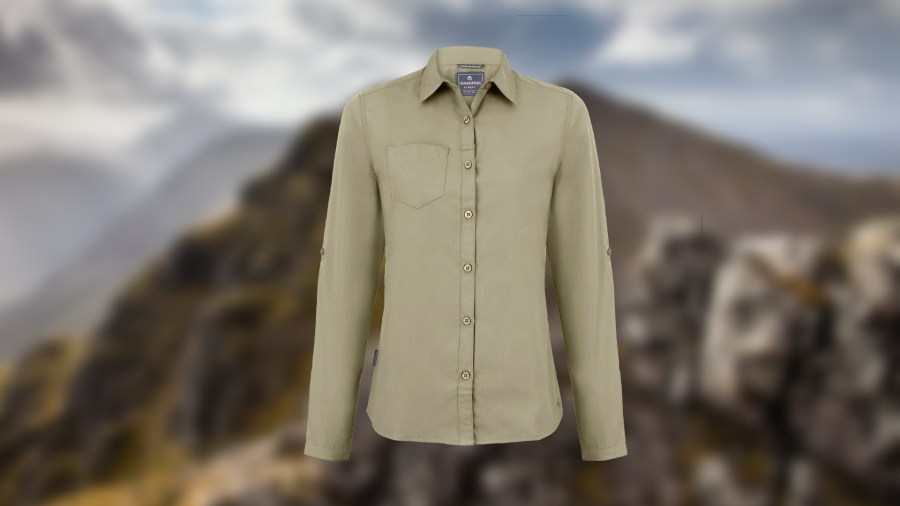 Available in: men's and women's, short and long sleeve
Price: $65 / £40
Weight: 8.99 oz / 255g
Materials: recycled polyester

Craghoppers' Kiwi shirt is a travel classic that's been worn on many an Everest basecamp trek, African safari or long-distance walk.
Its main USP is that its fabric is woven in a way that make it able to fend off biting insects like mosquitoes and midges. It also provides a good degree of protection from UV rays.
The polycotton weave wicks away sweat effectively and it does also have a degree of water resistance but there is a threshold and in heavy and prolonged rain it can get saturated. The drying time is OK but it's not as quick-drying as the shirts in this round-up that have high polyester content.
The fit is quite loose and baggy. Those who like a close fit might want to go a size down to their usual size. The pockets, center front and cuffs are all buttoned.
Available at: craghoppers.com
The North Face Sequoia Shirt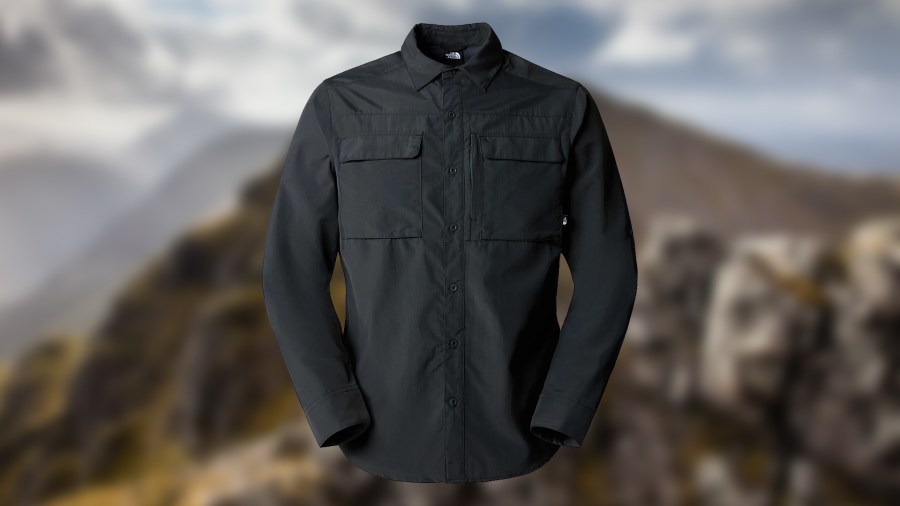 Available in: men's only, short and long sleeve
Price: $85 / £75
Weight: 7.05 oz / 200g
Materials: recycled nylon

This is a practical shirt that offers just about everything you'd want for hiking. Made from nylon, it's durable, UV resistant and has excellent moisture-wicking and quick-drying properties. The weave is breathable enough in itself but then there are also ventilation flaps across the back and there's a zipped pocket on the chest that doubles as a vent too.
The center front and the cuffs are buttoned and there's a sleeve tab that lets you fasten the sleeves when they're rolled up. The fit is true to size and accommodates a baselayer underneath,
Credit to The North Face for using 100% recycled nylon for this too.
Available at: thenorthface.com
Jack Wolfskin Rays Stretch Vent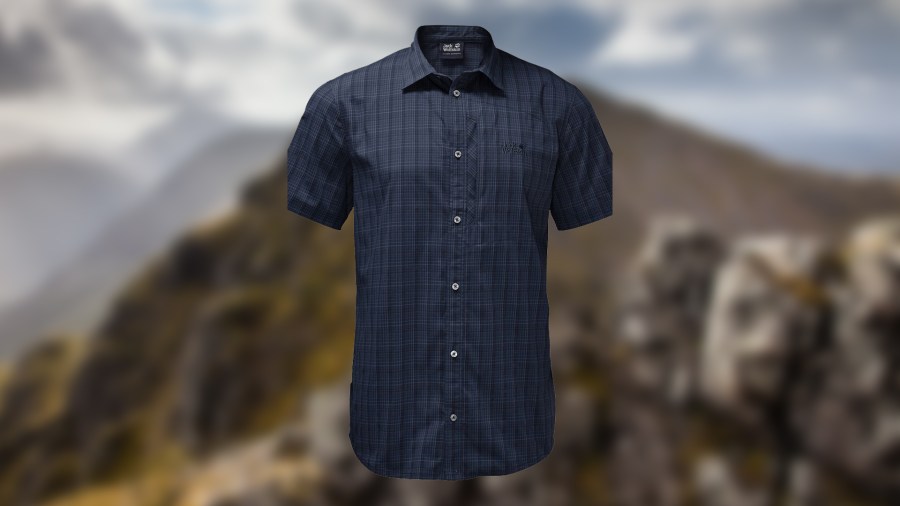 Available in: short and long sleeve, Heidetal is the nearest women's equivalent
Price: $56 / £60
Weight: 6.70 oz / 190g
Materials: nylon

This shirt from German brand Jack Wolfskin comes with bluesign approval, an industry mark that recognises sustainable and ethical methods of manufacturing. Just the inner mesh that lines the vents is made from recycled materials. The rest of the shirt, however, is made from virgin polyamide and polyester.
The material is moisture regulating and very fast drying. It also offers UV protection and comes with Jack Wolfskin's proprietary anti-odor treatment.
On the left breast, there's a large concealed zipped pocket that's big enough for a standard size phone.
Available at: alpinetrek.co.uk
Outdoor Research Way Station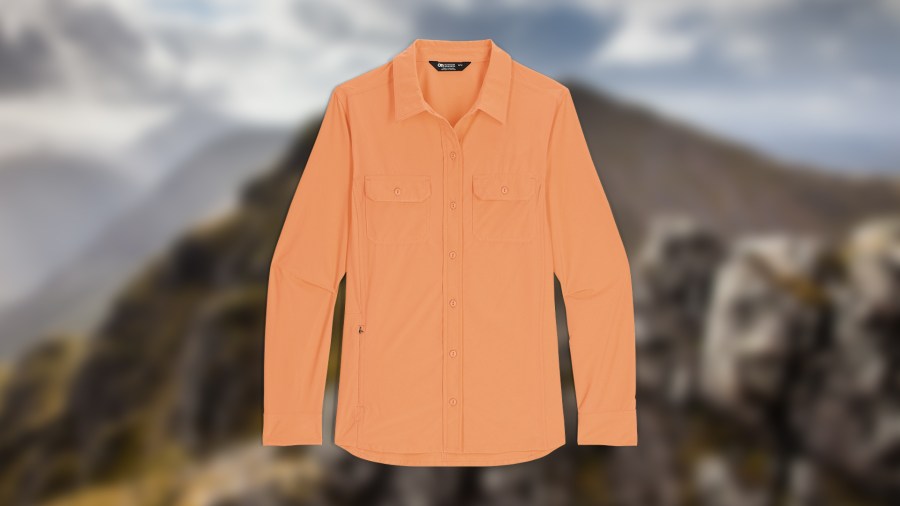 Available in: men's and women's, short and long sleeve
Price: $95 / £80
Weight: 6.7 oz / 189g
Materials: nylon, polyester, spandex

This shirt blends nylon, polyester and spandex resulting in a material that's UV blocking, durable but light and that's also moisture wicking and quick-drying. It's bluesign approved meaning it meets industry standards in sustainable and ethical manufacture.
The weight is 144g making it one of the lightest shirts in this review and thus one of the best options for those who are gram conscious.
It has two medium-sized chest pockets – these aren't quite big enough to comfortably hold a standard sized smartphone – and there's also a zipped security pocket underneath the pocket on the left breast.
It's very similar to the Patagonia and The North Face shirts in this round up, although this doesn't have the ventilation options that they offer. Still, it is a light and airy shirt overall so that's not much of a problem.
Available at: outdoorresearch.com
Columbia Silver Ridge Utility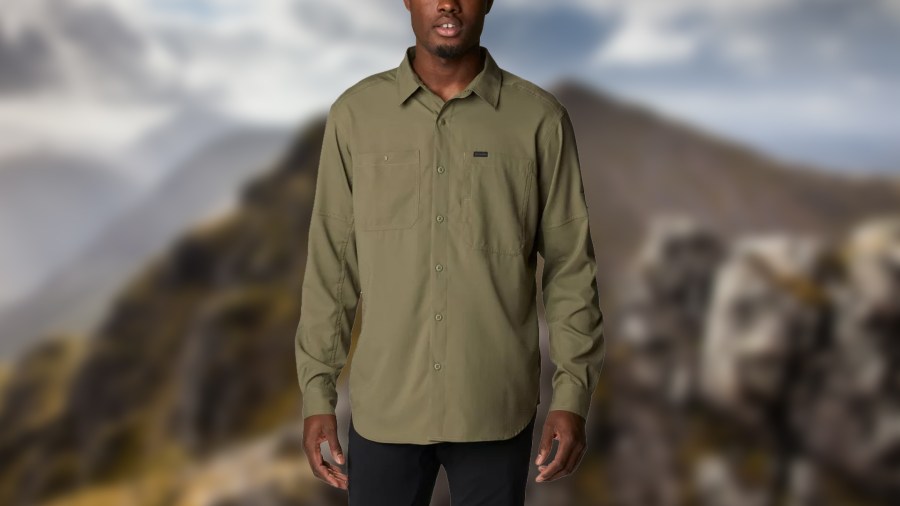 Available in: men's and women's and short and long sleeve
Price: $60 / £65
Weight: 6.4 oz / 181g
Materials: recycled polyester

This shirt from U.S. brand Columbia is made from 100% recycled polyester. It's thin, light and airy, but the fabric is woven tightly enough to make it fairly hardwearing. There's 50+ UPF protection from it which is quite high.
As you'd expect from a polyester shirt, it's able to wick away sweat and it'll dry quickly. Odors will start to build up if this isn't washed frequently enough – always the downside to polyester shirts.
Other details include vents along the back of the shoulders and there's one chest pocket that's sealed by a popper. The center front is closed up to the sternum by buttons and finished off with poppers.
The long sleeve version of this has a sleeve tab that lets you fasten the sleeves when they're rolled up.
Available at: columbia.com
Royal Robbins Amp Lite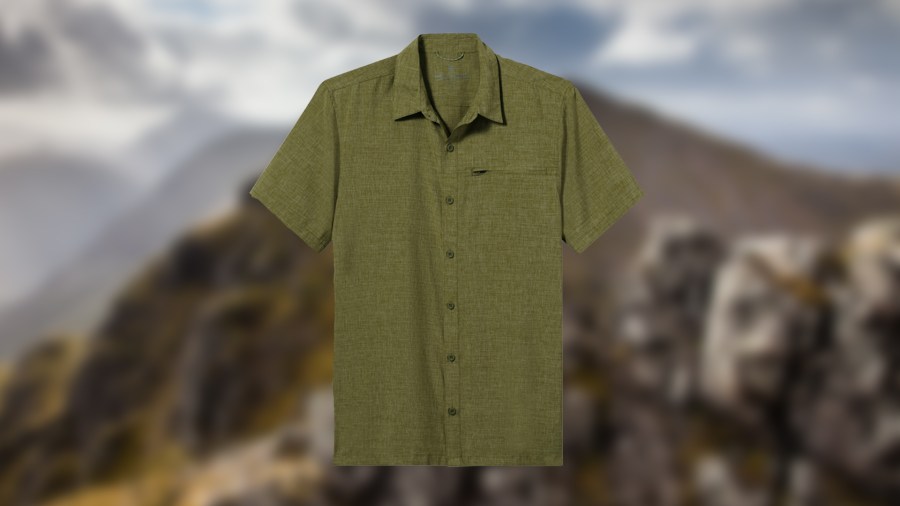 Available in: men's and women's, short sleeve only
Price: $55 / €80
Weight: 4.4 oz / 124g
Materials: recycled polyester

The last product on our list to the best hiking shirts is the Royal Robins. At 122g this is the lightest shirt in this round up. It's made from a recycled polyester that has a stretchiness to it making it very comfortable to wear and move around in. Again, this is another shirt with bluesign approval, so you can have peace of mind that this was ethically and sustainably manufactured. Royal Robbins is, after all, a brand with a good eco conscience. In fact, its founders Liz and Royal Robbins, were some of the earliest environmental advocates in climbing and in the outdoor industry and were the people who pioneered the "clean climbing" movement in the 60s.
The polyester fabric is breathable, fast wicking and quick-drying and the overall cut is quite loose and airy, making this a good shirt for hot temperatures.
In terms of features, there's just the one small pocket which is sealed by a zipper.
Available at: royalrobbins.com
How to choose a hiking shirt
Just like with a waterproof jacket, when choosing a the best hiking shirts it's important to think about the conditions you'll mainly be wearing it in. For instance, if you've got a winter hike coming up then it'll be important to choose a hiking shirt that is warm, breathable and that you can layer over and/or under comfortably. In summer, on the other hand, most people will want to be looking for a shirt that's light, airy, well-ventilated, sweat wicking and quick drying. The main thing that determines a shirts suitability to certain conditions is the fabric it's made from, so that's the first thing to consider when you're shopping around.
Types of Fabric
Synthetic Fabrics: Materials like polyester and nylon are popular choices due to their lightweight nature and excellent moisture-wicking capabilities. These will keep you dry by lifting sweat away from your skin and spreading it out thinly throughout the fabric to allow for quick evaporation.
Merino Wool: This natural fiber offers good temperature regulation, keeping you cool in hot conditions and warm in colder weather. Merino wool is also known for being odour resistant, making it a great choice for multi-day hikes.
Blends: Some shirts combine synthetic fibers with merino wool, providing the benefits of both materials in a single garment. Such blends can offer enhanced moisture control, durability, and comfort. You also often find polyester and cotton blends, a material known as polycotton. Polycotton is moisture wicking and comfortable but it is slow to dry and sweat can cause odors to build up.
Durability
Hiking shirts should withstand the rigors of the trail. Look for shirts constructed with reinforced seams and durable materials that can withstand abrasions from backpacks or rough surfaces encountered on the hike. High-quality shirts tend to last longer, making them a worthwhile investment for frequent hikers.
Comfort
Comfort is obviously crucial for an enjoyable hiking experience. Consider the fit of the shirt – it should be neither too tight nor too loose, allowing freedom of movement without causing chafing. Additionally, look for shirts with flatlock seams or tagless designs to minimize irritation – particularly around the shoulders where you might be wearing a heavily loaded backpack.
Odor resistance
Hiking can unfortunately lead to sweat and some unpleasant odors. Merino wool and some synthetic fabrics possess natural or treated odor-resistant properties, which help maintain freshness throughout over a number of days. This becomes particularly important on multi-day hikes where regular washing may not be possible.
UV resistance
Protection from the sun's harmful rays is crucial during hikes, especially at higher altitudes or in exposed areas. Look for shirts with a high Ultraviolet Protection Factor (UPF) rating, which indicates their effectiveness in blocking UV radiation. UPF 30 and above are recommended for optimal protection.
Insect resistance
If you're hiking in areas prone to insects or ticks, consider shirts treated with insect-repellent coatings. These can help minimize insect bites and potential health risks. The weave is also important – shirts that are woven tightly enough will be able to block out biting insects like mosquitoes and midges.
Sustainability
If you care about your environmental footprint then look for shirts that are made with recycled content – ideally 100%. If a brand says 'made from recycled content' but doesn't give a percentage then be wary, It could just be the buttons that are made from non-virgin materials! Things like the bluesign mark and Fair Trade certification are good things to look for if you want sustainable and ethical reassurance. Thing of the overall durability too; if a shirt is tough enough it could last you a lifetime, thus saving you from making extra purchases and having to send things to landfill.