With military-grade toughness, strong GPS tracking and route navigation functions, as well as advanced training support, the Amazfit T-Rex 2 is an ideal outdoor companion in all elements.
This is a sponsored piece of content with our friends at Amazfit
Adventure is an antidote to the everyday; an escape from our digitally-fuelled world. But to seek those far-flung wild spaces safely, a little smart support goes a long way. From its tough exterior that can withstand the elements to its clever innovations that can help you navigate home, the Amazfit T-Rex 2 is a rugged outdoor GPS smartwatch with the capacity to keep up with you, wherever the trail leads.
OUT OF THIS WORLD TOUGHNESS
Designed to be super tough, the T-Rex 2 has undergone vigorous testing to ensure reliability when – and where – you need it the most. Alongside the shock resistance vital for mountain gadgets, endurance is elemental to its technology.
Whether you're heading into glacial cold or tropical warmth, the Amazfit T-Rex 2 has passed 15 military-standard tests to prove itself a titan of toughness. Along with being able to withstand extreme temperatures as high as 70°C, this smart wearable can endure environments as cold as -40°C, and even has an ultra-low temperature mode that lets you continue using some functions in -30°C.
If the rainforests call, the 240-hour humidity resistance will keep the smartwatch operational while 96-hour salt spray resistance won't leave you high and dry on the seas – or a wet and wild Great British coastal walk. For those with a sense of adventure that will never be washed away in a storm, the watch has a water-resistance grade of 10 ATM, meaning it can withstand the equivalent of 100 meters of water pressure, so splashes of rain and snow pose no problem.
Its designers are so confident in the ability of the T-Rex 2 to thrive on your adventures, they even sent it into space where it reached a peak altitude of about 113,000 feet (34.5km) and survived in -64°C temperatures, which is more than what Amazfit quote on their packaging.
MADE FOR MOUNTAINS
When the elements make navigation tricky, the T-Rex 2's high-precision dual-band positioning and support for five satellite positioning systems effectively reduce environmental interference and achieve more precise positioning.
Not only can you track your real-time movement directly on the watch display, but the newly-updated route import function makes it possible to download route files for popular trails, open them with the Zepp App, and import them to the watch. You can then easily follow your real-time movement as you navigate, directly on the screen.
But the watch isn't simply designed to follow the trails most trodden. Multiple navigation functions are designed to aid you as you explore unfamiliar areas, and help you find a direct line back to your starting point.
Bigger and better than before, the always-on 1.39" HD AMOLED colour screen makes it easier than ever to see vital adventure data, whether you're under the desert sun or bivvying in the moonlight – so no stopping your stride to check the route!
With this wide array of functionality, you may be concerned about the Amazfit T-Rex 2's endurance. The impressive 24-day battery life means you don't have to cut your escape short or travel with too many additional power packs, saving you that all-important weight for big days out.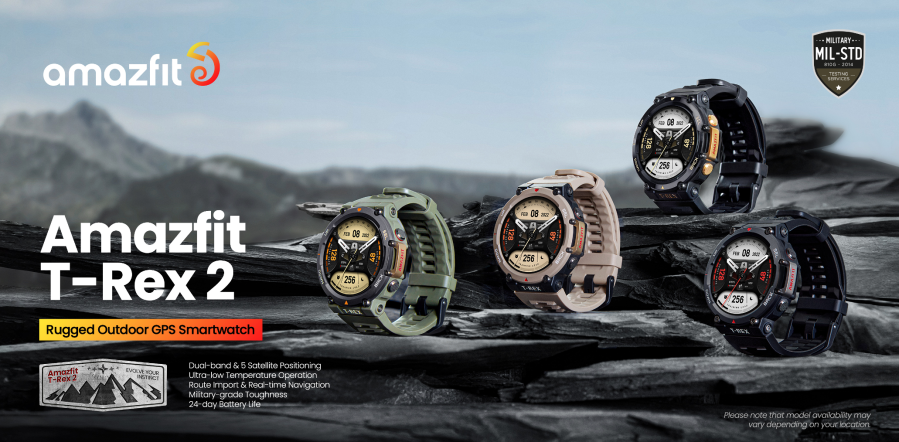 SUPPORTING YOUR ADVENTURE
To ensure your body is working at its optimal fitness for all adventures, the T-Rex 2 also has an extensive array of health monitoring technologies. When you're exploring the outdoors, its BioTracker™ 3.0 PPG optical sensor provides high-precision 24/7 continuous monitoring of heart rate, blood-oxygen and stress levels.
In high-altitude areas, every meter you travel upward comes with greater challenges so this smartwatch has also been designed to support you in safe ascents. The T-Rex 2 alerts you whenever it detects major altitude changes and can prompt you to take the blood-oxygen saturation test, with results in just 15 seconds, so you can feel confident in your body's functions as you move through nature.
Likewise, if you do start to feel discomfort, you can rely on the Amazfit T-Rex 2 to tell you to take a breath.
But hill fitness isn't all about the big days out. The smartwatch can store 40 training templates for your use while awaiting your next adventure, which can be created in the Zepp App and customised by you to apply to 11 different sports. Engage a warm-up when you start, arrange up to 30 training/rest/recovery stages per template, and finish up with a nice warm-down when you're done.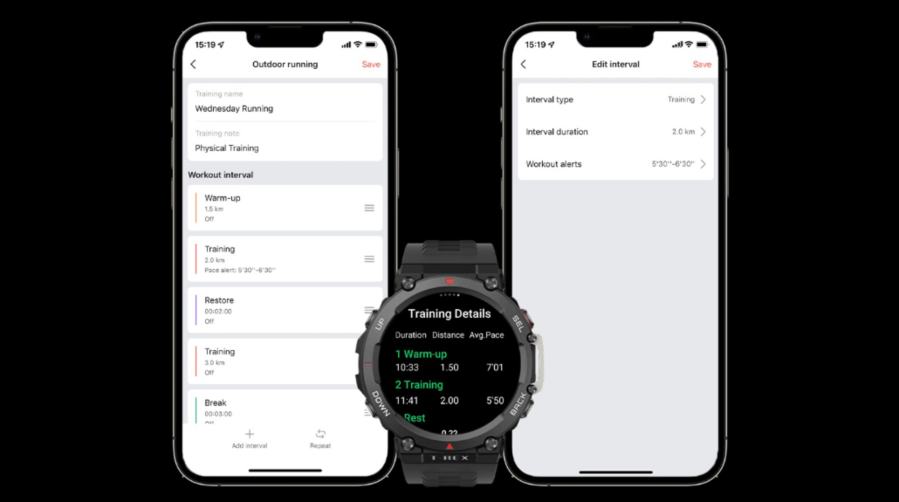 And for the those all about intensity, you can even create interval training templates directly on the watch. The T-Rex 2 is also unique in that it can automatically recognize dozens of strength training exercises; so even if you can't give your legs a workout by hiking a steep hill, the watch will still recognize your leg day in the gym and help count your sets, reps and rest time. The T-Rex 2 also automatically recognizes eight kinds of sports movements with its ExerSense™ algorithm, including outdoor and indoor variations of walking, running and cycling, and more.
This rugged outdoor GPS smartwatch also boasts all-inclusive activity tracking and supports over 150 sports modes, including the toughness-testing Triathlon mode, to track all your favourite outdoor activities, from swimming to skipping to cycling. And after all of that energy has been spent doing what you love, the Amazfit T-Rex 2 serves as your personal sleep assistant. It recognises different sleep stages and monitors potential breathing problems as you sleep or nap, to ensure you fully recover from the adventure – just in time for the next.