If you were to take a poll of 100 regular hikers and ask them which items of hiking gear they were most likely to spend their money on, it would be a safe bet that the majority of people would say hiking boots and waterproof jackets. It goes without saying that sturdy boots and protection from the changeable weather are high on most lists.
Out of that 100, how many people would say hiking socks? I'd hazard a guess at less than 10. The average Brit absolutely hates buying socks. They're that thing that we get as gifts. We make jokes about the holes in the toes, saying that it's not long until Christmas and they'll last until then. And if we absolutely have to buy them ourselves, we'll buy a pack of ten from the supermarket for £5 and proudly state 'they'll do'.
But when you're spending in excess of £100 for a pair of hiking boots that promise to be comfortable and breathable, are cheap supermarket socks really the best thing to be stuffed inside them, or should you finally admit that you might have to spend your annual sock budget on a decent pair of hiking socks?
Let's have a closer look.
Hiking Socks vs. Regular Socks
Hiking Socks
Pros:
Moisture-Wicking: Designed to pull moisture away from your feet, keeping them dry and comfortable.
Additional Padding: Extra cushioning in high-impact areas like the heel and ball of the foot.
Temperature Regulation: Breathable materials help to regulate foot temperature in various climates.
Durability: Made with reinforced seams and high-wear areas to last longer.
Arch Support: Some designs offer built-in arch support for added comfort.
Cons:
Cost: Generally more expensive than regular socks.
Specialised Care: May require specific washing instructions to maintain quality.
Regular Socks
Pros:
Affordability: Usually cheaper, especially when bought in bulk.
Ease of Care: Typically machine-washable and dryer-friendly.
Cons:
Moisture Retention: Materials like cotton can hold moisture, leading to discomfort and blisters.
Lack of Support: Minimal padding and no arch support can make long hikes uncomfortable.
Durability: Tend to wear out faster, especially when used in rugged conditions.
Temperature Regulation: Less effective at keeping feet at a comfortable temperature.
Hiking Socks vs. Regular Socks: What to look at
Material
When it comes to the fabric of your socks, not all materials are created equal. Your everyday cotton socks might feel like a soft embrace for your toes, but they're basically sponges when you start to sweat. On the flip side, hiking socks are usually crafted from a nifty blend of Merino wool, polyester, and sometimes a dash of spandex. This magical mix is engineered to wick away moisture and keep your feet dry. So, while cotton socks are fine for a Netflix binge, they're not the best on the mountain.
Padding and Support
When it comes to padding and support, your everyday socks are a bit like a basic mattress—fine for a short nap but not something you'd want to rely on for a long trek. They offer minimal cushioning, which means your feet are doing all the heavy lifting, so to speak. Hiking socks are a different kettle of fish. They come with extra padding in key areas like the heel and ball of the foot, offering a level of comfort and support that regular socks just can't match. Some even offer arch support, which is a bit like having built-in footbeds. So, while your regular socks might be okay for a quick dash to the shops, for anything more strenuous, it's worth investing in a pair of hiking socks.
Heat Regulation
Now, let's chat about heat regulation because nobody likes sweaty feet. Your standard socks might be okay for a casual stroll, but they're not exactly climate-controlled. They can leave your feet feeling like they're in a sauna one minute and an icebox the next. Hiking socks are crafted from materials that allow your feet to breathe, helping to regulate temperature whether you're hiking in the heat of summer or the chill of winter.
Durability
Your standard socks might be affordable, but they're often not built to last, especially when faced with the great outdoors. Hiking socks, on the other hand, are designed with reinforced seams and tougher materials in high-wear areas like the heel and toe. It's a bit like comparing a sturdy 4×4 to a city runaround; both will get you from A to B, but one is clearly better suited for rough terrain.
After all, quality lasts longer than the memory of the price tag. Check out our guide to Best hiking socks to find out what pair you should pick up next.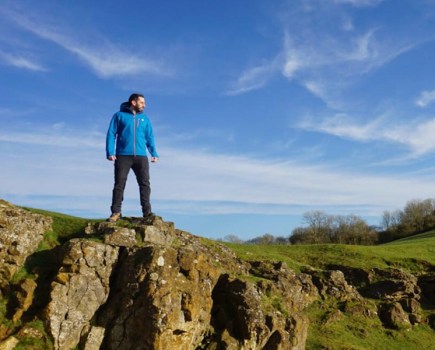 Written by Rob Haggan
Rob is the face behind Weekend Adventurers. He's been an outdoor enthusiast since childhood, and his passion has only grown stronger over the years. His work has been recognised by Ordnance Survey, naming him as a Get Outside Champion for four consecutive years.