Our comprehensive roundup of the finest hiking socks available, handpicked to ensure optimum durability, comfort, and performance
A good pair of hiking socks can make all the difference when it comes to providing cushioning and support, preventing blisters and regulating your temperature, but with so many options on the market, it's fair to say that choosing the right pair can be tricky. That's why we've done the research and testing to bring you our comprehensive guide to the best hiking socks of 2023.
For this particular gear guide, we're primarily looking at socks that are suitable for three-season hiking – so, anything that will keep you comfortable in normal conditions from spring through to autumn. We've considered factors such as material quality, breathability, cushioning, durability, comfort and overall value.
As well as rounding up the best socks for walking, we'll also cover the different types of hiking socks that are available, more specifically looking at the different materials – merino, synthetics and cotton, for instance – and their various advantages and disadvantages compared to each other.
The 10 best hiking socks reviewed 2023
In this article you'll find our selection of the best pairs of socks for three-season hiking and trekking this year. The tests were conducted by Alex Roddie and Will Renwick who focussed on the comfort, performance, durability, sustainability and value of each pair. All pairs have been hiked in and worn casually over extended periods.
Darn Tough Willoughby Micro Crew Lightweight Hiking Sock – Best hiking sock tested
Bridgedale Hike Midweight Merino Comfort Boot Sock
Lorpen T3 Light Hiker Eco
Darn Tough Hiker Micro Crew
Stance Blanket Statement Crew
BAM Superluxe
Sealskinz Waterproof All Weather Mid Length Sock with Hydrostop
Patagonia Lightweight Merino Performance Crew
Hanwag Specialist Bunion Sock
1000 Mile Trail Sock
---
Best in test: Darn Tough Willoughby Micro Crew Lightweight Hiking Sock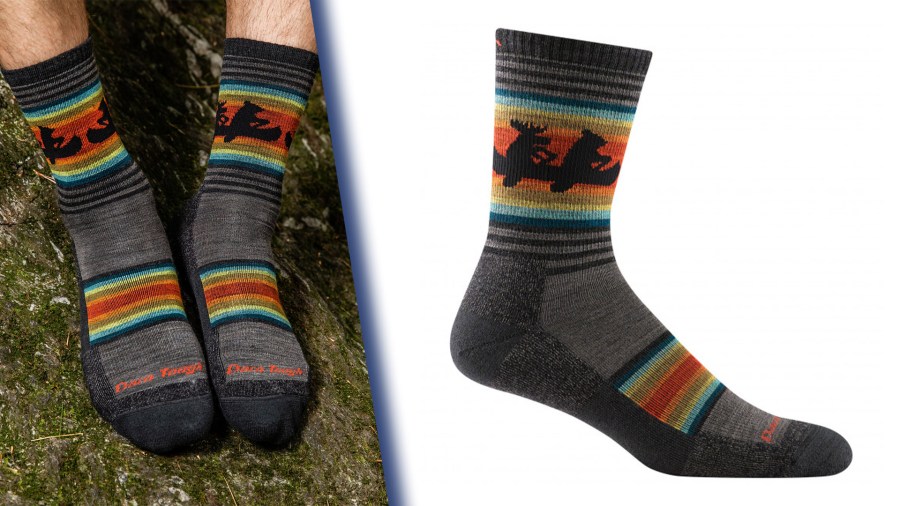 Price: $24 | £23
Weight: 2.11 oz | 60g
Materials: 53% nylon, 44% merino wool, 3% Lycra
More info: darntough.com
The first thing you'll notice about these merino-blend socks, which are made in Vermont, is the rather lovely decoration: on the cuff there's a graphic of a bear and a moose paddling in a canoe.
"Decoration doesn't affect performance, but it certainly affects how you feel about a product, and these socks make me smile every time I put them on," says our, tester Alex Roddie.
The material is a sensible blend of nylon, merino wool and a small amount of Lycra (no polyester). In these socks you get both the comfort and temperature-regulating properties of merino, but with the durability of nylon. Lycra adds stretch.
"Of all the merino-blend socks I've used over the years, I think that Darn Tough has the best all-round formula," says Alex. "These really are wonderfully comfortable socks in a huge range of conditions. Although I run warm, the high merino content means that I have never overheated in them, even in hot conditions. I've also worn them in big mountain boots high on Ben Nevis in March. For me, this versatility is unmatched."
Performance is good in both trail shoes and boots. There's lightweight cushioning under your feet. The uppers are nice and light, which helps them to breathe and also ensures that they dry more quickly than some merino socks we've used. The ankle cuff, which is short boot height, has a snug stretch and is also quite lightweight. 
The fit is snug for the size but not restrictive. Durability is excellent, with just a little wear on some of the seams. One thing we love about Darn Tough socks is that they are 'Unconditionally Guaranteed for Life': if they wear out then you can return them for another pair.
"Probably the best all-round mountain socks I've used in recent years," Alex concludes.

Bridgedale Hike Midweight Merino Comfort Boot Socks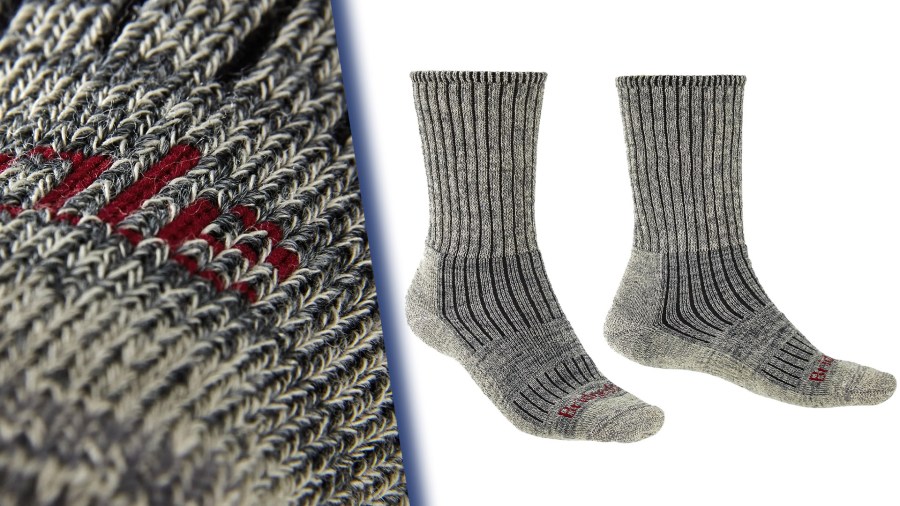 Price: £23 | UK Shipping only
Weight: 3.17 oz | 90g
Materials: 50% Coolmax(polyester), 27% merinowool, 22% nylon, 1% Lycra
More info: bridgedale.com
These socks are described as mid weight, but they're of a heavier weight than some of the socks tested here, and we'd describe them as 3-4 season due to the slightly thicker materials and more generous padding. The look is on the classic side: a range of understated textured colours. The material is once again a merino blend, but this time with 50% Coolmaxpolyester, 27% merino, and 22% nylon (again with a small amount of Lycra for stretch). With a different blend you get different trade-offs. In use, these socks dry quickly and are extremely hard wearing, which make them good for long-distance hiking if they fit you – and the generous cushioning also makes them ideal for use in boots. However, the lower merino content makes them less good at regulating temperature. We wouldn't recommend choosing these socks for high summer, as they get stuffy in hot conditions, but they're better for winter use. We found them perfect for spring or autumn days. 
They run a bit larger than the Darn Tough socks, according to our tester Alex, and they have a ribbed cuff that is both higher and less snug. This makes it even easier to tuck in trousers.
"Although the fit is described as close and supportive, they feel a little looser around the toes and heel and don't feel as positive in trail shoes," says Alex. "I still find them comfortable, and have had no problems with blisters, but it's worth trying before you buy and you might need to size down."
Finally, it's worth mentioning Bridgedale's ThermoFitprocess, said to ensure that the sock retains its shape after multiple washes. Alex noticed no change in the fit despite having washed them many times. Overall, highly recommended – especially if you run cool or have larger feet.
Lorpen T3 Light Hiker Eco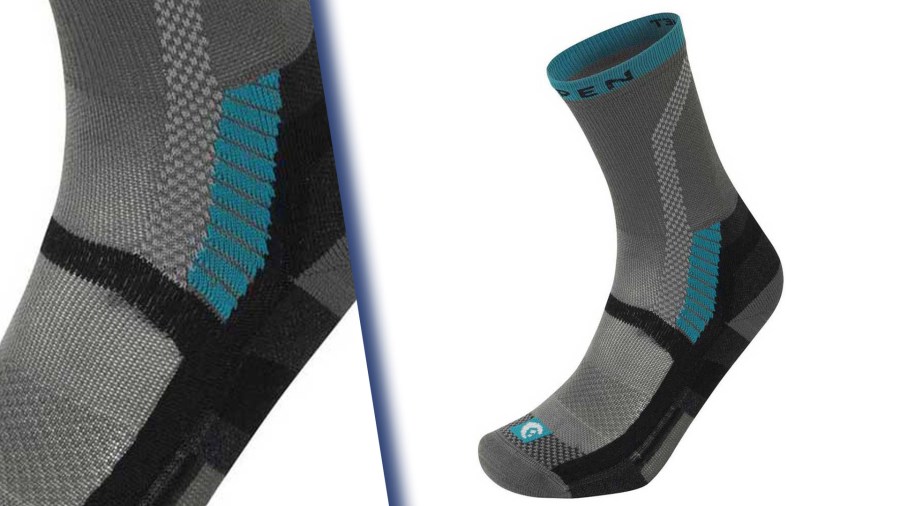 Price: $25 | £19
Weight: 2.11 oz | 60g
Materials: 44% Red-Cyclednylon, 29% CoolmaxEcoMade, 16% stretch nylon with Lycra, 11% Tencel 
More info: lorpen.com
Lorpen makes a wide variety of socks for outdoor use from a range of materials, and the T3 LightHiker Eco, in its spring/summer 2022 collection, takes advantage of some of the brand's new sustainability efforts. The look is attractive and contemporary, with sporty patterning that you might associate more with a running sock. However, these are designed for 3-season mountain use in either trail shoes or hiking boots. 
The T3 Light Hiker Eco is a lightweight synthetic-blend sock with cushioning zoned mainly beneath the heel and at the toe. Cushioning is quite minimal but our tester found them to be extremely fast drying, and they're also very breathable, especially in warm weather. They don't quite have the versatility of the Darn Toughs (above), though, because they're not quite as warm in cold conditions. Tester, Alex Roddie, says that he'd favour a bit more cushioning for use in winter mountain boots.
The fabric blend contains nylon made from recycled fishing nets and Coolmax polyester made from recycled PET bottles. In total,73% of the material in each sock comes from recycled sources.
"Performance is good overall although quality of construction is not as high as some of the other socks tested," explains Alex. "I've started to notice more pilling and general wear, especially inside the socks and under the heel, despite approximately equal use. I think these socks are reasonably good value at £20 a pair, and their quick-drying and highly breathable properties make them good for long-distance walking."
Darn Tough Hiker Micro Crew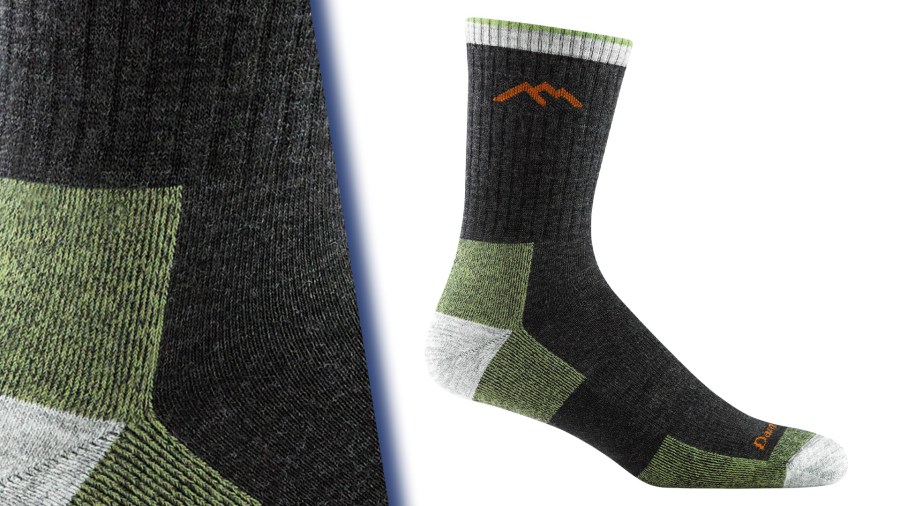 Price: $25 | £26
Weight: 2.53 oz | 72g
Materials: 61% Merino Wool, 36% Nylon, 3% Lycra Spandex
More info: darntough.com
Darn Tough are the only brand to feature twice on this page and that's testament to just how much we like their products.
The Hiker Micro Crew is their option for long-distance hikers, in fact it's specifically made for the demands and conditions to be expected along the Pacific Crest Trail and the Appalachian Trail – in other words, big temperature variations and rough, uneven terrain.
First things first, you can expect the Micro Crew to give you that new sock feeling over and over again when you pull it on. It has a really comfortable, high quality and supportive feel overall. The weave is fairly light compared to some hiking socks out there, but it still does feel protective and comfortable – it doesn't feel like it'll wear out quickly by any means.
With 61% Merino Wool, 36% Nylon and 3% Lycra Spandex content, the blend is balanced nicely, bringing comfort, durability, warmth, moisture management and temperature regulation. You also have zoned areas, including soft terry loops underfoot and targeted protection over the ankle and Achilles.
Best of all, this Vermont-based, family-owned brand offers a fuss-free lifetime guarantee, so if your socks happen to wear out, you'll be able to send them back and get a new pair in return.
Stance Blanket Statement Crew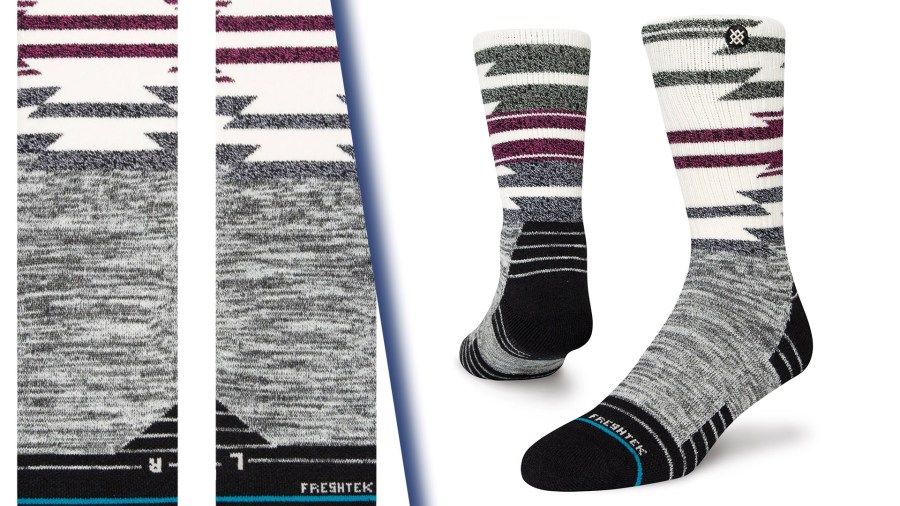 Price:  $25 | £23
Weight: 3.52 oz | 100g
Materials: 38% Nylon, 34% Merino Wool, 26% Polyester, 2% Elastane
More info: stance.com
Stance haven't been around for too long, at least not compared to some of the main sock brands, but they've risen right to the top, mainly through an emphasis on creating functional socks that also have a bit of style – and some clever marketing. 
They call their Blanket Statement Crew a sock for anything from couch to canyon, so it's essentially made to be a bit of a jack of all trades.
"It has a fairly low amount of merino compared to some of the socks in this gear guide and you can kind of feel that," says TGO tester, Will Renwick. "It feels a little more coarse than, say, the Darn Tough and Bridgedale socks. That's not to say it isn't comfortable, it's just not as comfortable as those options. It certainly feels very durable; you can see the materials lasting long enough for the lifetime guarantee to go unused – obviously that's nice to have just in case though. It's well-constructed too, with minimal seams and careful placement of them."
Overall, the Blanket Statement is a relatively warm three-season sock that will do the job it's supposed to on low-level wintry hikes. Come summer, the air channels and mesh panels will come in handy in mild temperatures but things will start to feel a little hot on any hikes exceeding 75 °F.
BAM Superluxe


Price: $14 | £10
Weight: 2.46 oz | 70g
Materials: 68% Bamboo Viscose 28% Organic Cotton, 4% Elastane.
More info: bambooclothing.co.uk
40% of the materials that go into each pair of these are derived from bamboo viscose, a material that's fast becoming one of the most viable sustainable options in clothing manufacture. 
Bamboo viscose is basically a fibre that's regenerated from crushed bamboo leaves and stems and the advantages this has when it comes to sustainability are numerous. First of all, it isn't an energy intensive resource to grow, only really requiring rain water. Then there's the fact that it also thrives naturally without needing any pesticides or fertilisers and it can grow in places that it would be impossible to grow other crops

Cotton makes up the bulk of the remaining ingredients and unfortunately this high cotton content creates the main pitfall to the Superluxe. It makes this is a sock that dries very slowly and that loses its shape quickly. 
There are nice details, however. These include the terry looping at the base and toes to add a nice amount of springy cushioning, a rib construction up the ankle which boosts the insulating qualities, and then there are offset and flatlocked seams at the toes.
These socks are light to mid weight. You wouldn't want to wear them for any cold, wintry stuff, but they're suitable for summer hikes and fine for milder spring and autumn days too. 
Sealskinz Waterproof All Weather Mid Length Sock with Hydrostop
Price: $48 | £35
Weight: 3.10 oz | 88g
Materials: Outer Layer: 90% Nylon, 10% | Elastane Middle Layer: 100% Hydrophilic Membrane | Inner Layer: 36% Merino Wool, 36% Acrylic, 18% Polyester, 5% Elastane, 4% Nylon, 1% TPU
More info: sealskinz.com
Waterproof socks tend to be quite warm and can get clammy, and these are no exception. They are, however, excellent when used in the right circumstances; chiefly in cold and wet conditions.
Three bonded layers make up the main fabric of these ankle socks. The outer features 4-way stretch nylon, which leads to great fit and wearability. A hydrophilic membrane sits in the middle, giving the sock its waterproof qualities and releasing moisture vapor. The inner then comes in the form of a woven merino wool, which is well known for its insulating and sweat-wicking properties. There's also a rubbery rand around the cuff which provides a seal to prevent rain ingress up top. The result is a sock that feels very comfortable and that does what it says on the tin. We've used it for river crossings and have been left hugely impressed by the protection on offer here.
For those who prefer to hike in trail shoes, this sock makes for a great accompaniment for any long hikes where your shoes will be likely to remain wet for a long time – basically saving you from getting trench foot. We're thinking any notoriously boggy trails like the Cape Wrath Trail through Scotland or Vancouver Island's West Coast Trail.
Handily, Sealskinz offer a lifetime guarantee on all of their products, so a replacement can be sorted if something goes wrong.
Patagonia Lightweight Merino Performance Crew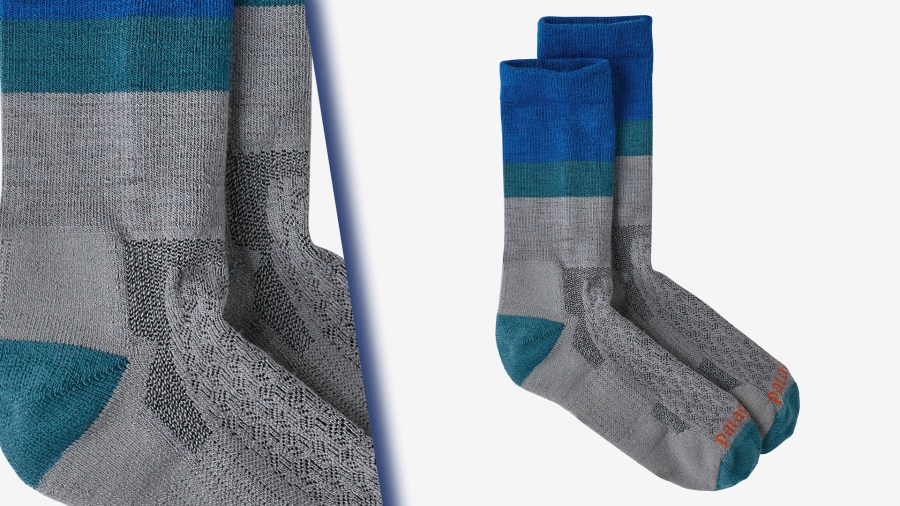 Price: $22 | £17
Weight: 2 oz | 57g
Materials: 59% RWS-certified merino wool/39% nylon/2% elastane
More info: patagonia.com
The main material of the Merino Performance crew sock is, unsurprisingly, merino wool. In fact, it's made of 59% RWS-certified merino wool, meaning there's been extra care for the protection of the animals used as well as for the land they graze. The remainder of the sock is made from 39% nylon and 2% LYCRA elastane.
The cut is a low-calf-height crew so the Lightweight Merino Performance works well with most low to mid height hiking shoes, including more everyday shoes. At 57g per pair, it's also quite light for the comfort and warmth provided, making it well-suited to multi-day trips where every gramme counts. 
Details include an engineered sewing pattern on the top of the foot for increased airflow, a mesh arch brace to create a supportive fit, and a soft terry-looped footbed for light cushioning. That terry looping additionally helps with the absorption and expulsion of sweat, further increasing airflow throughout the sock. 
Designs and colours to choose from include the Classic Fitz Roy: Viking Blue, Birch White, Feather Grey, and Lofoten Landscape: Sublime Green. All nice, natural colours, and timeless, retro looks. 
Hanwag Specialist Bunion Sock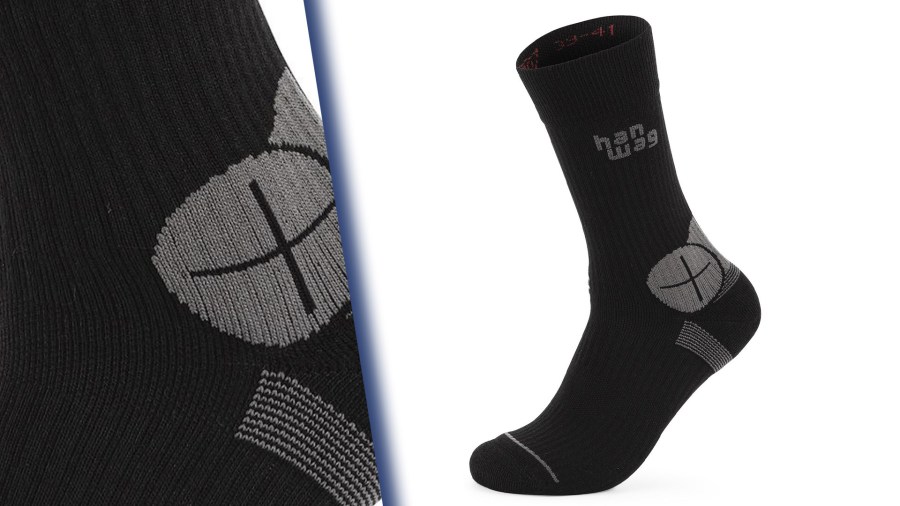 Price: $24 | £20
Weight: 2.36 oz |  67g
Materials: 40% Schoeller EXP merino wool, 29% polyamide, 28% polypropylene and 3% elastane
More info: hanwag.com
As the name suggests, the Bunion sock by Hanwag is targeted towards those who have bunions – a bony lump that forms at the base of your big toe. It's a common deformity for those who've regularly worn narrow shoes such as high heels or climbing shoes. The sock is not only specifically shaped for feet with bunions but there's also extra cushioning at the part of the foot where bunions tend to form. That cushioning is also located across the sole and on the back of the heel too.
Whilst the Specialist Bunion sock should work well with most hiking shoes, it's also specifically designed to be paired with Hanwag's bunion shoe collection which include modified versions of the Tatra II and the Alta II, amongst others.
It's made from good quality 40% Schoeller EXP merino wool, 29% polyamide, 28% polypropylene and 3% elastane. The materials used have some nice eco features too, including an EX-pollution anti-felting treatment and a chlorine-free wool finishing process.
Overall it's a mid weight sock that suits average conditions from spring through to autumn.
1000 Mile Trail Sock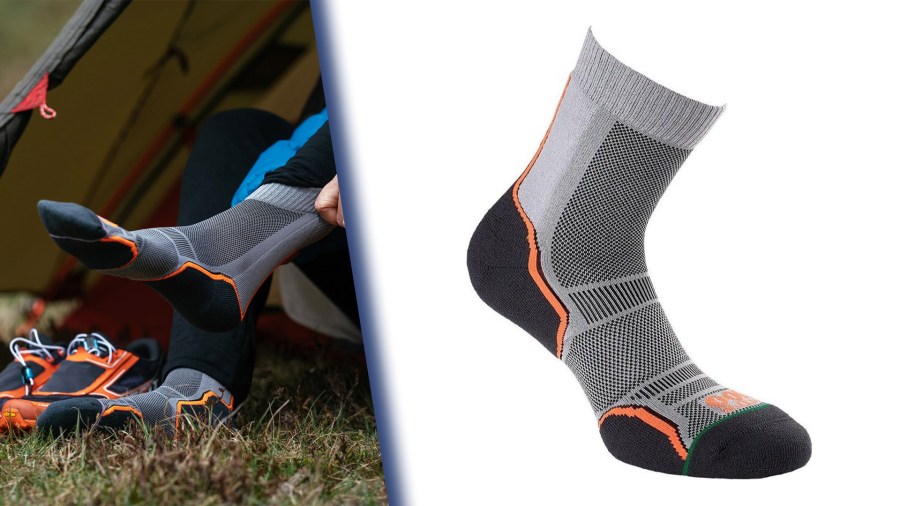 Price: £14.50 (x2 pairs)
Weight: 2.11 oz | 60g (per pair)
Materials: Base 70% Acrylic, 30% Merino Wool. Upper 98% nylon 2% elastane
More info: 1000mile.co.uk
The 1000 Mile Trail Sock is made specifically for running but it would also suit fastpackers and/or any ultralight hikers who prefer to walk in trail shoes.

Available in 2-pair packets and at surprisingly good value, the 1000 Mile Trail Sock is light, it's comfortable and it provides impressive moisture wicking and ventilation. 
It has a slight bit of padding on the base which extends upwards at the back of the foot to protect and support the achilles tendon. One other nice touch is the toe pocket which has carefully designed seams to prevent rubbing and, in turn, those dreaded blisters.
There are a number of different materials here and these are zoned strategically throughout the sock. The padding on the base, for instance, mixes merino and acrylic in a blend that will offer natural anti-microbial properties and a smooth comfortable feel in those places that are prone to blisters. On the top of the sock there's a blend of nylon and elastane to keep the sock nice and close to the skin and to help to ensure any moisture is wicked upwards to the ankle. Finally, air channels and thinner weave on the top of the ankle add ventilation.
---
Hiking socks buyer's guide
From how to judge if a sock will be comfortable before you buy it, to how to pick socks that will last you a lifetime, here's all you need to know about hiking socks and how to choose the right pair for your adventures.
Hiking sock materials
Most socks are made from merino wool, nylon or polyester and the best material for hiking socks tends to be a blend of these fibres. They'll then also have a bit of elastane for stretch. The benefits of nylon and polyester synthetic fibres are that they are very quick-drying and hard-wearing. Merino wool, on the other hand, is a natural fibre that stays warm even when wet and it tends to be naturally odour-resistant and very comfortable. What's more, merino is able to wick moisture away from the skin, helping to keep your feet dry in clammy conditions.
The downsides are that merino is an animal product, and there are instances of animal cruelty in the merino wool industry. Fortunately, however, most products in the outdoor sector now certify their merino wool. It's always worth checking the details though.
Socks with high merino content of, say, above 75% will tend to be a little more fragile and not as long lasting as socks with a higher proportion of synthetics. So, ideally, the best hiking socks will have a high merino content of around 65% and then a good mix of synthetics and elastane. 
It's generally best to avoid cotton socks for hiking as it's very absorbent and slow drying. Once your feet get wet in cotton socks, they'll tend to stay wet and over time this could cause blisters and other problems. 
New to the scene are socks made from bamboo. This sustainable material tends to create socks that are very comfortable against the skin and it also contains an antibacterial and anti-fungal agent called "bamboo kun," which helps to prevent foot odor and infections. The downside to bamboo socks is that they may not be as durable as other hiking socks made from synthetic materials or a blend of merino and synthetics. Also, like cotton, the material is moisture absorbent and slow to dry. 
Hiking socks: what's better – thick or thin?
If you're looking for maximum warmth, say, for winter hiking, look for socks with a high wool content and thick yarns. If you want breathability, look for socks with thinner yarns and a light weave. 
Choosing between thick or thin socks for hiking involves considering various factors. Thick socks offer extra cushioning, padding, and insulation for cold weather hikes, but may affect boot fit and trap more heat in warmer conditions. Thin socks are lightweight, breathable, and provide a closer fit, suitable for hot weather or intense activities, but may offer less protection and cushioning. We recommend that hikers should consider personal comfort preferences, weather conditions, terrain, and footwear type when making their choice. Proper boot fit is crucial, and hikers should experiment to find the right balance between comfort, protection, breathability, and weather conditions.
Some of the best socks for three-season hiking come with zoned areas to ensure comfort and breathability are provided in the right places. These socks will have a thin weave and potentially even some air channels stretching across the top of the foot, then a dense weave across the base and around the ankle.

Height
Ankle-length, crew-length, and knee-high are the most common sock lengths for hiking. Ankle-length socks provide the least coverage and are best for hot weather, as they allow for maximum ventilation. These tend to suit hikers who prefer to hike in trail shoes. 
Crew-length socks cover the ankle and extend up to the mid-calf, providing more protection from debris and rubbing from your shoes. This type of sock length tends to be the most common.

Knee-high socks offer the most protection, making them ideal for colder conditions and rough terrain. However, knee-high socks can be bulkier and may cause overheating in warmer conditions.
Ultimately, the best sock length for your hike will depend on the weather, terrain, and your personal preferences.
Hiking Sock Warranties
Some hiking socks, like those from Darn Tough, come with a lifetime warranty, meaning that the manufacturer will repair or replace the socks at any time for any reason. Other warranties may cover the socks for a specific period of time, such as a year, and may only apply to defects in materials or workmanship. Some warranties may not cover normal wear and tear or damage caused by improper use or care and some may require you to return the socks to the manufacturer for inspection.
---
---