Keeping your legs warm and dry is essential for comfort and safety in cold stormy weather. Shorts or letting your trousers become soaked may be fine when it's warm but otherwise legs need protecting from rain. The standard way to do this is with waterproof overtrousers that you pull over your ordinary walking trousers when it's raining. The alternative are waterproof trousers you wear all the time. Both have advantages and disadvantages.
What are Overtrousers?
Overtrousers are made from the same waterproof fabrics as waterproof jackets. Every company making the latter offers a selection so there's a huge number available in a wide variety of weights and designs from ultralight thin pairs with minimal features to heavy duty winter ones with full-length zips and pockets. As with jackets performance, especially regarding breathability, depends on the fabric.
Advantages.
Only needed when it's raining.
As a backup pair in case your ordinary trousers aren't warm enough.
Non-waterproof trousers are more comfortable and breathable.
Disadvantages.
They must be carried when not worn, adding weight and bulk to the pack.
They can be uncomfortable unless they fit well.
Waterproof Trousers
Waterproof trousers designed to be worn all the time come in two types. First are those with the same waterproof/breathable materials as overtrousers and waterproof jackets. These have soft lining and face fabrics, so they look and feel like ordinary trousers. Waterproof trousers are cut like ordinary trousers too and have the same features. Not many brands offer them. Amongst those who do are Craghoppers, Regatta, Peter Storm, Rab, Sprayway, Keela, and Fjallraven.
Advantages
You wear them all day.
No need to carry overtrousers.
More comfortable than overtrousers/trousers.
Disadvantages
Less versatile than overtrousers.
If your legs get cold you still need an extra layer.
Not as breathable or comfortable as non-waterproof trousers
Lower durability than overtrousers as they are worn all the time, not just when it's raining.
Alternatives
There are alternatives not made from standard waterproof/breathable fabrics that are worth considering. These are more breathable and comfortable and usually designed to be worn instead of ordinary walking trousers not as overtrousers.
Advantages
You wear them all day.
No need to carry overtrousers.
Better breathability than overtrousers or standard waterproof trousers.
Can be reproofed
Disadvantages
If your legs get cold you still need an extra layer.
May be too warm in summer
May not be as waterproof as standard fabrics
Brands include Paramo, which makes several different waterproof trousers in the same Nikwax Analogy double-layer fabric as it's waterproof jackets. Cioch Outdoor Clothing also makes Nikwax Analogy trousers. Ventile cotton is offered by a number of companies including Hilltrek who make double-Ventile trousers that are fully waterproof and also Cotton Analogy trousers with a Ventile outer and a Nikwax Analogy inner.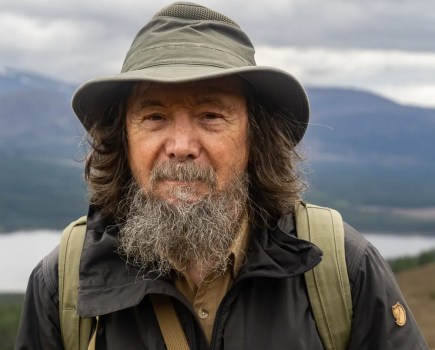 Written by Chris Townsend
Our Gear Editor since 1991, Chris Townsend is one of the world's most highly respected commentators on outdoor clothing and equipment and is also well-known as an author and long-distance hiker. He is the award-winning author of 22 books, including The Backpackers' Handbook, the Cicerone guide to walking in Scotland and Out There, a recent collection of essays.