Want the most warmth for the least weight? Judy Armstrong and Alex Roddie test the latest down jackets, and give you some general buying advice. 
Main image: Hannah Roddie
Testing down jackets is a real perk of the job: there is nothing so luxurious as feeling that puffy warmth surround your body. And it gets better every time: while innovation in many product areas can feel stagnant, down garments remain at the cutting edge, mainly in construction techniques and fibre management.
The restricting factor in the use of down jackets, in Britain at least, is the climate. Damp days, with temperatures above freezing, are why synthetic insulation was invented. But improvements in DWR (durable water repellent) coatings for the outer shells, and hydrophobic (water-repelling) treatments for the down itself have made these gorgeous garments easier to wear. Of course, when conditions are dry and cold, such as in the classic alpine environments, down is the obvious choice.
In its natural state on a goose or duck, down is already hydrophobic; those feathers bead brilliantly. But it also smells, so the oils are cleaned off and replaced by chemicals to achieve the same result. In general, the more environmentally-friendly the coating technology, the less time it lasts; conversely, the more environmentally-harmful treatments last longer. It's a bit like the lightweight principle: you trade longevity and durability for lower weight, to meet specific targets or end goals.
The alternative, which is more common, is to treat the shell fabric, so the down stays drier for longer. A fully waterproof coating inhibits breathability, so again you have to compromise: this time between your garment allowing air flow and moisture management. Hence DWR for repellency, rather than waterproofing, because sweat from the inside can make as much of a mess of those delicate down plumes as rain can.
The other thing to consider is where those feathers are sourced from. Back in 2012, animal welfare charities challenged outdoor companies to prove their down's provenance, including how and where the geese and ducks were raised and whether they were plucked alive. Today, most brands make it possible to trace your jacket's down, either through the Responsible Down Standard (RDS, responsibledown.org) and Allied Feather + Down's Track My Down (trackmydown.com) or own-brand initiatives like Patagonia's Global Traceable Down Standard (patagonia.com) and Mountain Equipment's Down Codex (thedowncodex.co.uk).
Features
Fit
You'll usually want a loose fit so that it can go over multiple layers. If it's advertised as an 'athletic' fit then you'll need to size up. Sometimes, however, down jackets are sized correctly to fit over layers. It's always best to try before you buy.
Fill
Down's insulating ability is measured in fill power, describing how much the down will loft when uncompressed; the higher the fill power, the warmer it'll be for the weight. Hydrophobic down makes your jacket much more resistant to moisture, although it still won't be waterproof! Traditionally, down is held in place by baffles, but some newer technologies blend synthetic fibres in high-wear areas (such as the shoulders) or can hold the down in place without the need for baffles.
Shell fabric
The purpose of a down jacket's outer shell is to keep the down in, the cold wind out, and to let your body's moisture escape. A DWR treatment will help moisture to bead on the surface when new, helping to keep the down dry in damp conditions, but won't keep out steady rain. Shell fabrics are often ultralight but may have a micro-ripstop pattern for durability. Pertex is the leading brand. The inner shell fabric is usually even lighter and should be very breathable.
Hood
Although ultralight down jackets often come with minimalist hoods, these are less useful in poor weather when you just want to chuck a down jacket on top of all your layers at a rest stop. A good hood will have a good level of adjustment and a broad peak that will shield your face from snow. For winter use, look for a hood big enough to go over your waterproof's hood plus a woolly hat or balaclava.
Pockets
Pockets are less essential than on a waterproof jacket, but handwarmer pockets are always welcome – ideally big enough for shoving hats and gloves in. Inner pockets are useful electronics, whose battery life tends to suffer in the cold, as well as for drying gloves and socks!
Weight
Lightweight down jackets are ideal for chilly nights in summer or long-distance walking in big European mountain ranges, while heavier models (with more down) are better suited to the British mountains in winter or colder conditions elsewhere.
---
5 women's down jackets for 2021 reviewed
Judy's testing notes: Judy packed her down jackets off to the French Alps. Early snowfall, high altitude hikes and a cold camp at the foot of a (rapidly receding) glacier helped put the women's gear through its paces. All weights are from her digital scales.
BEST BUY: Mountain Equipment Baltoro Women's Jacket (RRP: £230)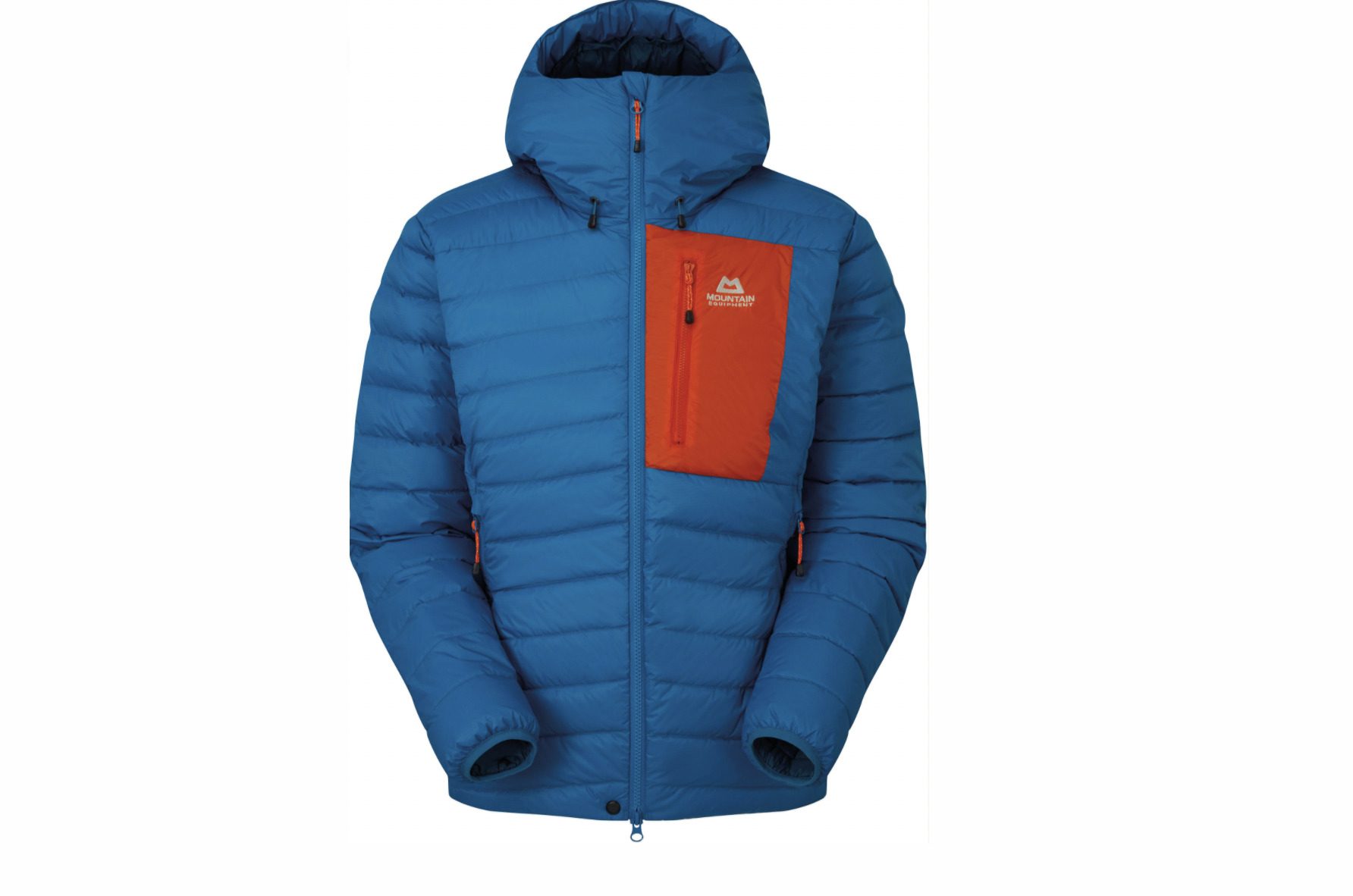 Rating: 5/5
Likes: construction, traceability, warmth, cut, features
Dislikes: nothing
Weight: 448g (UK 12) | Shell: Drilite Loft 20D nylon, PFC free DWR. Lining: recycled downproof nylon | Insulation: duck, 90/10, 700 fill, 148g. Down Codex | Sizes: 8-16 (men S-XXL)
Mountain Equipment are kings of down, through their pioneering Down Codex programme and ongoing innovation in product design. The big shout here, with the fresh-to-the-range Baltoro, is a new (and unique to ME) construction technique developed specifically for down clothing. It's a double layer, offset baffle construction with reflective internal scrim, and is more wind resistant and warmer than stitch-through construction but less bulky than box wall, thereby offering a great compromise between the two. The scrim has a coating which reflects body heat and forms part of the baffle structure.
Read more: Mountain Equipment Baltoro Women's Jacket review
RECOMMENDED: Salewa Ortles Light 2 Down Women's Hooded Jacket (RRP: £225)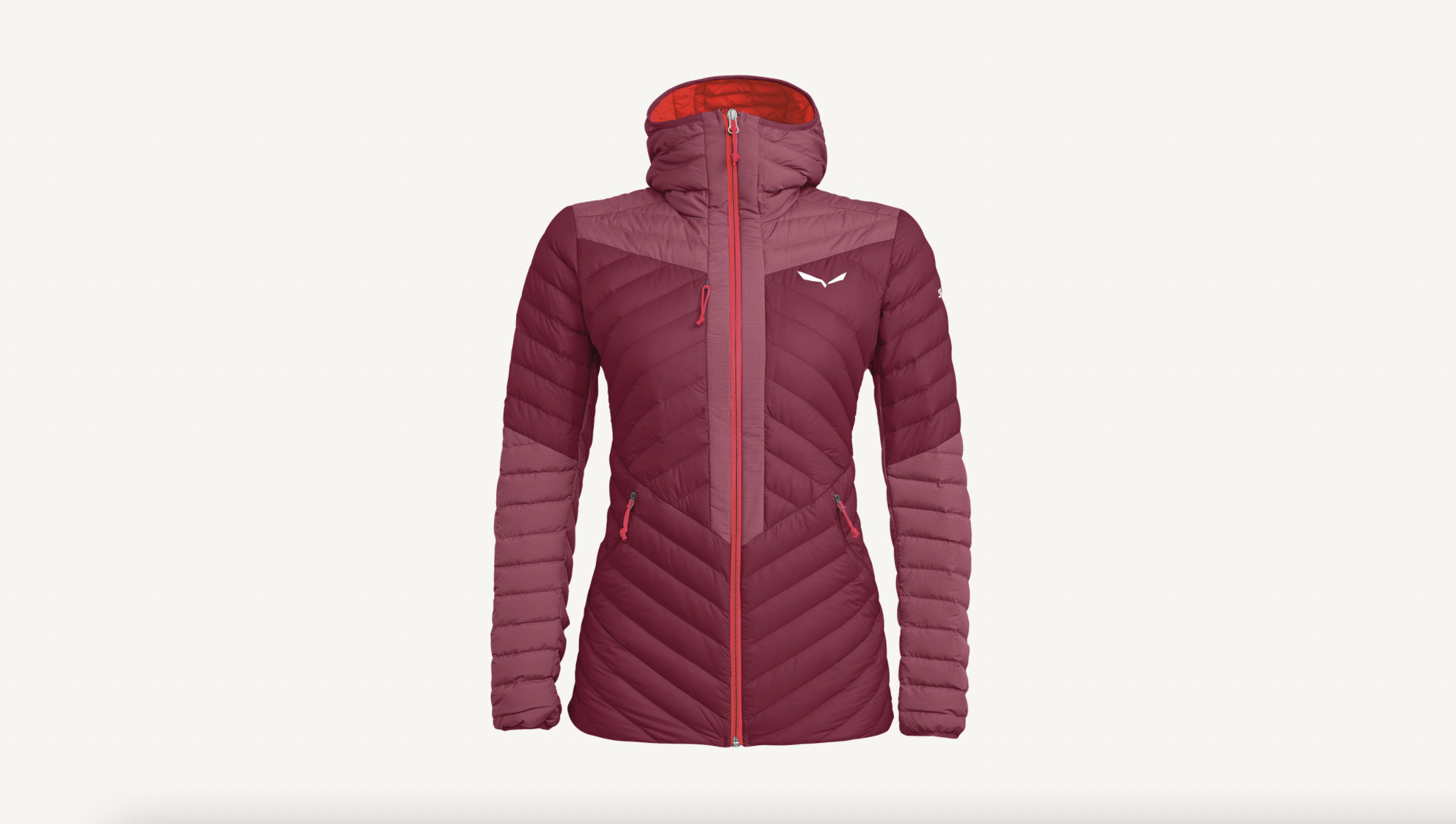 Rating: 5/5
Likes: length, cut, underarm panel, stuff sack
Dislikes: nothing
Weight: 370g (46/40 = UK 12) | Shell: Nylon ripstop 15D, DWR | Lining: Nylon 20D downproof | Insulation: white duck, 90/10, 750 fill, 100g. Underarm panels: Polartec Alpha (recycled polyester). RDS | Sizes: 6-14 (men XS-XXL)
Over the last couple of years, I've become a firm fan of mountaineering brand Salewa. Based in the Italian Dolomites, it has a low key but inspiring environmental and social conscience (check out 'Our Headquarters' on salewa.com). The clothing ranges are extensive and technical, and now include this, the lightest of the Ortles down family.
Read more: Salewa Ortles Light 2 Down Women's Hooded Jacket review
RECOMMENDED: Patagonia Women's Down Sweater Hoody (RRP: £230)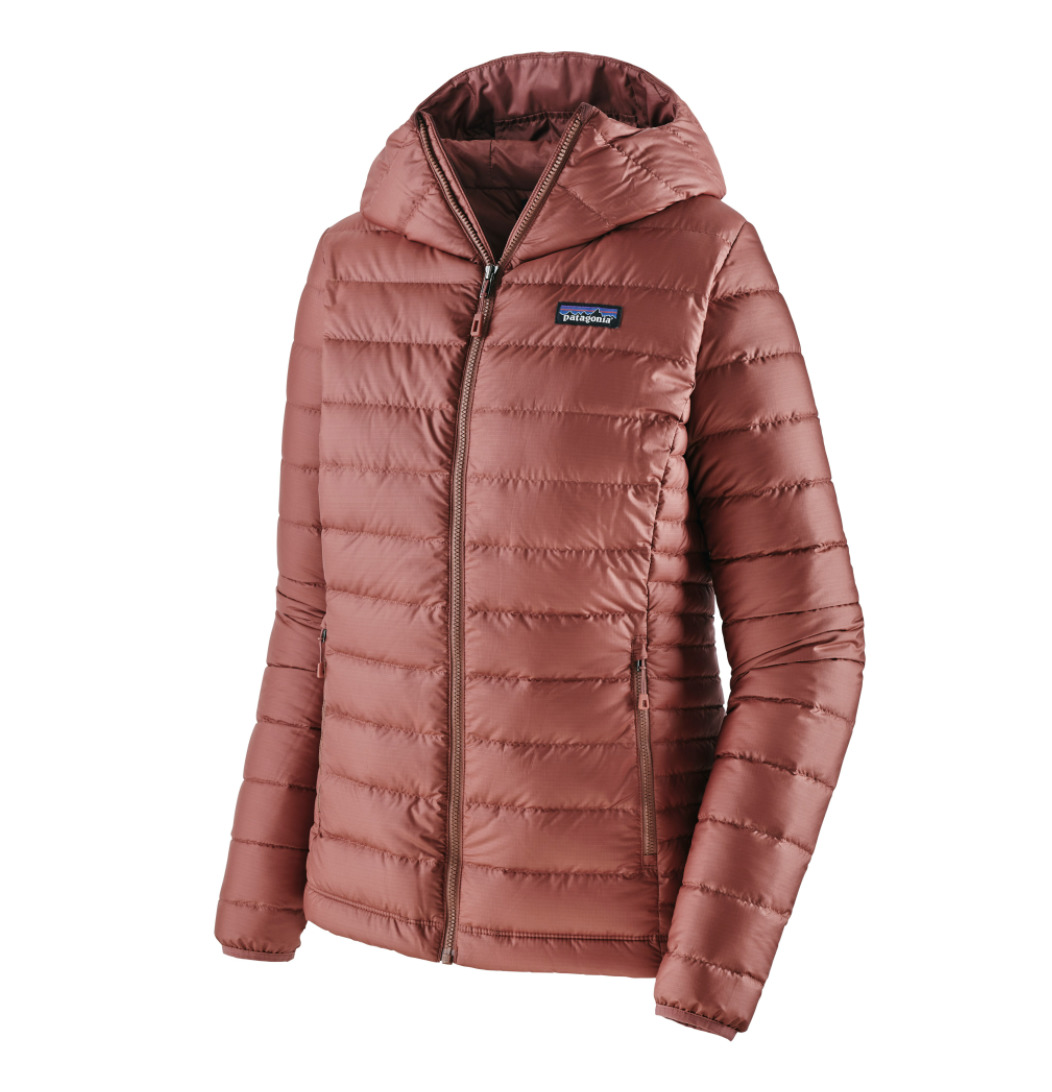 Rating: 5/5
Likes: down quality / fill power, generous cut, hood
Dislikes: nothing
Weight: 383g (UK 12) | Shell: 100% recycled polyester ripstop, DWR | Lining: recycled polyester | Insulation: goose, 800 fill, down/feather ratio + down weight not specified. Global Traceable Down Standard | Sizes: XS-XL (men XS-XXL)
Patagonia have built a strong reputation for recycling and environmental awareness. This hoody is a continuation of that: entirely recycled polyester outer, with 800-fill-power Global Traceable Down (goose down certified by NSF International to help ensure the birds that supply it are not force-fed or live-plucked). The down is impressive – 800 fill is highly desirable, goose trumps duck, and the certification is solid.
Read more: Patagonia Women's Down Sweater Hoody review
RECOMMENDED: Montane Women's Featherlite Down Jacket (RRP: £190)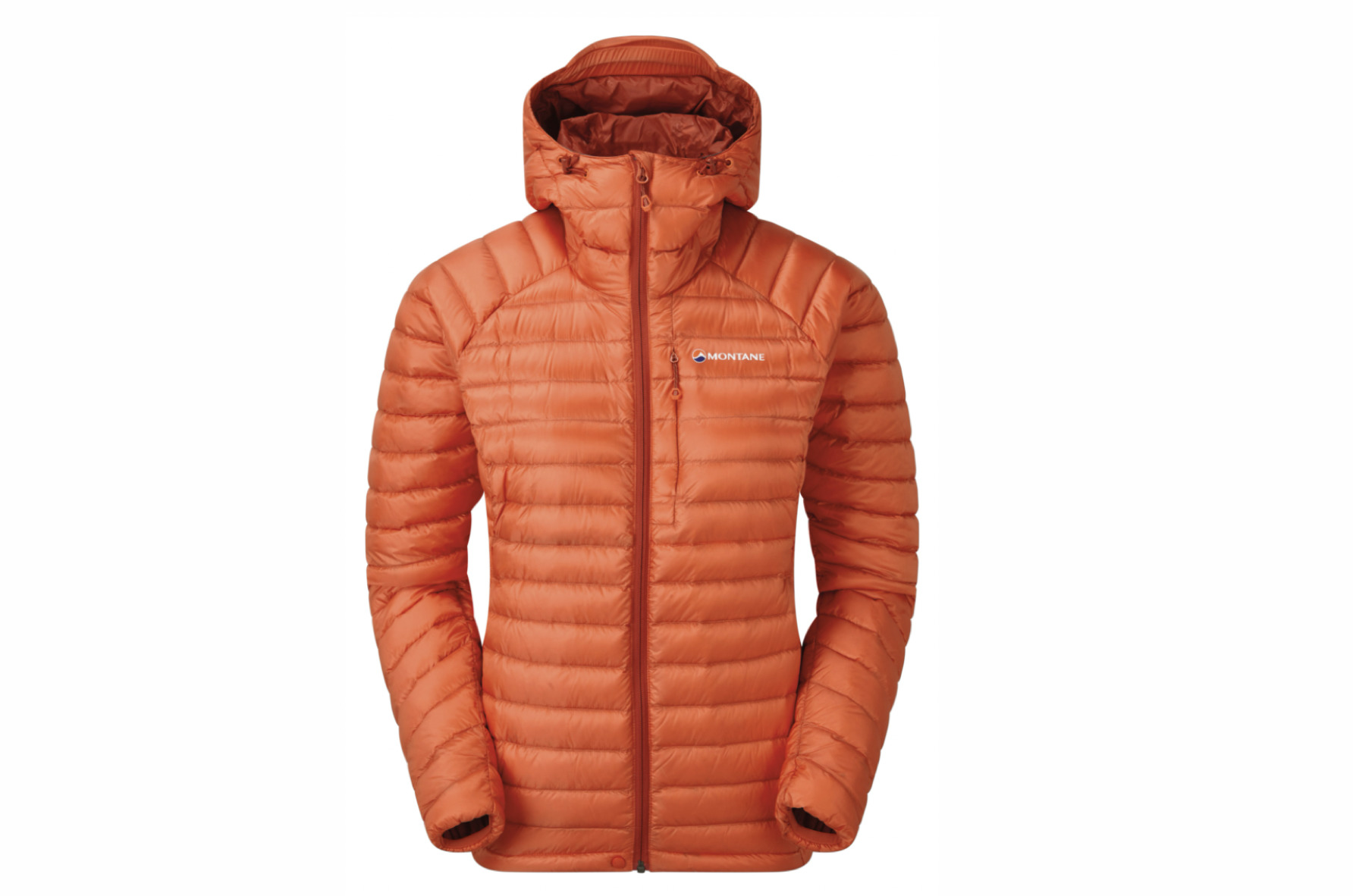 Rating: 5/5
Likes: warmth to weight ratio, hood, cut, chin and cheekguards, price
Dislikes: nothing
Weight: 377g (UK 12) | Shell: Pertex Quantum Eco 100% recycled nylon, DWR | Lining: PEAQ nylon | Insulation: HyperDRY duck (water resistant), 90/10, 750+ fill, 120g. RDS + Track My Down | Sizes: 8-16 (men S-XXL)
This is a classic down jacket with the contemporary twist of recycled fabric, and water resistance on both down fill and outer shell. The weight for warmth ratio is excellent: 120g of 750+ down fill gives generous insulation for a pack weight of just 377g. Micro baffle construction keeps down in the right places, with enough fill to prevent heat loss through seams. Length is cosy, just covering my backside and with space for base plus mid layer.
Read more: Montane Women's Featherlite Down Jacket review
RECOMMENDED: SALOMON OUTLine Down (RRP: £250)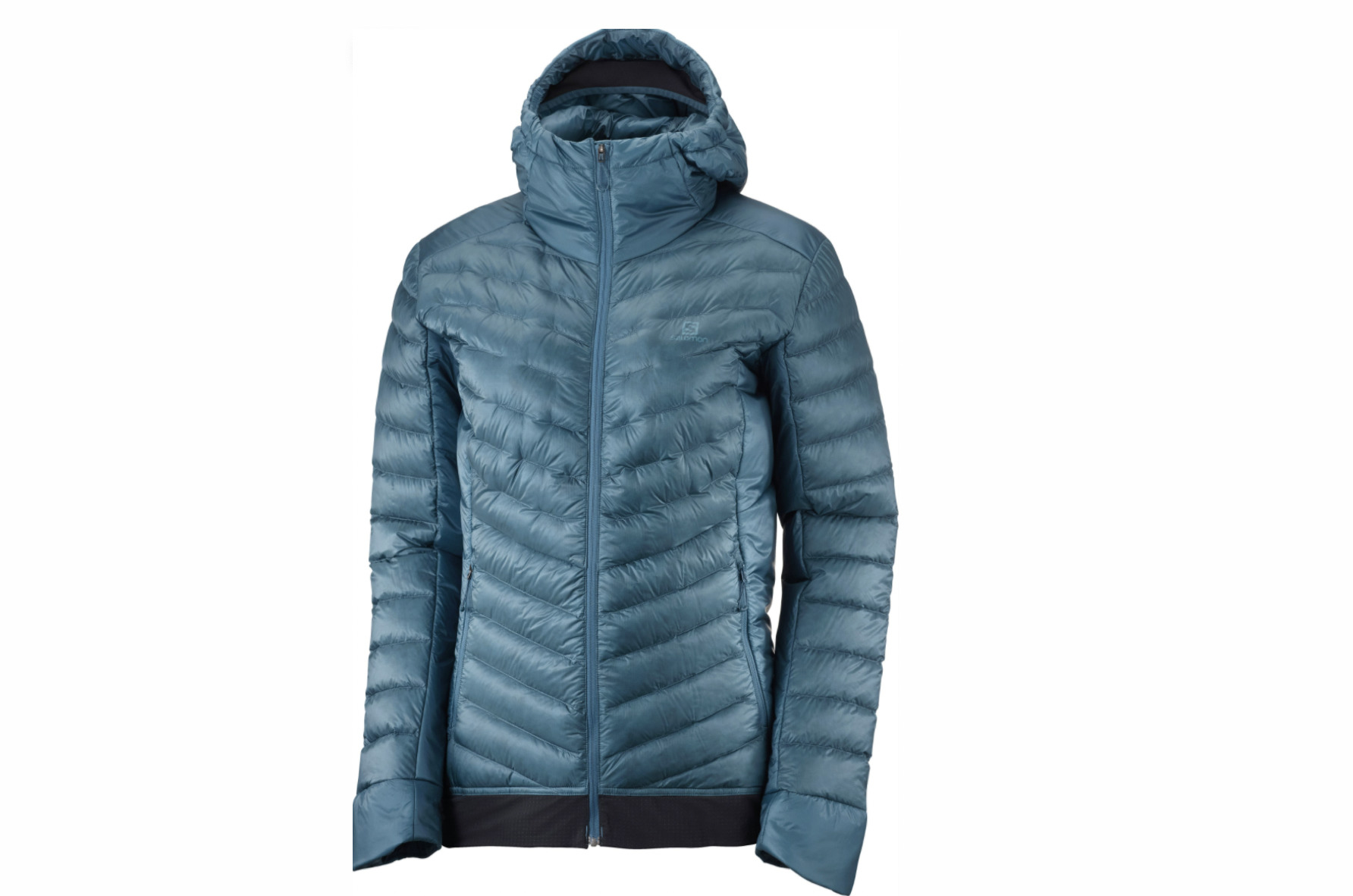 Rating: 5/5
Likes: weight, warmth, synthetic panels, cut
Dislikes: nothing
Weight: 280g (women's S) | Shell: Pertex Quantum Eco (100% recycled nylon) outer, DWR | Lining: Nylon | Insulation: grey goose, 90/10, 700 fill, 59g / 100g/m3 polyester panels / stretch hem 73% nylon + 27% elastane. Track my Down | Sizes: XS-XL (men S-XXL)
Wow. I love it when a brand surprises me. OUTLine Down combines the best of down and synthetic to make a practical, luxurious winter jacket. It's deliciously lightweight courtesy of the Pertex Quantum Eco outer shell, and the strategic use of goose down. It also manages active use; the areas where you get sweaty, or where the down would be compressed by a rucksack are made of lightweight panels of synthetic insulation which runs down the sides and from armpit to cuff, plus across the shoulders, and hood. At a rough guess I'd say 40% of the jacket is synthetic, hence the 59g total down weight.
Read more: SALOMON OUTLine Down review
---
5 men's down jackets for 2021 reviewed
Alex's testing notes: Alex has been testing these down jackets throughout the autumn and early winter. Despite mild conditions, he's made a number of trips north to the Scottish Highlands and has been glad of down insulation during colder spells – including an early-winter blast in the Cairngorms. Measurements are for men's size medium. Weights are as measured on Alex's digital scale.
BEST BUY: Rab Infinity Microlight Down Jacket (RRP: £240)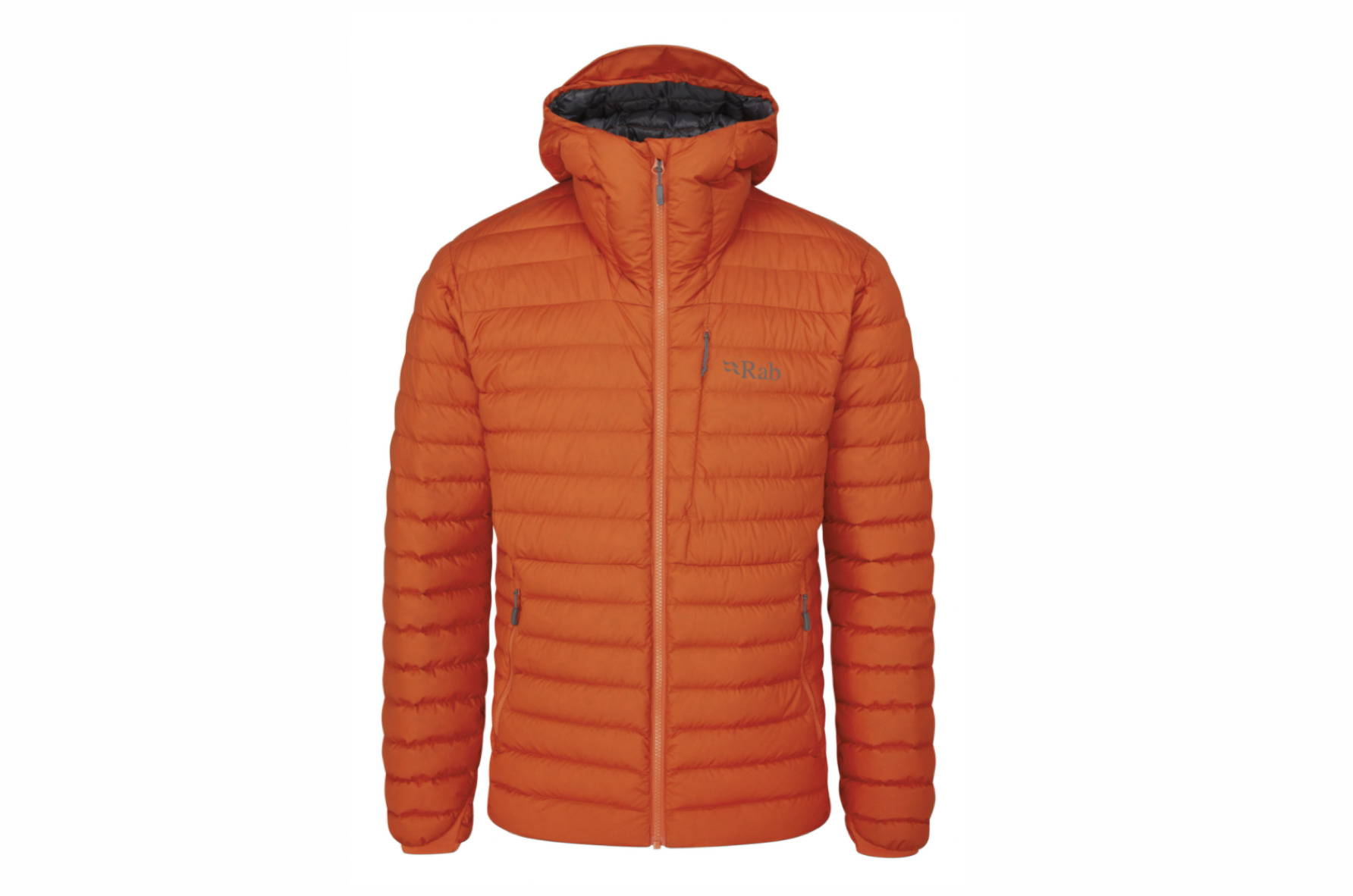 Rating: 4.5/5
Likes: superb hood, recycled down, hydrophobic, good pockets
Dislikes: stitched-through construction
Weight: 425g | Shell: 13D Gore-Tex Infinium Windstopper | Insulation: 146g of 700fp recycled down with Nikwax hydrophobic finish | Sizes: men S–XXL, women 8–16
Rab's Microlight series has been a mainstay of our down jacket reviews for years now. This iteration is described as the 'most protective version' of the Microlight range thanks to the use of a Gore-Tex Infinium Windstopper outer shell. This is a highly windproof and breathable soft-touch fabric, although it didn't seem much more windproof than other jackets tested. It repels light rain for a while but will eventually wet out.
Read more: Rab Infinity Microlight Down Jacket review
RECOMMENDED: Berghaus Finnan 2.0 Reflect Down Jacket (RRP: £190)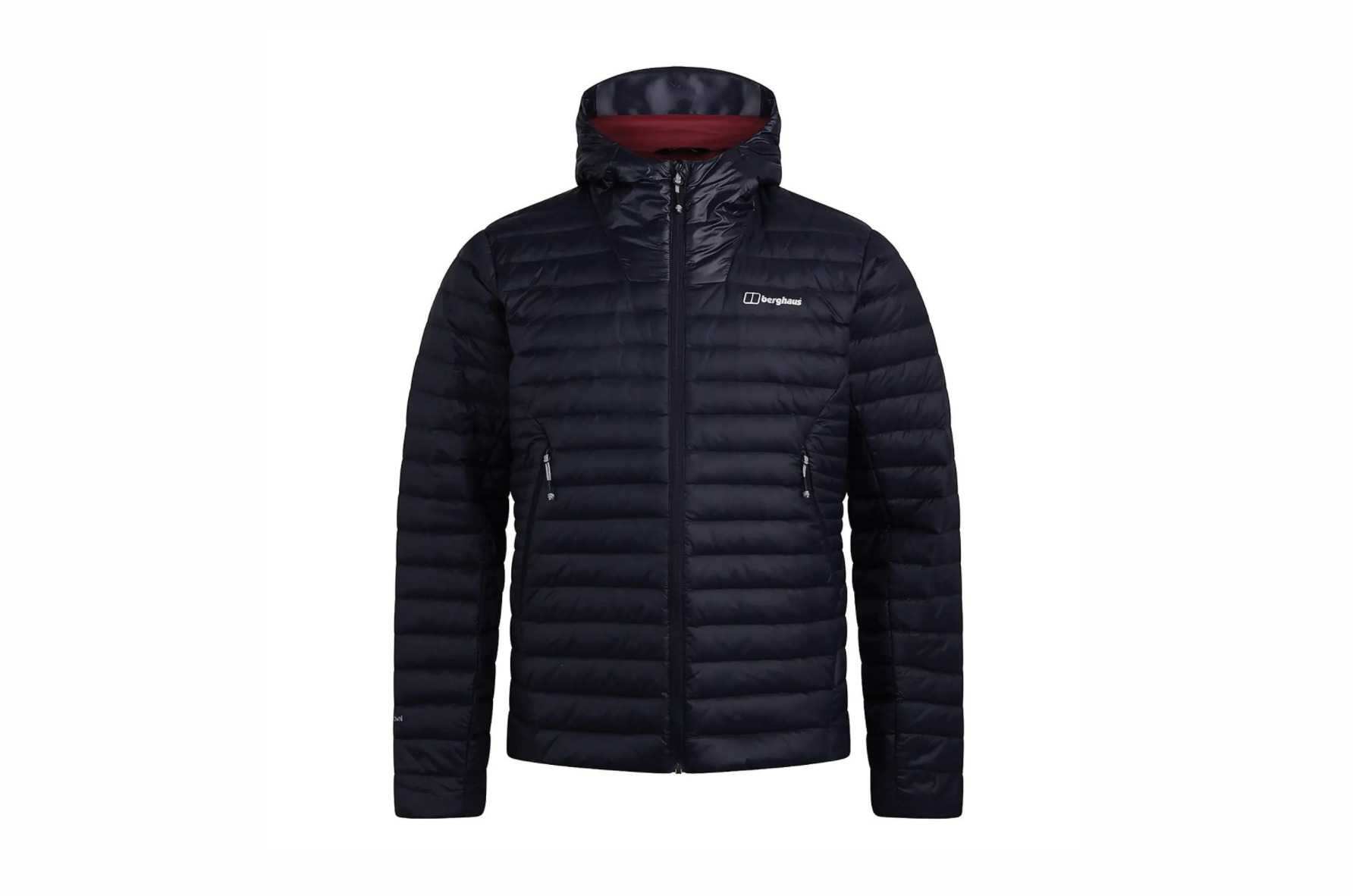 Rating: 4.5/5
Likes: very warm, hydrophobic, good value, wide size range, length, pocket placement
Dislikes: hood, no women's version
Weight: 492g | Shell: bluesign-approved 50% recycled polyamide | Insulation: RDS-certified 700fp Hydrodown hydrophobic down | Sizes: men XS–3XL
This is the heaviest men's jacket tested, but also the warmest. The down is 700fp and hydrophobic, and the jacket uses a technology called Reflect – an 'ultra-light internal mesh' designed to reflect body heat back to you and claimed to boost warmth by up to 20%. I've seen similar technologies on other jackets, and it can be hard to tell if the effect is anything more than placebo, but in this case it's definitive: this is a very warm jacket. It's much warmer than the Rab, despite only weighing a little more.
Read more: Berghaus Finnan 2.0 Reflect Down Jacket review
RECOMMENDED: Fjällräven Expedition Pack Down Jacket M (RRP: £255)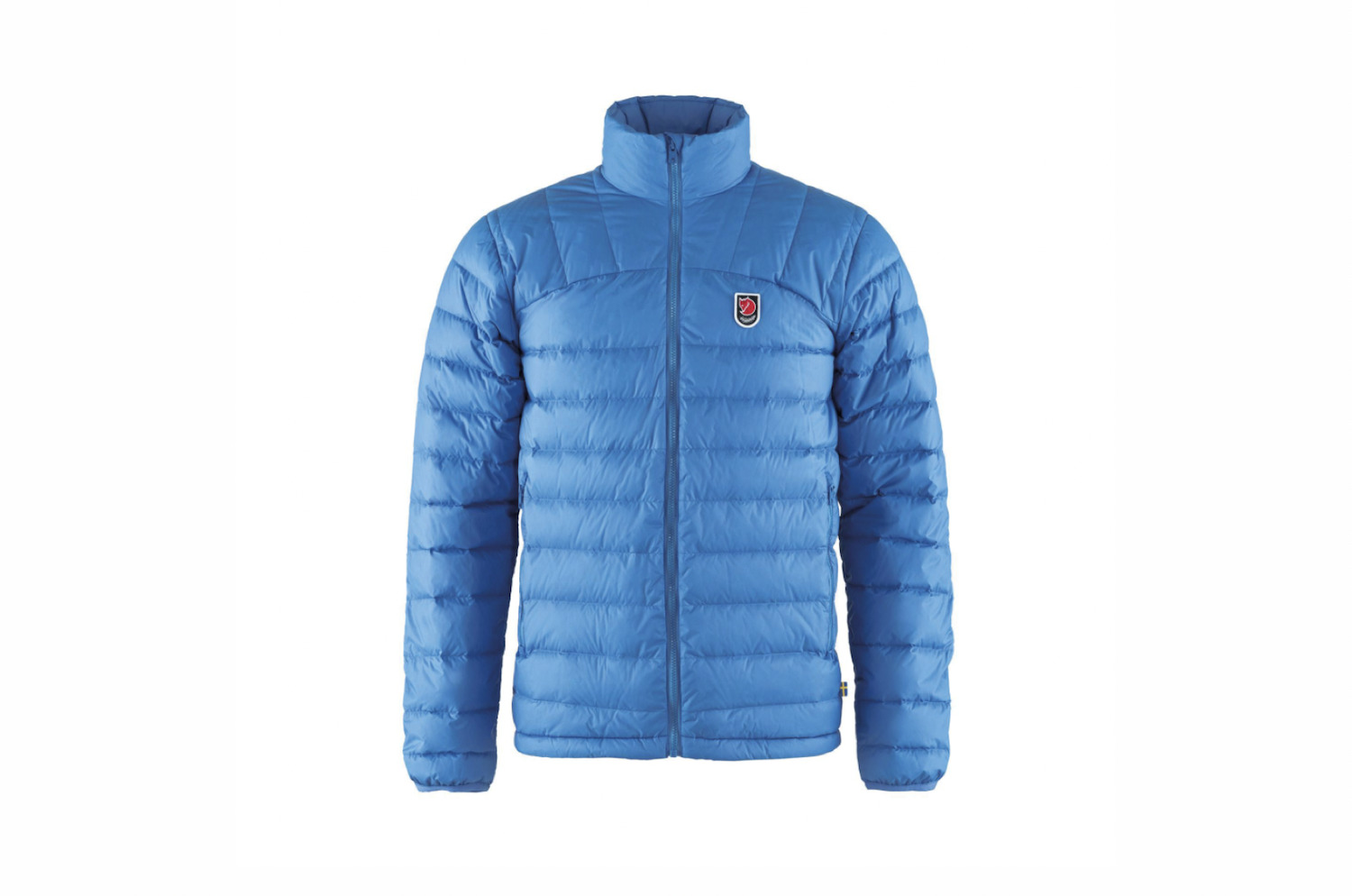 Rating: 4/5
Likes: ethically sourced down, recycled shell fabric, pockets, durability
Dislikes: quite expensive, not hydrophobic
Weight: 418g | Shell: 100% recycled polyamide, fluorocarbon-free | Insulation: 100g of 700fp traceable goose down, synthetic insulation over shoulders | Sizes: men XS–XXL, women XXS–XL
This down jacket has a classic, minimalist design with old-fashioned good looks. Like many Fjällräven products, it gets the basics right and focuses more on durability and ethical manufacturing than being the very lightest option. Fjällräven is among the very best brands for ethical down thanks to their Down Promise, guaranteeing that their products contain only ethically sourced down of the highest quality. With 100g of 700fp down, on the hill it's warmer than the Rab but not as warm as the Berghaus. There's no hood, though.
Read more: Fjällräven Expedition Pack Down Jacket M review
Arc'teryx Agrium Hoody (RRP: £360)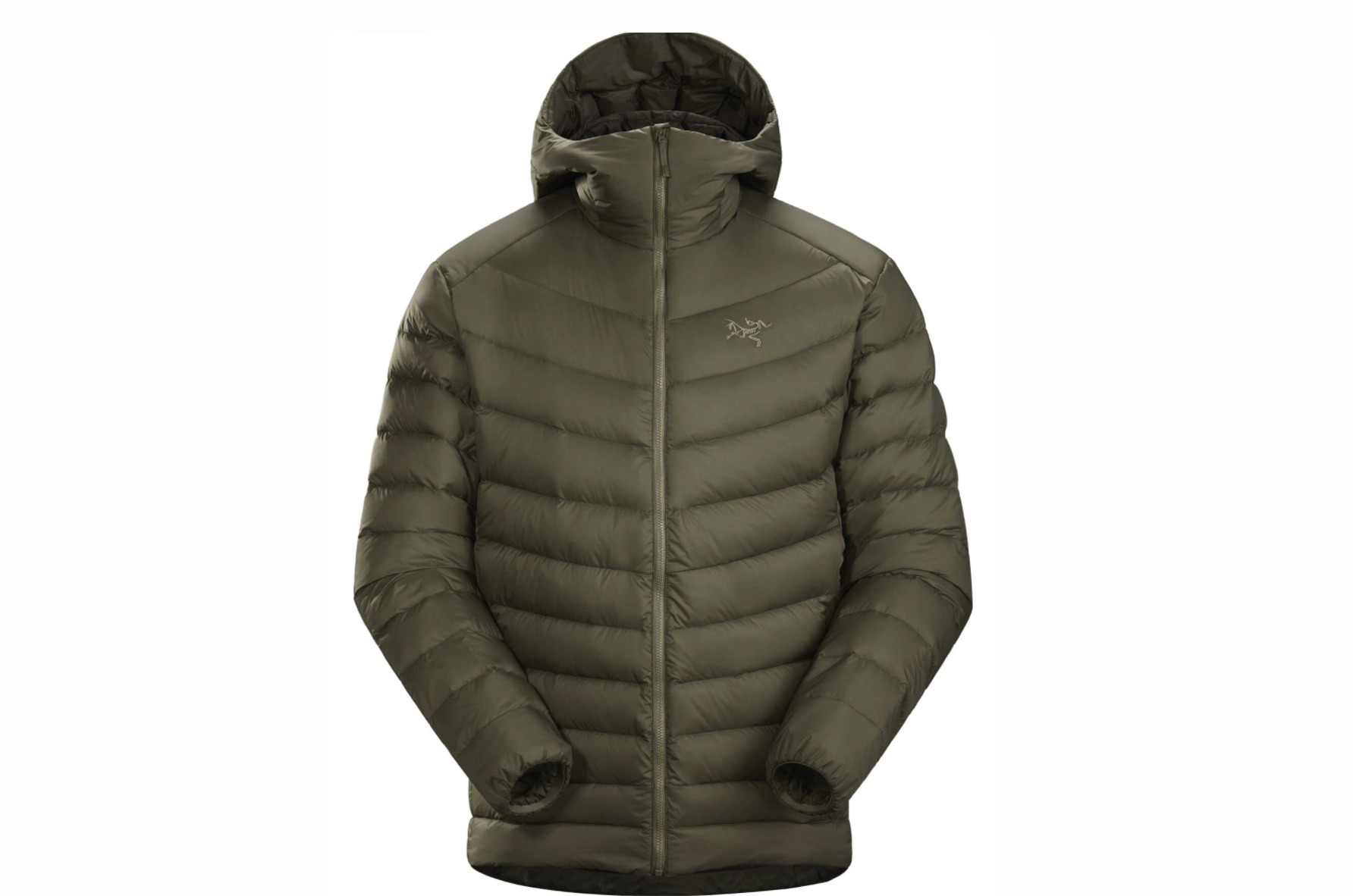 Rating: 4/5
Likes: very warm, top-quality down, lightweight, environmental credentials
Dislikes: expensive, not hydrophobic
Weight: 360g | Shell: Arato shell coloured with dope-dyed process using minimal resources | Insulation: 116g of RDS-certified 850fp European goose down, bluesign-approved 45% recycled polyester insulation | Sizes: men XS–XXL, women XS–XL
As lightweight down jackets go, this one is extremely warm. Partly that's due to the high quality of the down, but also because the fit is very good, and the hood is seriously snuggly – although it isn't a hood big enough to go over multiple hats and balaclavas. Recycled polyester insulation is used in areas prone to moisture. This process is called Down Composite Mapping. I haven't noticed this making any difference, but given that the down used is not hydrophobic, this can't hurt in damp conditions.
Read more: Arc'teryx Agrium Hoody review
Haglöfs Roc Down (RRP: £220)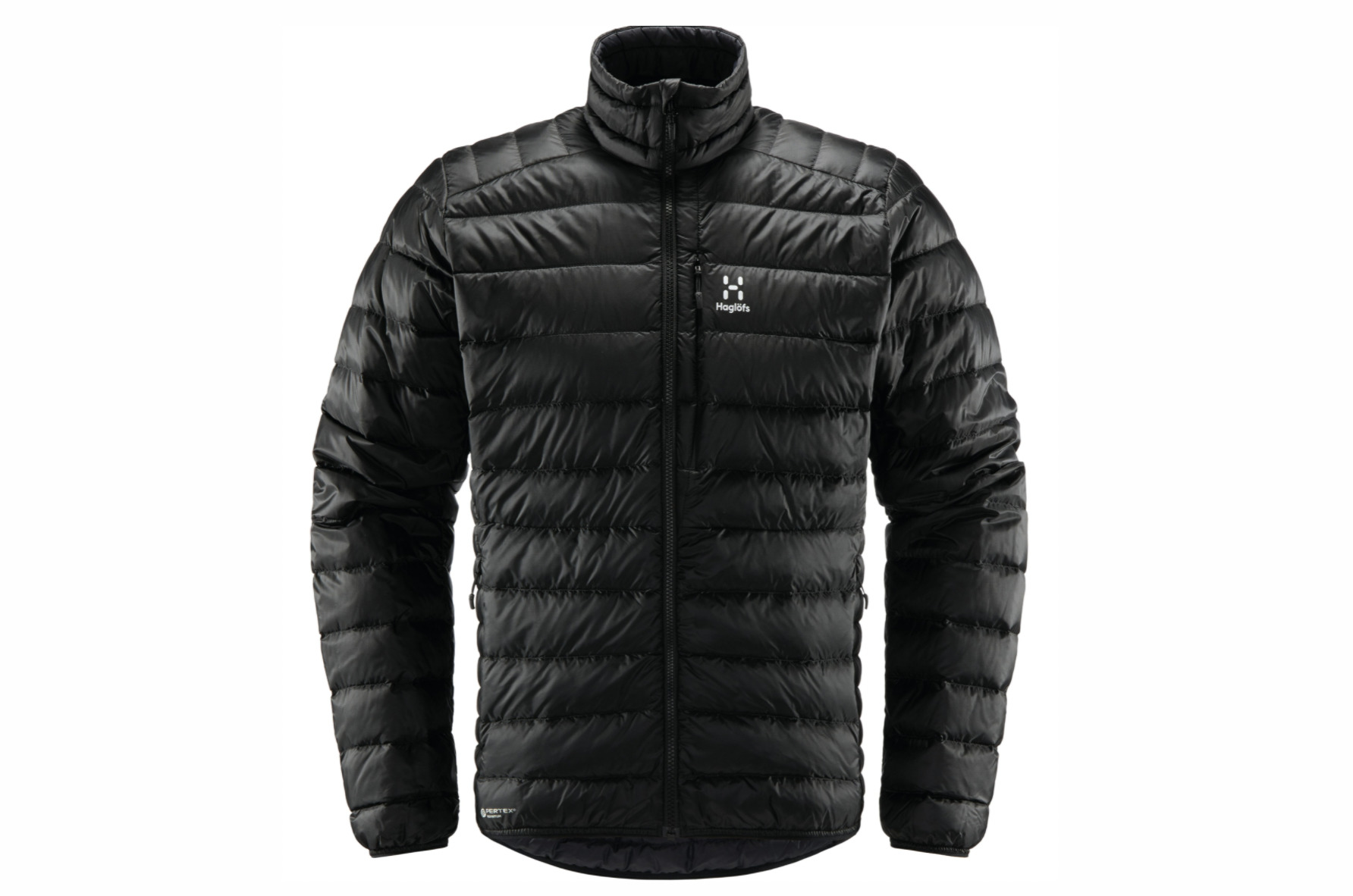 Rating: 4/5
Likes: very light, hydrophobic down
Dislikes: durability, inner shell not as downproof as it could be
Weight: 270g | Shell: 20D Pertex Quantum | Insulation: 88g of Haglöfs H2O Down Gold 800fp, treated with fluorocarbon-free DWR for moisture resistance | Sizes: men S–XXL, women XS–XXL
This down top is as basic as they come, with ultralight shell fabric, top-quality down filling, no hood, and few additional features. It's marketed as a highly water-resistant down jacket, suitable for use as a mid-layer in cold conditions, and thanks to a good fit, big enough to fit over a thin fleece, superb freedom of movement, and no faffy external cords or toggles to snag inside your jacket, it can work well in this niche.
Read more: Haglöfs Roc Down review