Heather Morning of Mountaineering Scotland takes a look at the resources available to us as walkers, and how to make the most of them.
This skills guide was first published in the December 2016 issue of The Great Outdoors.
What do you want from a weather forecast? The obvious answer is dry, sunny, calm conditions to enjoy your adventures on the hill or crag. But given the fact that none of us can control the weather, we must settle for second best – and learn how to use the information available to our best advantage.
Contents
---
1. Get the right information
Heather's recommendations:
Mountain Weather Information Service: this forecast is specifically designed to provide detailed information to enable mountain users to make good decisions. The site enables you to download PDF forecasts for your area of interest (regions of Scotland, Lakes/Dales, Peak District, Snowdonia, Brecon Beacons).
Met Office Mountain Forecast: after MWIS, this is usually my next step. Click on 'weather overview' where five days of forecasts are predicted to help with your planning. If I don't like what I find, or if it's a complicated picture or marginal conditions, then I will look at other sources.
Scottish Avalanche Information Service: not a weather forecast, but invaluable in winter if you are heading in to areas of the Scottish mountains that are vulnerable to avalanche.
2. Know what to look for
When I read the forecasts, I'm looking to answer the following questions:
How windy will it be and from which direction is the wind coming?
This will affect my route choice as I would always aim to have the wind on my back when I'm on high, exposed ground. As a general rule a 35-40mph wind will affect your balance as a fit, strong adult. Over 60mph is going to be a show-stopper.
What range of temperatures am I likely to experience?
At what height is the freezing level? This will help to to decide what kit to take with me: how many spare layers of clothing? Sun hat or warm hat or both? Ice axe and crampons?
Is it going to rain or snow, and if so how much?
Again this will influence kit and route plans. If heavy snow is forecast then progress may be very slow, and it will require the need to navigate carefully in poor visibility, which will be more time-consuming. Heavy rainfall may render some burns uncrossable; if heavy rain is foreacst then plan a route that crosses low ground at watersheds or head for the nearest bridge.
Is there going to be low cloud and poor visibility?
If visibility is poor, then you'll need to spend more time concentrating on your navigation and therefore a less ambitious distance may be achieved. Snow on the ground combined with poor visibility is particularly challenging; if you are unsure of your navigation skills, a lower route may be wise.

3. Be prepared for walking in bad weather
If the forecast is dodgy, keep your ambitions moderate and take precautions:
Pack clothes appropriate for the conditions and make sure they work – intermittently refresh the DWR on your waterproofs.
Carry an emergency shelter.
Protect the contents of your pack with waterproof drybags.
Let somebody know where you're going.
Protect your map and mobile phone in waterproof cases.
Take backup navigation equipment in case yours fails or blows away.
Steer clear of exposed ridges and cliffs.
Consider staying low level and on familiar terrain.
If possible, walk in company.
Avoid having to cross streams that may be in spate.
Plan your route to finish in a nice warm pub!
4. Understand how to read weather charts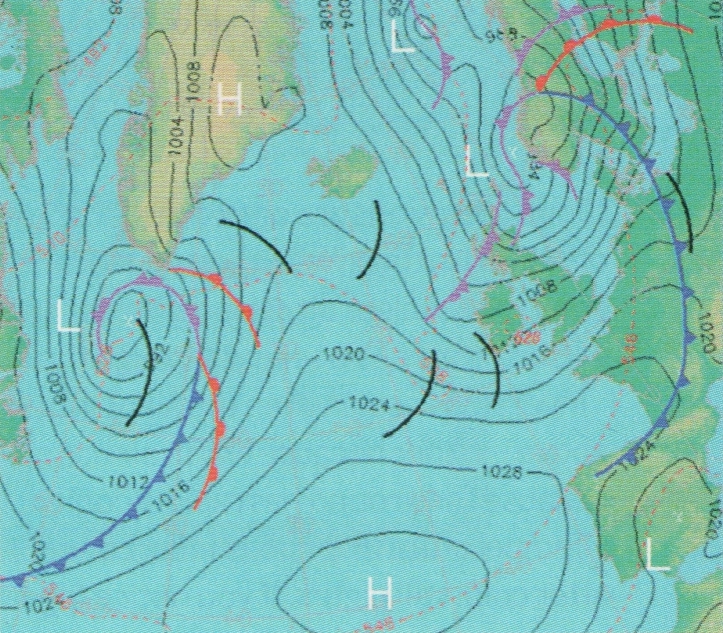 Being able to read a weather chart can help you to understand what's causing weather conditions and add to the information you get from forecasts.
Isobars: like contours on a map, isobars are the lines which link points of equal atmospheric pressure. The closer the isobars, the stronger the winds.
Numbers on a weather chart indicate the atmospheric pressure in Millibars.
Warm fronts are shown as red semicircles along a line, showing that warmer air is moving across. As this warmer air rises above the cold air, you can expect prolonged drizzly showers. The apex of the curved edge of the circle points in the direction of movement of the warm air.
Cold fronts are shown as blue arrows along a line, often indicating that heavy showers are on their way, followed by clearer conditions. The points of the arrows indicate the direction of movement of the cold air.
Occluded fronts are shown with both symbols, meaning thick cloud and heavy rain are likely.
Lines across the isobars with no semicircles or triangles are Troughs – weaker weather fronts which often bring bands of showers.
Centres of low pressure (where air is ascending and conditions are generally unsettled) are marked L.
Centres of high pressure (where air is descending and conditions are generally settled) are marked H.
Mountaineering Scotland is the voice of hillwalkers, climbers and ski tourers in Scotland. Find out the benefits of membership at mountaineering.scot.