Sleeping bags come with a range of descriptions and ratings. Here we explain what these ratings mean, helping you choose the right sleeping bag for your adventure needs.
Buying a sleeping bag can sometimes be a surprisingly complex and confusing experience. For one thing, there are hundreds, if not thousands of different bags out there – so how do you decide which one is right for you? On top of that, sleeping bags always have lots of technical wording that comes with them. What's a three-season bag? And what does a 'comfort limit' mean?
In this simple guide, we've explained common sleeping bag ratings and terminology in detail. This will help you to understand the different types of sleeping bag and make an informed decision on the right bag for your adventure needs.
Words: Matthew Jones
Main image: The Great Outdoors gear editor Chris Townsend wild camping in the Cairngorms. Photo: Chris Townsend
Sleeping bag season ratings explained
A season rating is used to indicate the time of year for which a sleeping bag is most suitable – corresponding to the four seasons of spring, summer, autumn and winter, or a combination of these. So, for example, 'one season' bags are designed for summer use, while 'three season' bags can be used throughout spring, summer and autumn.
What's a one-season sleeping bag?
One-season sleeping bags are designed for summer camping and backpacking, where night-time temperatures will stay above +5° Celsius/centigrade (C) or approximately 40° Fahrenheit (F). They're also a good option if you're sleeping in a camper van or in bunkhouses, huts and hostels.
What's a two-season sleeping bag?
Two-season sleeping bags are designed for slightly cooler nights in spring and summer, with a temperature range of 0 to +5°C (or approximately +30 to +40°F). They're also suitable for milder autumn nights, or for people who sleep cold even in summer.
What's a three-season sleeping bag?
Three-season sleeping bags are designed for colder nights throughout spring, summer and autumn, when overnight temperatures might dip just below freezing (down to -5°C or approximately 20°F). Most three-season bags are very versatile, offering a good balance between warmth, weight and bulk. This is why many people use them as all-rounders for a range of camping and backpacking adventures.
If you're in the market for a three-season sleeping bag, read our round-up of the best models on the market, as well as our buyer's guide:
What's a four-season sleeping bag?
Four-season sleeping bags are designed for winter use. When there is frost or snow on the ground and night-time temperatures will drop to around -10°C or approximately +15°F. They are optimised for cold conditions, which often makes them too warm for milder seasons.
What's a five-season sleeping bag?
This one is admittedly a bit confusing since there are only four seasons! But the term 'five-season' is sometimes used to indicate a sleeping bag that is designed for expedition or high-altitude use. They're suitable for extremely cold temperatures, ranging from -10°C down to -40°C (approximately +15°F to -40°F). They're an essential bit of kit for climbers in the world's highest mountain ranges as well as explorers and scientists visiting the polar regions.
Sleeping bag temperature ratings explained
In addition to season ratings, many sleeping bags also feature temperature ratings. As you might expect, these figures indicate the range of temperatures for which a sleeping bag is suitable – or in other words, how warm a sleeping bag is. These figures are based on standardised tests. This gives a more precise and comparable system than just the season rating alone.  However, it's important to understand that the figures are based on 'average' users, and so they should only be used as a guide.
How is sleeping bag warmth tested?
Until 2005, there was no standard way to test the warmth of a sleeping bag. This was confusing and even misleading for outdoor users. So, in 2005, a standardised test known as EN 13537 was introduced to ensure that consumers could make 'like-for-like' comparisons between sleeping bags. In 2017, an updated standard was introduced, called ISO 23537. Both systems are still in use, but luckily both are broadly similar.
The EN and ISO tests use a heated mannequin fitted with 15 temperature sensors to represent a sleeping person. The mannequin is dressed in a baselayer top, tights, long socks and hat, then placed inside the sleeping bag on top of a closed-cell foam sleeping mat, inside a cold chamber. As the ambient temperature drops, measurements are recorded via the sensors on the mannequin. The results are used to calculate the EN or ISO temperature ranges and limits.
EN 13537 standard
EN 13537 offers four different temperature ratings to help guide users as to the warmth of a sleeping bag. These are:
EN Upper Comfort:  is the highest temperature at which an average man weighing 70kg should feel comfortable.
EN Comfort:  is the temperature at which an average 60kg female can sleep comfortably through the night.
EN Lower Limit: is the temperature at which a standard 70kg male can sleep for eight hours without waking.
EN Extreme:  is the temperature at which a standard 60kg female can remain for six hours without risk of death from hypothermia (though this figure is less useful for ensuring a warm and comfortable night's sleep).
ISO 2537 standard
ISO Comfort and Lower Limit ratings are very similar to the EN system, but this standard also gives three different temperature ranges:
ISO Comfort Range is defined as the temperature range at which a standard woman is "not feeling cold," while sleeping in a "relaxed posture".
ISO Transition Range is where a standard man is "in a situation of fighting against cold (posture is curled up inside the sleeping bag), but in thermal equilibrium" and not shivering.
ISO Extreme Range states that "In this range, a strong sensation of cold has to be expected. There is risk of health damage by hypothermia. A sleeping bag should only be used in this range in an emergency."
In both systems, the key ratings are the Comfort and Limit ratings. Somewhere within this range is likely the performance limit of your bag. Remember though – these are just standardised ranges.
What affects sleeping bag warmth?
Sleeping bag ratings give us a baseline for comparison, it is impossible to definitively say that a specific sleeping bag will be guaranteed to keep you warm down to a specific temperature. That's because we are all individuals of different shapes, sizes and ages. Some people also feel the cold more than others. For example, women generally sleep colder than men due to their lower metabolic rate and muscle mass).
In addition, how warm you are when you climb into your bag, as well as what we eat, when we eat it, how much we've drunk, what we're wearing at night and even how accustomed you are to sleeping in the great outdoors all affect how warm we sleep.
So does where you're camping and what the conditions are like. And perhaps most importantly, how well your sleeping bag fits you and how warm your sleeping mat is can have a dramatic impact.
How to choose a sleeping bag by temperature ratings
If you're thinking about buying the warmest sleeping bag possible then you may want to consider this. Warmer sleeping bags are heavier and more expensive, not to mention bulkier. On the other hand, No one wants to be cold at night. Struggling to sleep in a sleeping bag that doesn't offer enough warmth for the conditions. So, how do you find the right balance?
What to look for
First, you need to know the lowest temperature you're likely to be sleeping in. Then consider your own personal internal thermostat – are you a person who feels the cold, or do you tend to run hot? If you are often cold, use comfort ratings as a baseline, but get a bag with a significantly lower comfort figure than the coldest expected temperature. If you sleep warm, you might be able to rely on lower limit ratings instead, but our advice would still be to give yourself a buffer of at least a few degrees Celsius to work with. This is particularly important if you're wild camping in mountainous areas of the UK like the Scottish Highlands, Snowdonia or the Lake District. That's because overnight temperatures can drop significantly at altitude, especially when also factoring in windchill (expressed as the 'feels like' temperature in mountain weather forecasts).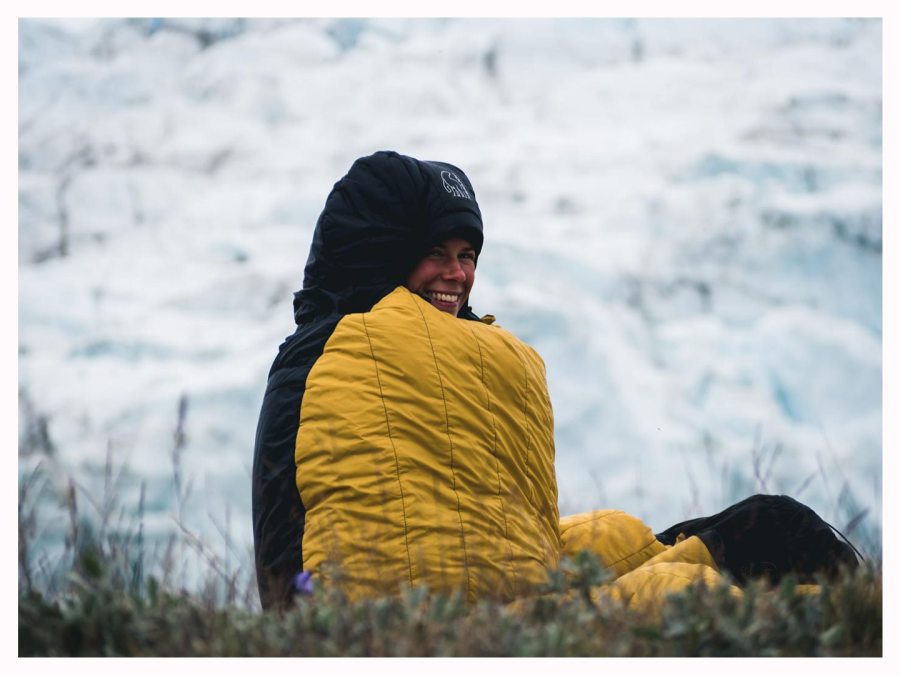 It's also worth reading reviews of a particular sleeping bag, ideally by professional gear testers who have a good comparative knowledge of different bags on the market. And who have slept in most of them! (The Great Outdoors has the UK's most experienced outdoor gear testing team – check out our most recent verdict on the best three-season sleeping bags here).
There are many different types of sleeping bag out there. For example, sleeping bags can differ in terms of shape and cut, fabrics and fill, and packed size and weight. Read our articles on how to choose a sleeping bag to make the best decision.
For more articles by Matthew Jones, check his bio page out here: Matthew Jones – Writer