Have you been struggling under the load of your pack? Not sure where to start in your quest to shed weight? Here are some essential tips to help you make the first cut…
By Alex Roddie, Online Editor
Going Lighter Series
---
The Scottish Highlands offer some of the most spectacular landscapes in the world. Legendary peaks, rugged corries, even fragments of ancient forests – there's something for everyone here, and world-famous long-distance trails criss-cross this landscape, from the West Highland Way to the Cape Wrath Trail.
But the climate in Scotland can be harsh, the terrain unforgiving, and in adopting a cautious attitude to what you might encounter it's easy to end up with a pack that weighs more than you might like.
In this feature, the first in a new series of exclusive online pieces on cutting pack weight, long-distance aficionado Alex Roddie shares some of his tips on how to take those first steps towards a lighter pack.
Important note
This feature assumes you already have some experience of backpacking in the Highlands. If you are a novice looking for somewhere to begin, pick up a copy of our July 2018 issue (available from Friday 22 June) to read our skills guide on planning multi-day walks. At a minimum, you must always pack sufficient warm, windproof and waterproof clothing, a shelter and sleeping system adequate for your objective, adequate footwear, enough food and water, and map and compass – along with the skills to safely use them.
1. Carry less water
This is the easiest thing you can do to save weight, yet it can have the biggest impact. Water is heavy!
We've all been guilty of carrying too much water with us, 'just in case'. Perhaps it's a warm day; perhaps you don't like the idea of drinking out of streams; perhaps you're not sure how best to make wild water safe.
The good news is that, in the Scottish Highlands, you'll rarely need to carry more than a litre of water. There are some exceptions to this rule of thumb, such as certain ridge routes that are known to be dry – or drought conditions, of course – but generally speaking water is abundant in the Highlands and most of it is safe to drink.
As you gain experience, you will gain the confidence and expertise to trim the weight of your pack
If you're high on the hill and you see clear, fast-flowing water in a stream coming down from a ridgeline, it's probably safe. Consider filtering or treating your water if any of the following apply:
The water appears to be flowing from a late-lying snow patch (such sources can be infected with Giardia);
You're downstream from human habitation;
There is evidence of livestock such as sheep or cattle around;
You have reason to believe there might be a dead animal somewhere upstream;
The water is sluggish, stagnant, murky, or otherwise not particularly appetising.
There are several options for treating your water. Chlorine tablets are a safe choice, but many now prefer to carry a lightweight filter such as the Sawyer Squeeze, Sawer Mini or Katadyn Befree, all of which attach directly to a compatible bottle and let you drink on the go without waiting for chemicals to take effect. Some models can be used in-line with hydration pouches.
2. Get out more
The more experienced you are, the better you'll be able to know what you truly need, what you can do without, and where you can safely replace an item of gear with knowledge and technique.
For example, if you've only been on one or two trips then you might not have the necessary experience to know how your body reacts in different mountain scenarios – say, an unexpected snowstorm, being forced to camp in a bog, or getting benighted. Advice from others will only get you so far. As human beings, we learn from personal experience.
The more experienced backpacker will have the mental tools to either avoid these situations or cope with them without needing additional gear. But when we're new to the hills, it's only sensible to pack more stuff to cope with unforeseen eventualities. There's nothing wrong with this, of course – we're all on the same learning curve, and every day is a school day in the mountains, even for the most experienced. I've been walking and climbing for 15 years, yet I know less now than I thought I did 10 years ago!
As you gain experience, you will gain the confidence and expertise to trim the weight of your pack – if that's what you want to do.
3. Know the conditions and terrain
Gear choice for backpacking depends on two main factors: your own needs and desires, and the requirements of your objective. That means conditions and terrain.
The more you know about where you'll be hiking, the better you'll be able to plan for the gear you need to bring. A kit selection optimised for the South Downs will rarely be the same as a pack for crossing the Cairngorms.
If you're still using a rucksack that weighs 4kg, consider it carefully. Is it still the best item for you? Can you afford to replace it?
It's easy to fixate on weight alone when you're trying to go lighter, but it's far more important to equip yourself with as much knowledge as possible about the expected conditions, then kit yourself out accordingly. For example, a full-featured mountain waterproof and breathable jacket with adjustable, wired hood might be overkill on the South Downs, but it'll almost certainly be required in the Scottish Highlands.
4. Ditch the luxury items
If you really want to reduce the weight of your pack then you will have to leave some of the comfort items behind.
What counts as a luxury depends entirely on you. To some, luxuries include a pillow, a good book, a flask of whisky, and fresh food. Others consider a stove, waterproof overtrousers and inflatable mat comfort items.
We all need a few luxuries (backpacking is supposed to be fun, after all!) but if you're serious about reducing weight then you'll need to compromise. Now's the time to have a delve into your pack and leave behind one or two of the things you can do without.
5. Try out trail shoes
Boots are the traditional choice, but an increasing number of backpackers have learned a thing or two from runners, and have adopted lightweight running shoes instead.
Trail shoes allow the foot to move naturally, and once accustomed to them most hikers find they no longer need the ankle support of heavier boots – even on extremely rough terrain. Due to the breathable uppers, water sloshes in and sloshes straight back out again, giving you a fighting chance of having dry feet at some point. Boots lock the water in and are slower to dry. Most users of trail shoes find them significantly less hot and sweaty in warm conditions too, which can result in fewer blisters, although this varies from individual to individual. Since switching over to trail shoes for all my summer backpacking in 2015, blisters have rarely troubled me.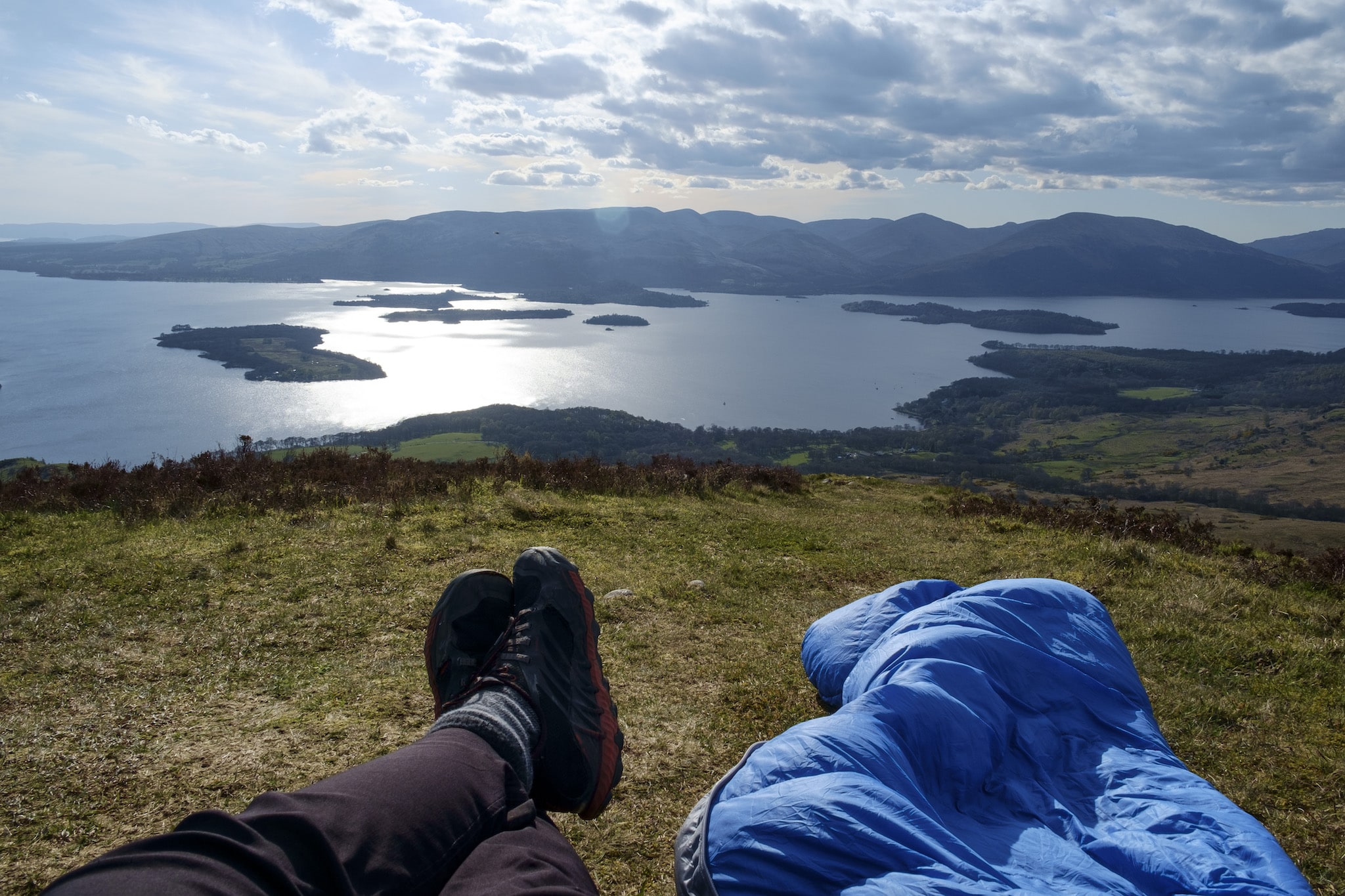 The main benefit is reduced weight. Trail runners are significantly lighter than boots, and less weight on each foot adds up to a huge energy saving over the course of a hard day.
One downside is reduced durability, and regular hikers may get through 3-4 pairs of trail shoes for every pair of boots. Balancing this equation is up to the individual.
6. Retire and replace
We all have old favourite items of gear that we've used for a long time without really evaluating whether they're the best choices for our current needs. So if you're still using a rucksack that weighs 4kg, consider it carefully. Is it still the best item for you? Can you afford to replace it? If it's no longer right for you and if you can splash the cash, it could be time to think about some new purchases.
Before spending any money, consult our gear reviews both online and in print. Remember, you aren't just looking for the lowest weight – you're looking for items that will suit both your own needs and the safety requirements of where you hike and backpack. Sometimes, one canny purchase can prevent the need to buy and look after two or more items.
Next steps
Keen to learn more? Over the coming weeks, we'll be publishing deeper dives into lightweight backpacking in Britain, covering clothing, shelter, sleeping, footwear, navigation, and more.
All images © Alex Roddie