Planning a West Highland Way backpacking adventure this summer? Zoe Homes shares eight lessons she learned on this classic long-distance trail
The West Highland Way is well known for being an entry-level but still rather excellent long-distance hike in the Scottish Highlands. At 96 miles, taking hikers from Milngavie near Glasgow up to Fort William, this easy-to-navigate and highly accessible trail is high up on most people's list for one very simple reason – the views. It is a simply stunning route in one of the most beautiful parts of the UK. No wonder it's so popular.
It had been on my list for a good few years before a friend announced she really wanted to do it during one of our many chats about our adventure dreams. Okay, good, let's just get on and do it then. We set a date – more than a year ahead, thanks to leading busy lives, and to allow for kit gathering and maybe a bit of training – found another friend who also wanted in, and made it happen. We had read about it, looked at hundreds of other people's photos, and despite the usual pre-adventure anxieties, just knew it would be a great experience.
And it was. I had an absolutely wonderful seven days of trekking through some of the wildest, most open, ruggedest views I have ever seen. And no, I'm not sure 'ruggedest' is a word either, but I'm having it. For a week, I had the absolute pleasure of being part of the scenery; this was my biggest hiking adventure to date, and it was just superb. More please!
We were prepared; just about as prepared as you can get. We had pored over all the information available to us to make sure we knew where we were going, what we were doing, and had the right kit in our backpacks. On paper it was going to be completely uneventful, a breeze, and while we each had unanswered questions and worries in our own minds, we were all very happy with the task at hand. This was our first long-distance hike, backpacking style, but we were seasoned hikers and were confident we knew exactly what we were doing.
The thing to remember with the West Highland Way, and this is very important, is that you can do the hike in a whole host of ways, and they are all equally valid – they all count
But even with all the research, all the reading, all the thinking, there were still things that we learnt on the trail. I think that is something that happens on any adventure; you learn, grow, develop, adjust – it's part of the fun of being out there and doing rather than being sat at home dreaming.
So now the hike is done and I've had time to look back and compare what I thought I knew before I went with what I know now I'm home, I offer you a handful of hints and tips for those planning your own West Highland Way adventure. Use these snippets alongside your own research and planning, and believe me when I say you will have an absolutely amazing time.
01. Every Adventure Counts
The thing to remember with the West Highland Way, and this is very important, is that you can do the hike in a whole host of ways, and they are all equally valid – they all count. We specifically wanted to carry our own kit (tent, cooking gear, the lot), it was part of the bucket list tick for us, but not everyone does. There are luggage transfer companies running backwards and forwards along the route who'll lug your main bag for you, leaving you with your day hike pack each day. And while we chose to use organised campsites and trekking huts for our overnight stays, others choose to wild camp and be completely self-sufficient for the week, while others will treat themselves to B&Bs and hotels.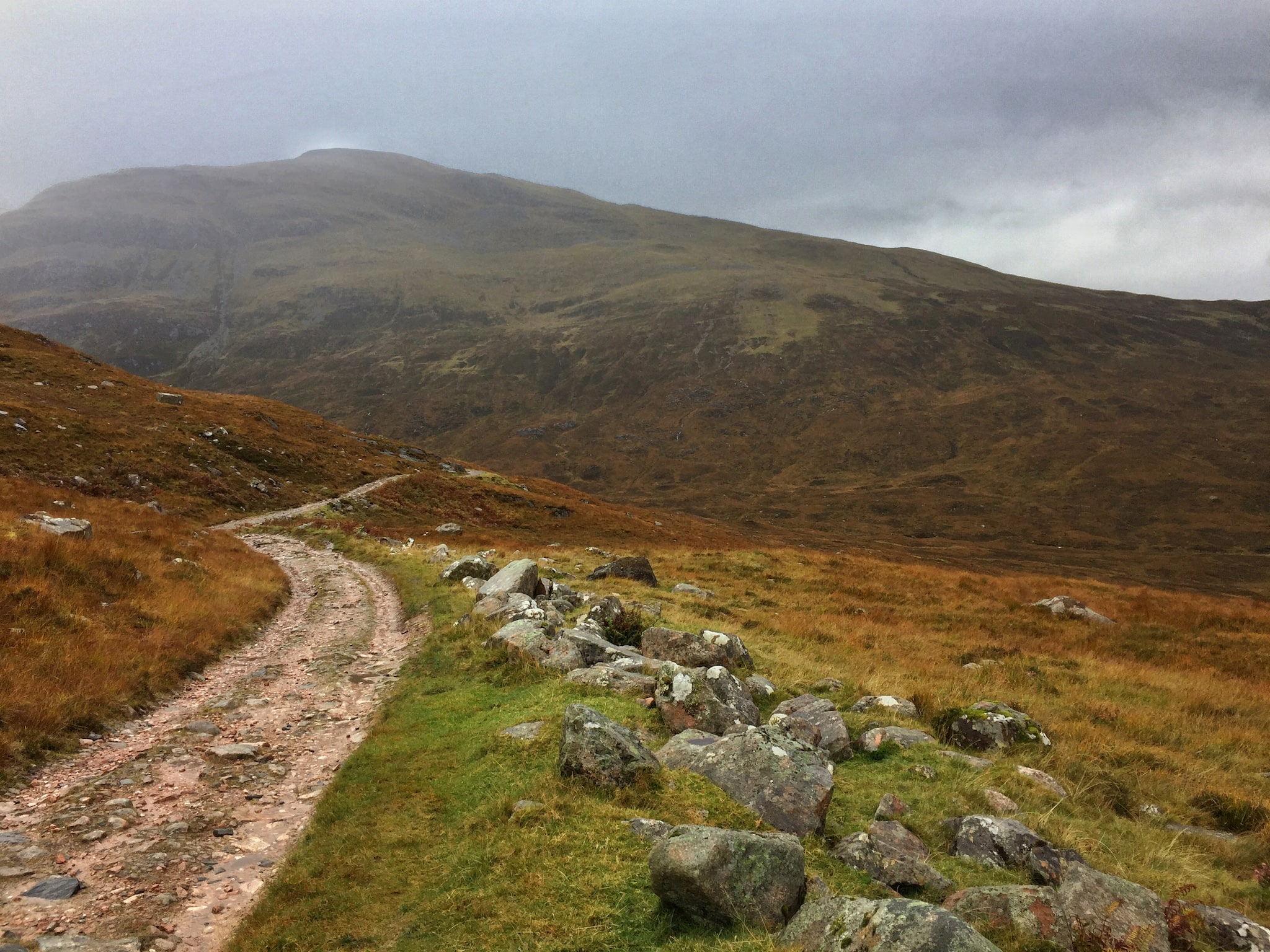 However you decide to take on the West Highland Way is just fine; make it your hike – no-one else is going to walk it for you, so do it your way. If I were to repeat this particular hike I would be torn between using a transfer company to carry my bag between campsites and wanting to scale back my gear to a tarp setup and wild camping my way along.
02. Be Ready for the Weather
Okay, I'll say it. You're hiking in Scotland – be prepared to get wet. And cold. You may be lucky; you may find you have a week of blue skies and warm sunshine. But I doubt it. Go prepared with layers for warmth and waterproof everything and your hike won't be ruined by the weather. (Assuming you actually stop to put your waterproof overtrousers on before you get soaked through to your knickers, that is. Yes, I'm talking about my own stupidity.) We were fortunate on our West Highland Way week, we stayed mostly dry – but when it rained it really rained and we were pleased for our decent jackets, overtrousers, hoods, hats and waterproof pack covers.

03. Set an Alarm
I discovered on our first morning that my Vango Banshee 200 is so dark on the inside that I wasn't woken up by the sunrise. And because we wanted to get started at a reasonable time each morning rather than sleeping in and hiking after lunch, I had to rush around like an idiot to get ready in time. Oops! I learnt that if you want a relaxing start to the day on the trail, set an alarm to give you plenty of time to wake up properly, have a good breakfast, get packed down in a stress-free manner, and get back into the hike without hassle. An alarm might not be your favourite thing in the world, but I found it helped me start each day much happier than that first morning.
04. Be Ready to Walk in the Dark
As part of your preparation for your West Highland Way hike, at the same time that you're checking the weather for each day, also check the sunrise and sunset times so you can make the most of daylight hours. This is especially important on the longer mileage-days, or when you know your planned dinner stop closes at a set time (Glencoe Mountain Centre serves hot food until 7.30pm…).
Bear in mind that if you are taking your time and carrying your own gear, an anticipated six or seven-hour day can easily turn into ten or even more on the trail – for any number of reasons. Make sure you have your head torch (and batteries) easily accessible, and be prepared to navigate the route in the dark if you need to. We hiked in October and so it was dark by 7-8pm; at the end of our third day we did the final two miles in the dark – thankfully our head torches and navigation skills were on hand to help us reach our chosen destination without issue. [Ed: Of course, in midsummer, you might have the opposite problem – too much daylight!]
05. The Ascents are Easy, it's Loch Lomond that's the Killer
Lots of people assume that the two big ascents of the hike – Conic Hill and Devil's Staircase – are the most technical and difficult of the 96 miles. They're not. Both are indeed significant climbs not to be underestimated, they will leave you breathing heavily and with aching legs. But it is the route along Loch Lomond, particularly the section after Inversnaid, that presents the toughest and most technical section of the route.
The undulating path follows the loch shore, presenting hikers with boulders, manmade and natural steps, narrow gaps, gnarly roots, deep muddy sections, and even a wooden ladder. We had read all about it ahead of our adventure, but it still surprised us with just how technical it was. But even with it being the most testing part of the hike for my legs, it was also right up there as one of the most enjoyable – it would make an absolutely fabulous day hike if you fancy it.

06. Poles Help the Downhills
The descent into Kinlochleven is loooooong. After the short but zigzagging steep climb that is the Devil's Staircase, and the amazing views from the top (great spot for a picnic), the descent simply goes on forever. I think it works out as one mile up, seven miles down, or thereabouts. Descending hills is made a whole lot easier with walking poles; they help the knees deal with the constant and repeated pressure, and make carrying a heavy pack a lot more stable. I bought mine especially for the West Highland Way and I now use them every time I'm anticipating a difficult descent – they're a real benefit. Those long winding descents are especially treacherous in the rain; the rocky paths turn quickly into rivers with slippery beds when it's wet, and poles just make everything a little easier.
07. Eat Plenty, Drink More
Eating properly when on a multi-day hike is so important. Drinking all the water is even more vital. If you don't, you will simply not have the energy to do the miles – and if you manage to struggle along you certainly won't enjoy your walking. Take plenty of snacks and drinks with you for each day, and know where you can restock along your route. As the West Highland Way is a popular trail that goes through a number of villages, there are a few shops to choose from (and some honesty boxes, which were always good to find – some with homemade granola bars, others with ice creams), but don't get caught out. Most of our overnights had a pub or café in the vicinity, which is a great way to relax and recharge in the evenings. If you're interested, my favourite meal of the week was at The Real Food Café in Tyndrum – fish and chips (and cake) to fuel any length of hike!

08. Don't Rush
And last but by no means least, the thing I learnt more than anything else on the West Highland Way was to slow down, enjoy the hike, and make the most of the scenery. The views really are as stunning as you imagine, there is wildlife everywhere, and the opportunities to meet and chat with other hikers are many. So make the most of it. I have never thought that hiking should be a speed challenge – that's what trail running is for – but the West Highland Way definitely taught me to take it easy. Take your camera, take your binoculars, take a picnic, and enjoy everything the West Highland Way has to offer, not just the path itself.
Zoe Homes is a hillwalker, backpacker and outdoor enthusiast who blogs at Splodz Blogz. You can also find her on Twitter and Instagram.
All images © Zoe Homes