Judy Armstrong recommends the best equipment for adding safe scrambling to your days on the hill.
This gear guide was first published in the May 2018 issue of The Great Outdoors.
Contents
---
Along with Via Ferrata, scrambling has to be the most fun you can have on rock. Moving freely, without hours spent on belay or with your neck cranked backwards shouting, "Ready?" or "Have you got me? Have you really, really got me?", gaining the views and the elevated heart rate without the imminent fear of death – all these things have a lot going for them. Ah yes… you've worked out by now my rock climbing days are over; I was never very good at it, and realised that scrambling is so much more enjoyable, for me anyway.
For most scrambles you need a little more kit than for hillwalking, but less than for climbing (although now is a good time to say I'm talking about the lower levels). I'm not a mountain guide, so I can't get involved in talking about ropes and hardware. But I can talk about scrambling as an extension of walking: Grades 1 and 2, where you don't need a double rope or a heavy, clanking rack of nuts and hexes.
"At the lower grades, the harness is a confidence item, as you're only planning to use the rope in emergencies"
That said, I always take a harness, slings, a couple of carabiners and a confidence rope because you never know when you might drift off-route or find that a Grade 2 is more serious than you anticipated. But the kit I've detailed in this review is all realistic in terms of weight and bulk for a hillwalker; it's not heavy-duty stuff, more 'in case of need' gear.
As a walker who's done a fair bit of scrambling, here's my take on what you need, and the best way to either get started or get a bit further up the mountain. I hope you enjoy this sport as much as I do: when you want more than a hike, but not the extra, technical challenges of climbing.
Looking to get started as a scrambler? Check out out guide to scrambling basics, free to read online.
---
Boots
The best boots for scrambling have a degree of stiffness so you can support yourself on small ledges without the boot bending out of shape. They need enough cushioning to be comfortable for the walk to the scramble and a day on rock, without making you feel remote from the ground. In essence, it's a semi-stiffened walking boot with good ankle support and a high-quality, friction rubber sole.
La Sportiva Trango Tower GTX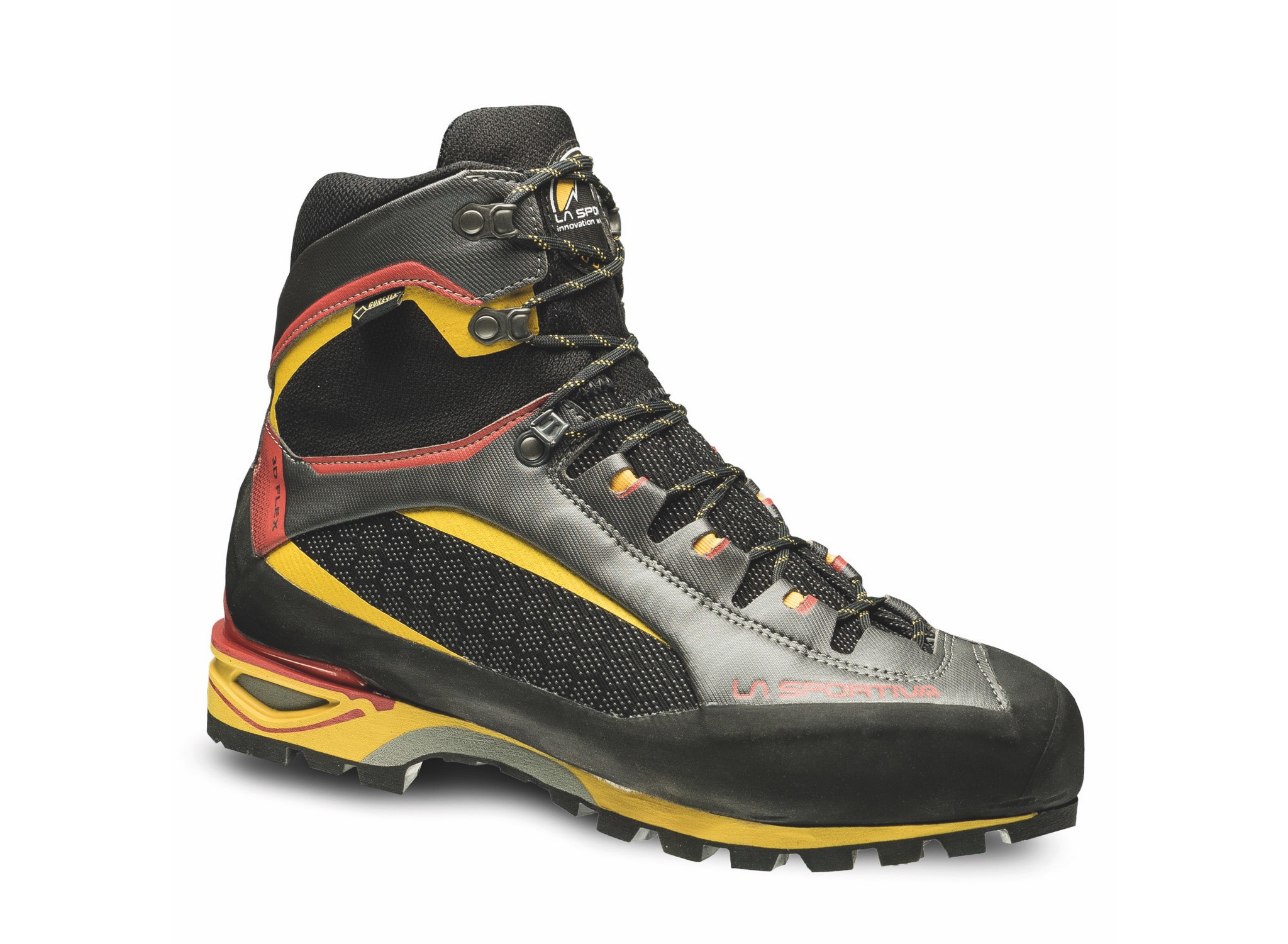 The Trango Tower replaced the long- standing and much-loved Trango S Evo in mid-2017. With a slightly stiffer midsole than the S Evo, its pedigree is perfect for mountain scrambles, via ferrata and British hills.
In the field, it does all this and more; I used Trango Tower through a wintery Spring with crampons (it has a small heel ledge so can take a heel clip and front cradle system; I used them with toe and heel cradles, and felt very secure). Which basically means you could confidently invest in these as your four-season boot, for year-round scrambling, walking and easy-grade gullies: it's a real jack of all trades.
"This is a brilliant boot, not just for scrambling"
But back to this test. Trango Tower shares a sticky Vibram sole with its big brother Cube. This works very well on rock (soft, sticky soles wear faster than conventional compounds, but it's worth it for the security). Deep sole lugs grip well on mud and grass, although I had to focus to ensure the slightly shallow heel bit in properly on slippery descents. The midsole stiffness, for edging, is teamed with enough cushioning for comfort, although if you're used to walking in soft, flexible boots it'll take a while to get used to the action. A rubber rand fully encircles the boot, against abrasion from rock and ice.
Lacing is positive, running through reinforced loops, a metal hook at the ankle, plus two up the cuff. The tongue is sewn to the top: good news against snow and damp ingress in winter, but it can get a bit hot in summer. The cuff is well shaped, high for support and dipped at the back to avoid pressure on the Achilles. Inside is a totally useless footbed; I replaced it with supportive footbeds which help fight foot fatigue.
That aside, this is a brilliant boot, not just for scrambling, but for virtually any amount of mountain action, summer or winter.
---
Harness
At the lower grades, the harness is a confidence item, as you're only planning to use the rope in emergencies. With that in mind, it needs to be light so you're not weight-penalised when it's in your rucksack. It must also be comfortable to wear (mainly meaning that the leg loops shouldn't jam into your groin) so you can concentrate on your route. The crucial parts are for the waist to be adjustable – check the sizing, as it must not be too loose or too tight for safety reasons. Leg loops should also adjustable, either unfastening completely (best option, so you can keep your feet on the ground) or at least loosening off so you can put a booted foot through. The belay loop must be large enough to tie the rope into, or securing the screwgate carabiner. Gear loops aren't entirely necessary on a scrambling harness although it's useful to have a couple of points to hang a spare carabiner and slings.
Petzl Altitude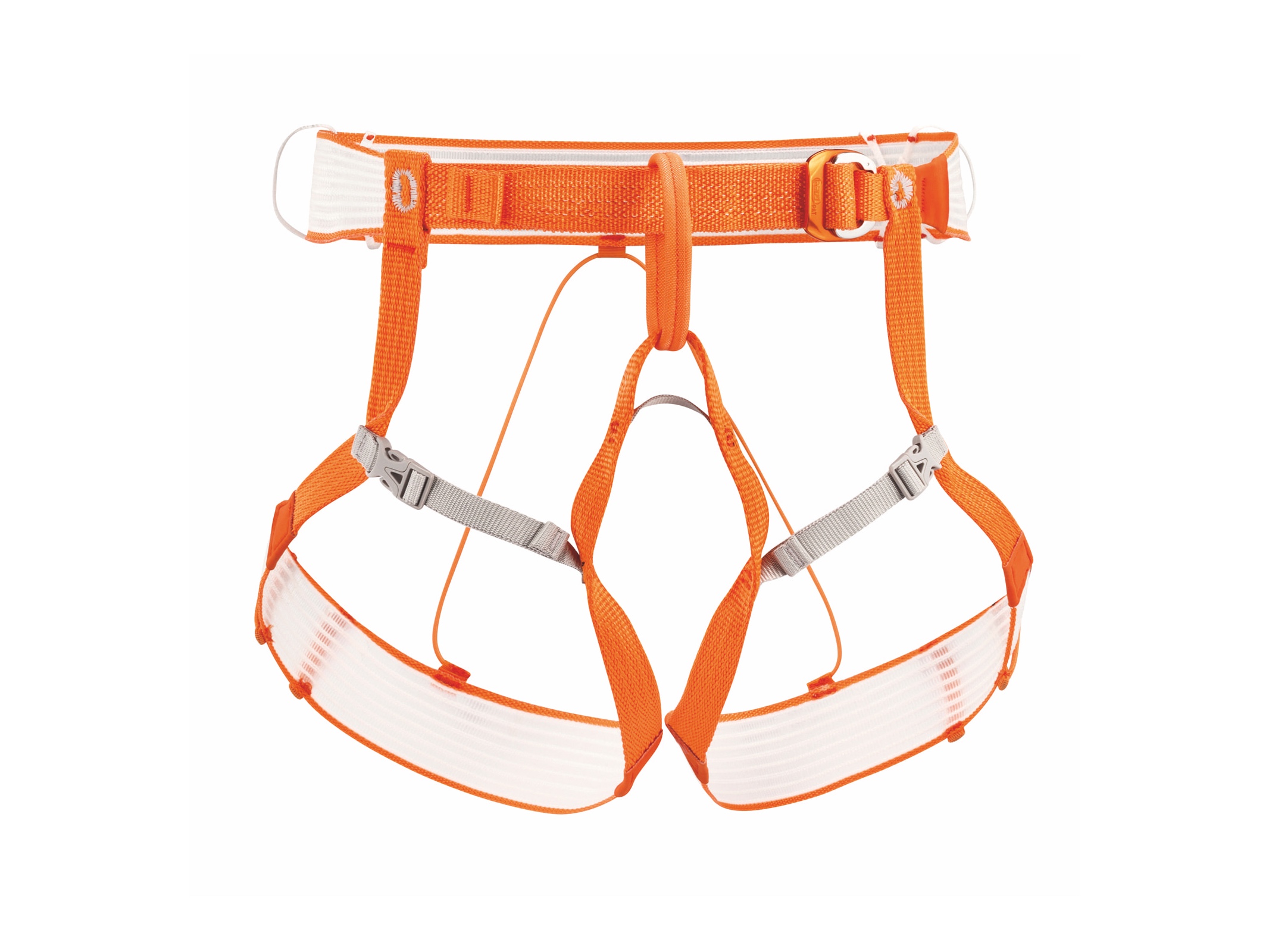 This harness is incredible. It is so lightweight and user-friendly that I immediately bought another, for my husband, for our ski-touring adventures. Basic thing first: Altitude is supplied in a zipped orange bag with a hanging loop, so it is easily seen, can't get tangled with your other gear in a rucksack, and can be hung off the pack with a carabiner if you're tight on space.
Right: the harness itself. Is. Amazing. Weight is saved by not having a padded waistbelt with big gear loops: instead, it is mostly nylon with strands of high- density polyethylene (HDPE) laid parallel laterally. This replaces webbing and foam to give lighter weight. The four vertical loops on the waistband are also strands rather than dense webbing, and are sufficient for basic gear. The waistbelt has DoubleBack buckles, which are easy to use with gloves or bare fingers, and the waistbelt webbing slides nicely.
"The Holy Grail of low weight and high comfort"
The leg loops are the same construction as the waistbelt: deep enough for comfort, with small, quick-release buckles on narrow webbing. Both the leg loops and the waistbelt can open completely so the harness can be put on with both feet on the ground, and boots on. (If you use scrambling as an 'in' to easy-grade snow gullies in winter, which I'm sure you will, this is a crucial element when you're wearing crampons. The leg loops have two sticky-back loops directly below the waistband loops, for securing an ice screw; not relevant to scrambling but handy if you find ice in winter.)
For scrambling, ski mountaineering, via ferrata and easy-grade climbing Altitude is the Holy Grail of low weight and high comfort. Be aware though that the sizes come up small. I bought a M/L for Duncan based on the measurements supplied, and had to swap it for the L/ XL; I also went up from S/M to M/L.
---
Helmet
Old-school photos show people scrambling 'wildand free': no helmets, hair blowing in the breeze. No, thanks. Popular routes are often either polished or have loose chunks of rock, and remote routes could easily have rubble through lack of traffic. It's just not worth taking the risk. It's also really easy to whack your head on a piece of rock above or beside you, when you're  concentrating on where to put hands and feet. Modern helmets are so  lightweight that carrying one in or on your rucksack is a piece of cake, and comfortable enough that I often wear mine on the hike out, forgetting it's on my head.
Grivel Stealth Helmet

Stealth joined Grivel's helmet line-up in 2016, and makes a top-notch addition. I rate it for two main reasons: it is very lightweight, and it's adjustable in enough planes to be properly comfortable. I've used many helmets over the years and the lighter versions tend to sit on the head like bad lids, or be barely adjustable. This sits over, not just on, the head and the multi- point adjustment works with a two-way pull at the back on wider, yellow webbing plus the chin strap on narrow web, with a small quick-release buckle.
A soft foam loop provides comfort for the top of the head, and little blocks are included if you need more, although I didn't.
The polycarbonate shell is multi-faceted, which Grivel says increases rigidity, and the polystyrene inner, as used on virtually every modern helmet, absorbs impact. There are randomly-shaped holes around the sides and back for ventilation; again, these work well. As a neat touch, two black wedges at the back pull out (secured inside the helmet with webbing) to anchor a head torch.
Without doubt, the most comfortable helmet I've ever used, and so light that there's no penalty to either carry it or wear it on the hike in and out from your scrambling route.
---
Rope
Often referred to as a confidence or walker's rope, this is for emergencies or to give confidence on steeper sections. It doesn't need to be as heavy, long or rugged as a climbing rope as you aren't planning on falling on it. Rope categories are getting quite complicated as the materials become more advanced. But to keep it simple, a scrambler is looking for between 8-9mm diameter, dynamic (so there is stretch in event of a fall, compared with static which is as the name suggests, and hurts like hell if you fall on it). For length, you're looking at around 30m, maximum 50m at higher grades, because leader and seconder will never be that far apart, and you'll probably be moving together anyway.
Petzl Volta Guide 9.0mm 30m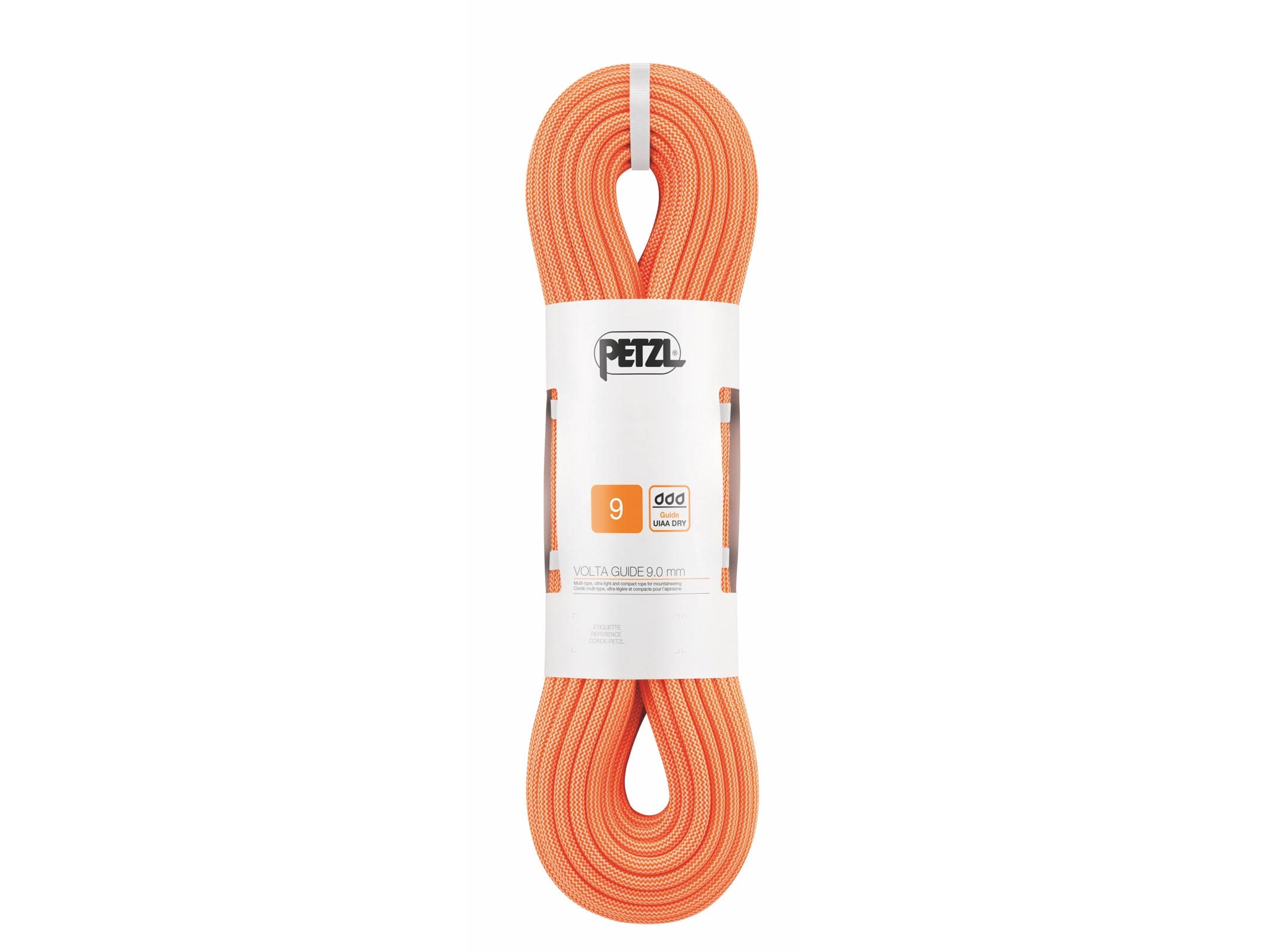 Yes, it's expensive. Yes, it's the business. When you're running your rope through a stream, waterfall or using it in the rain, you'll be glad you shelled out for the dry treatment. Volta Guide is Petzl's top-end mountaineering rope, combining durability with easy handling. It features the stringent UIAA Guide Dry treatment, which makes the rope more resistant to water (absorption of less than 2%), dirt and abrasion, and improves handling in cold conditions. Petzl's UltraSonic Finish bonds the core and the sheath together at the rope ends for greater durability.
Thin, light and compact, it's the dream scrambling rope in the 30m length but is available in longer measures for more advanced climbing as a single, half or twin rope.
If Volta Guide is beyond your ambitions or budget, and your sights are firmly set on walking and Grade 1 scrambling, you could get away with a 'confidence rope'. This is a low-cost option if you're definitely sticking to the lower grades where the rope is there to persuade your brain to let your legs stop shaking, not to stop a three-metre flyer. It should not be used for lead climbing and is intended to arrest a slip, not take a fall. Petzl Conga, an 8mm, 30m rope is lighter (43g/metre) than Volta, semi-static rather than dynamic, and with no dry treatment. It is designed as a confidence rope for scrambling or exposed situations where help from above might be needed. It is available in two lengths (20m and 30m), so fits easily into or onto a daypack.
---
Carabiners
We're not in the realm of protected climbing: you can go a long way on the lower grades with a couple of carabiners (also spelled karabiner: a metal loop with a spring- loaded gate) and some slings.
Tie the rope into a screwgate / locking carabiner attached to the belay loop on the seconder's harness. The gate must be locked so it can't open spontaneously. Screwgates are literally screwed shut; another locking version is the twistgrip, which you pull, twist, and release to lock.
"Rhino is the carabiner to wear on your belay loop"
A carabiner is also the middle-man between your rope and a sling – so if you have hooked a sling around a rock spike, you would loop the carabiner through the sling and then thread the rope through the carabiner.
For scrambling, the ideal carabiner is fairly light, able to be used one-handed (so you can spin the screwgate with your fingers while holding it in the same hand), and not over-sized. It needs to be large enough for an Italian hitch, but you're not threading miles of 12mm climbing rope through it.
DMM Rhino Screwgate and Aero Screwgate
Rhino Screwgate:
Aero Screwgate: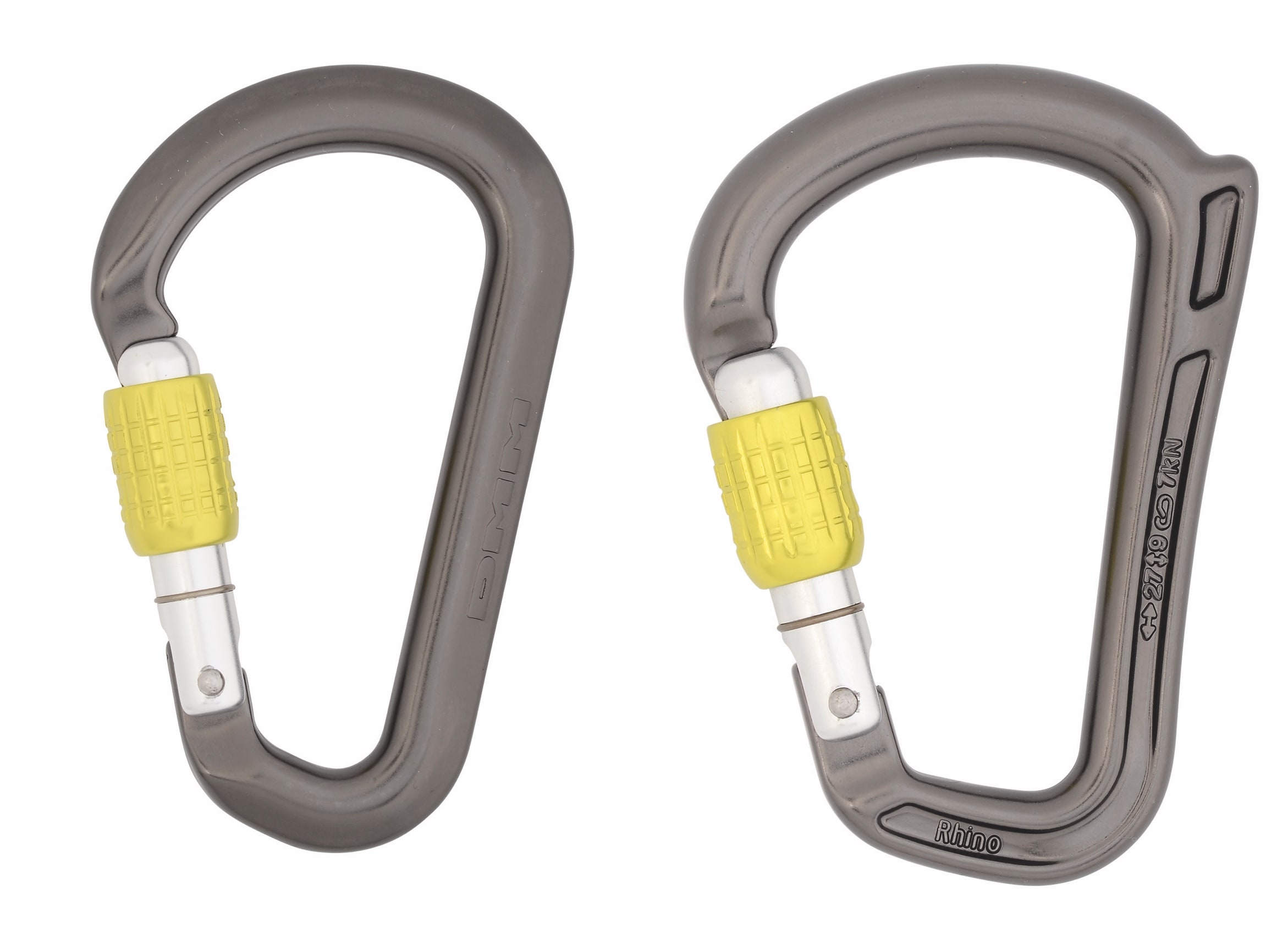 Rhino is the carabiner to wear on your belay loop, and is designed to work with belay devices (which we aren't getting into here). The widest end is rounded so the rope in an Italian hitch runs smoothly. It also has a 'horn' on the straight side opposite the gate, which locates the rope, and belay devices, and prevents it cross-loading. The bottom end is flat, again for compatabilty with belay devices.
Aero is simpler, lighter and slightly smaller. It has a faceted end, which creates slightly more friction and is the carabiner to use between rope and sling. Both have smooth gates (some versions have small hooks at the gate, which can snag the rope).
The locking mechanisms are identical and very easy to use. Both carabiners are anodised, to make the rope slide easily.
---
Slings
We usually carry a few of different lengths, as they're lightweight and compact. They make a quick, simple running belay, looped around rock spikes – use the longer slings if your chosen chunk of rock is a distance from you or the rope line, and shorter ones if it's tight in and you want an instant 'stop' or complete security. If in doubt, choose longer slings as you can always double one to create a short one.
Our lengths of choice are 240cm and 120cm. A useful width is 11mm, as the slim profile sits better on marginal spike placements.
DMM Dynatec Open Sling 11mm

Header image © DMM/Ray Wood