This advertising feature is sponsored by our friends at komoot.
On any adventure, your number one priority should always be staying safe. We all love wild and remote landscapes, but they come with an inherent risk. The weather can be brutal, the terrain harsh, and the phone signal non-existent. Although rare, accidents and mistakes do happen – whether it's getting caught in a violent storm, becoming cragfast during a tricky scramble or injuring yourself in a fall – and when they do you're far from help.
Words: James Forrest | Main image: James Forrest using komoot to navigate the Gable Girdle. Credit: Stuart Holmes.
There is no magic wand to minimise all of these risks. Instead the best solution is to have an array of skills and tools at your disposal. This will encompass many things – wearing appropriate clothing, carrying safety equipment, using map and compass skills, understanding your personal limitations, displaying competent all-round 'hill skills' – but it's not rocket science. With a little commitment, anyone can learn these techniques and strategies.
Technology and hiking apps can be incredibly useful tools, too. It can complement all of these other skills, and further help minimise risk, improve safety and enhance your enjoyment of the mountains. With the komoot navigation app on your phone, you can pinpoint your GPS location, track a route, read weather reports, check route difficulty ratings, share your live location and so much more.
Here are the top seven ways komoot helps you to stay informed and mitigate risks when you're out on an adventure.
1. The magic of GPS
Using your smartphone's in-built gps technology, the komoot app can accurately pinpoint your location on a map – an incredibly powerful safety tool. If you're lost, you can re-orientate yourself. If you're not sure which turn to take next, komoot will show you the way. Or, if you simply want a touch of reassurance that you're in the right place, the app will indicate when you're on or off trail. Crucially, if you download your planned 'tour' (route) in advance, all of this can be done without 4G signal.
2. Route warnings
To help prevent hikers accidentally venturing into steep or dangerous terrain, komoot has built an advanced route warning system. When a route features technical, difficult or hazardous terrain, a safety message stating "potentially dangerous terrain" will appear on the screen, and a map will show where the dangerous terrain is located. For even more perilous routes, a warning stating "highly dangerous terrain" is displayed.
3. Trail difficulty ratings
Every path in the komoot app has a difficulty rating. Using the SAC (Swiss Alpine Club) scale, which grades paths based on factors including surface, gradient, exposure, technicality and gear requirements, all paths are classified from T1 to T6. T1 (Hiking Trails) are the easiest, with minimal gradient and no major challenges. T6 (Advanced Alpine Hiking Trails) are the most difficult, requiring ropes and technical climbing skills. By zooming in on the komoot map, you can see the classification of each path on your route, and better understand the challenges ahead. Warnings are displayed when your route includes sections of T3 trail and above.
4. Timing predictions
A common way of getting caught out in the hills is to lose track of time and find yourself halfway up a mountain when night falls. komoot helps to avoid this risk in a few ways. Firstly, by setting your fitness level and usual walking speed, the app will predict the duration of your walk, factoring in distance, elevation and terrain type. Secondly, as you track your route, komoot will clearly display how far you've travelled and how far there is to go, keeping you better informed of the distance remaining.
5. Route profiles
A really handy feature is komoot's route profile – a visual diagram of the steepness and distance of your walk. Gentler terrain is colour-coded green and yellow, steeper ground is orange and red. You can even check the altitude and incline/decline percentage. A bar chart graphic will also show you the surface and 'waytype' of your route, displaying the exact distance you'll be walking on paths versus roads, for example. Again this simply helps users stay better informed about their adventure.
6. Satellite mapping and Trail View
Normal maps only tell half a story. They can't show you the current condition of the trail surface – how eroded is the path, is the forest trail overgrown, is the mountain track very rocky? With komoot's desktop version, however, you can gain a better insight into the conditions of your trail by displaying the satellite map layer (bird's eye photographs of the trail), or activating the innovative Trail View feature. This enables you to see real-life photos of the trail taken by komoot users at the corresponding location on the map, indicated by a small green dot.
7. Komoot Premium Features: Live Tracking and Weather Forecasts
With a paid premium account, komoot users benefit from additional functionality. Dynamic weather forecasts covering every inch of your adventure can be displayed, showing when and where the sun/rain/snow/wind is coming.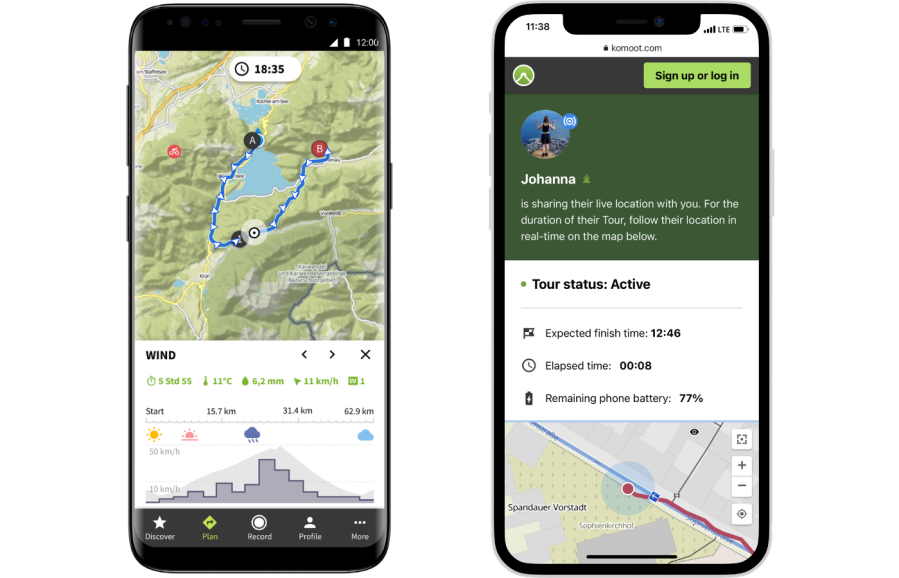 While tracking a 'tour', you can now also share your current location to your safety contacts (up to three friends or family), who will automatically receive a link for following your location and progress.
Safe navigation relies on having a wide range of tools at your disposal and knowing how to use them. We strongly recommend always carrying a high-quality topographic paper map and compass alongside digital tools like smartphone apps. Good knowledge of how to read and interpret a map is essential for any type of navigation.
Find, plan and share adventures with komoot. Visit komoot.com or download the komoot app to try it for yourself.