Take on the six best mountain walks in Snowdonia with our guide to this spectacular region's best high-level hiking routes. Enjoy! 
Snowdonia is the finest mountain landscape in Wales, a nation that is hardly lacking in them. But it's also one of the greatest upland realms in the UK as a whole, boasting some of the most charismatic and impressive mountain architecture to be found anywhere.
There's the pulse-racing scrambling terrain of the Glyderau, including the bristling stegosaurus spine of Tryfan; the great throne of Cadair Idris; and of course the mighty Snowdon massif, with its pyramidal summit and its array of knife-edge ridges, including the formidable Crib Goch.
The mountains here exude a sense of drama that well exceeds their actual altitude. They are also rich in folklore and cultural significance, and often host some of the most important ecological and botanical treasures of Wales. 
We've gathered together the best snowdonia routes to six of the region's greatest walks. Some, like the Snowdon Horseshoe and the Glyderau, are very-well-known classics, and as such they can get busy (we'd recommend making an early start to beat the crowds and / or using public transport to help offset parking problems and overcrowding.)
Others, like the Nantlle Ridge and the Carneddau, are less well-trodden. But each one of these is a tried-and-tested, time-honoured, A-list classic of the sort that every walker should experience at least once – and may well find themselves compelled to return to time and time again over the course of a lifetime. So read on, find the best route for you, pack your gear and hit the trail. 
Want to head further north for your hiking adventures? Try the 10 best walks in Glen Coe.
Main image: admiring the view from the famous gravity-defying Cantilever Stone on Glyder Fach (route three). Photo: Tom Hutton
Snowdonia route one: Snowdon Horseshoe
Tom Hutton guides us on one of the best walks in snowdonia (and indeed, Britain as a whole): the great, scramble-spiced round of the Snowdon massif
Start/finish: Pen-y-Pass GR: SH647555 (see info opposite) | Maps: OS Explorer OL17 (1:25k), OS Landranger 115 (1:50k) | Distance: 12km/7 miles | Ascent: 1170m/3840ft  | Duration: 6-8 hours | Transport: Park and ride from Nant Peris, or Sherpa buses from all surrounding villages and towns terminate at Pen-y-Pass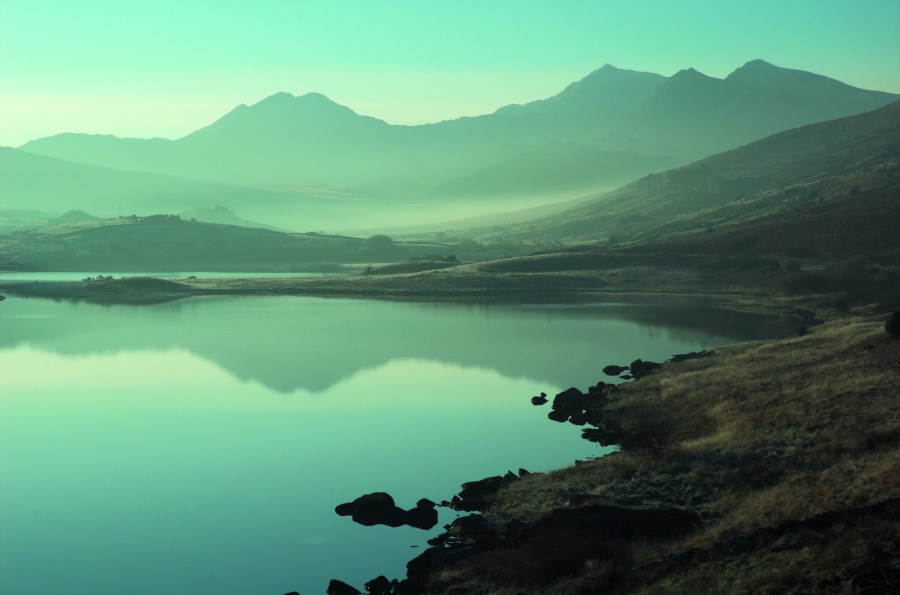 Viewed from the slender ridge of Crib Goch, Snowdon is every bit the majestic king of Welsh mountains.
The shapely 1089m summit towers high above the dark, clear waters of Llyn Glas and Llyn Llydaw, and the mountain's imposing north-east face provides a formidable headwall to the incredibly atmospheric Cwm Glas.
Snowdon is just one of four magnificent peaks crossed in this walk, with Crib Goch, Y Lliwedd and Wales' second highest peak – Carnedd Ugain –all providing their own drama and excitement in what is considered by many to be the finest hillwalk in Wales. 
It's an exposed walk, best suited to those with a head for heights – especially Crib Goch, which provides a few sections of Grade 1 scrambling. It's never technically difficult, but the exposure is staggering, with the ridge narrowing to about a yard wide in places. Prior scrambling experience is strongly recommended. 
Here is the detailed route description for Snowdon Horseshoe
Snowdonia route two: Tryfan via the North Ridge
Get hands on rock on this classic scramble, courtesy of Alex Roddie.
Start/finish: Milestone Buttress car park on the A5 between Capel Curig and Bethesda GR: SH663603 | Maps: OS Explorer OL17 (1:25k, OS Landranger 115 (1:50K) | Distance: 4.6km/2.9 miles | Ascent: 577m/1893ft | Duration: 3.5 – 5 hours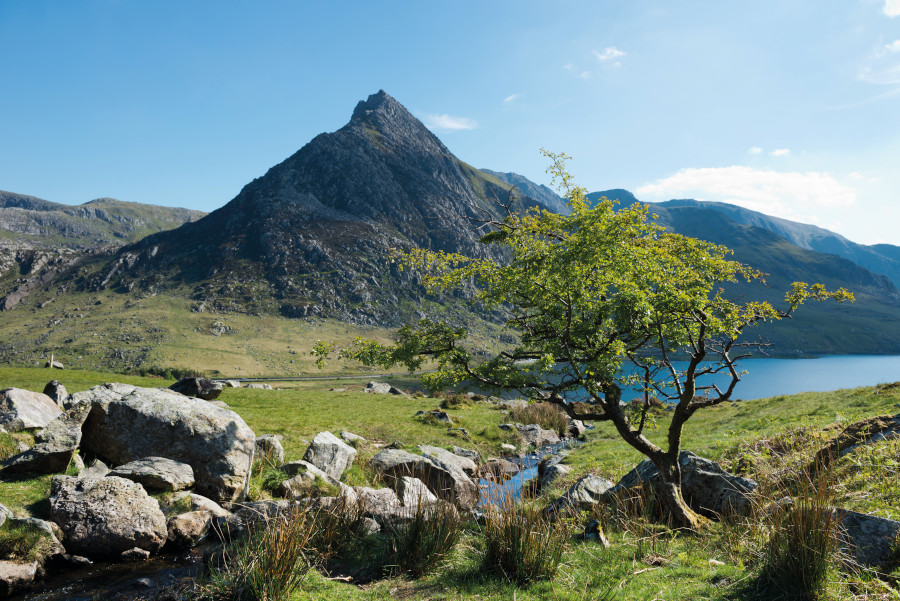 If you've reached that point as a hillwalker when you feel the urge to tackle steeper and rockier terrain, then there can be no better way to start scrambling than on the ultra-classic North Ridge of Tryfan.
This blade-shaped fin of rock guards the entrance of the Ogwen Valley in Snowdonia, laying down a challenge that ambitious hillwalkers find impossible to ignore.
Its North Ridge may look fearsome, but this is a Grade 1 (easy) scramble within the abilities of most fit walkers, and it's less extreme than it looks. Expect sustained hands-on-rock clambering and thrilling situations on a dramatic ridge.
Here is the detailed route description for Tryfan via the North Ridge.
Snowdonia route three: Y Glyderau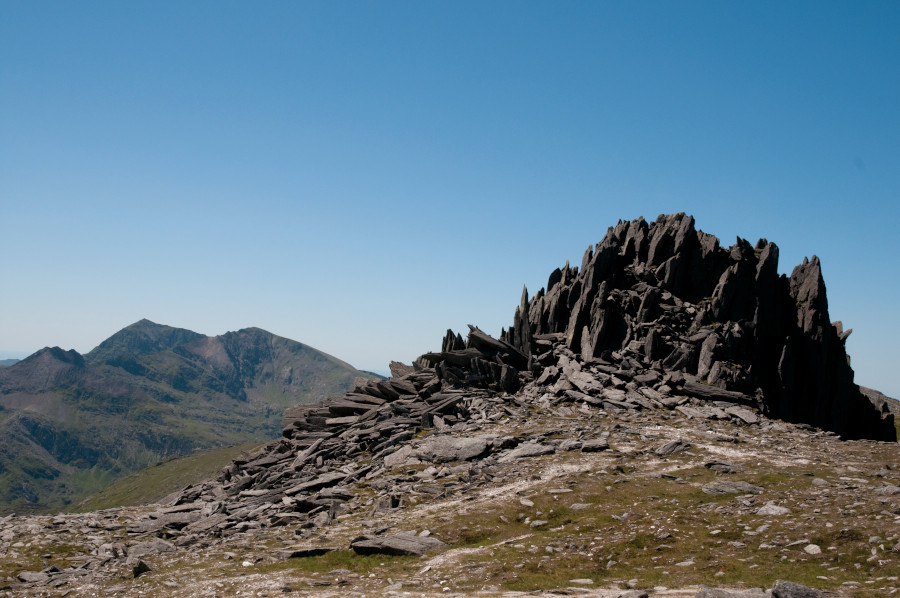 Tom Hutton leads the way over the summits of Wales' rockiest peaks, via the spectacular glacier-carved Cwm Idwal.
Start/finish: Idwal Cottage GR: SH649604 | Maps: OS Explorer OL17 (1:25k), OS Landranger 115 (1:50k)  | Distance: 9.5km/6 miles | Ascent: 820m/2690ft | Duration: 5-6 hours | Transport: Buses from Bethesda and Capel Curig
At 1001 metres, the rocky top of Glyder Fawr is Wales' fifth highest summit and the tallest of the Glyderau massif, wedged between the Llanberis Pass to the south and the Ogwen Valley to the north. It's a fascinating mountain – a lofty, rock-strewn plateau punctuated by jumbled clusters of spiky rock that form quite formidable turrets in places.
It's hard-gained though, with a steep northern escarpment that's penetrated by few paths. The most famous of these paths is the Devil's Kitchen, a steep staircase that winds steeply through precipitous ground from the glacial-carved scoop of Cwm Idwal – the mountain's northern cwm.
The descent is equally as devious, following an unlikely-looking path across the steep headwall of Cwm Tryfan and over the narrow niche that divides Tryfan itself from the range you've just walked. This then drops to the glistening waters of Llyn Bochlwyd – a typical mountain tarn – before returning to Cwm Idwal. 
Here is the detailed route description for Y Glyderau.
Snowdonia route four: The Carneddau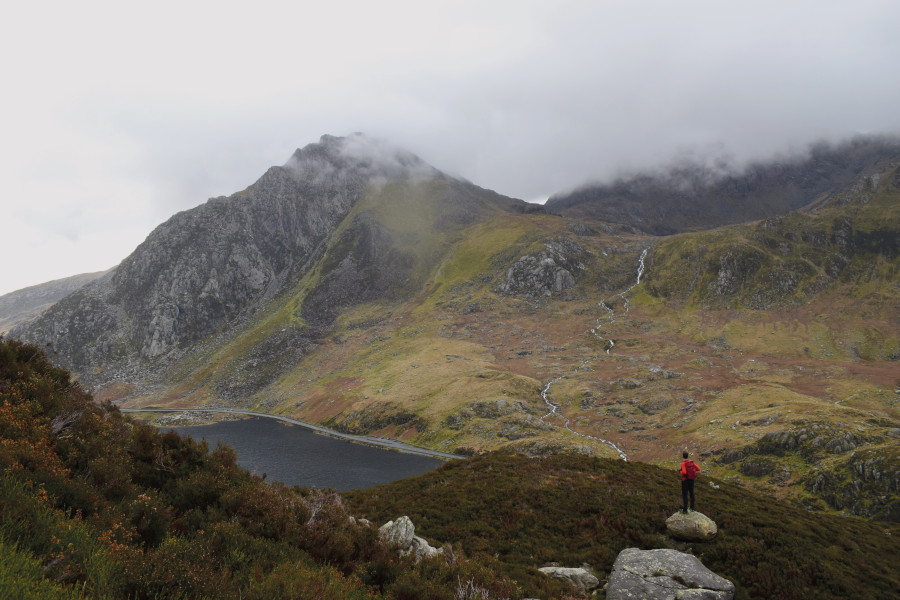 This less-frequented mountain range offers superlative hiking, argues James Forrest.
Start/finish: the westernmost parking layby off the A5 next to Llyn Ogwen; GR: SH656602 | Maps: OS Explorer OL17 (1:25k), OS Landranger 115 (1:50k), Harvey British Mountain Map Snowdonia North (1:40k) | Distance: 16.4km/10.2 miles | Ascent: 1356m/4449ft | Duration: 7 hours
If you need your fix of Snowdonia ruggedness but want to bypass the crowds flocking to Tryfan, the Glyderau and Snowdon's serrated Crib Goch ridge, the Carneddau range is a wise choice.
That's not to say it'll be completely empty, but you certainly won't be queuing for the summit – and, despite being quieter than its more famous neighbours, the Carneddau range still delivers world-class scenery. 
You'll be treated to stunning views of Tryfan's distinctive pyramidal profile, whilst the ridges and high peaks have an unforgiving – yet rewarding – ambiance. Carnedd Llewelyn, Wales' third-highest mountain, is probably the highlight. Bulky and knurled, it's a fitting rival to Snowdon. 
Here is the detailed route description for The Carneddau.
Snowdonia route five: Cadair Idris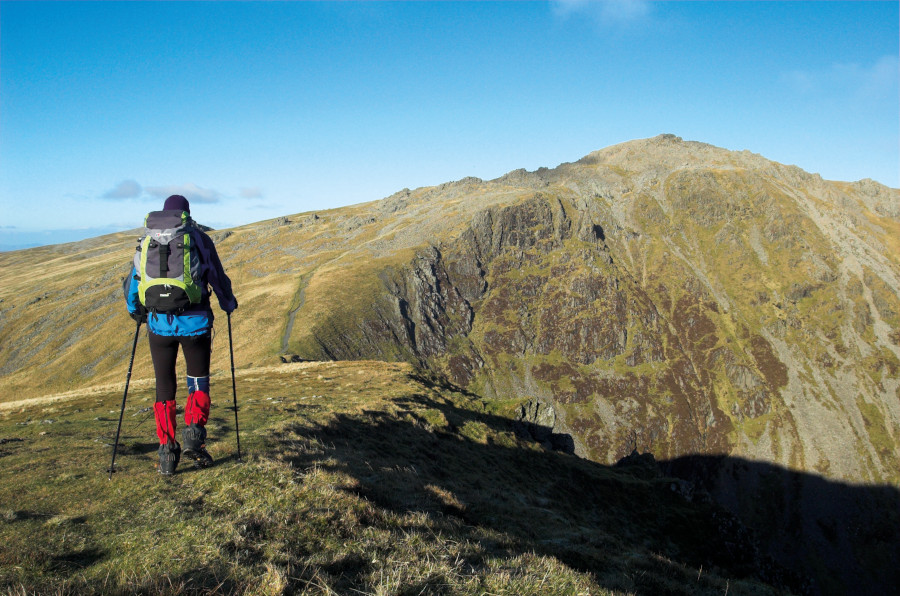 Tom Hutton explores the southern flanks of the mighty Cadair Idris – a walk that takes in some of Snowdonia's most imposing mountain architecture.
Start/finish: Dôl Idris car park; GR: SH732115 | Maps: OS Explorer OL23 (1:25k), OS Landranger 124 (1:50k) | Distance: 9.5km/6 miles | Ascent: 964m/3164ft" Duration: 5-6 hours | Transport: Buses from Machynlleth and Dolgellau
Cwm Cau is an almost perfect mountain cirque: a deep bowl, cradling a jewel-like tarn set in a rugged surround of towering dark cliffs. The lake at its heart, Llyn Cau, is as lovely as any of Snowdonia's mountain lakes, its mirror-like surface typically appearing almost unnaturally serene amongst such hostile surroundings.
The ridge that forms the west wall of this perfect cwm carries a wonderful mountain path. This tracks first over the outlying summit of Craig Cau, then drops and climbs again onto Penygadair, Cadair Idris's true summit.
The views from the top are unequalled, with the whole of Snowdonia stretching away to the north, the coast to the west, and the hills and moors of Mid Wales rolling southwards towards the distinctive outlines of the Brecon Beacons. 
Here is the detailed route description for Cadair Idris.
Snowdonia route six: Nantlle Ridge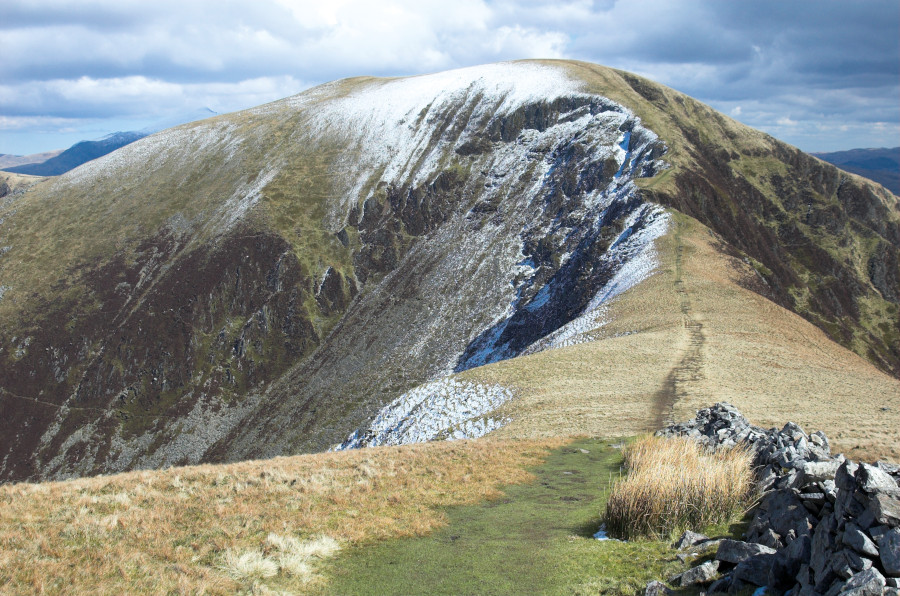 Tom Hutton shares one of Snowdonia's best-kept secrets…
Start/finish: Rhyd-ddu GR: SH571525 | Maps: OS Explorer OL17 (1:25k), OS Explorer OL17 (1:25k), OS Landranger 115 (1:50k) | Distance: 13km/8 miles | Ascent: 1050m/3445ft | Duration: 6-7 hours | Transport: Buses from Caernarfon and Beddgelert
Just a stone's throw from the summit of Snowdon, on the western side of the A4085 Beddgelert to Caernarfon Road, lies Snowdonia's westernmost mountain range; usually referred to as the Nantlle Hills.
It's a fascinating massif made up of a cluster of lofty peaks that form a huge horseshoe around the seldom-visited Cwm Pennant. But it's the ridge that forms the headwall of this remote valley that gets the most attention.
This, along with the dramatically-positioned outlying summit of Y Garn, form the Nantlle Ridge – one of the best little-known mountain walks in Wales. The classic crossing of the ridge is made point-to-point, creating the usual associated logistic issues.
But it's possible to tackle the eastern section of the ridge as a circular route, tagging in the outlying summit of Mynydd Tal-y-Mignedd as an out-and-back diversion.
The clamber from Y Garn onto Mynydd Drws-y-coed involves some easy scrambling. 
Here is the detailed route description for Nantlle Ridge.