Scrambling is the exciting middle ground between hillwalking and climbing – hiking with a kick of adrenaline. These seven accessible beginner scrambles are perfect options for people who are looking to try their hand at it for the first time.
Taking on your first scramble is always going to be a nervy experience. What if you drift off the line and find yourself in climbers' territory? What if you freeze midway across a knife-edge ridge? What if the rock isn't as solid as it looks? 
There's no way to completely neutralise the risks of scrambling (and a bit of adrenaline is all part of the experience), but some lower-grade routes offer a better starting point than others. Easy on exposure and technicality but big on thrills, these routes all provide excellent introductions to beginner scramblers. 
Here are seven of the best beginner scrambles
1) Ben Mor Coigach, Ullapool, north highlands
Start Road from Achiltibuie GR: NC061041 | Grade none; it's not technical | Distance: 11km / 7 miles | Time: 6 hours
First on our list of beginner scrambles is a long ridge on a relatively low-lying hill, which provides superb clambering with only mild exposure and occasional jeopardy for its entire length. The real selling point here, though, is the location and the views across Assynt's remote and gnarly hillscape are an ongoing distraction.
If the exposure gets your head spinning, it's easy enough to drop down to the walkers' path just north of the crest. Turn it into a horseshoe by continuing on via The Fiddler (Sgurr an Fhidhleir). 
2) Stickle Ghyll, Langdale, Lake District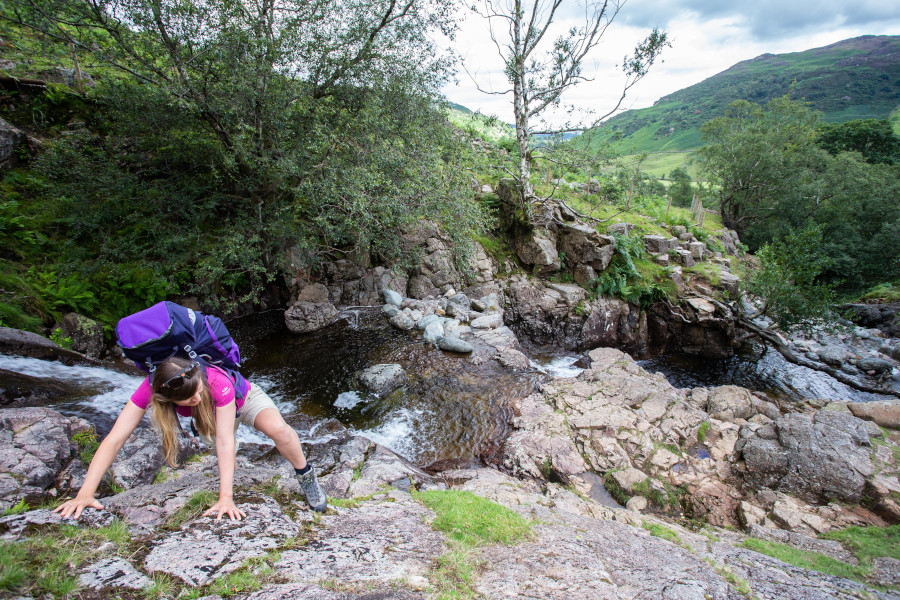 Start New Dungeon Ghyll Hotel GR: NY295064 | Grade 1 | Distance: 5km / 3.1 miles | Time: 3 hours
An adventurous yet easily escapable romp up into the Langdale Pikes, ascending via shallow pools and waterfalls to Stickle Tarn. With no exposure to speak of and the added benefit of getting thoroughly wet, this is one of the best beginner scrambles in the Lakes.
Be prepared to meet lots of 'canyoning' groups in red suits and helmets on hot days, but it's still generally far quieter than the neighbouring footpath. More adventurous scramblers can continue up Pavey Ark via Grade 1 (but exposed and crumbly) Jack's Rake. Make it a loop by summiting Harrison Stickle and descending above Raven Crag.  
3) Fiacaill Ridge, Cairngorms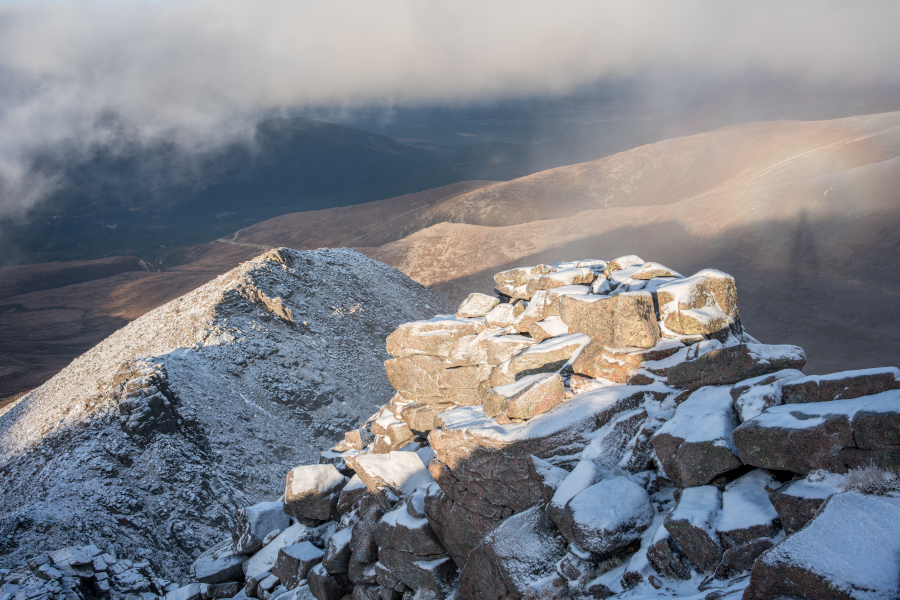 Start Cairngorm Ski Centre car park GR: NH990059 | Grade 1 / 2 | Distance: 8.5km / 5.3 miles | Time: 4 hours
One of the tougher challenges on our list of beginner scrambles, as you cross over into Grade 2 territory at its hardest, this high and mighty ridge is the most technical scramble here – but don't let that put you off. There's a relatively straightforward path that bypasses the final and trickiest section of scrambling.
That means you can pick and choose both your grade and your exposure levels; plus the nearby car park removes any collywobbles over remoteness. Difficulty aside, the Fiacaill Ridge is a stunner of a route, with grippy scrambling over rocky teeth, views of Cairngorm and the Northern Corries, and an obvious day extension that takes in Britain's second highest mountain, Ben Macdui.
4) Hall's Fell Ridge, Blencathra, Lake District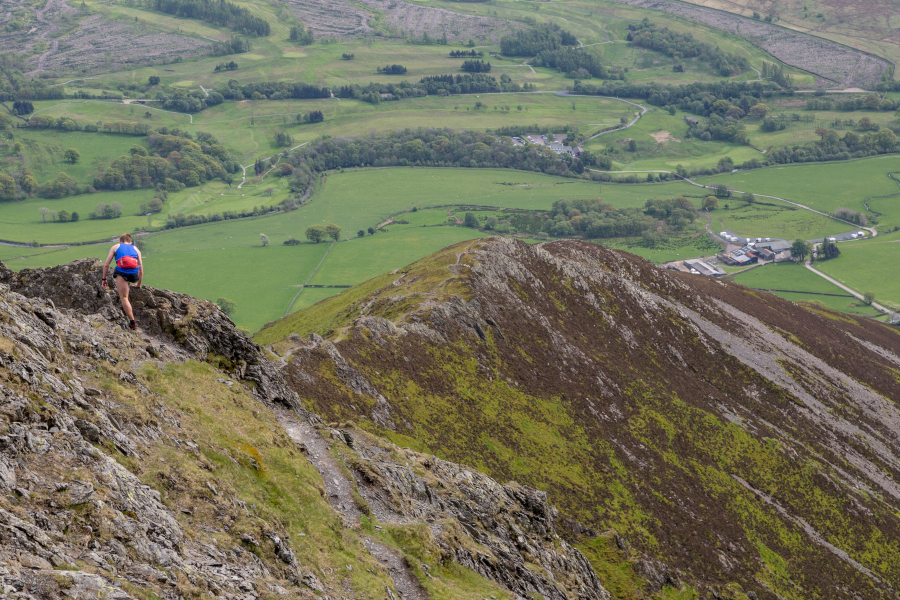 Start Scales GR: NY340267 | Grade 1 | Distance: 8km / 5 miles | Time: 4 hours
Only the very top of Hall's Fell Ridge is classified as a Grade 1 scramble, but it's still a cracker of a route and perfect for easing beginners into the delight of more exposed ridges. The ridge is one of the many legs of Blencathra, rising directly from the A66 and providing an exciting access point to the remote vastness of the Northern Fells.
If you're feeling brave and the weather is playing ball, climb to Blencathra's summit via Sharp Edge (a more exposed Grade 1 scramble, relatively straightforward in sunshine but slippery in the wet) and use Hall's Fell Ridge as your descent route. Alternatively, it makes a good start point for a long circuit of Mungrisdale Common, returning via the Cumbria Way.  
5) Y Gribin, Glyder Fach, Snowdonia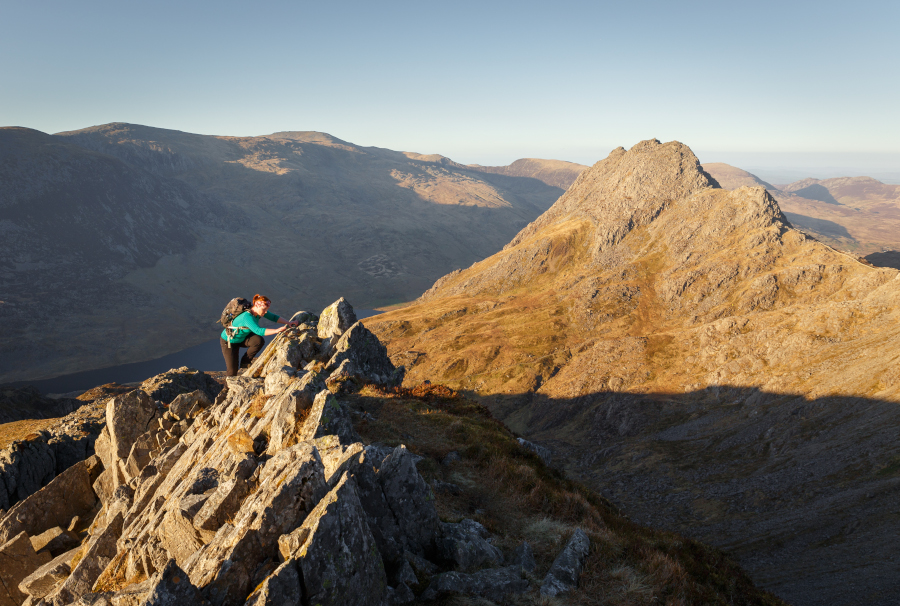 Start Ogwen GR: SH649603 | Grade 1 | Distance: 7km / 4.3 miles | Time: 3.5 hours
The circuit of Tryfan and the Glyders via Bristly Ridge is one of the greatest scrambles in Snowdonia, but it's not always straightforward and the exposure en route to Glyder Fach can be intimidating for beginners.
Instead, turn your boots towards Y Gribin on the west side of Cwm Bochlwyd – oft used as a descent by Bochlywd Horseshoe scramblers but a very worthy route in its own right. This being a ridge, navigation is generally pretty straightforward.
There's also less in the way of stomach-churning exposure than you'll find on neighbouring Bristly Ridge, although the final section of the ascent is steep and not without its challenges. Descend via the Devil's Kitchen for a frisson-filled Snowdonia circuit. 
6) Grindsbrook Clough, Peak District 
Start Edale GR: SK124853 | Grade 1 | Distance: 6.5km / 4 miles | Time: 3 hours
Probably the best way to get up onto the Kinder Plateau, this fun and straightforward ghyll scramble starts from Edale and emerges on the east edge of Kinder Scout. It's got all the attributes you'd want from a first-time scramble: low exposure, easy to escape from and no issues in the route-finding department (even the scrappiest navigators can follow a stream).
The downside to all this ease is its popularity – you might want to avoid summer weekends or the holidays. Nevertheless, catch it on a quiet day and you'll be rewarded with grand scrambling and some of the Peak District's best views.    
7) Y Gribin (Cribau), Snowdon, Snowdonia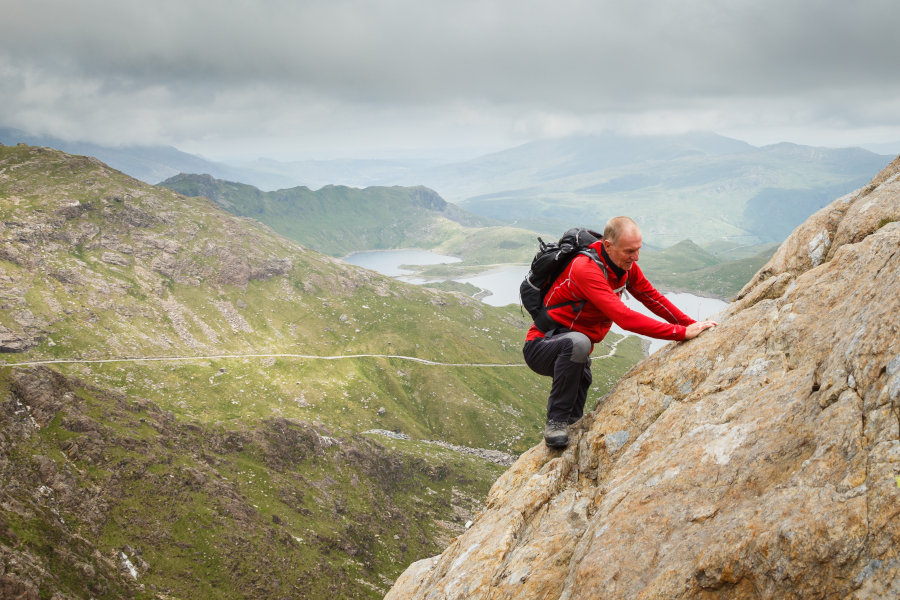 Start Pen- y-Pass GR: SH647556 | Grade 1 | Distance: 11km / 6.8 miles | Time: 4.5 hours
Our final route on our list of beginner scrambles is a little confusing as there are two Grade 1 Y Gribins in Snowdonia. 'Y Gribin' simply means 'The Ridge', which gives you a pretty good idea of what you'll be tackling on this lesser-known but really rather brilliant ascent of Snowdon.
The route begins at Pen-y-Pass, crossing the Afon Glaslyn before heading precipitously up a rounded, rocky ridge. Despite its obvious excellence, Y Gribin is far less popular than Crib Goch. It's also slightly less exposed, which makes it a better option for first-timers.
What's not to love? Stick to the crest most of the way to reach the summit of Snowdon, then mosey back to Pen-y-Pass via the Miners' Track. 
If you want more tips on scrambling then check out our beginner scrambling guide.