Lifesystems reusable hand warmers are designed for those occasions outdoors when you need a boost of heat – and fast.
Lifesystems reusable hand warmers are small pouches of scientific joy that contain within them a metal disc. Press this – a bit of a knack to it but very achievable in gloves – to hear an audible 'click' and to stimulate a visible chemical reaction. As if by magic, you can watch the clear liquid turn opaque and feel it emit heat.
RRP: £4.99 for a pair
Weight: 120g for one
Type: Catalytic heat generation
Duration: 45 minutes per activation
Pros: simple and fast heat generation, sustainable, good value
Cons: density and shape don't allow much dexterity
After testing and reuses, the whole process took just 20 seconds in my tests. During the first 10 seconds after 'click' activation, the liquid gel turns opaque. It takes a further 10 seconds and a bit of pouch-squishing for the liquid to begin emitting a high heat (up to 54°C/130°F). All in all, this is the sort of clever simplicity a luxury like hand warmers require to be genuinely useful outdoors when you'd expect your gloves to do most of the heavy lifting.
The heat offered is the best and most effective of the catalytic hand warmers tested and remains relatively constant during the 45 minute period of heat emission. I found this plenty of time for the more sedentary situations in which I appreciated the extra heat – while cooking in camp and warming up after a swim. After 45 minutes, the chemical reaction ends and no further heat is emitted. Until, that is, I simply popped the reusable tech into boiling water from my camp stove – or back at home after a dip – so they're ready to be used again with a simple click next time the cold bites.
The Lifesystems reusable hand warmers are just about small enough to fit in the palm of my hand and squeeze (albeit very snugly) into my glove. Once activated the gel filing is not very malleable, however, so it's a good idea to stuff them right away. They're marginally heavier than other single-use hand warmers but are not so heavy that I noticed a great deal of difference in my pack. Over multi-days, it was better to carry just two Lifesystems reusable hand warmers over multiple packs of single-use options. The outer shell can get a little tacky in the hand next to skin and is moderately durable – it survives a lot of prodding and poking from the hands but doesn't withstand pressure from a tough, sharp source of puncture or tear.
While the dense shape and fill of the hand warmers don't allow for much dexterity, hand warmers shouldn't really be necessary in motion on the mountains with a fit-for-purpose pair of gloves. These are really only to be used while stationary as they leave your hands somewhat redundant. Perhaps a more ergonomic approach to the shape – or the options to buy smaller pairs – would make these more universally suitable for mountain use.
Overall, the functionality and simplicity – as well as reusability – make these a good, affordable option for those who enjoy winter and also consider the environmental impact of single-use products on those environments.
See how the Lifesystems reusable hand warmers compare to others in our guide to the best hand warmers for hiking.
SQUIRREL_BUTTON_6347378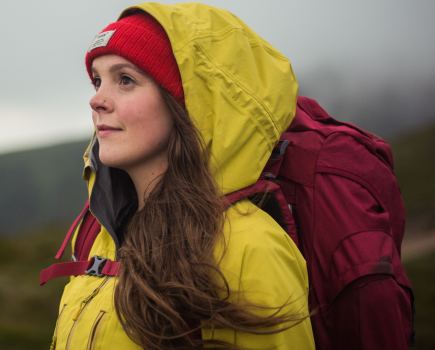 Testing Conditions
Francesca tested these hand warmers walking and camping through autumn and the beginnings of winter 2023 in the hills of her Peak District home as well as snow-capped Lake District fells. They were also tested post-swim. All hand warmers were reviewed while wearing the Outdoor Research Waterproof Liner (a generously-sized glove). She has small hands and runs hot. All weights from tester's own digital scales.