Megan Carmichael reviews The Path of Peace: Walking the Western Front Way by Anthony Seldon.
Anthony Seldon's book, The Path of Peace, takes the reader on a journey along the Western Front in World War I, from the edge of impartial Switzerland to the North Sea in the reclaimed Belgian land. Following the discovery of letters from Lieutenant Douglas Gillespie to his family describing a desire to create a footpath along the Western Front after the war, Seldon set his sights on accomplishing this in his memory. With the groundwork laid, the actual route needed to be figured out.
With the death of his beloved wife in 2016, his recent resignation from his job, and the sale of the house he shared with his recently departed, he embarks on this journey with "no home, no wife, and no job", hoping to find more than just his way, but the key to peace in both life and the world.
Seldon starts at the Swiss border, following as closely to the Western Front line as possible, battling his way through a Covid-wary France with his broken French hindering him more than helping. When Seldon faces many medical emergencies along his route, he provides the reader with detailed descriptions of the blisters, bites, and brutal fatigue, putting his mission at risk from start to finish.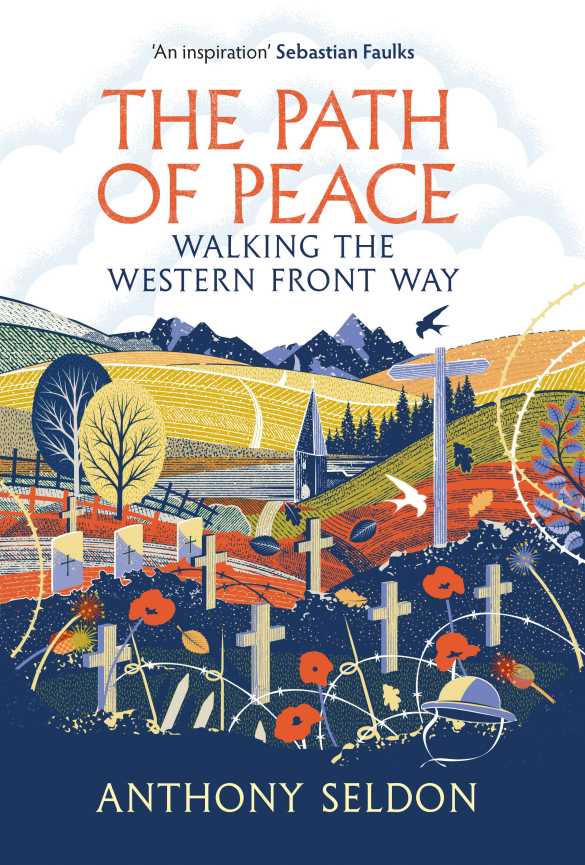 As well as physical challenges, Seldon dives into his mental health, the pandemic's effect, and the losses he faced before it, which feel very relatable, candidly sharing with us his coping mechanisms and the struggles he has despite these.
The Path of Peace is a hybrid of an accurate historical account of life along the various trenches of the western front (including German, French, Belgian, and Canadian voices) and a hiking tale that recounts the trials, tribulations, and triumphs of a great walk.
For history buffs, stories of individual soldiers and their last moments are conveyed and remembered while walking the site of their demise. For hikers, the descriptions of path-finding, turnarounds, and note-taking using voice notes will feel familiar, inspiring them to reach for their map and compass. There is certainly a lot of information within this book, and it isn't possible to absorb it entirely on a first read. Still, with the chapters sorted into geographical segments, it becomes a convenient reference book for future use. This book was a great read, and I can't wait to use it as a reference on-trail when the path opens fully to the public.
The Path of Peace: Walking the Western Front Way by Anthony Seldon is published by Atlantic Books (£20, hardback).