Arrive by train, explore on foot. Uncover more of Wales' heritage, culture and natural landscapes during the Year of Trails.
This is a paid partnership with our friends at Transport for Wales in celebration of the Year of Trails in Wales.
Year of Trails in Wales (English)
2023 is the Year of Trails in Wales and every path has something different to offer.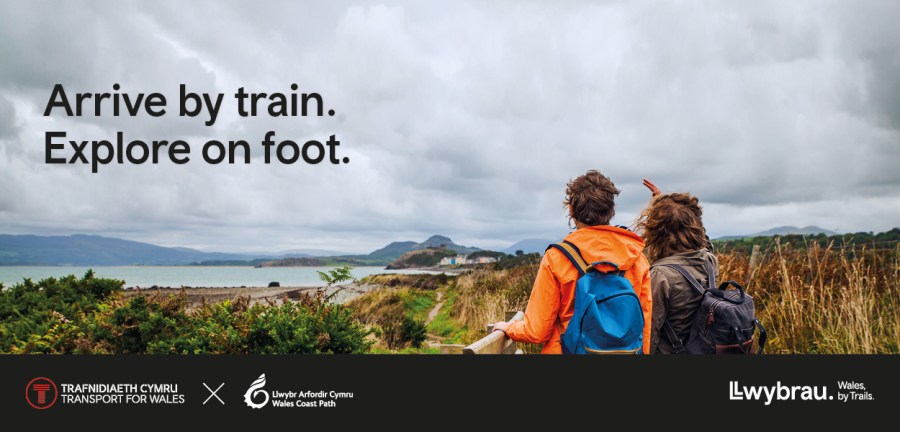 Explore UNESCO World Heritage Sites, discover historic castles and try local cuisine across Wales. Long or short; mountain, forest or coast, walking or wheeling, there's a trail for everyone, and getting there has never been easier.
There's no need to pile into the car or fire up the sat nav, taking the train is a more sustainable and relaxing option and Transport for Wales trains can take you within a short walk of hundreds of paths, including the Wales Coast Path.
The Wales Coast Path boasts some of Wales' most beautiful views. 870 miles long, it runs along the entire Welsh coastline, and is considered the first dedicated coast path in the world to do so. At Llandudno the trail is just under a mile from the nearest train station, Tenby station is only a ten-minute walk away and Cardiff Bay station is just 230 metres from the waterfront.
Or, if you want more of a challenge, why not take Glyndŵr's Way trail? The path runs over moorland through forests to the highest point, Foel Fadian, which has spectacular coastal views. It extends for 135 miles through one of the least inhabited parts of Britain and is served by the Cambrian train line. And it's easy to hop on and off whenever it suits you with trains running regularly to Birmingham, Shrewsbury and Aberystwyth.
When you travel with Transport for Wales, you're never far from adventure and 2023 is your chance to be a trail taker. Arrive by train, explore on foot.
Plan your next adventure today at tfw.wales/trails.
---
Blwyddyn y Llwybrau yng Nghymru
Cyrraedd ar drên, crwydro ar droed. Darganfyddwch mwy o dreftadaeth, diwylliant a thirwedd naturiol Cymru drwy gydol Blwyddyn y Llwybrau.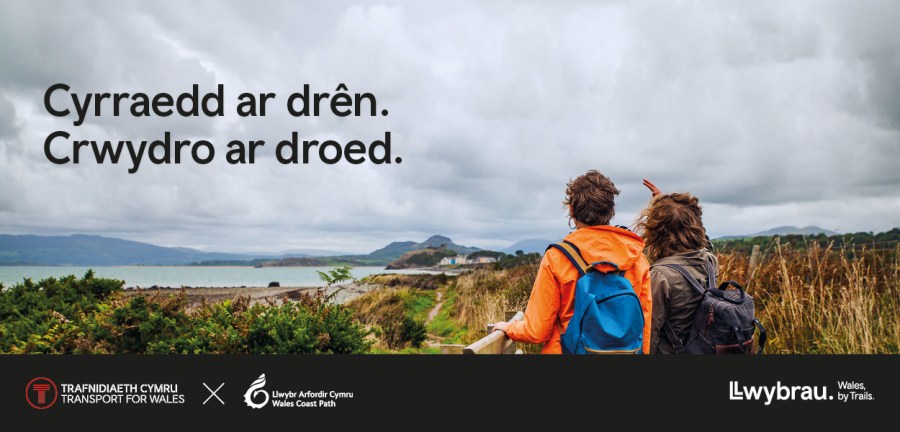 2023 yw Blwyddyn Llwybrau Cymru ac mae gan bob llwybr rywbeth gwahanol i'w gynnig. Dewch i ddarganfod Safleoedd Treftadaeth y Byd UNESCO, cestyll hanesyddol a dewch i fwyta bwyd lleol ledled Cymru. Hir neu fyr; mynydd, goedwig neu arfordir, ar droed neu olwynion, mae llwybr ar gael i bawb, ac mae'n haws nag erioed eu cyrraedd.
Anghofiwch y car, ewch ar y trên a defnyddio opsiwn teithio cynaliadwy a chyfforddus. Gall trenau Trafnidiaeth Cymru fynd â chi o fewn pellter cerdded i gannoedd o lwybrau gan gynnwys Llwybr Arfordir Cymru. Mae gan Lwybr Arfordir Cymru rai o olygfeydd harddaf Cymru, dros 870 milltir.
Arfordir Cymru yn ei gyfanrwydd yw'r llwybr pwrpasol cyntaf yn y byd y mae modd ei gerdded. Yn Llandudno mae'r llwybr ychydig llai na milltir o'r orsaf drenau agosaf, mae gorsaf Dinbych-y-pysgod ryw ddeng munud i ffwrdd ar droed ac mae gorsaf Bae Caerdydd dim ond 230 metr o lan y dŵr.
Neu, am ychydig o her, beth am ddilyn Llwybr Glyndŵr? Mae'n rhedeg dros weundir drwy goedwigoedd i'r man uchaf, Foel Fadian, sydd â golygfeydd arfordirol godidog. Mae'n ymestyn am 135 milltir trwy un o'r rhannau o Brydain lle mae'r lleiaf o bobl yn byw, ac yn cael ei gwasanaethu gan reilffordd y Cambrian. Mae'n hawdd neidio ymlaen ac i ffwrdd pryd bynnag sy'n gyfleus gyda threnau'n rhedeg yn rheolaidd i Birmingham, Yr Amwythig ac Aberystwyth.
Mae antur yn agos bob tro y byddwch yn teithio â Trafnidiaeth Cymru, ac mae 2023 yn gyfle i chi droedio llwybrau newydd. Cyrraedd ar drên, crwydro ar droed.
Cynlluniwch eich antur nesaf yn trc.cymru/llwybrau.