Winter in the British hills and mountains is a very different beast to summer. Mountaineering Instructor Rebecca Coles shows how to plan a typical winter hillwalk using Ben Macdui, highest summit in the Cairngorms, as an example. 
Image credit: Chris Townsend
The first snows have already touched down on the mountains, and before we know it winter will be here in its full glory. It's an exciting time of year, but the shift from summer to winter walking takes adjustment. There is far more to consider than just having the right kit. Crucially, a change in mindset is necessary to deal with – and enjoy – this unforgiving environment.
I will use the classic winter outing of Ben Macdui (1309m / 4295ft) across the Cairngorm plateau as an example of the planning considerations needed to take on a serious winter objective. Despite a relatively high starting point, and a shorter approach than some peaks in the Cairngorms, this is a challenging day out in winter, suitable only for the experienced and prepared.
First, let's remind ourselves how winter differs from summer in the hills – and the kit and skills we'll need.
Winter: the hard season
Weather is harsher in winter, and harshest on the Cairngorm plateau. Not only are temperatures lower, but wind is much stronger; over 150mph is regularly recorded on the summit of Cairn Gorm. Thigh-deep in drifts, shoulder into the wind, progress becomes arduous as we race the short days before darkness. The chances of making it back down before it gets dark or the weather deteriorates rapidly dwindle. Navigation's challenging too; snow conceals features on the Cairngorm plateau, and when the cloud rolls in, the sky blends seamlessly with the horizon and the snow-covered ground. The wind nags at us, pushing us off our bearing – which it is imperative we keep to.
Ever-changing conditions
The changeability of the British mountains in winter is one of their biggest challenges. One minute the snow is there; the next it has gone. Has it thawed, making streams unfordable, or blown to the lee slopes making dangerous avalanche conditions? When temperatures plummet again will there be hard neve with terrifying runouts, punishing a trip on a crampon strap; or are the rocks now coated in thin ice known as verglas? Without crampons you'll fall over; with them you might twist your ankle. There is a dark art to anticipating conditions and understanding what impact they will have, but thankfully many resources are now available to help us. Being adaptable is key.
The mindset shift
Compared to summer, harsh weather, changeable conditions, shorter daylight hours, and more physically difficult days with a greater required skillset combine to reduce the margin for error. One mistake can quickly lead to another and become a serious situation, so being prepared, building experience progressively, and having both a flexible mindset and adaptable plans are critical.
Gear and skills
To climb a mountain like Ben Macdui in winter our clothing, equipment and skills all need to be up to the job. Check out this winter kit list for a more detailed look at the kit and skills you'll need for serious winter mountain days.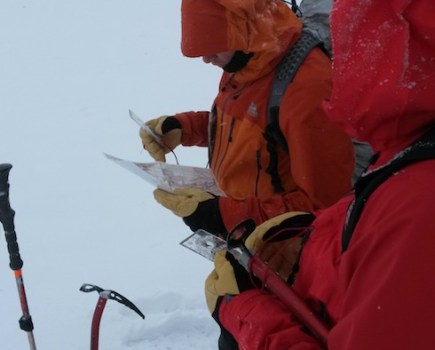 Planning your day
Now we can appreciate that winter is a more serious proposition and therefore requires good planning, and being suitably armed with both equipment and skills, let's plan our trip to Ben Macdui.
Watching the weather
We begin with checking the weather forecast. MWIS and the Met Office have specific mountain forecasts for the Cairngorms. Apps with summit forecasts can be useful, but be cautious about basing your plan purely on them; it is a very narrow view of what is happening with the weather.
You should note the temperature (including wind chill; not unusual to be -20°C on the Cairngorm plateau in winter), wind direction, wind speed, precipitation, and cloud base (if the cloud is over the summits we'll be navigating in reduced visibility). Note if the weather is predicted to improve or worsen throughout the day.
High winds can be a showstopper. A headwind over 30mph adds windchill, will be more tiring, and could start to slow us down. Anything over 50mph – especially if gusty – can seriously impede progress and make exposed ridges feel insecure.
Avalanche!
On the day in question, The SAIS avalanche forecast for the Cairngorms is predicting a Considerable risk on NW through N to NE slope aspects above 1000m. Elsewhere there is Low risk. The forecast explains that this hazard occurred from snowfall and SW winds over previous days; however, winds have now dropped and the weather is fine.
Wind moves unconsolidated snow to lee slopes, changing the snow to what is known as windslab: a brittle layer prone to fracturing off in slabs. This is most likely to occur on steeper slopes at angles of around 30°.
Our proposed start point is the ski centre car park, so I'd also check the ski road is open. From here there are multiple options to gain the Cairngorm plateau. Some ascend steep slopes and some gentler ones; some climb ridges; others lead into the corries before heading steeply onto the plateau.
The corrie routes, such as the Goat Track out of Coire an t-Sneachda and the Twin Burns out of Coire an Lochain, are unwise in the conditions. Both fall within the area of Considerable hazard due to their slope aspect and elevation. They are at additional risk because of unavoidable steep slopes and natural bowls that accumulate snow.
Ridges – even ones that face north, the aspect of concern – scour and are unable to hold much snow. Better choices would be gaining the plateau via the Fiacaill a' Choire Chais, or the spur binding the western side of Coire an Lochain. If accumulations are observed on these ridges it's easy to pick a way around them, which we often do naturally as walkers because deep, unconsolidated snow is more arduous to walk through.
Crossing the plateau
In good weather, once we gain the Cairngorm plateau the walking eases as there is a lower chance of being avalanched. However, if cloud rolls in, or darkness falls, it is a lonely and featureless place. Streams, lochans and paths marked on the map are not visible on the ground in winter. Navigation is done by estimating distance (through pacing and/or timing), using a compass to follow bearings, and relating contours to the rise and fall of the landscape.
If the cloud base is forecast to be at 1100m (3608 feet) or lower, there won't be visibility on the plateau. Straying onto steep slopes, or cornices that form over the northern corrie rims, could end in disaster. Turning back can be the best choice, especially if the weather is worse than expected or progress slow. On this route there is also the option of the shorter and less committing walk to the summit of Cairn Gorm. Ploughing on towards Ben Macdui could get you into difficulty.
On a different day, in different conditions, when a thaw is followed by a freeze, bullet-hard neve can create a hazard on steep routes such as the Goat Track. The SAIS reports will often alert people to such conditions. On hard snow, crampon skills need to be exceptional; a trip can lead to a serious fall, which is difficult to arrest even when skilled. These slopes feel particularly insecure in descent and are often best avoided. It's a good idea to follow lower-angled slopes away from significant drops, such as Fiacaill a' Choire Chais and the ridge to the west of Coire an Lochain.
In winter, using weather and avalanche forecasts to plan a route together with an honest assessment of personal skills, experience and equipment to cope with the weather, conditions, and ability to navigate the planned route are all crucial for a safe and enjoyable time.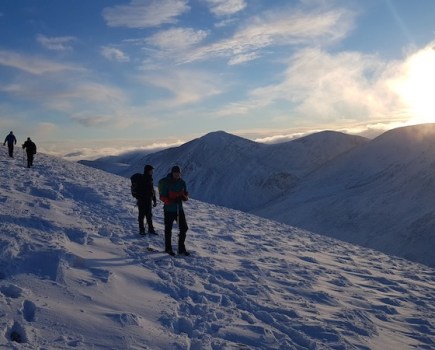 Tips and tricks
You will be expending far more energy than in summer. Make sure you have a substantial breakfast and take more food with you.
Maps have a habit of blowing away, so I attach mine to me. I also make sure there is at least one spare map and compass in the group.
Having a GPS or phone with maps loaded on it is a good idea for a backup, although batteries drain quickly in the cold so a power cell and charging lead should also be carried.
Without goggles it's painful to even open your eyes in blowing snow, let alone see where you're going. Goggles should be anti-fog and suitable for low light conditions.
I carry a first aid kit, but an emergency shelter is of much more value in my opinion. People don't die of broken ankles – they die of hypothermia waiting to be rescued.
This article was first published in the January 2021 issue of The Great Outdoors. It's the first of a three part series covering key winter skills, using challenging winter mountains as examples. Look out for the next instalment, an in-depth look at the skills involved in a mountain journey, in the February edition of The Great Outdoors. The final article will look at winter hazards, and will be feature in the March edition.
Rebecca Coles is a Winter Mountaineering and Climbing Instructor and is based on the West Coast of Scotland in winter. She can be booked for winter skills, mountaineering and climbing via www.allbutessentialtravel.co.uk