The best clothing, gear and outdoor innovations of 2021, as voted for by our expert judges.
We're excited to announce the winners of The Great Outdoors Gear of the Year Awards 2021. Across nine categories, these awards recognise the best outdoor equipment available: innovative and exciting products that – to put it simply – work brilliantly out in the mountains. Our expert panel of judges has picked the best footwear, clothing, equipment, camping and tech products, and rewarded the kit that has pushed the boundaries in terms of innovation and sustainability. We've also picked out the best overall brands for both innovation and sustainability. Our favourites have been granted a Gold award, while other products have received Silver and Bronze awards to commend their high quality.
2021 has been a tough year for outdoor brands, with business hindered by a series of obstacles – coronavirus lockdowns, Brexit complications, shipping delays and the haulage crisis. But, despite these setbacks, brands have still managed to release boundary-pushing technology, exciting new products and eco-friendly innovations in 2021. It would appear that – no matter what happens – the world of outdoor clothing and equipment is constantly evolving. The Great Outdoors Gear of the Year Awards 2021 is a snapshot of the best of it at this moment in time, and we hope you find it a useful guide.
There are two parts to The Great Outdoors Awards. This article announces the winners of the Gear of the Year awards, which rewards the best and most innovative outdoor gear released this year, as selected by expert judges.
The other part of the Great Outdoors Awards is the Reader Awards, which are nominated and voted for by our readers and the outdoor public at large across 15 categories.
Contents
---
Footwear
GOLD: Inov-8 ROCFLY G 390
Inov-8 have made it a hat-trick, topping our footwear charts for three years in a row. In 2019 the Roclite G345 GTX took the crown, in 2020 the Roclite Pro G 400 GTX won top spot and this year the new Rocfly G 390 has won gold. Released in October 2021, it is a cushioned boot with the world's first graphene foam midsole. It also features a grippy graphene outsole and a breathable, quick-drying upper (without waterproofing), and weighs in at an ultralight 390g per boot. Judge David Lintern said: "A really practical balance between comfort and ground-responsiveness from a brand better known until recently for its minimalist running shoes, the Rocfly is perfectly dialled for big backpacking days in warmer conditions, with a wide forefoot, no membrane and a very durable sole unit."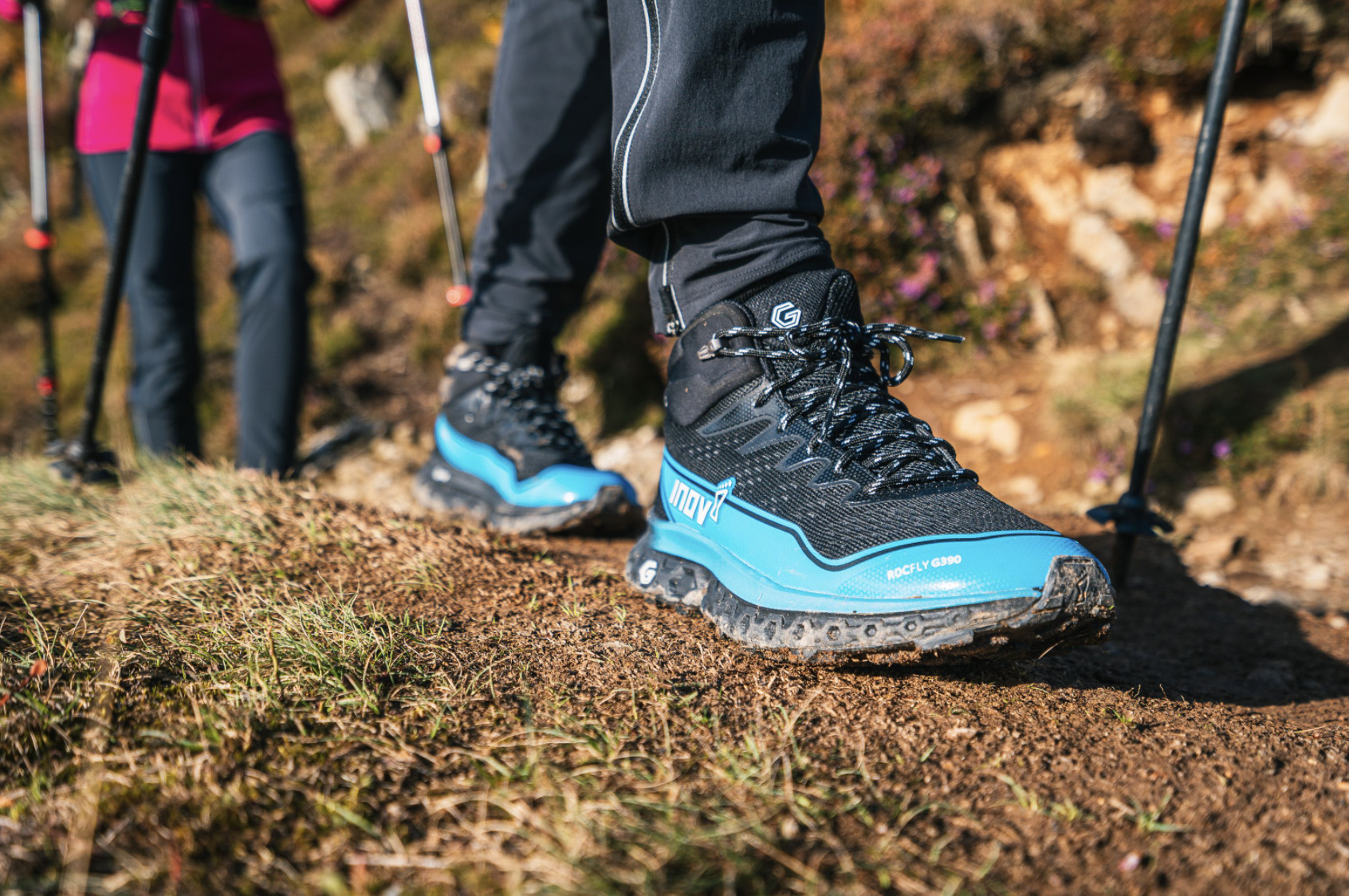 Photo: Inov8 Rocfly G390
SILVER: Keen Ridge Flex Waterproof
These affordable boots (£154.99) are waterproof, durable, grippy and comfortable, thanks to the use of premium leather, a Keen Dry membrane and a rugged outsole with 5mm lugs. There's also a panel of ridged, rubbery plastic at the forefoot that flexes with your every step, an innovation that apparently means the boot requires 60% less energy to bend. Judge Chris Townsend said: "The boots really do flex very easily with virtually no resistance. I've worn trail shoes that are stiffer. I find them easy to walk in and certainly more comparable in comfort to a flexible trail shoe than to most boots. I guess they do save some energy, like all flexible lightweight footwear, though how much exactly I can't say. The sole grips really well on a variety of terrain too. These are good lightweight boots at a reasonable price."
BRONZE: Black Diamond Mission XP Leather
New for autumn and winter 2021, the Mission XP Leather approach shoe features a suede leather upper, grippy rubber outsole, toe rand, gusseted tongue and EVA midsole with stiff forefoot shank plate. Judge Lucy Wallace, who tested the Mission XP Leather on the Isle of Arran in Scotland, said: "This is a perfectly functional approach shoe. I'm impressed by the diamond-shaped tread, which seems to deliver improved grip on grass. They are very light and thus easy to carry on the back of a harness, and I also like the lack of a waterproof membrane – the leather uppers deal with dew and puddles really well, regardless."
Also Shortlisted
Clothing
GOLD: OMM Core Hoodie
"This is extraordinary" said judge Chris Townsend, after testing this jacket in the Cairngorms. "It weighs only 115g and is as warm as a heavyweight fleece, as long as you wear a shell over it in wind. It's so breathable that just walking about in still air you lose heat. My only concern is over long-term durability, but on initial testing this is very impressive." The OMM Core Hoodie is made entirely from a PrimaLoft synthetic plume sewn onto a single-layer fabric mesh known as PrimaLoft Active insulation. Traditionally plume insulation is found loose between two outer layers. Here, however, the loose plume is knitted onto a single-layer mesh, creating an insulting hoodie that offers the warmth of a fleece but at less than half the weight.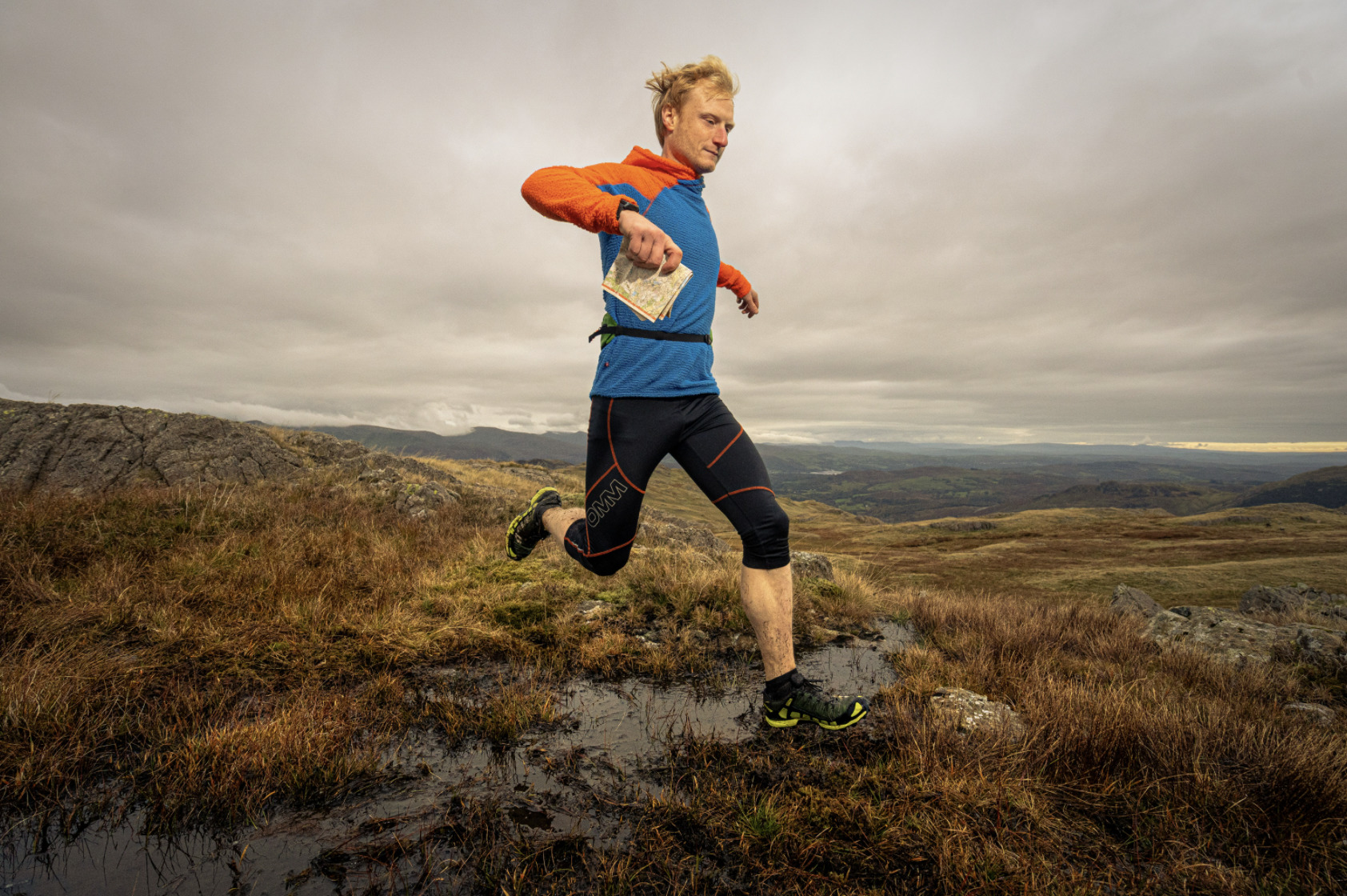 Photo: OMM Core Hoodie
SILVER: Artilect Boulder125 Crew
Newcomers to the market, Artilect promise unrivalled "performance, comfort and durability" with their debut base-layers, made from an ultralight Nuyarn 125 merino wool. The key to this technology is not twisting the life out of the merino. Rather than using ring or core spinning, which can leave merino a bit itchy and susceptible to holing, Artilect instead use a new spinning method known as Nuyarn. This uses longer fibres and drafts them along a performance filament without twisting. Judge Lucy Wallace was impressed, stating: "It's clever and counteracts many of the common drawbacks of merino. It feels very soft and stretchy, and is quicker drying than some merino products."
BRONZE: Montane Fireball Jacket
New for 2021, the Montane Fireball is a warm, breathable and versatile jacket for hiking in colder conditions. Featuring synthetic insulation, which keeps you warm even if damp, the Fireball also comes with an insulated hood, articulated arms, elasticated cuffs, adjustable hem and full-length zipper with stormflap. Judge Chris Townsend said: "This is a nice insulated jacket with some commendable eco credentials, including the use of recycled materials. It is very breathable, which is great in certain conditions, but in a cold wind you'll definitely need a shell over the top. It weighs 375g and the design is pretty good too."
Also Shortlisted
Equipment
GOLD: Jetboil Stash
The Jetboil Stash is a fast, light and compact camping stove, weighing just 200g. It weighs 40% less than Jetboil's previous lightest models – the Zip and MicroMo (both 340 grams) – whilst having the same size pot. This has been achieved by simplifying the design and reducing the weight of components, but without losing what makes Jetboil special – the integrated cooking system combining a pot with a built-in heat exchanger. Chris Townsend said: "What I particularly love is how light it is. I like Jetboil stoves and have used them on short trips, but never on long ones due to the weight. I'll certainly be considering the Stash for my next long walk. I think it's the ideal size for solo use, and just big enough for two if you're not making huge meals. It really is an exciting new stove system."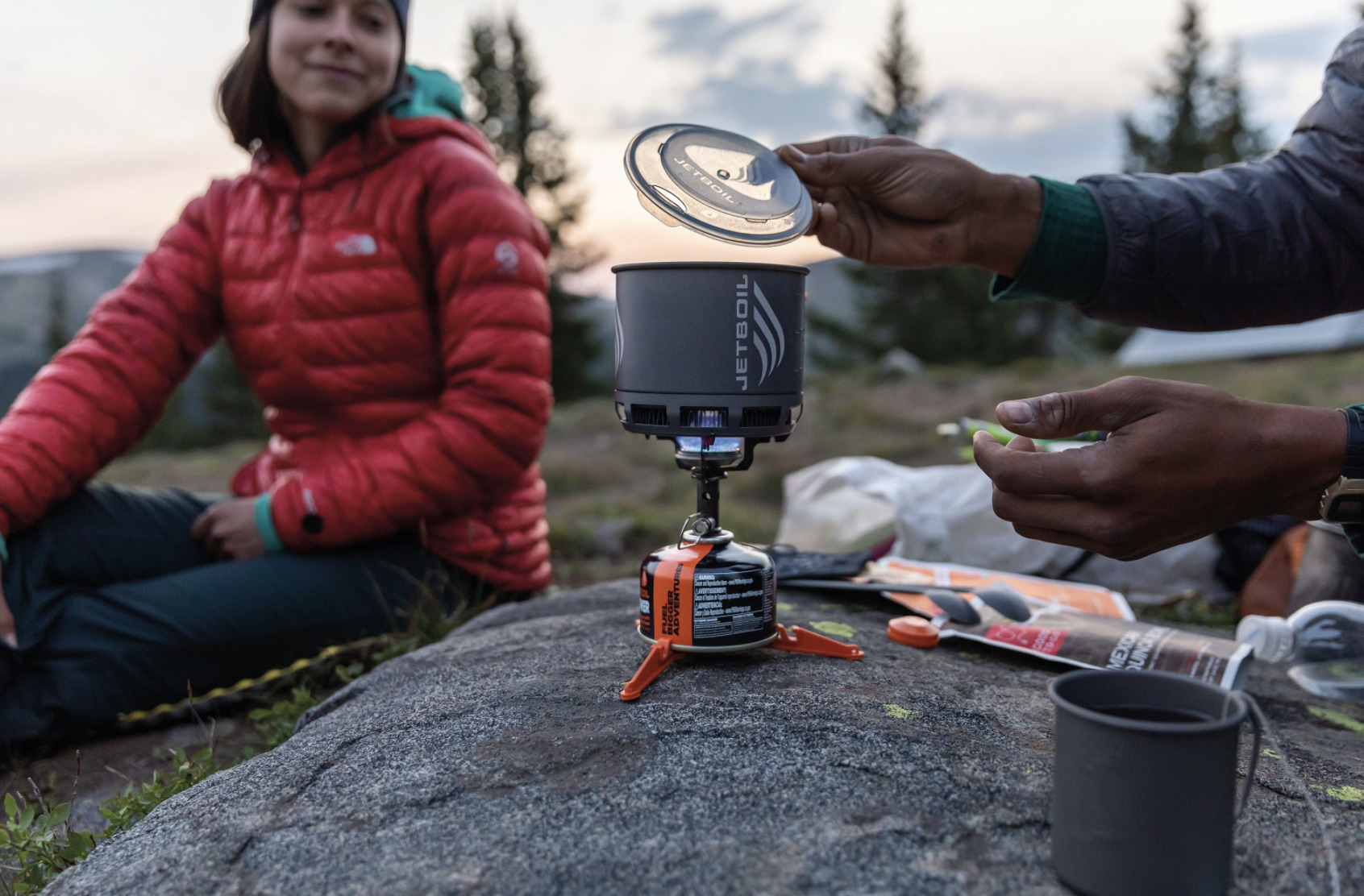 Photo: JetBoil Stash
SILVER: Mountain Hardwear Alpine 28
The Alpine Light 28L backpack is a stripped-down alpine climbing pack. The Dyneema fabric makes it ideal for light and fast trips in mixed conditions, with a simple yet ultra-comfortable suspension system optimised for all-day carrying. The pack is lightweight (509g), waterproof and durable, and features multiple lash points, ice axe cradles, a removable foam frame sheet, padded shoulder straps, hydration reservoir sleeve, and webbing hip belt. Judge David Lintern said: "I have used the 35L version for a few years and it's my favourite winter day sack. It's an excellent carry. This version, which has a slightly lower volume, offers similar performance."
BRONZE: Black Diamond Soloist and Soloist Finger Gloves
Billed as a "go-to glove for technical alpine adventures in cold weather", this glove – available in two versions – features a long gauntlet cuff, a goat leather palm, and a BD.dry waterproof membrane plus a DWR coating. The shell can be used on its own, or in combination with the insulated liner made from PrimaLoft Gold Cross Core. Judge Lucy Wallace said: "This glove is very warm and I like the removable insert. As you'd expect with Black Diamond's reputation, it's a premium, high quality product and there are some excellent eco efforts too, including the use of a PFC-free DWR and recycled materials."
Also Shortlisted
Camping
GOLD: Sea to Summit Etherlight Extreme
Our judges waxed lyrical about this 10cm-thick, warm and comfortable sleeping mat, which features Air Sprung Cell technology and boasts an R-value of over six. Judge David Lintern said: "No corners are cut with the Ether Light – the high R value ensures protection from the ground in truly sub zero temperatures and the regular is wide enough that your arms don't fall off. It's fairly weighty and bulky in the pack but probably the most comfortable sleeping mat I've ever used. It comes with an inflation bag to protect from mildew and condensation and this ensures better durability." Alex Roddie was impressed by the low weight despite the impressive R-value, explaining "720g isn't that outrageous for a really comfy mat that's warm enough for camping on snow", while Lucy Wallace added "this has all the positives of the XT model, with additional warmth for the extra weight – for winter camps it'll be excellent, both warm and quiet."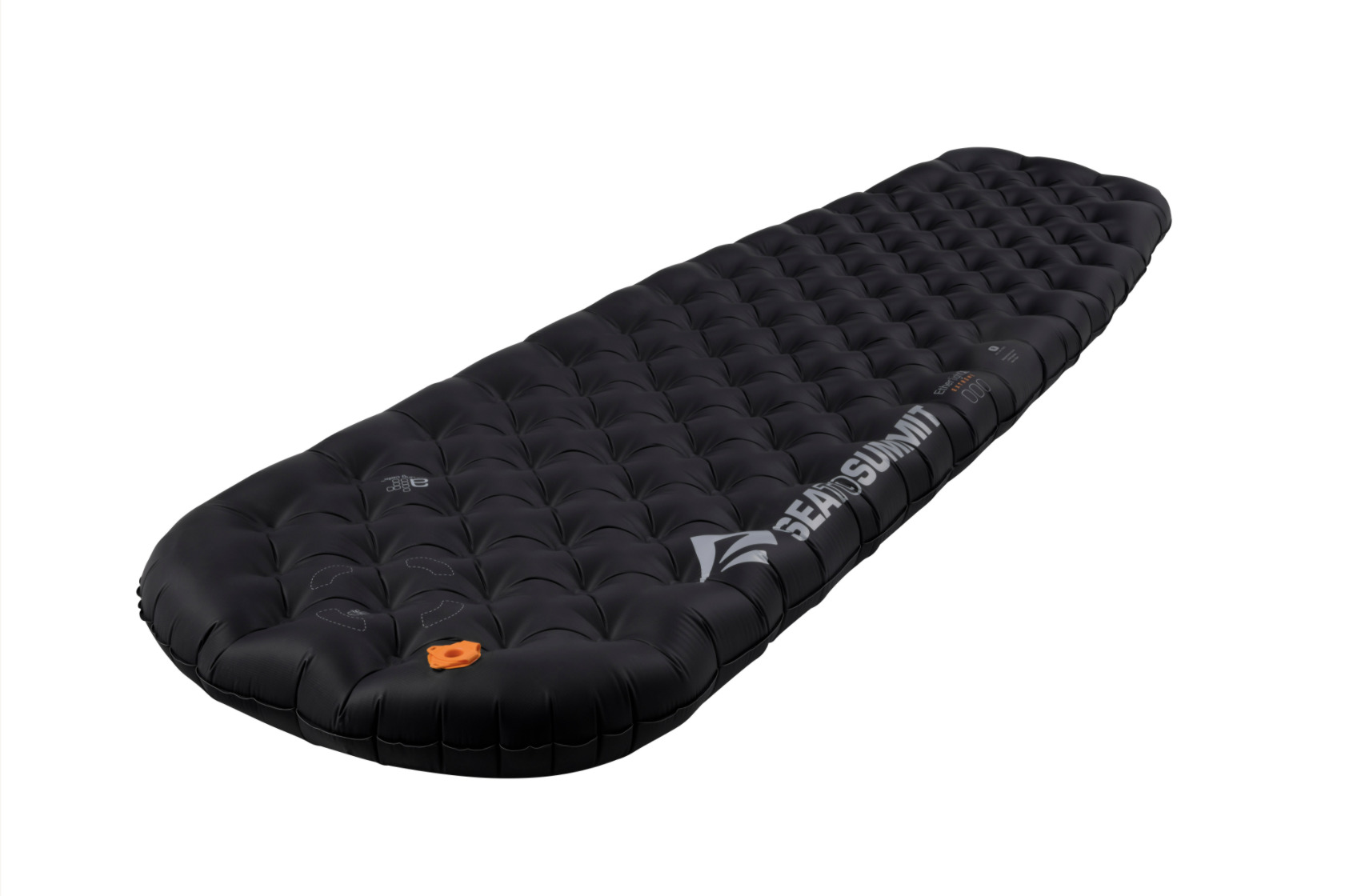 Photo: Sea to Summit Etherlight Extreme
SILVER: Alpkit Polestar
This one-person, three-season, two-skin tent is pitched using trekking poles in a criss-cross formation. At 980g, it's lightweight and packs away compactly, while the stats are pretty impressive too – a 3,000mm hydrostatic head in the flysheet and 5,000mm in the groundsheet. As is Alpkit's modus operandi, this all comes in at an affordable price of £149.99. Judge Chris Townsend said: "This tent is interesting. It's surprisingly stable and I've never seen that criss-cross way of using trekking poles before – it works well and adds strength to the set-up. The interior is smaller than ideal, but the crossed poles give good headroom at one end."
BRONZE: Sierra Designs High Route 3000 1p
The one-person High Route 3000 is a lightweight, versatile tent erected with trekking poles. It is a solid, practical shelter with a clever design, good interior space and lots of features. It weighs 898g (excluding pegs and bags) and compresses down to slightly larger than a Nalgene bottle. Judge Chris Townsend said: "This European version is a beefed-up, stronger model of the product that came out in the USA a few years ago. It has tougher materials with higher hydrostatic heads, but it's effectively the same design. It' much roomier than the Alpkit Polestar and all-in-all I'm a fan of the High Route 3000."
Also Shortlisted
Tech
GOLD: Black Diamond Alpine Avy Safety Set
Judge Lucy Wallace, who is a freelance Mountain Leader based on the Isle of Arran, fully analysed the technical capabilities of this ultralight avalanche safety kit – and was left feeling impressed. The set includes a beacon, shovel and carbon probe. Lucy said: "The weight reduction in the beacon is very innovative. It weighs half of what my current beacon weighs and, apart from a poor battery indicator, it's super user-friendly. It is well-designed and the controls are easy to use with gloves on. The 240cm carbon probe is similarly easy to use with clear symbols, and it's very lightweight too. The shovel is also nice and light. The bucket isn't massive but it has a nice square design which will cut blocks well."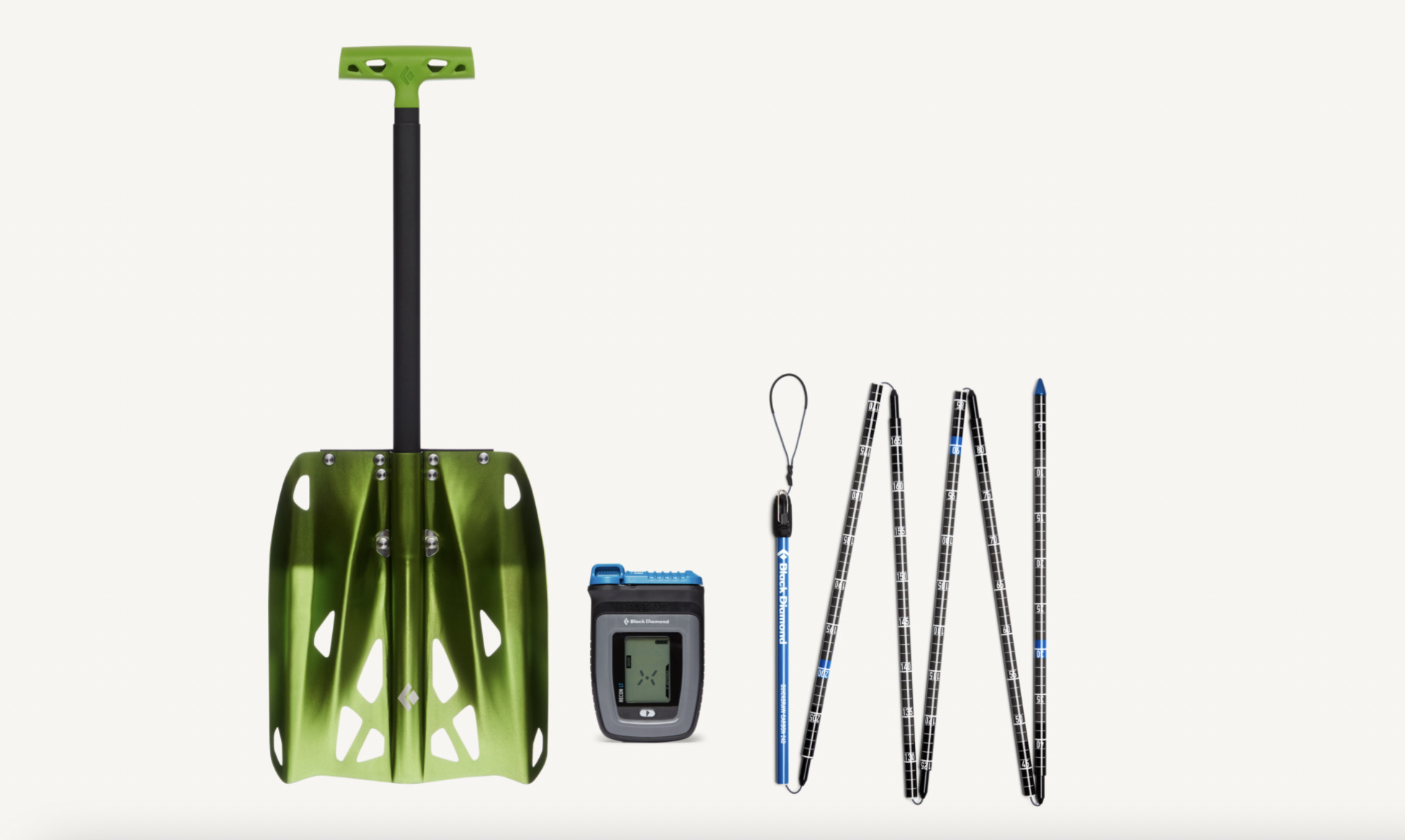 Photo: Black Diamond Alpine Avy Safety Set
SILVER: Exped Widget Pump
The Exped Widget Pump is an electric inflation pump with built-in lamp and powerbank – a nifty little product that does three jobs in one light (170g) and compact package. Judge Alex Roddie said: "This would be fab for an overnighter, as it removes the need to pack a powerbank as well." Chris Townsend added: "This is a curious product. It's basically a 3600mAh power pack in a plastic cube with an LED inside, so it can be used as a lamp, a sleeping mat inflation pump, or to charge your phone. The lamp is bright and there's a handle so it can be hung inside a tent. The pump works well too, particularly with Exped mats, as you'd expect."
BRONZE: Elliot Brown Mountain Rescue Watch
This stylish timepiece has helped raise almost £10,000 for mountain rescue teams – and judge Alex Roddie has been impressed with its performance in the great outdoors. He said: "This watch is pretty practical. It is a traditional (albeit quartz) analogue watch, but it's built like an absolute tank – far better made than any of the GPS watches I've ever tested, from solid stainless steel and sapphire crystal. It also has a very clever internal shock-absorption system, similar to the G-SHOCK concept. There are loads of fantastic details in the design, such as a great internal timing bezel. On a broader level, maybe this watch embodies what we need to see more of in technology as a whole – reliable, human-centric products that don't overpower or confuse the user with pointless features, and the Mountain Rescue connection is wonderful to see too."
Also Shortlisted
Innovation
GOLD: Rab Generator Alpine Jacket and PrimaLoft Cross Core Insulation
The Rab Generator Alpine Jacket is insulated with "cutting edge" PrimaLoft Cross Core technology, which fuses high performance PrimaLoft fibres with a revolutionary temperature-blocking technology known as Aerogel – a highly porous, lightweight structure originally developed by NASA scientists. Silica Aerogel is composed of more than 95% air and is the lightest solid material known to man and one of the most effective insulators. The jacket itself weighs 540g and features zoned insulation, with 133gsm of PrimaLoft Cross Core on the body and sleeves for maximum warmth and 80gsm in the hood for improved mobility. The inner is a 15-denier Atmos material while the shell is a mix of Pertex Quantum Pro and Pertex Diamond Fuse, providing water and abrasion resistance. Judge Chris Townsend said: "This is one of the best really warm synthetic insulated jackets I've seen. For the level of warmth, it's quite light and it's very well-designed."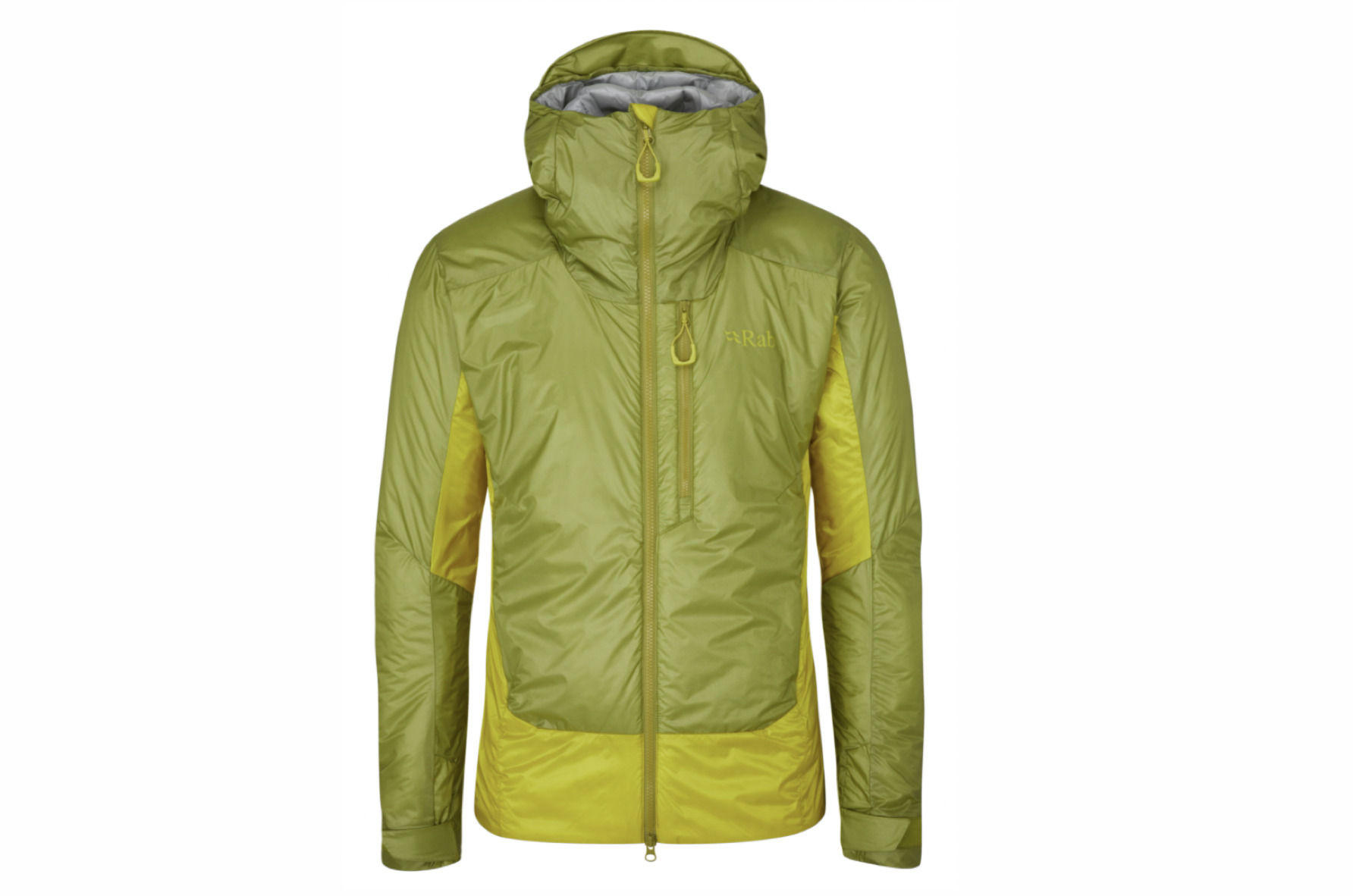 Photo: Rab Generator Alpine Jacket and PrimaLoft Cross Core Insulation
SILVER: Marmot Warmcube Featherless Hoody
This super-warm, synthetic jacket features eye-catching, cube-shaped baffles on the inside. These inner cubes are designed to wrap around your body and provide warmth and comfort, while the channels in-between allow the jacket to warm up really quickly but also to dump heat quickly if you unzip the front zipper. The insulation inside these cubes is made from 75% recycled synthetic insulation, which behaves like 700 fill power down. Judge James Forrest said: "The eco credentials of this jacket are commendable, featuring recycled insulation and recycled Pertex Quantum in the shell fabric – but it is the cube-shaped design that makes this jacket really stand out. The cubes are very, very warm and opulently cosy."
BRONZE: Atom Packs The MoEP50
This fully-featured yet ultralight (910g) backpack – which is made from EcoPak, a 100% recycled polyester with excellent durability and strength – is designed for long-distance hiking. It is made in the UK and is Atom Packs' first off-the-shelf product, but can still be customised to your shape with four torso length and four hip belt sizes available. The removable plastic frame system allows you to mould the frame to the curve of your back for enhanced comfort and you also get five different types of pocket. Judge Chris Townsend said: "This is a lovely ultralight pack that works well and has good eco credentials. Whilst it can be customised, this is the first off-the-shelf model from Atom Packs and thus available at shorter lead-in times." Judge James Forrest added: "The main feature of note is that they're made in the UK. Almost all other ultralight backpacks are made in the USA and are thus very expensive and faffy to get hold of, particularly with customs charges."
Also Shortlisted
Sustainability
GOLD: Rab Arc Eco Jacket
This is Rab's first jacket utilising three-layer Pertex Shield Resolve, a waterproof and breathable fabric constructed from 100% post-consumer recycled polyester. This means the jacket's face fabric, membrane and backer are all made up of a single polymer, which makes it much easier to recycle at the end of its life. The environmental impact of production is reduced too. The jacket itself features an adjustable mountain hood with laminated peak and fleece-lined chin guard, as well as hook-and-loop adjustable cuffs, YKK zippers, two chest pockets, and a waist hem drawcord. It has a 20,000mm hydrostatic head and 15,000g/m²/24hr MVTR breathability rating, with a fluorocarbon-free DWR treatment. Judge David Lintern said: "I've been genuinely impressed by this 100% recycled polyester hardshell. It's eco credentials are great but it's also well designed to keep out the elements. A slightly longer cut and big napoleon pockets are well suited to both walkers and mountaineers, while the pit zips and fabric weight make it suitable for year round use. Worn during some persistently wild weather over a three-day backpack, I stayed dry as a bone."
Photo: Rab Arc Eco Jacket
SILVER: Montane Pac Plus XT Jacket
The innovation in this jacket is that it features a 100% recycled Gore-Tex Paclite Plus waterproof membrane, a brand new material for 2021. This sustainable approach is combined with technical features, including a fully adjustable, roll-away, helmet-compatible hood, as well as three pockets, pit zip vents, an active fit and articulated arms. Waterproofing in the 40-denier fabric is further enhanced by fully taped seams, a YKK Aquaguard front zip, and internal storm flap. Judge Lucy Wallace said: "I like quite a lot about this jacket and the recycled Paclite Plus fabric is a great eco story. Generally it's a well thought-out, lightweight jacket and it kept me dry in some horrible sideways rain in Snowdonia, especially the hood."
BRONZE: Finisterre Biosmock
Finisterre are rightly proud of this jacket's end-of-life solution. The material harmlessly biodegrades in both land and sea environments at an advanced biodegradation rate compared to conventional polyester, and can also be repaired, re-purposed or recycled through Finisterre's Lived & Loved programme – helping to advance the "circular economy" of outdoor clothing. The jacket features a PrimaLoft Bio woven shell and lining, which is PFC-free and made from 100% post-consumer recycled materials, while the insulation is HD Wool active insulation (from sheep reared in Yorkshire using ethical farming practices). The snap fasteners are also biodegradable. In terms of practical use, the Biosmock can be used as part of layering system or as a standalone outer, offering warmth and some weather protection. Judge David Lintern said: "This jacket is reminiscent of a Buffalo Systems top, but with very good eco credentials."
Also Shortlisted
Best Brand: Innovation
GOLD: Primaloft
Over the past few years, PrimaLoft have dominated our innovation and sustainability categories, thanks to a series of pioneering and ground-breaking developments. In 2020 our judges were thoroughly impressed with two of PrimaLoft's innovations – the P.U.R.E. (Produced Using Reduced Emissions) manufacturing process, and PrimaLoft Bio, a biodegradable synthetic insulation made from 100% recycled plastic bottles – and the insulation brand has impressed yet again in 2021. Our judges were particularly complimentary about Cross Core, technology developed by PrimaLoft engineers who found a way to integrate Aerogel (which is 95% air and the lightest solid material known to man) into PrimaLoft's fibres, enhancing insulation's warmth and decreasing weight at the same time – a seemingly impossible win-win. Judge Chris Townsend said "PrimaLoft are a very innovative brand" while James Forrest added "PrimaLoft are a major player in the whole outdoors industry, so their innovations can actually have a big impact across the sector".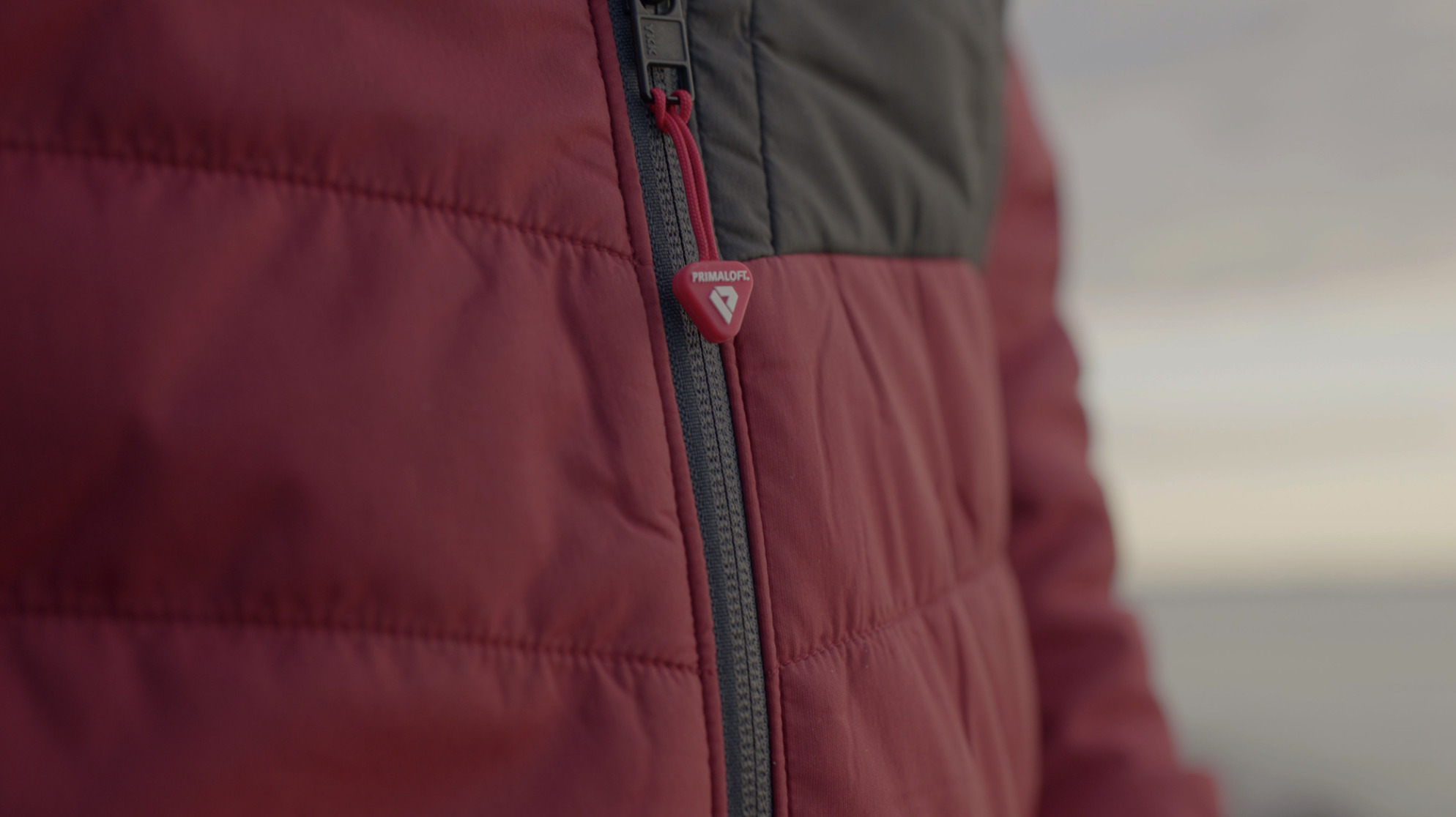 Photo: Primaloft
SILVER: Sea to Summit
The Australian camping brand Sea to Summit has always been known for its "culture of design perfectionism" and for making innovative, high-performance products. In2021 the brand introduced its debut range of tents, for example, featuring a clever inverted cross pole that increases headroom, ensures walls are vertical and thus provides unrivalled internal space and liveability. Judge Lucy Wallace said: "Sea to Summit have a very strong track record in terms of product innovation, and 2021 is no exception."
BRONZE: Artilect
Our judges recognised Artilect – newcomers to the merino baselayer market in 2021 – for their innovative approach to spinning merino. The key to this technology is not twisting the life out of the merino. Rather than using ring or core spinning, which can leave merino a bit itchy and susceptible to holing, Artilect instead use a new spinning method known as Nuyarn. This uses longer fibres and drafts them along a performance filament without twisting. Judge James Forrest said: "I was sceptical at first. I usually don't like merino baselayers, because they irritate my skin and I find them really itchy. But the Nuyarn fibres are much softer and far comfier, with minimal skin discomfort."
Also Shortlisted
Best Brand: Sustainability
GOLD: BAM Bamboo Clothing
Inspired by a manhaul expedition across Greenland in 2006, ex-professional pole vaulter (yes, really!) David Gordon set up BAM Bamboo Clothing – with the aim of creating a viable yet environmentally sustainable clothing business. Fifteen years later and the business is thriving, with 72 staff and a leading approach to eco matters. David told TGO: "Everyone who works here believes in the difference bamboo clothing makes to our planet. Bamboo absorbs five times more carbon than hardwood trees. It needs half the land cotton needs to produce the same amount of fibre and it doesn't need irrigation or pesticides. Add to that how well it works as a performance fabric and you can see why we love bamboo. But whilst we've had the environment at our heart for well over a decade, the clothing industry is one of the worst for pollution. So when it comes to addressing our impact on the environment, we not only have to do more, we have to do all we are capable of – that's why we've set a goal to be impact positive by 2030. And we're really proud to have won this award, in recognition of our progress towards this goal."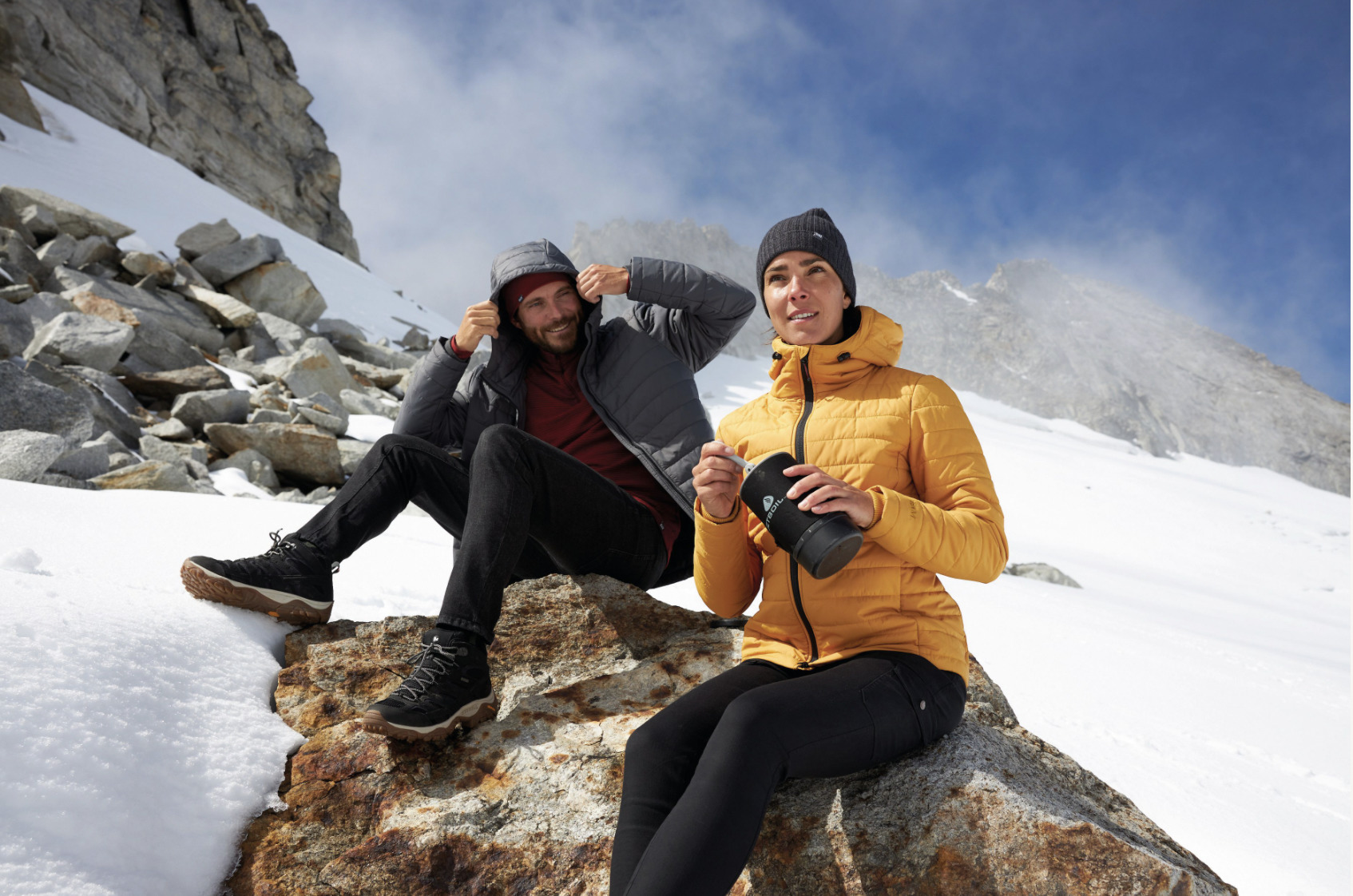 Photo: BAM Bamboo Clothing
SILVER: Vaude
Vaude is one of the world's most eco-friendly and sustainable outdoor brands. It has been committed to this goal for decades and has a long-standing reputation for dedication to the planet. Its recent eco aims are highly ambitious and laudable, as Antje von Dewitz, CEO of VAUDE, puts it: "We want to contribute to keeping our world worth living in. That's why we're becoming climate neutral in 2022, and by 2024 the majority of our products will be made from bio-based or recycled materials." Judge James Forrest said: "What I love about Vaude is that they've been pushing the environmental agenda since before it was trendy – they aren't simply jumping on the bandwagon or engaging in greenwashing". Lucy Wallace added: "Vaude's transparency is really admirable – they are very honest, publishing everything, and haven't been afraid to challenge their supply chain to be more eco-friendly."
BRONZE: Finisterre
Judge Chris Townsend said "Finisterre's overall commitment to sustainability is praiseworthy and can't be overlooked in this category". The brand – which aims to "inspire a love of the sea, because we believe you protect what you love" – has achieved B Corp status in recognition of meeting the highest standards of social and environmental performance, transparency and accountability. It uses sustainable packaging, having made a commitment to eradicate single-use, non-degradable plastic in 2018, and runs a comprehensive repair and re-use programme known as Lived & Loved. Finisterre also publishes fully transparent reports about its factories, supply chains and use of fabrics.
Also Shortlisted