The Great Outdoors Reader Awards are the UK's democratic celebration of the best of outdoor culture. After a record 18,000 public votes, here we announce the winners.
In 2012, we launched our first annual Reader Awards, and they've come a long way over the past decade – establishing a strong reputation as a democratic celebration of the people, places and businesses that make our outdoor lives better.
This year represents a big milestone: the 10th time we've run the awards. We've marked the anniversary by introducing two new categories – outdoor film or filmmaker of the year, and the Open Outdoors award (for those widening participation and increasing diversity). On top of this duo of new awards, 13 categories have returned again including favourites such as pub of the year, book of the year, app of the year, and many more.
What makes these awards different – and gives extra kudos to the winners – is that it's you, our readers, who decide the results. Only your nominees make it onto the shortlist, and only those who win most of your votes walk away with a gold, silver or bronze accolade. From talented authors and tireless campaigners to charming campsites and cosy pubs, the winners across our 15 categories represent the most inspirational personalities, organisations and businesses in the outdoor world.
With 18,300 votes cast, a new record, we're confident that this year's awards are the biggest and best we've ever presided over. The award categories recognise a huge range of people and organisations, from businesses and retailers to campaigners and mountain rescuers. Some of these awards recognise things like good customer service, excellent gear and great food; others touch on deeper, more intangible things, like the openness of the outdoors, or the personal sacrifice of mountain rescuers. Reading through voters' comments was a moving experience; it was clear that many of the nominees had touched our readers' lives in profound ways.
Congratulations to everybody who received an award – and thank you for taking the time to vote for them.
There are two parts to The Great Outdoors Awards. This article announces the winners of the Reader Awards, which are nominated and voted for by our readers and the outdoor public at large across 15 categories. The three nominees with the most votes in each category receive gold, silver and bronze awards.
The other part of The Great Outdoors Awards is the Gear of the Year awards, which rewards the best and most innovative outdoor gear released this year, as selected by expert judges.
Contents
---
The Extra Mile Award
GOLD: Chris Lewis, Mountain Rescue volunteer
On February 6, Patterdale Mountain Rescue volunteer Chris Lewis was part of a team attempting to rescue a wild camper in trouble on Red Screes, near Ambleside. On his way up, Chris fell 150m down a steep slope and suffered "life-changing injuries". He was airlifted to hospital but "will remain wheelchair-bound and need significant support for the rest of his life". The tragic story hit the headlines and sent shockwaves through the outdoor community and beyond, with an outpouring of support for Chris. Almost £866,000 was raised for The Lake District Search and Mountain Rescue Association. "Selfless", "heroic" and "a committed expert" were just a few of the emotive comments from voters in support of Chris.
SILVER: Mountain Rescue England and Wales (MREW)
The work of all mountain rescue teams was rightfully praised and celebrated by the outdoors community in 2021, particularly in light of increased demand following a boom in outdoors participation in the UK. "Any one of the mountain rescue teams could be worthy of this award, but giving the award to MREW will recognise the efforts of all those involved in mountain rescue" wrote one voter. "They have put up with so much this year" explained one mountain rescue supporter, while another said "mountain rescue teams help so much on the hills, but they do even more unsung work finding missing children and vulnerable adults in all parts of the country".
BRONZE: Fix the Fells
Fix the Fells' mission is to protect the spectacular Lakeland fells from erosion by repairing and maintaining the upland paths. It repairs and maintains 344 upland paths, covering 410 miles, with much of the work carried out by an army of volunteers. Voters waxed lyrical about the project, with just a few of the complimentary comments including: "they do a marvellous job and allow millions to access the fells safely", "a brilliant set of volunteers with unbridled passion and commitment" and "without these people the fells would soon fall into disrepair and paths would become impassable".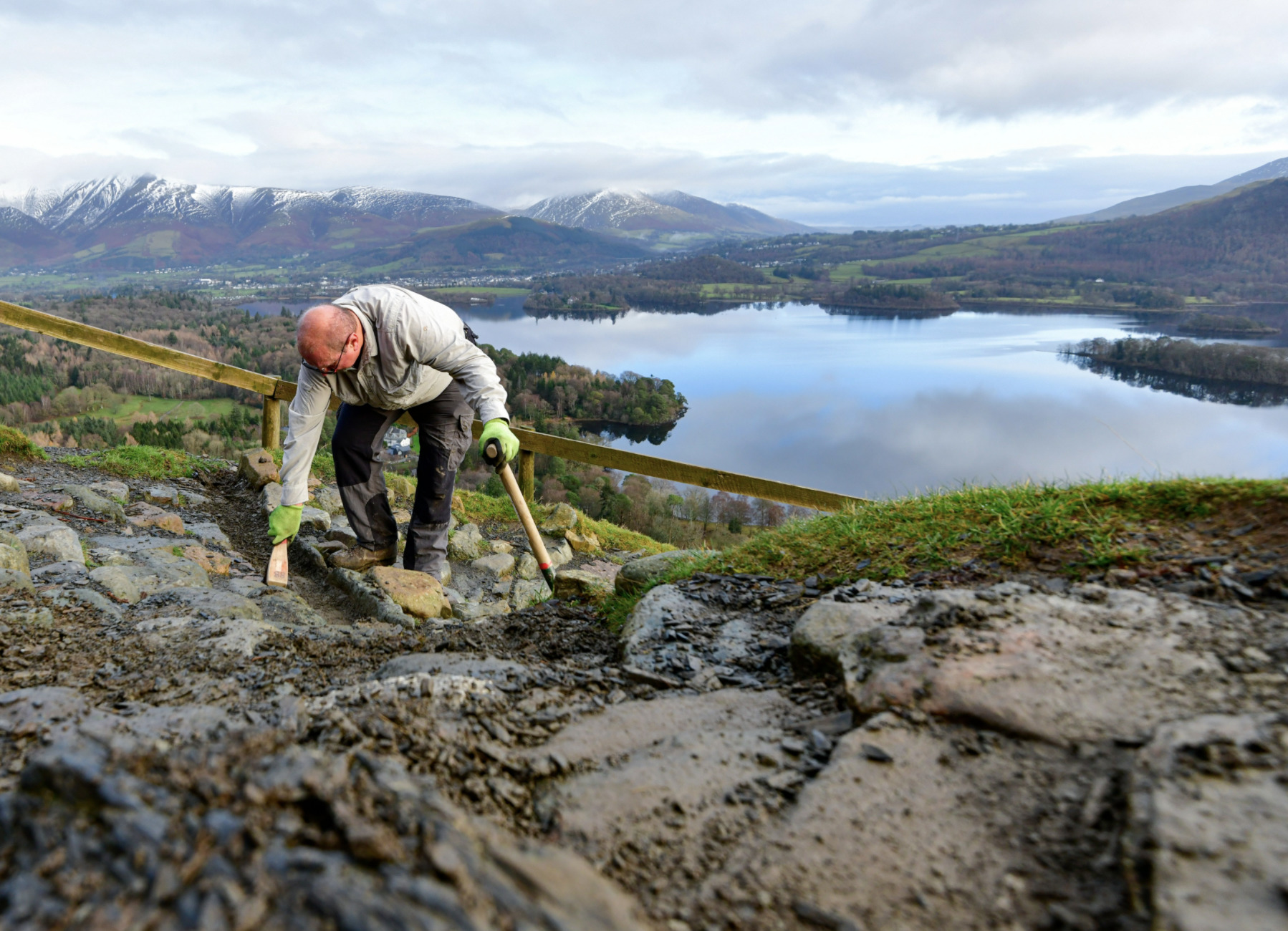 Photo: Fix the Fells, Stuart Walker
Shortlisted
Outdoor personality of the year
GOLD: Chris Packham
Receiving a whopping 42.5 per cent of the public vote, conservationist Chris Packham was widely respected by TGO readers for his "passion" and "tireless championing of the environment", even in the face of adversity. As one voter eloquently put it: "'Dedication to the cause doesn't go far enough for Chris Packham – he is relentless in his determination to protect and conserve our wildlife and habitats. Chris experiences personal attacks on his home and abuse through social media for standing up for his beliefs and still remains focused, determined and resolute. We must protect our planet. Who wouldn't admire that?"
SILVER: Russell Moorhouse
Russell Moorhouse, otherwise known as A Mountain Bivvy online, is trying to 'sleep bag' the Wainwrights by wild camping on the summit of all 214 fells. He has already completed 160 (at the time of writing) and is also raising money for the charity MQ Mental Health Research. Russell said: "I couldn't have lost to a better man. Chris is a national treasure and I hope someday I can go on and do as much good for the outdoor community as he has. I'm really pleased to receive this award – it means my 'Sleeping with Wainwright' adventure is inspiring others."
BRONZE: Will Renwick
"It was such a hard challenge – one that I'm still recovering from – but the support has been so incredible. Thanks to everyone who voted for me and to those who donated too. Diolch!" That's how Will Renwick summed up winning the bronze award, in recognition of his efforts running 189 summits in Wales in support of the Mind Over Mountains charity. He raised over £12,000 and set a new peak-bagging record in the process. Voters described Will's adventure as "phenomenal", "incredible" and "relevant".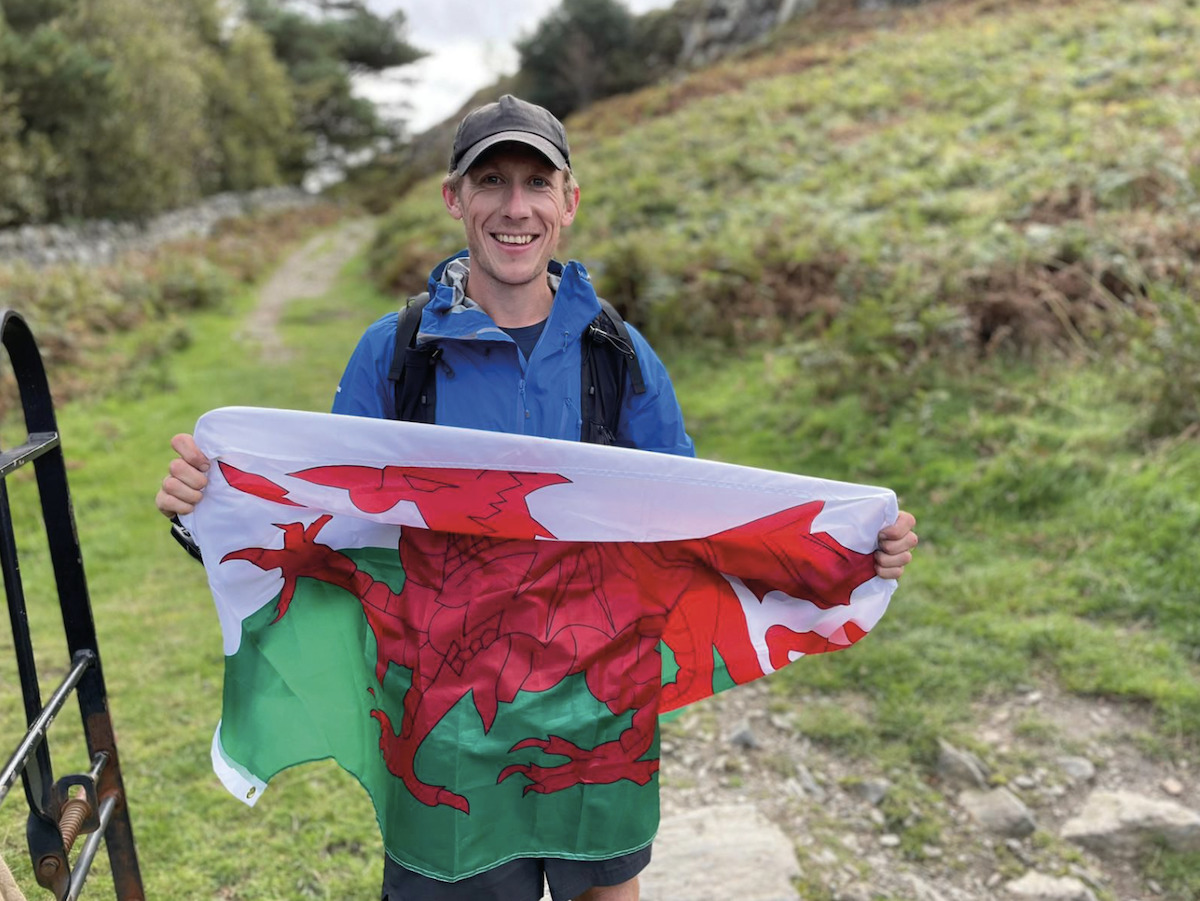 Photo: Will Renwick
Shortlisted
Campaign or campaigner of the year
GOLD: Keep the Ban, campaign against fox hunting
Founded in 2015, Keep The Ban is a non-profit organisation campaigning to end the hunting of wildlife in the name of sport. Its mission is to "create a world in which all wildlife is free from persecution", and in particular to "encourage future generations to turn their backs on bloodsports". With 30 per cent of the public vote, the project was described by TGO readers as a "brilliant campaign to close the numerous loopholes", while those involved were praised for their "dedication, diligence and sacrifice in helping animals".
SILVER: Dr. Mya-Rose Craig, 'Birdgirl', wildlife activist
Dr Mya-Rose Craig, otherwise known as 'Birdgirl', is a 19-year-old British Bangladeshi ornithologist, environmentalist and diversity activist, as well as a writer, speaker and broadcaster. "She is a very important voice in Britain today, representing a diverse young generation that does not want to lose the natural world we live in" commented one voter. Expressing similar sentiments, another wrote: "Mya-Rose is an inspiring young campaigner that has achieved so much in bringing the natural world to all, especially BME groups, and campaigning for climate justice."
BRONZE: 3 Dads Walking, campaign raising awareness of suicide
Mike, Tim and Andy are three fathers who tragically lost their daughters Bethany, Emily and Sophie to suicide. In memory of their lost loved-ones, the trio embarked on 300-mile walk between their respective homes in Cumbria, Manchester and Norfolk in October 2021 – raising money and awareness for suicide prevention, the biggest killer of those under 35 in the UK. The '3 Dads Walking' raised an incredible £828,000 for the suicide prevention charity PAPYRUS. "Such a simple campaign to convey a powerful message" wrote one voter, while another said "they are using their personal tragedies to do so much good".
Photo: Three Dads Walking
Shortlisted
The Open Outdoors award
GOLD: The Scout movement
For over a century, the Scout movement has been encouraging children and young people to develop life skills by spending time outdoors – and this mission continued in 2021, despite issues and restrictions posed by the coronavirus pandemic. TGO readers recognised this commitment during difficult times, with 22 per cent voting for the Scout movement. Voters described Scouting as a "lifeline for lots of young people during the pandemic" and "a great organisation that gets everyone outside and learning about the outdoors, nature and conservation", while leaders were commended for showing "incredible creativity, despite Covid".
SILVER: Black Girls Hike
Founded by outdoors advocate Rhiane Fatinikun, Black Girls Hike is a community interest company (CIC) providing a safe space for black women to explore the outdoors. The organisation challenges the status quo and encourages black women to reconnect with nature by hosting nationwide group hikes, outdoor activity days and training events. One voter wrote an emotive appraisal of the group: "I have always wanted to enjoy nature and get away from the city, but I wouldn't have known where to start if it wasn't for BGH. I didn't know anyone who knew how to go hiking safely, what to wear, tips and tricks. But through BGH, I've learnt so much. It has been truly inspiring. I've had so much fun – can't honestly remember the last time I laughed so much – truly cathartic. This is something I will continue for the rest of my life, I cannot thank Black Girls Hike enough."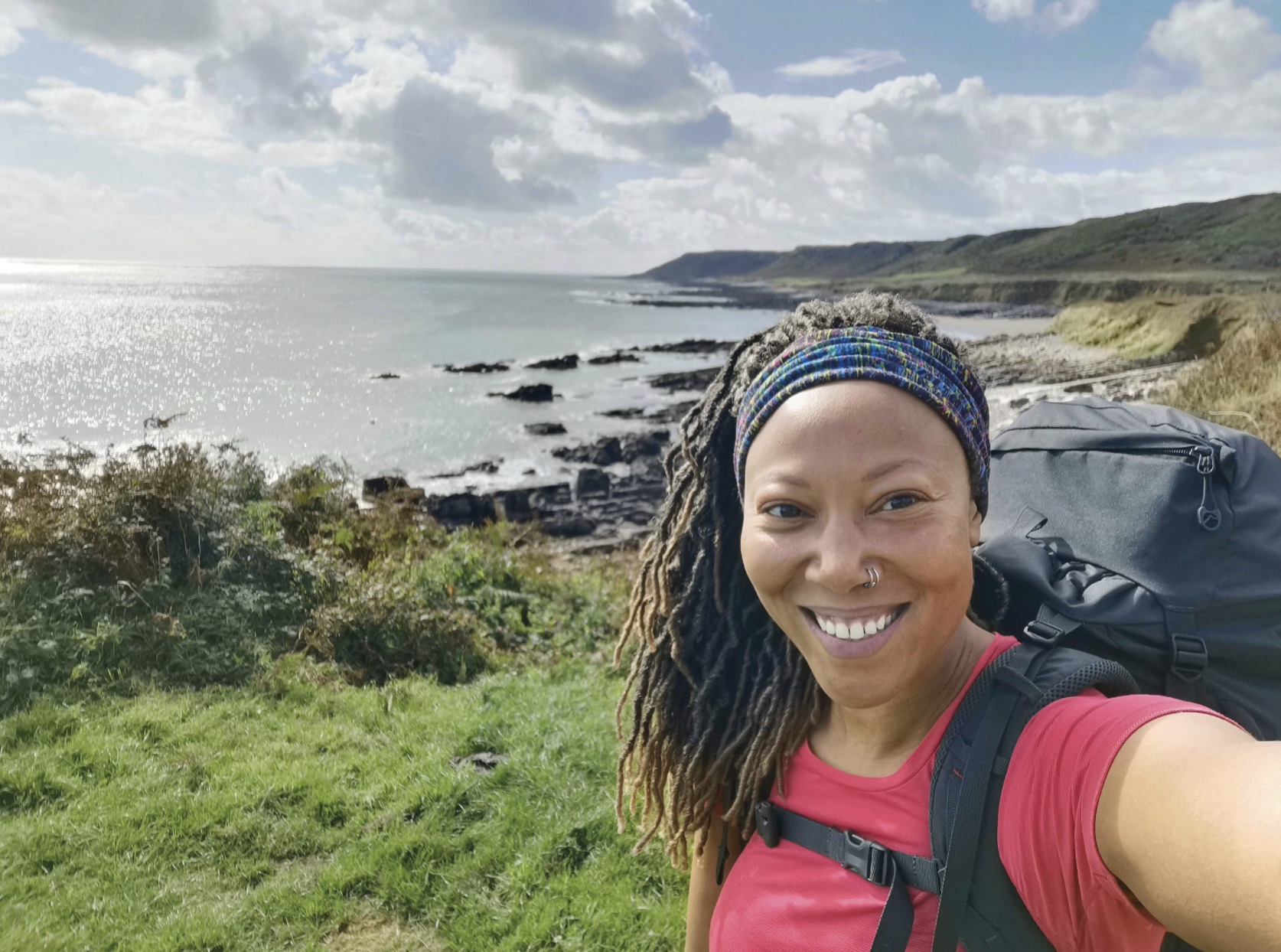 Image: Rhiane Fatinikun, Black Girls Hike
BRONZE: Mind Over Mountains
Set up by ultra-runner and adventurer Alex Staniforth, Mind Over Mountains is a mental health charity offering "immediate and accessible support through therapeutic outdoor experiences". From day hill walks to weekend retreats, the charity runs events throughout the UK, with bursaries available to those with the most challenging lives. On winning the award, Alex Staniforth told TGO: "Despite the immense challenges of the pandemic, our charity has expanded our work even further across the UK to provide mental health support for those in most need. Being recognised with a TGO award really means the world and will help to promote our work to even more people."
Shortlisted
Walkers' pub of the year
GOLD: The Clachaig, Glen Coe
Nestled in a glen of impossibly craggy peaks and razor-toothed ridges, The Clachaig is a hillwalking institution – it's almost sacrilege to be in Glen Coe and not pay the inn a visit. With Bidean nam Bian and Aonach Eagach on its doorstep, it's the perfect post-adventure watering hole – and you're sure to see climbers, scramblers and hikers galore sharing tales of the day's epic adventures. From roaring fires and foot-tapping live music to hearty meals and cosy accommodation, not to mention a huge array of malt whiskeys and craft beers, there's something from everyone at The Clachaig. "Just a legendary pub in an awesome location", said one voter. Another put it as follows: "Great music, great welcome and always a brilliant atmosphere."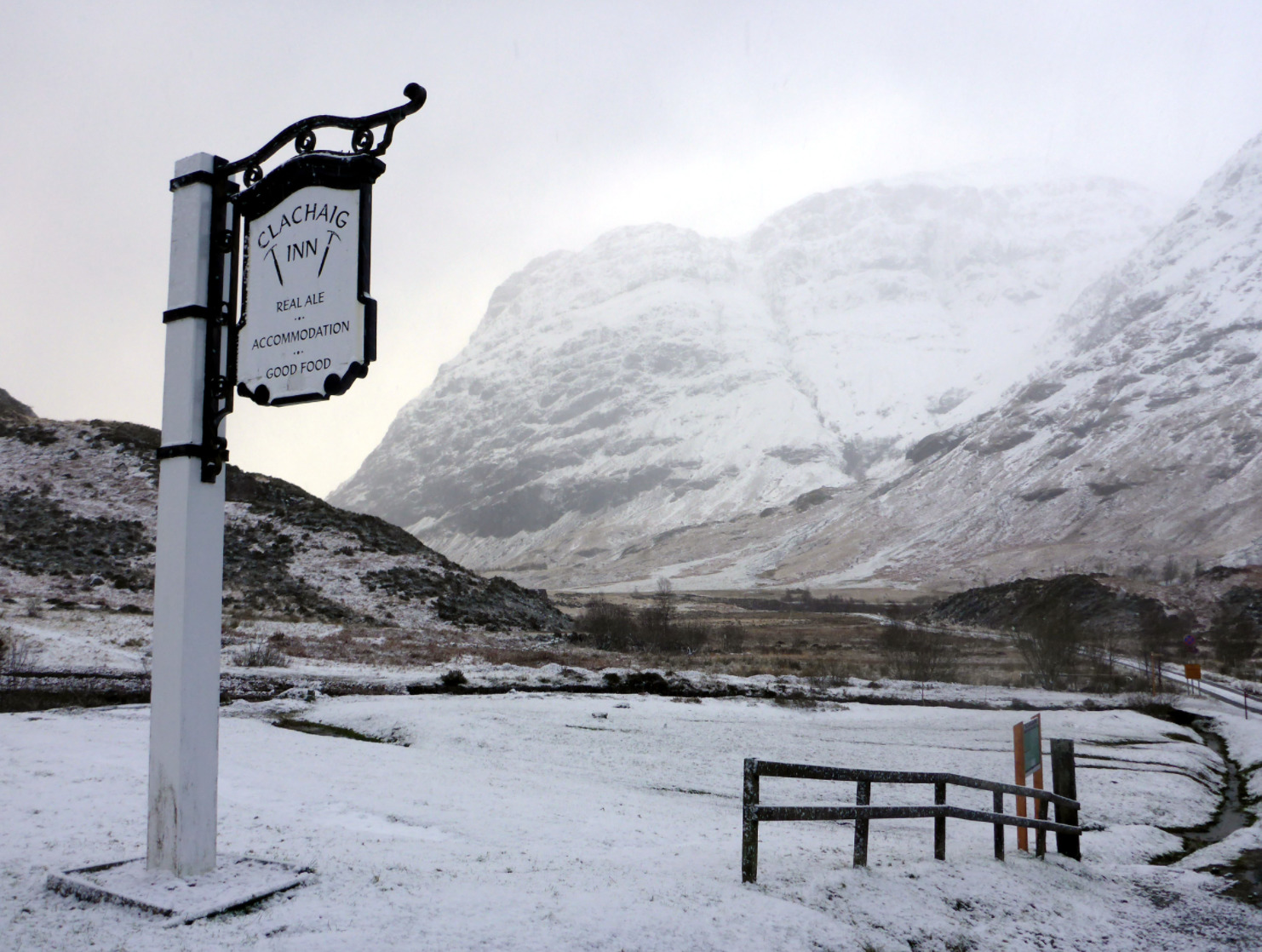 Photo: Clachaig Inn
SILVER: Golden Rule, Ambleside
Tucked away in a quiet corner of town, the Golden Rule describes itself as "the hidden gem of Ambleside" – and our readers seem to agree. One fan praised the "friendly atmosphere, good cider, and simple but satisfying food, such as pork pies and scotch eggs", while another waxed lyrical about the "cosy interior, long tradition of welcoming walkers, great beer and chatty service."
BRONZE: The Old Bridge Inn, Aviemore
Converted from a riverside cottage in 1982, the Old Bridge Inn sits on the banks of the famous River Spey, within touching distance of the towering Cairngorms peaks. 16 per cent of voters in our poll backed this Aviemore watering hole, securing third place by a good margin. One voter said "always a great welcome, with good food and beer". Another said "it's so welcoming – just what you need after a great day out walking".
Shortlisted
Walkers' cafe or restaurant of the year
GOLD: The Pine Marten Bar + Scran, Glenmore
Located on the shores of Loch Morlich, to the north of Ben Macdui and the Cairngorms Plateau, The Pine Marten Bar + Scran in Glenmore has shot to the top of this category, dethroning the Moel Siabod Cafe for the first time in a few years. Voters praised the bar for its approach during the pandemic, as well as its stunning location – "there's nowhere better to watch red squirrels", as one voter put it. Others highlighted the "welcoming atmosphere, excellent food and lovely staff", summing it up succinctly as "an awesome place".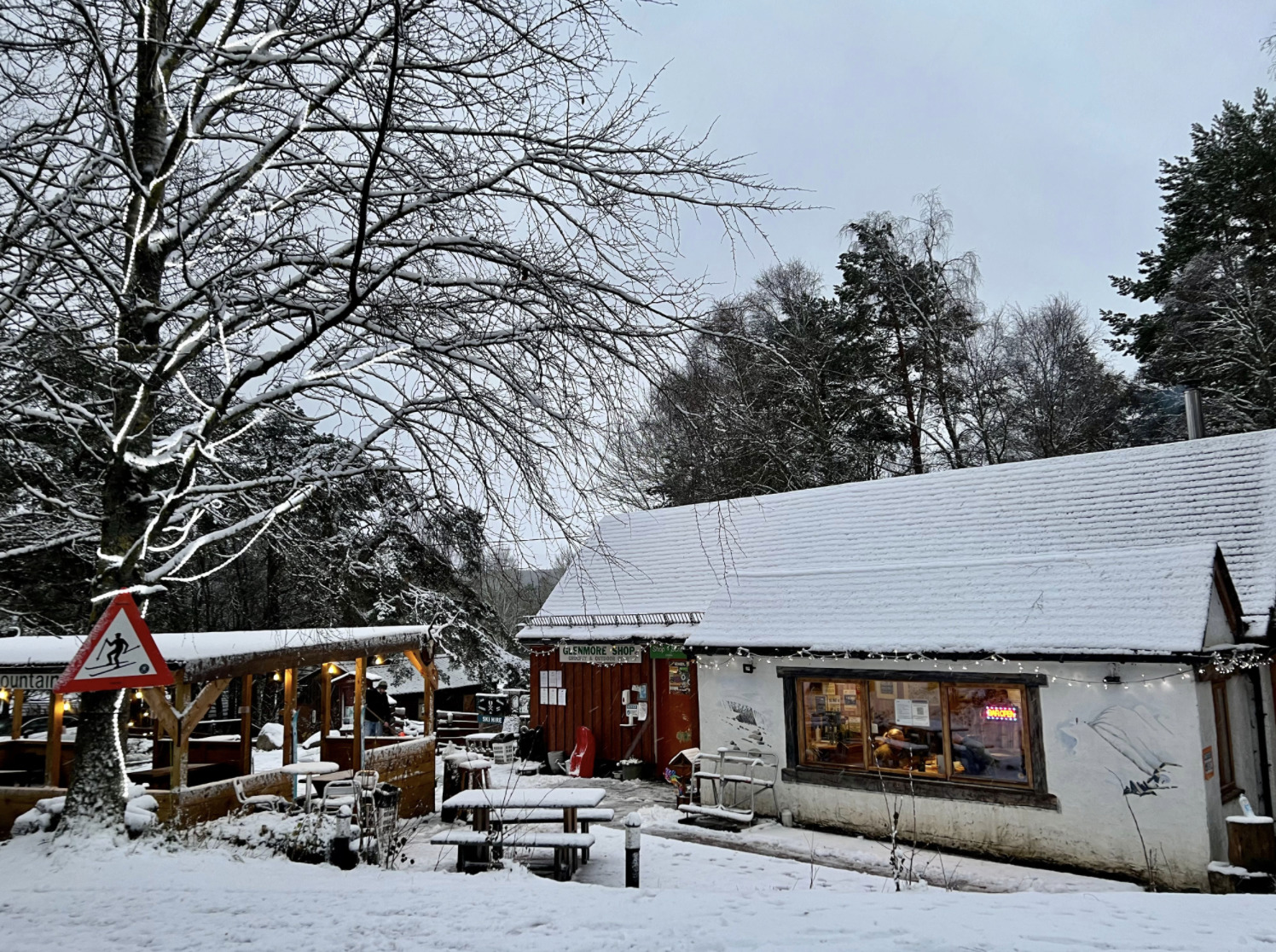 Photo: The Pine Marten Bar + Scran
SILVER: Moel Siabod Cafe, Capel Curig
A regular winner of the gold award in this category, the Moel Siabod Cafe has had to settle for second place this year – but it remains a favourite of TGO readers. Why? Perhaps it's the location but a stone's throw from the Snowdon mnassif, Glyderau and Carneddau. Maybe it's the friendly, hill-savvy staff and outdoorsy vibes, or possibly it's just down to the ludicrously tasty food and drink. Readers referenced "amazing service", "wonderful staff" and "excellent location" in their comments, while the "amazing cakes" were universally appreciated. One voter summarised the cafe as "great food, great prices, hospitality and fully dog-friendly".
BRONZE: Pete's Eats, Llanberis
Pete's Eats has been a Snowdonian institution for decades, with outdoor revellers flocking to this colourfully-painted cafe for pint mugs of tea, well-priced grub and the friendly vibes. "I look forward to it every time" said one voter, while another explained "it's always a reliable stop-off – a communal atmosphere, good food and great portions". "It's a legendary place and still going strong" is the way another long-standing, loyal customer put it.
Shortlisted
Hostel or bunkhouse of the year
GOLD: Torridon Youth Hostel, Torridon
Much-loved by Munro baggers and home to a trio of sandstone behemoths, Torridon is a hillwalking and scrambling paradise. Beinn Alligin is a Scottish masterpiece featuring the charismatic and imposing Horns of Alligin pillars; Liathach is a scramblers' playground with razor-blade ridgelines and rocky pinnacles; and Beinn Eighe is a rock-strewn wilderness topped by grey-white quartzite. So perhaps it's no wonder Torridon Youth Hostel is so popular amongst TGO readers. Voters called it a "home-from-home where nothing is too much trouble" and a "fantastic hostel with a stupendous setting". Others praised the managers for "superb service, always with a smile".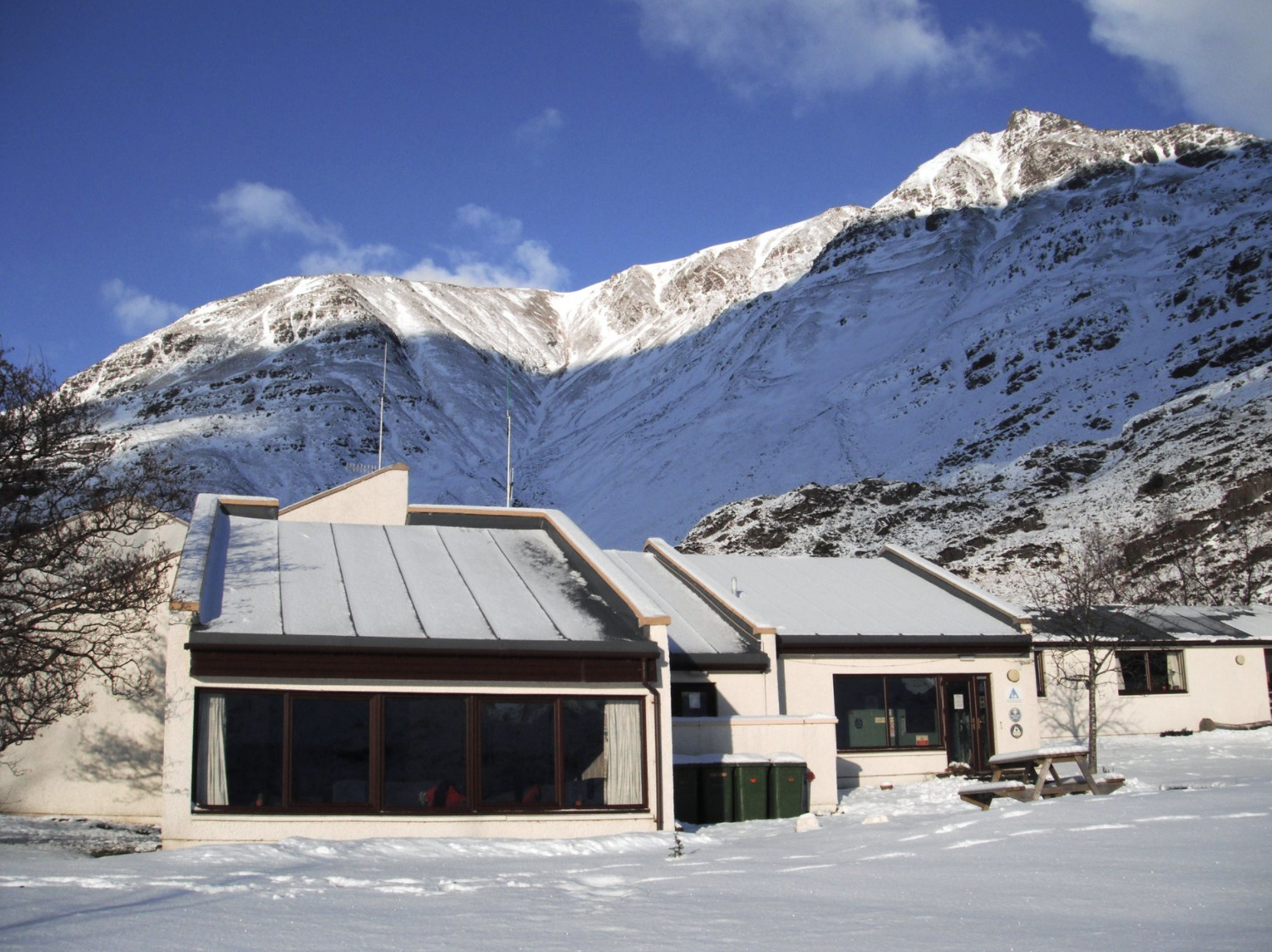 Photo: Torridon Youth Hostel
SILVER: Loch Ossian Youth Hostel, Corrour
Oozing rustic, get-away-from-it-all charm, Loch Ossian Youth Hostel is a remote yet homely hostel nestled on the southern shores of Loch Ossian. Ideal as a base for exploring the remote wilderness of Rannoch Moor, or bagging nearby Corbetts and Munros, it is certainly a place for making memories. One reader recounted their visit: "I arrived by train into the middle of nowhere, woke up to snow and a stag in the garden". Another commented the hostel "takes you back in time and enables you to make new friends easily – it's a place to remember and return to".
BRONZE: Elterwater Independent Hostel, Elterwater
"Friendly", "fantastic" and "awesome" were but a few of the superlatives voters used to describe Elterwater Independent Hostel, which is set in an idyllic location close to the Langdale Pikes. Others praised the "friendly and most helpful staff", the "great food" and facilities including a well-equipped kitchen and "proper lounge". It has a "great location for some fantastic walks with a super pub and restaurant just down the road" commented another voter.
Shortlisted
Campsite of the year
GOLD: Great Langdale Campsite, Lake District
For hillwalkers, it's the direct access to classic peaks such as Pavey Ark, Crinkle Crags and Bowfell that make the site a real winner. For others it's the way the campsite marries stunning remoteness with serious creature comforts, like a newly-upgraded shower block, children's play area and glamping pods. Located in the shadow of the Langdale Pikes with dramatic mountain views in every direction, this National Trust-owned campsite is a Lake District favourite – and a near-perennial winner of this gold award. "It's perfect in every way" commented one voter, while another proclaimed "there's no better place on earth". Praise worthy of a gold award, indeed.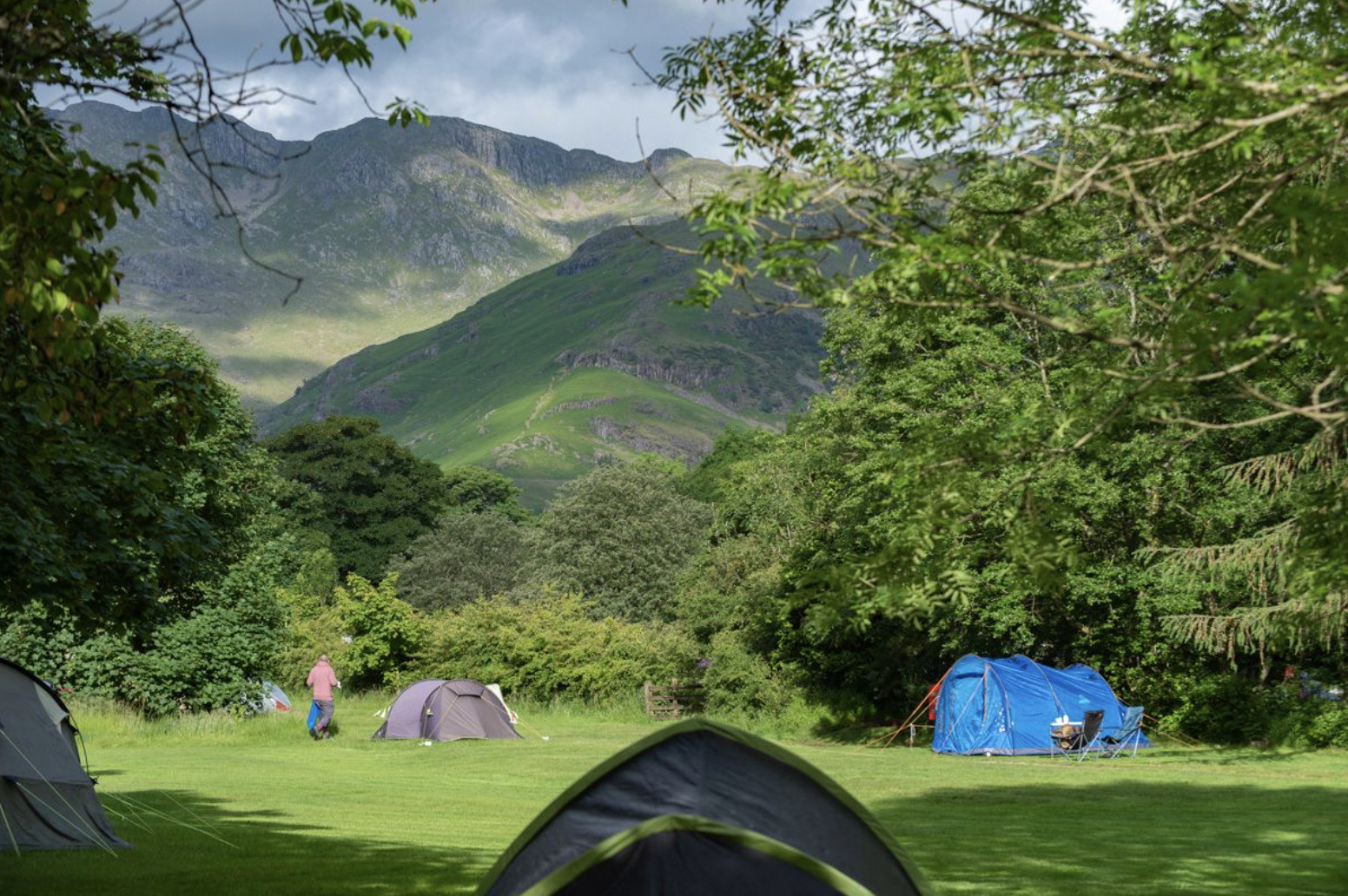 Photo: Great Langdale Campsite, National Trust
SILVER: Salen Bay Campsite, Isle of Mull
"Clean and tidy, very friendly and I was made to feel very welcome – my first visit and I absolutely loved it. I wouldn't try anywhere else." This voter's sentiments were repeated by many others, as Salen Bay Campsite scooped 14 per cent of the vote to claim a silver award. Not bad for a site that was only set up a few years ago. Salen Bay Campsite offers kayak hire, shore access, hot showers and a variety of serviced hard-standings and standard tent pitches, all with world class views and the opportunity to spot otters, deer, eagles and porpoise.
BRONZE: Stonethwaite Farm Camping, Borrowdale
It might be located in one of England's wettest places, but that hasn't hindered TGO readers' love for this Borrowdale beauty. Featuring cold running water, toilets, pot wash facilities and a reed bed system for waste, this campsite is certainly rustic and back-to-basics – but the location is 5-star luxury. As one voter put it: "It's paradise on Earth – such beautiful surroundings and folk."
Shortlisted
Walkers' app of the year
GOLD: OS Maps
Claiming top spot for the fourth year in a row, the OS Maps app must be running out of space in its trophy cabinet. The navigation app from Ordnance Survey secured a whopping 62 per cent of the public vote – a convincing victory – and received high praise from many TGO readers. One voter said "the app has changed my outdoors experience" while another labelled it "the best in the world". Hundreds of others mentioned the app's features, including route plotting, downloading and walk tracking, in their comments.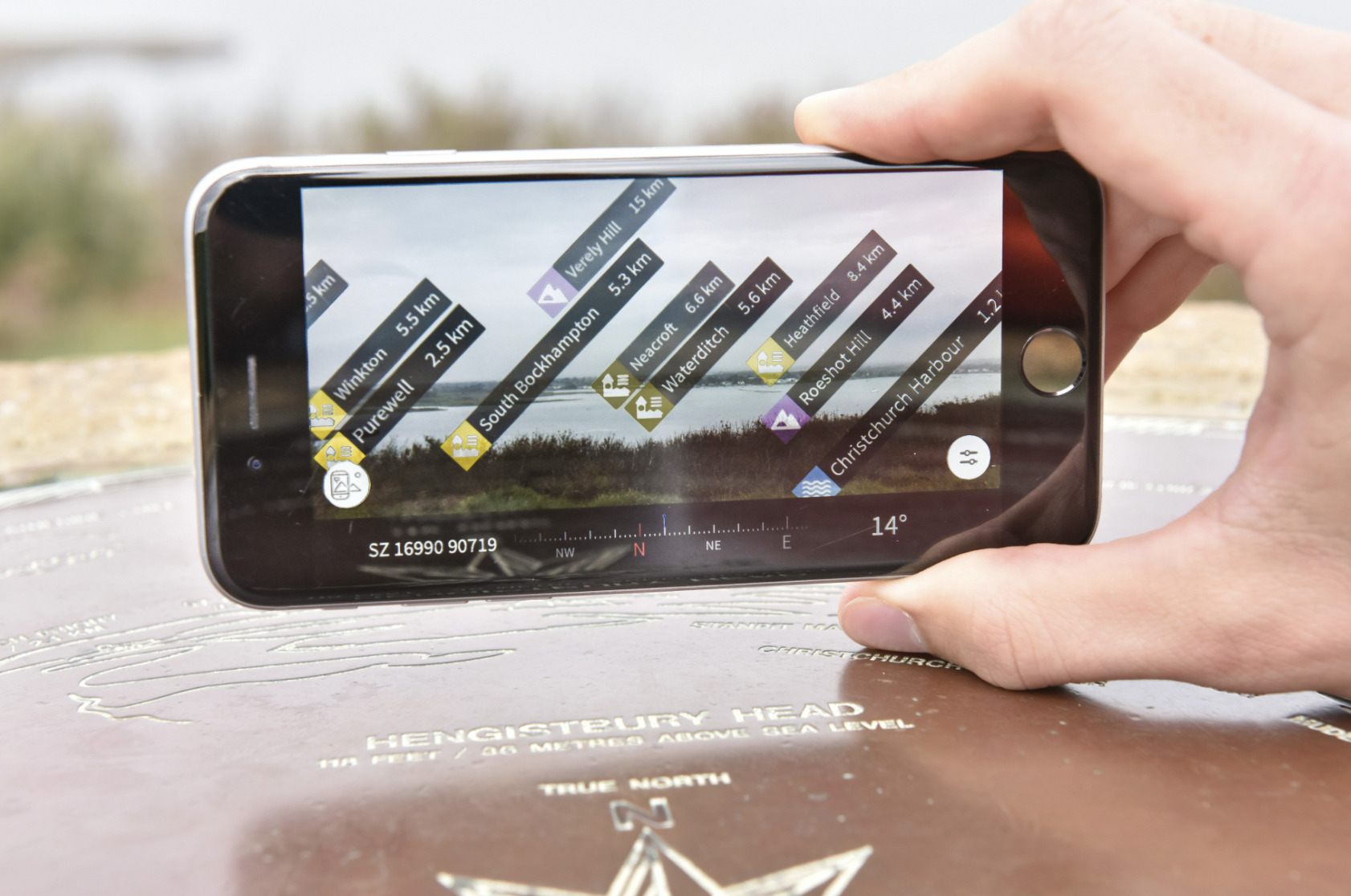 Photo: OS Maps
SILVER: Komoot
With an ever-growing fan base in the UK, Komoot is a high-quality navigation app with ready-built routes, downloadable maps, route planning and navigation tech that "makes it easier to explore more of the great outdoors". Judging by the comments, it ticked every box for our readers. Voters called it "very easy to use with an excellent interface", "seamless", and an "exciting" app that helps ensure "you never get lost". Integration with smart watches, GPX exporting and turn-by-turn routes were just some of the features praised by readers. Grace Wilson, UK hiking community manager at Komoot, added: "There are endless beautiful walks in the UK, and at Komoot we aim to share the walking community's favourite highlights, providing inspiration at your fingertips, and bringing users a few steps closer to their perfect outdoor adventure. So we're really pleased to win this award and it's largely thanks to how the wonderful UK hiking community has embraced our mission."
BRONZE: AllTrails
AllTrails says it helps "people across the globe to soak in the outdoors". The app provides detailed, hand-curated trail maps, along with reviews and photos crowd-sourced from a community of over 20 million outdoor enthusiasts. With over 100,000 trails on the app, there's something for everyone. One voter praised the app as "a walker's best friend" while another commented "it's a great app for suggesting local walks". The format and range of information were also praised by TGO readers.
Shortlisted
Outdoor film or filmmaker of the year
GOLD: Life of a Mountain: A Year on Helvellyn, directed by Terry Abraham
The finale of the 'Life of a Mountain' trilogy, this film from multi award-winning filmmaker and photographer Terry Abraham showcases the very best of iconic Lakeland peak Helvellyn. Originally shown on BBC Four, the film is also now available on DVD. One voter commented: "Terry has produced another incredible film for us all to enjoy, and captured one of the Lake District's most-loved mountains perfectly whilst including information, education and adventure." Another said "the most incredible filming with absolutely stunning views".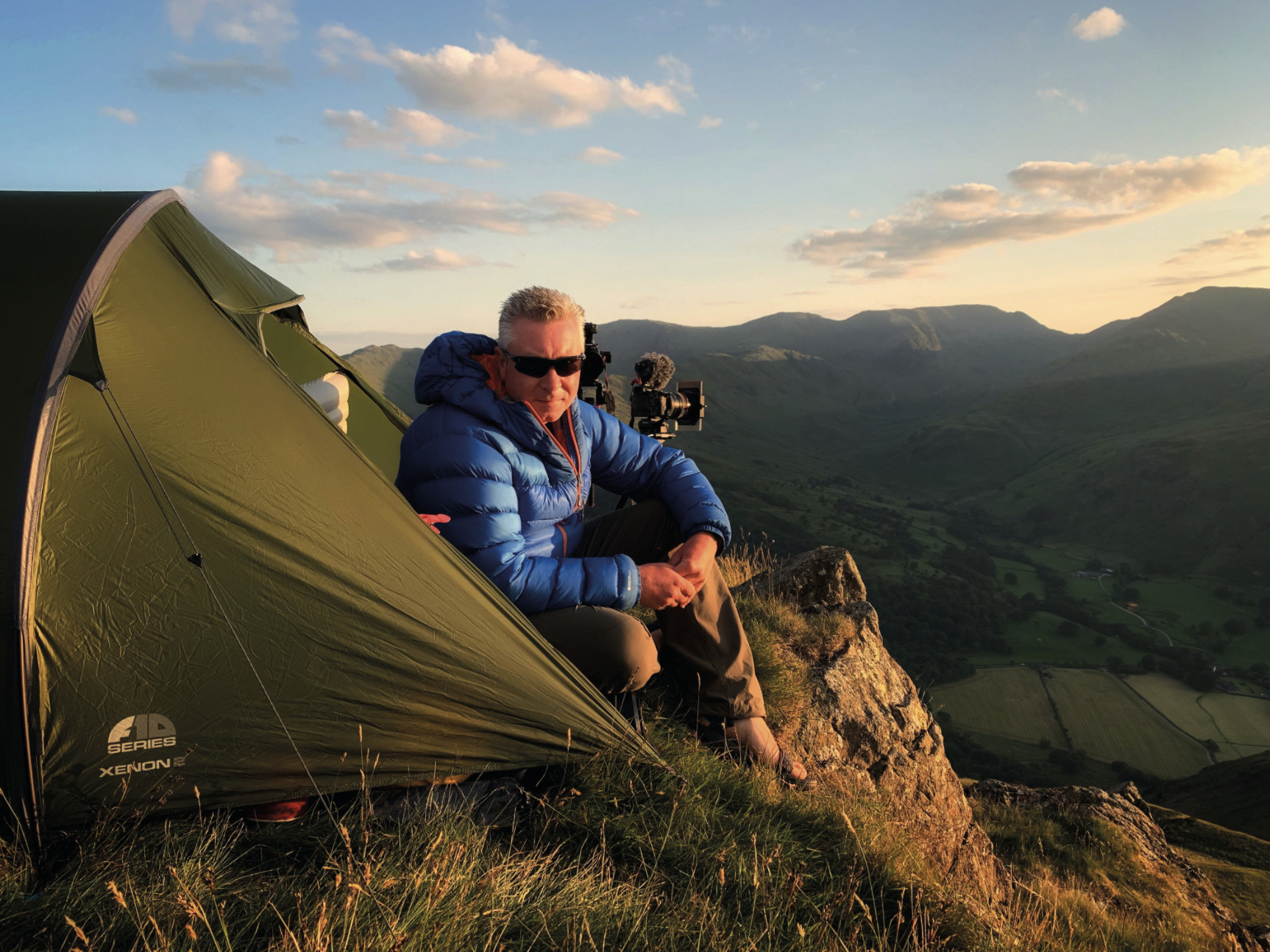 Photo: Filmmaker Terry Abraham, credit Paul Bacon
SILVER: Robin Wallace, 'Walk With Wallace' (YouTube channel)
Robin Wallace is a Munroist, avid hillwalker and all-round lover of Scotland's wild places. He is "passionate about wild camping and also enjoys a night by the bothy fire with a dram", and loves to "visit old favourites and new hills regardless of their height or criteria". His YouTube channel has almost 7,000 followers and includes videos on day hikes, bothy nights, hiking gear, wild camping and the Cape Wrath Trail. Voters praised his relatable, informative content and style, stating "you think it's possible to follow in his footsteps" and "Robin takes us along with him on his adventures".
BRONZE: The Alpinist, directed by Peter Mortimer
Billed as Free Solo but on ice, The Alpinist follows the pursuits of Canadian Marc-André Leclerc, a free-spirited 23-year-old taking on some of the boldest solo ascents in history. With no rope and no margin for error, Marc-André's approach is the essence of solo adventure. Intrigued by these accomplishments, veteran filmmaker Peter Mortimer (The Dawn Wall) sets out to make a film about the elusive, publicity-shy Marc-André – and captures his historic adventure in Patagonia, an ascent that redefines what is possible in solo climbing. "A beautiful and poignant film – very touched by it" commented one reader.
Shortlisted
Outdoor book of the year
GOLD: The Fox of Glencoe, Hamish MacInnes
A legend in the field of mountaineering, Hamish MacInnes – otherwise known as The Fox of Glencoe – pioneered many of Scotland's most challenging climbs and numerous routes overseas. Tenacious and inventive by nature, he dedicated much of his life to mountain safety and rescue. As well as founding both the Search and Rescue Dog Association and the Glencoe Mountain Rescue Team, Hamish's revolutionary MacInnes Stretcher is still used worldwide, and his all-metal ice axe was a game-changer for modern alpinism. He was also a prolific author, publishing 26 books. Written and compiled before his death in 2020, The Fox of Glencoe chronicles Hamish's adventures in his wry, elegant style, as well as including contributions from his close friends. It's the definitive collection of stories from a mountain life lived to the full. "As he passed away recently, this award would be a fitting tribute to the great man" commented one voter.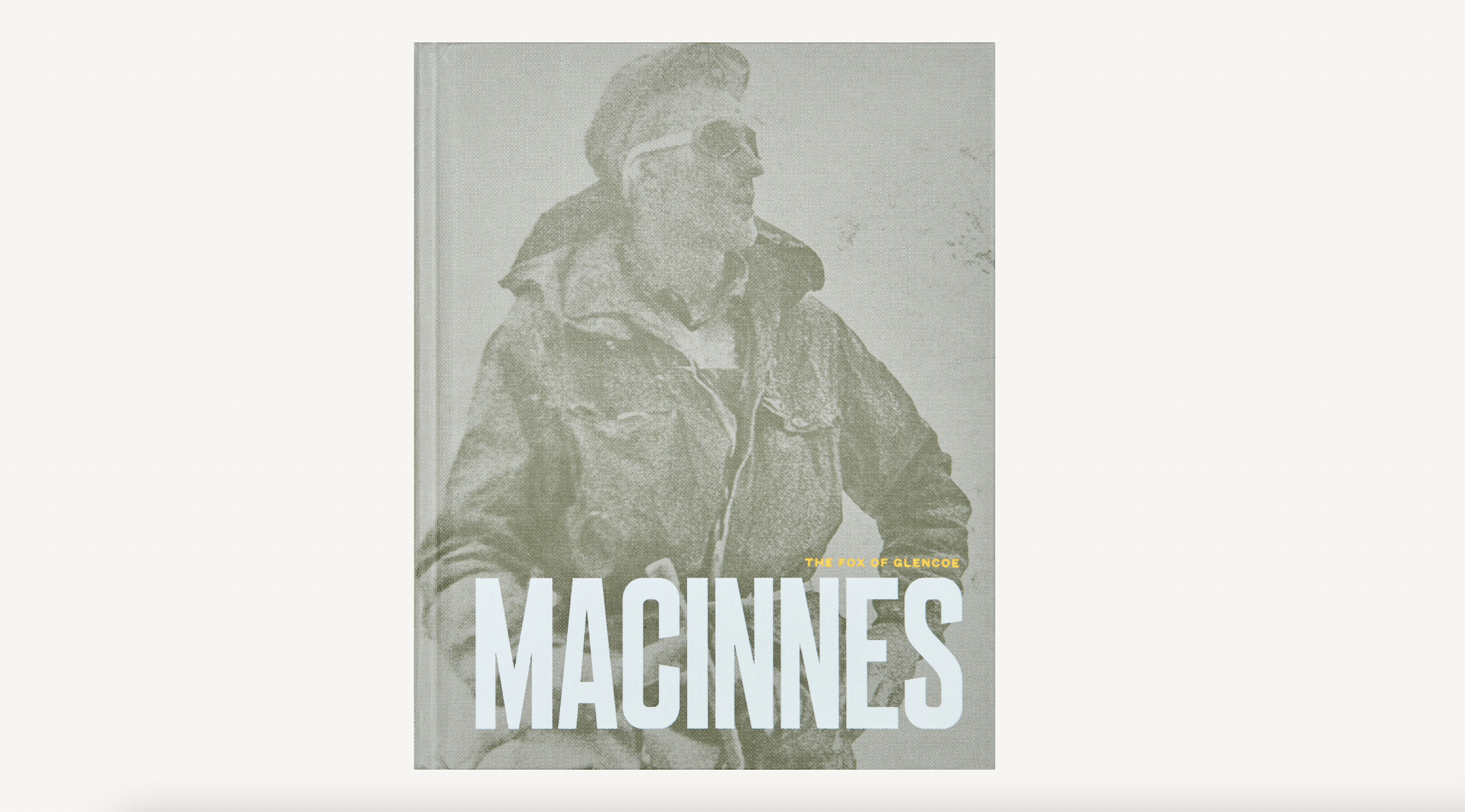 Photo: The Fox of Glencoe by Hamish MacInnes
SILVER: Coasting: Running Around The Coast of Britain, Elise Downing
Having graduated from university, on the surface Elise Downing was living the dream – shiny new flat, good job and budding relationship. But, underneath it all, she was unhappy. The solution? Run 5,000 miles around the coast of Britain, carrying all her kit on her back. Part memoir part travel writing, Coasting is the story of Elise's transformative journey around the coast of Britain and the life lessons she learnt along the way. Voters praised the book as "brilliantly honesty" and "beautifully written".
BRONZE: The Vanishing Ice, Iain Cameron
Even when most of the snow has melted in the Scottish hills, isolated patches can linger well into summer and beyond. In The Vanishing Ice, Iain Cameron chronicles these remarkable and little-seen relics of the Ice Age, describing how they have fascinated travellers and writers for hundreds of years, and reflecting on the impact of climate change. "A fascinating book – and very topical in the current concern around the climate crisis" wrote one voter, while another added "there's real passion and painstaking research behind this book".
Shortlisted
Independent retailer of the year
GOLD: Needle Sports, Keswick
Named after Napes Needle, that iconic rocky pinnacle on the side of Great Gable, this Keswick-based outdoor store has been catering for climbers, mountaineers and hikers since 1990. Impressed readers consistently cited the customer service and friendly advice on offer. One voter said "It is a little treasure trove of outdoor gear – for a very small shop there's an awful lot of stock and the staff are so helpful and knowledgeable".
SILVER: Outside, Hathersage
A regular winner of our independent retailer of the year award, this family-run Peak District shop has made the podium yet again in 2021. Readers deemed it worthy of the silver award for its friendly service, excellent cafe and great range of products. One voter said "there's so much choice from amazing brands, plus very helpful and knowledgeable staff", while another explained "it's always a joy to visit for quality gear".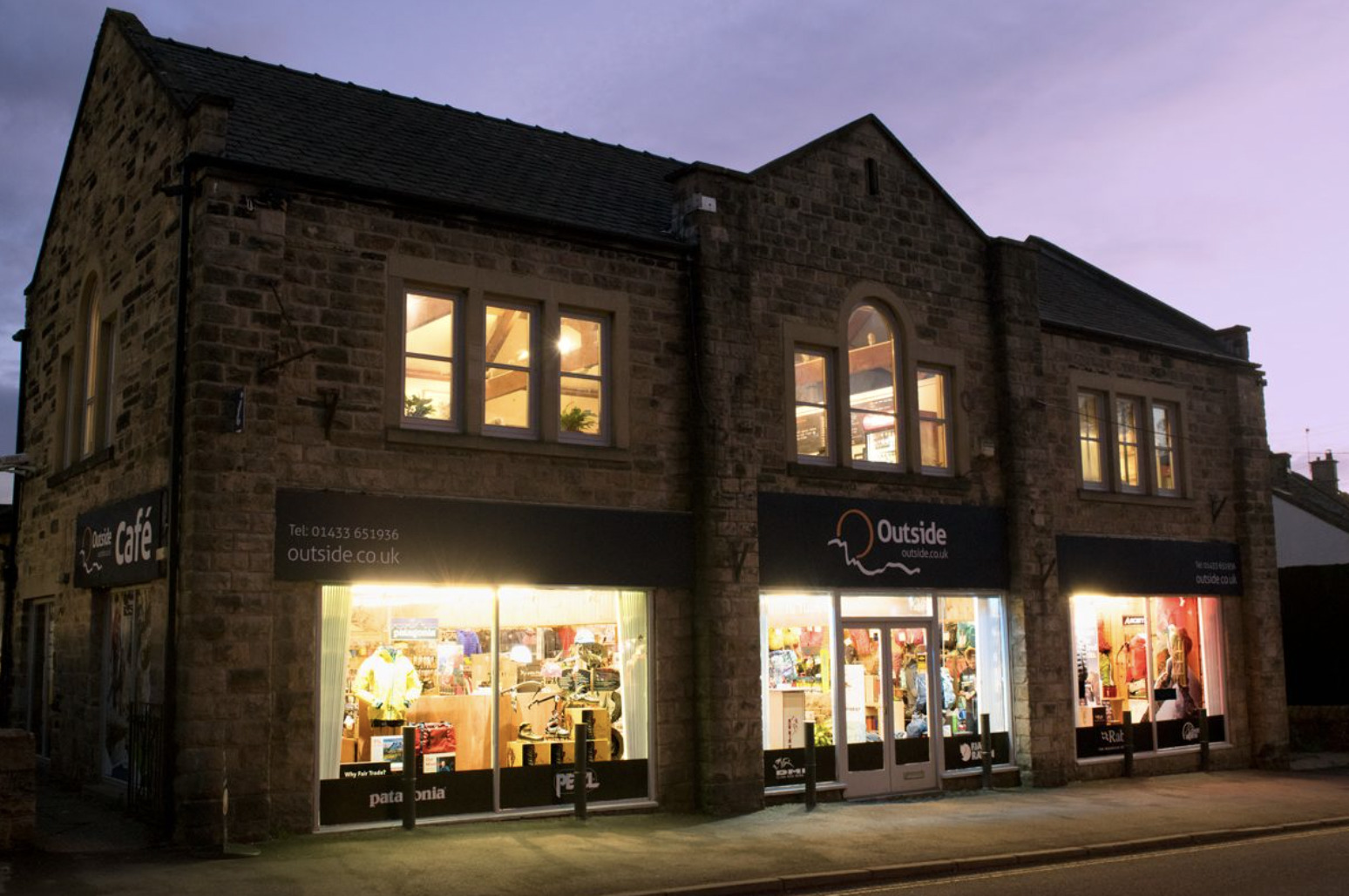 Photo: Outside Hathersage
BRONZE: Arran Active, Arran
Located in Brodick on the isle of Arran, at the foot of Goatfell, Arran Active has an aptly adventurous setting – and it is clearly well-regarded by TGO readers. Voters heaped praise on the shop for "good banter", "wonderful staff" and "fantastic choice". One voter summed Arran Active up as "value for money, helpful and knowledgeable staff, and a great product range".
Shortlisted
Chain retailer of the year
GOLD: Cotswold Outdoor
A common sight on high streets up and down the country – despite the rise of internet shopping – Cotswold Outdoor is perennially rated the best chain retailer by TGO readers, and it has scooped the gold award yet again in 2021. The firm, which has over 70 stores across the UK, was praised by voters for "the very best of customer service" and "knowledgeable and helpful staff". The retailer's price match scheme, wide product choice and excellent online service were also singled out by appreciative readers. One voter described the Cotswold Outdoor shopping experience as "always good stock and friendly staff".
SILVER: Go Outdoors
TGO readers appear to love Go Outdoors for two main reasons: its big stores with a huge range of stock, and its competitive prices thanks to both the price match scheme and "fabulous discounts". One voter commented: "Go Outdoors is still, hands-down, the best value-for-money chain retailer. I hope they can rebuild the company as it has inevitably suffered over the pandemic." Others praised the loyalty card discounts and the "unbeatable prices".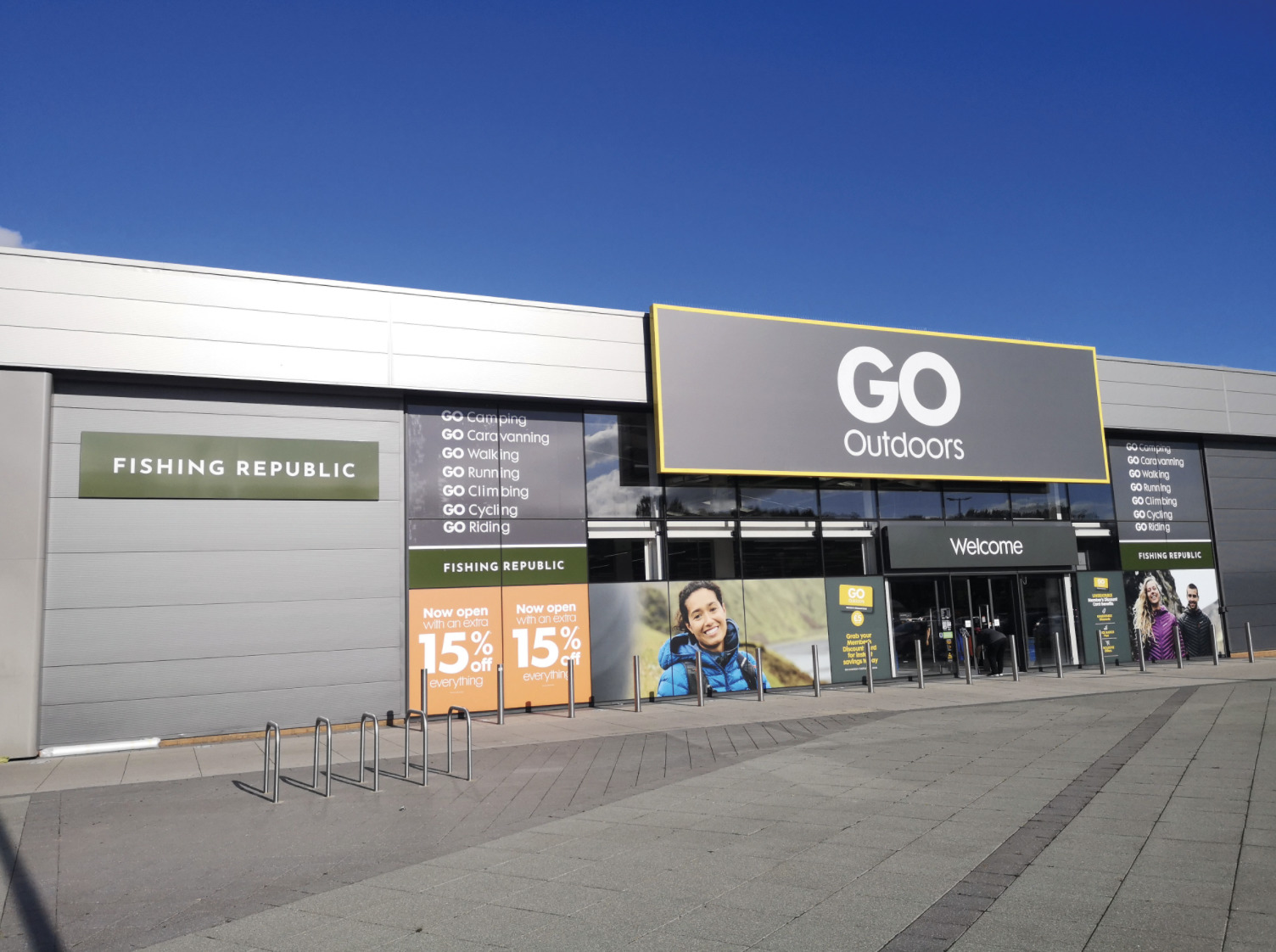 Photo: Go Outdoors
BRONZE: TISO
"TISO has been my favourite shop for years – there's a great selection of stock, great service and good in-shop cafes. It knocks the spots off all the others on the list." This is how one voter praised TISO, the Scottish retail chain founded in 1962 and now part-owned by JD Sports. Other voters praised staff for "helping without trying to push a sale" and commended the "excellent range of stock, great customer service and pleasant shopping experience."
Shortlisted
Online retailer of the year
GOLD: alpkit.com
Securing yet another gold in this category, Alpkit is TGO readers' go-to website when it comes to a spot of online retail therapy. The brand's ethical approach has particularly struck a chord with the outdoors community. "They have a cracking company ethic" said one voter, while another praised the "class-leading company values" including the use of sustainable materials, providing female-specific sizing, establishing in-store repair departments, and funding grassroots projects. Affordable pricing, innovative products and the "nice little notes from whoever has handled your order" were also regularly cited as part of the stellar Alpkit service.
SILVER: ultralightoutdoorgear.co.uk
Experienced backpacker and long-distance hiker Mark Richardson started Ultralight Outdoor Gear (UOG) in 2006, with the aim of bringing the best lightweight kit together under one 'roof'. Since then, the online retailer has expanded rapidly – and TGO readers are certainly impressed with the results. "Great site navigation, clear information about products, and good filters and sorting options to help inform your choice" wrote one voter, while another said "they are ahead of the curve with the brands that they work with". Another voter summed it up as "great advice on the website, reasonably priced and mega quick".
BRONZE: sportpursuit.com
"I love being able to get branded goods at prices I can afford" wrote one voter, while another praised the site for "great deals with amazing customer service". On top of competitive pricing, TGO readers praised Sport Pursuit – which has a 4.8 out of 5 rating across 32,000 reviews on Trustpilot – for its "huge range of high-quality gear" and its "brilliant" approach.
Shortlisted
Outdoor clothing and equipment brand of the year
GOLD: Páramo
After several gold awards in a row, it looked like Rab were never going to be knocked off the top spot in this category – but Páramo have achieved that feat in 2021, securing an incredible 50% of the public vote. Richard Pyne, commercial director at Páramo, said: "It's fantastic and hugely rewarding to know that Páramo plays a role in enabling so many people to enjoy the outdoors. On behalf of Páramo I would like to thank all of the TGO readers for their support." What do those readers think of Páramo? "The brand of the century" and "the absolute best" said some voters, while many others praised the longevity of the brand's clothing: "it lasts forever", "long-lasting gear" and "still going strong after many, many years of abuse" were just a few of the comments. The brand's sustainability, ethics, customer service and faultless performance were regularly praised too.
SILVER: Rab
Settling for second spot this year, Rab is a consistent favourite among readers of The Great Outdoors. The fit, quality and reliability of Rab gear featured highly in voters' comments, with one commenting "I love Rab's gear – it's well-thought-out with good environmental credentials". Another praised Rab for its "excellent and extensive range of clothing, offering quality and good value" while another summed it up as "just high-quality, durable and functional products".
BRONZE: Patagonia
"Everything else is not Patagonia" commented one voter, while another praised the brand for its "beautiful clothing that's light, warm and cosy." But it was the ethical and environmentally-friendly approach of Patagonia that catapulted the brand into bronze position this year. "For a global brand, they are the best role model for ethics and quality" said one voter, referencing Patagonia's commitment to sustainable and planet-friendly production.
Shortlisted