Every May, hundreds of backpackers participate in the TGO Challenge. But what is it, and why is it special? We spoke to six of this year's Challengers to find out
In 1980, a new backpacking event was born. The idea is simple: cross Scotland from west to east in less than two weeks. It's an organised event with a minimal set of rules and a good deal of personal freedom. The Challenge has taken place every year since, and has grown to become the UK's premier backpacking event, attracting many participants back year after year.
Keen to know more? Read ten facts about the TGO Challenge.
In this exclusive group interview, we've spoken to six Challengers, who tell the story of this unique journey in their own words.
Meet the Challengers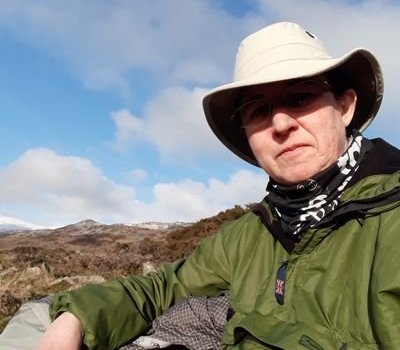 Judith @aroundthehills
"I love any sort of trip which gets me away from the office, computers and email. Most of my walking is done in North Wales but I make the occasional trip to the Peak District or the Lake District and, of course, spend two weeks walking across Scotland every year. I like to feel close to the elements, so a night under a mini-tarp is a great way to top up the mental batteries."
Blog: https://aroundthehills.wordpress.com
Challenge trip report: https://aroundthehills.wordpress.com/tgoc-2018/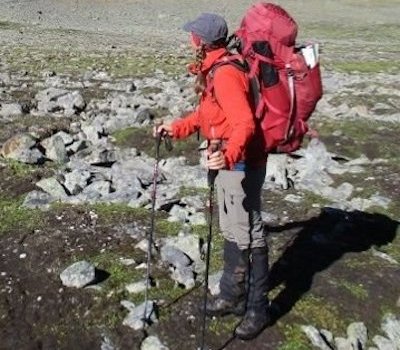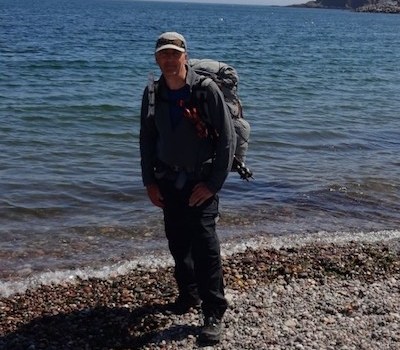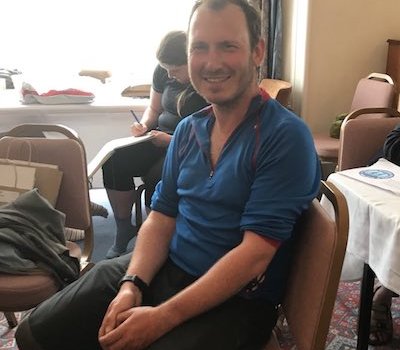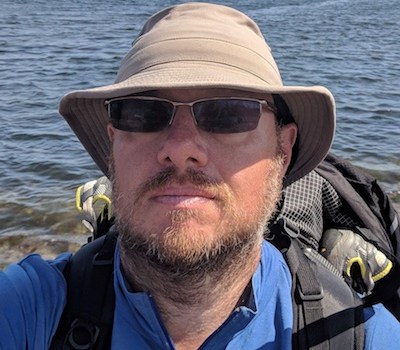 Matthew King
"I'm a fairly regular 3-4-night backpacker, spending my hill time mostly in Dartmoor, the Lakes, and Wales. A part-time semi-professional artist, my trips are also about seeking inspiration for my paintings (one of which, inspired by 2017's TGO Challenge, was featured in the October 2017 issue of The Great Outdoors). I pride myself on not being an obsessive ultralighter, with my mantra being 'if I can lift it, it's light enough'."
Blog: https://backpackartist.com
Challenge trip report: https://backpackartist.com/2018/06/12/tgo-challenge-2018/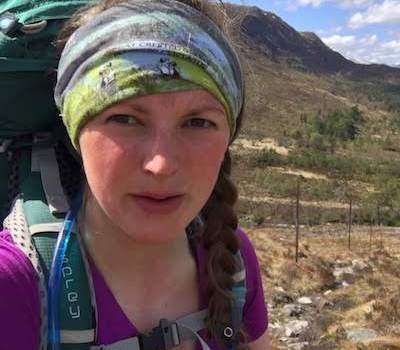 Sally Phillips
"I've lived in the Highlands for five years and work for the Forestry Commission as a civil engineer, and I cover an amazing area including Skye, Glen Shiel, and as far north as Loch Maree and Achnashellach. I'm not a Munro-bagger and most of the hills I love are not Munros. Long-distance walking is a relatively new obsession and I love the challenge of walking from one place to another with everything you need on your back."
Blog: https://daunderlust.wordpress.com
Challenge trip report: https://daunderlust.wordpress.com/?s=tgo+challenge
What attracts people to the TGO Challenge?
People discover the Challenge in different ways, but most hear about it via mutual friends, through The Great Outdoors magazine, or from reading trip reports online. More often than not, the initial spark of interest is ignited by the prospect of a clear objective, a loose framework of rules, and considerable personal freedom to plan and create your own route. This means that no two crossings are alike and many people return year after year.
Judith: "I did my first crossing in 2006. I've done 11 crossings now. I took a break after my 10th and wondered if I would return… but the event does have an addictive quality and it was an easy decision to enter for my 11th. I'm drawn to the opportunity to discover new routes through some beautiful countryside."
Robin: "I had read about the Challenge in TGO magazine and blogs as well as meeting Challenge legend Alan Sloman. I was attracted to the concept of a longer walk with a clear objective but having the freedom to choose a route rather than having to follow a specific trail."
Chrissie: "I have numerous friends who have become addicted to the Challenge. I could never quite understand it – after all you can walk across Scotland any time you want – but in 2017 I became too curious and decided to join in."
Rich: "I was initially attracted by the conversation around applying for the 2013 Challenge on Twitter. A number of people 'persuaded' me to apply. I've now completed six crossings."
Matthew: "I'd been aware of the Challenge for years, but I began to take more notice of it thanks to my Twitter connections and blogs I follow. I guess it was the pictures of the stunning scenery that really drew me to it, the tales of derring-do and the extreme camaraderie the event seems to create. I have completed two crossings: 2017 and 2018."
"The Challenge vastly exceeded my expectations"
Sally: "Last year, while walking the Affric-Kintail Way, I met so many people doing the 2017 Challenge that I knew I had to find out more about it. I was inspired by reading so many blogs that I signed myself up for the 2018 Challenge. Being able to plan my own route to take me across Scotland was a big part of the attraction – it made the Challenge more personal, and gave me a greater sense of ownership over what I was undertaking."
On the trail, Challengers appreciate the simplicity of life on foot, the imperative of getting to Montrose on time, and – perhaps most commonly mentioned of all – the strong social aspect of the TGOC, although most also stress that they need solitude from time to time.
Sally: "The Challenge vastly exceeded my expectations. I really enjoy walking alone; I love the time to think, the lack of distraction, and walking at my own pace. But from the moment I set off from Glen Shiel to arriving in Montrose 12 days later, I encountered nothing but smiling faces and encouraging words. As a first timer I was worried that no one would want to talk to me, but the Challenge is much bigger than that, and ultimately it was the camaraderie that made it the life-changing experience it was – something I didn't anticipate! I've read a lot about thru-hiking some of the long trails in America, and hikers referring to their 'trail family', so it was nice to have my own little trail family on the Challenge."
Rich: "Over the course of time I've grown to appreciate the social side, meeting and catching up with familiar friendly faces, but this has tended to be on an ad-hoc basis – which has its own delights. You never know who you may bump into. Meeting other Challengers can help lift spirits, especially when motivation, determination and enjoyment are lacking."
"It's rare in the modern world to experience the kind of instant friendship and empathy you get on the Challenge"
Chrissie: "I enjoy the challenge aspect of the event – having to keep going whatever, rather than going totally at your own pace. In 2017 I was very much on my own most of the time and didn't seem to bump into many people, which suited me. I like occasional meetings but also relish my independence. The social interactions were extremely pleasant, but I'm not the kind of person who would deliberately seek out the big pub gatherings, not the cheese and wine parties that are organised in the hills. Good friends that I've already walked with in the past, though, are an exception to this – it's pleasant passing a good few meals with someone you get on really well with."
Judith: "I enjoy the simple worries and exhaustion – all that matters is heading east, keeping warm, dry and fed, and finding nice spots to camp. I generally walk alone, although I do enjoy bumping into other Challengers. In 2009 I did a very sociable route and walked with other Challengers on all but one day, but usually I prefer to walk alone most of the time. It's great to bump into people but I prefer my own company… and then there's only myself to blame for my navigational blunders! Sometimes I'll avoid the trade routes as I think I'd feel under too much pressure to follow the herd; I'd rather just plod along on my own."
Matthew: "The Challenge combines everything that makes for the perfect backpacking trip: a meaningful journey through the landscape, great scenery, wild camping, interesting characters met along the way, all sprinkled with a little bit of having to adapt to circumstances. This year, the company I had in the second half of the trip, when I wasn't feeling well, was crucial in helping me get to the end. Having said this, I appreciate solo time too, and the Challenge is pretty flexible in this respect."
Robin: "It's rare in the modern world to experience the kind of instant friendship and empathy you get on the Challenge. Within minutes, you are often talking to a complete stranger as if you had been lifelong friends. The bonds of friendship that are forged are enduring both on the Challenge and outside the Challenge."
The considerable variety possible in route planning means that the Challenge can be as easy or as hard as you want it to be. It's possible to go the whole way via drove roads and low-level paths, or you can create a Munro-bagging trip. Many walkers end up combining a bit of both.
Matthew: "My first route in 2017 was a relatively straightforward one, focusing mainly on defined tracks and well-trodden paths and with sensible distances each day. In fact, it was probably a bit too cautious as I finished a day early. This year's route was designed to be a bit tougher and longer."
Rich: "I always plan my route to suit what I want to do, making full use of the 15 days available. A common theme for me has been trying to bag as many peaks as I can, particularly Munros."
Judith: "My routes have been described as 'interesting', which is really a polite way of saying they're not what most would do. Some of my trips can be a bit extreme by some people's standards. I've started at 11 different start points; just Mallaig and Kilchroan left to do. I've also finished at 11 different places."
Robin: "Unfortunately I was unable to apply for the 2018 Challenge, but as a consolation I was able to get away for a week in Scotland to do what was effectively a half-Challenge. My plan was to meet with some Challenge friends for part of the trip and walk with them for some of their crossing. Somewhat tongue in cheek, I called this 'Not the TGO Challenge' on my blog."
Gear for the Challenge
As an adventure with a strong emphasis on personal planning and experience, gear choice for the Challenge is as varied as you'd expect. Some prefer to hike in an ultralight style, some bring along the kitchen sink, while most favour a sensible middle ground.
Chrissie: "My gear doesn't change much from trip to trip, other than as regards expected weather conditions. This year my pack was the Osprey Kyte 66. I like a pack that will carry weight comfortably and efficiently, taking most of the weight on my hips. I took my Terra Nova Southern Cross 1 tent, brilliant in bad weather. My summer sleeping bag is a Rab Neutrino 600. I sleep cold, and like to know I'll be snug."
Matthew: "My clothing was based around a merino base layer, a cheap running top from Decathlon, a Paramo Bora windshirt and a Rab Firewall hardshell, with a pair of Mountain Hardware Nima softshell trousers. On my feet were Salomon X-Ultra Mids. All of this performed as expected. The main change from 2017 was the swapping out of a Paramo Pasco jacket for the Rab one, as I wasn't happy with how the Paramo coped last year."
Sally: "On the first day I was carrying almost 17kg; although I coped, I could have made my life significantly easier with a smaller pack and lightweight gear. I took the Sil Hex Peak V4A tent, which has a huge vestibule, great for storing all your gear and still have space to cook in comfort if it's raining. I was torn between trail shoes and boots. In the end the Scarpa Nitro Hike boots were a perfect compromise."
Rich: "Mostly unchanged from 2013. I've never listed my gear nor weighed it. My Tarptent Scarp 1 is nigh-on bulletproof."
Robin: "The main difference this year compared with my Challenge gear was the need to carry seven days of food with no resupply. This added bulk and weight, and I needed to use my Lightwave Ultrahike 60 rucksack – a good choice. On longer trips, I always choose tried and trusted gear that I know will work."
Judith: "I used the same items that I've used for my last five or six Challenges: Terra Nova Laser Competition tent, Osprey Exos 46 pack, Therm-A-Rest Neoair, Rab Quantum 400 sleeping bag. I walked in inov-8 Terroc 308 trail shoes, which I believe are the women-specific fit of the Terroc 330. For the first time I used electronic mapping via OS Maps on my smartphone. I still carried the paper Landranger maps but used my phone as my main navigational tool, apart from my mini Suunto compass clipped to my rucksack shoulder strap."
Pitfalls and problems
By definition, adventure is never easy or completely safe, and success is not guaranteed. It's all part of the Challenge experience.
Robin: "I nearly had a disaster on the track leading to Sronphadruig Lodge where I slipped on some loose stones and fell over, grazing my knee, ripping my trousers and bruising my hand. I was lucky not to fracture my wrist. Apart from minor knee and foot tweaks, the rest was plain sailing."
Sally: "On the first night while setting my tent up, the pole decided to break. This was mainly my own fault – my new tent pole had arrived with 'super strong clips' to replace the original ones, but I hadn't swapped them. I was saved by another Challenger, Kent from Albuquerque, who lent me his trekking pole for the night. I managed to fix the pole with a DIY duct tape solution and swapped out the clips on my third night at home. Lesson learned!"
Matthew: "It didn't really turn out as anticipated. My walking partner had to withdraw a couple of weeks before the off, leaving me doing it solo. Then I became ill halfway through and I nearly pulled out at Braemar, but was glad I didn't."
"In some ways I could have coped better with wet weather as that's my TGO Challenge comfort zone"
Chrissie: "This year I have been suffering from Plantar Fasciitis, which has really curtailed my hillwalking and can be unbelievably painful. My physio encouraged me to still complete the Challenge. I have a high pain threshold and was convinced I could manage, but by the end of the first day I knew that I could not stand it every day until the end. I camped out that night with Rich, who'd kept me company the first afternoon when he came across me struggling with the pain, but knew that the sensible thing was to withdraw. I rang Challenge Control the next morning. I was absolutely gutted, but I still know I had made the right decision."
Rich: "It took three or four days to get into a good rhythm and start enjoying the walk. I think I need to change how I plan for the lead up, not in terms of fitness or gear, but how I make sure that I am more relaxed to start enjoying the walk from the outset. My lack of relaxation and energy in the first few days was compounded by the heat. I found progress slow and I cut quite a number of peaks out of my route. This frustrated me, though once I'd had a night of luxury in Tyndrum after day four, things picked up."
Judith: "I had some blisters, I think partly due to the heat. I also developed a cold and felt sorry for myself for a few days. In some ways I could have coped better with wet weather as that's my TGO Challenge comfort zone."
Highlights from TGOC 2018
This year, Challengers were blessed with an unusual run of hot, dry and sunny weather.
Matthew: "Like everyone, I was caught a bit off-guard by the better-than-expected conditions. After a pretty decent year for weather in 2017, I expected this year to be torrential rain the whole way across. "
Judith: "The good weather meant I got to go high (Mam Sodhail) and have some amazing views. There were no difficult rivers this year and I could crunch my way over the top of many dry bogs. I also got a tan that went past my wrists!"
Sally: "The weather on the Challenge was exceptional; I think it rained three times over the 13 days I was out. Waking up on the first Saturday to a completely blue sky was the best feeling after the rain the night before. It gave me such a boost for the day ahead."
Robin: "The good weather made for the almost perfect trip. Every day was a delight. What will stay with me forever is the stunning views around Rannoch Moor, even from hills of a relatively modest height."