Here are three of the best waterproof jackets for kids, thoroughly tested by David Lintern with the help of his children Niah (aged 8) and Celyn (aged 5).
What do you need from a kids waterproof jacket?
What do we need from a waterproof jacket specifically designed for kids? To be honest, it's not so wildly different from what we want as an adult.
Waterproof jackets need functionality, durability and good value. It needs to keep the wearer dry and warm, it needs to last and preferably not cost the earth.
What's the difference between adult waterproofs and kids waterproof jackets?
An obvious first point of difference is that children have different body mass indexes (BMI) and tend to move more quickly than adults.
As a result of both, they can get both warmer and colder than we do. This can place additional demands (or expectations!) on the breathability of waterproof jackets.
It won't be news to the parents reading, but active kids are also pretty hard on clothing, running through bushes, climbing trees or sliding around on mud or ice in that brand new coat, where an adult might be more mindful of the potential for damage. The design should be robust and the fabric easily washed and reproofed.
On the other hand, young children are less likely to spend days backpacking through torrential rain on a hillside, so the coat needs to be adaptable for school, on the bike, in the playground as well as any family walks they might be foolish enough to agree to.
How much do kids waterproof jackets cost?
Cost is undeniably a factor. While adults tend to change size and shape slowly, kids grow rapidly. For those of us with more than one child – one younger than the other – it's wise to balance durability against that cost and buy with both kids in mind.
This may influence choice of colour, pattern or other design features, especially as they get older and any perceived gender differences become more important to them (my boy is currently still happy in pink, hand me down wellies, but peer pressure can and will eventually kick in).
Smaller child friendly features are chunky button fastening, big pockets (with similar closures!) for snacks and gloves, or when they get a little older, big zips.
A hood they can disappear into is a boon; to hide from the weather, their siblings or even their parents. Some brands make shell clothing with concertina-like hems in the sleeves and legs, that can be unstitched and lengthened to extend the sizing and therefore the shelf life, but if not, consider if the item still works well when oversized and buy a size up.
Lastly, many brands have adopted more environmentally friendly materials in their kids ranges that is worth looking out for.
Our list of the best waterproof jackets for kids
Keela Boulder 3-in1 jacket
Best Buy
Stars: 4.5/5 | Price: £74.95 | Weight: 634g
Pros: Versatile zip in/out fleece, wired and adjustable hood, huge pockets.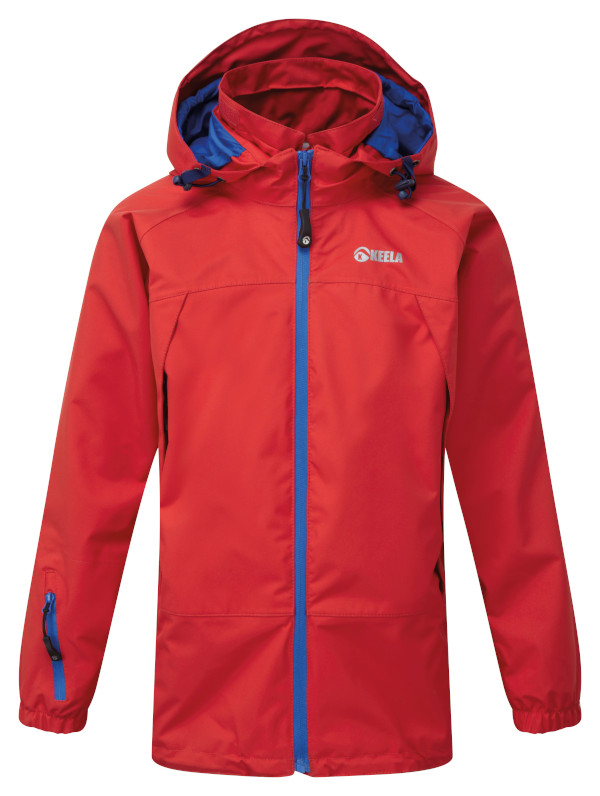 Cons: A heavier weight jacket and therefore less packable.
Materials: Polyester fleece, nylon (taffeta) lining, polyester and polyurethane outer.
Features: Fully adjustable hood, adjustable hem, removable fleece liner, zipped pockets, storm guards
Sizes: 2-12 years
Fit: unisex
The Boulder 3 in 1 is a lot of waterproof jacket for the money. The shell is part PU, and offers exceptional weatherproofing, perhaps at the expense of some breathability.
Inside the waterproof jacket is fully lined with a smooth nylon taffeta-style fabric, to help move any moisture away from the skin. Inside that, there's a thin fleece liner that can be zipped in or removed completely.
Special mention to the adjustable tabs at the sleeve to keep the fleece attached! This fleece has its own adjustable hem, elasticated wrists and hip pockets and can be worn as a stand-alone cardigan.
Back on the outside, the hood is very well specified, with a three way volume adjuster and even a wired beak (a techie detail which pleases dad no end).
The hood can be rolled away completely under the collar. The handwarmer pockets are enormous and feature equally substantial storm guards. All closures are zipped with glove friendly pulls and the front zip features a rear storm guard.
There's also a small pocket at the right hand sleeve equipped with a lower profile, weatherproof zip (another detail, which pleases my daughter no end).
The fit is roomy and quite long with a slightly scooped tail, providing extra protection at the rear. Relaxed elastic at the sleeves and an adjustable hem on the shell round things out.
We've been really impressed by this jacket. It's robustly made, packs loads of features and due to the removable (micro)fleece, extremely versatile. It should last well, be useful across the seasons and is available in a range of colours.
When kids really like something, it's easy to tell. My daughter is barely out of this.
2) Isbjorn lightweight rain jacket
Recommended
Stars: 4/5 | Price: £110 | Weight: 243g
Pros: Packable, adjustable hood, chest pocket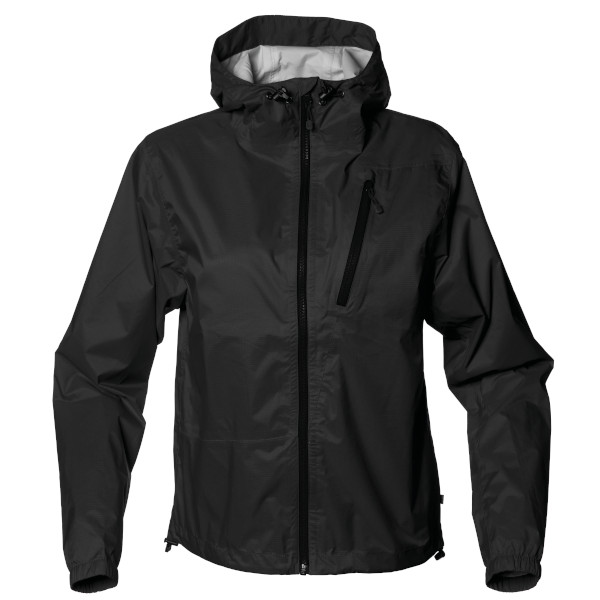 Cons: No rib pockets
Materials: 2.5 layer bluesign treated nylon
Features: Front zip and rear storm guard, zipped pocket, chinguard, adjustable hood.
Sizes: 7-14 years
Fit: unisex
The simply titled 'lightweight rain jacket' is the closest to what many of us would think of as a modern hardshell. There's no separate liner, instead the layers are laminated together.
This means it's very light and has few insulating properties, but also that it pairs very well with an insulated jacket or other layers underneath in winter, or as a lightweight, very packable option for warmer conditions, 'just in case' of rain.
The shell has fully taped seams, repels water very well, and as you might expect, it's the most breathable of all three here.
The hood is adjustable (2 way, at the face) and the front closure is finished with a waterproof zip, a rear storm guard and a chin guard. The storm guard is fleeced on its reverse side for comfort and is decorated with patterned highlights – a nice touch.
There's a single chest pocket (sized for a small mobile phone or a bus pass) which opens to a mesh inner, but sadly no other pockets, which does feel like an omission on a kids waterproof.
Once again, we've oversized, but the waterproof jacket is more than useable in this way. The fit is fairly long and allows plenty of layering. Sleeves are elasticated and the hem is adjustable.
The Isbjorn is the most expensive here but leads on the environmental front. Materials are bluesign approved and no PFC's have been used in the DWR finish. This is a fairly classic 3 season shell which packs down tiny and keeps the worst of the weather at bay.
3) Sprayway Hergen junior
Recommended
Stars: 4/5 | Price: £45 | Weight: 300g
Pros: Cost, soft and comfortable fabric, good sized pockets.
Cons: Non-adjustable hood.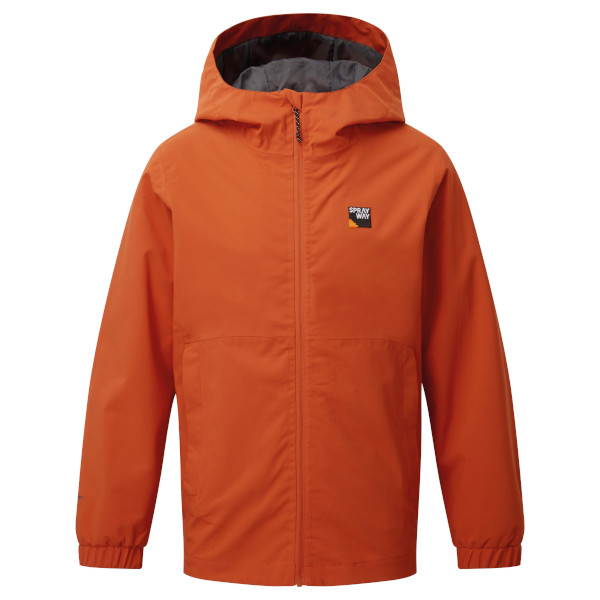 Materials: 2-layer HydroDRY® 70D polyester oxford fabric, taffeta lining
Features: Front zip and rear storm guard, zipped pockets, chinguard.
Sizes: 2-15 years
Fit: unisex
The Hergen is a modestly priced all-rounder which has kept my son warm and dry over the last few months.
The outer is a polyester treated with a proprietary finish and inside the waterproof jacket is completely lined with taffeta.
I tend to moan about liners in kids jackets because they often catch as the arm goes in and out of the sleeve, but taffeta is by far the superior choice for this (as opposed to mesh) because it is smooth and tends to catch less often.
Both inner and outer fabric are wonderfully soft, comfortable and noise free.
The handwarmer pockets are a useful size for snacks and gloves, and zipped, and the front fastener has a one way zip with a rear storm guard and chinguard, all of which aids comfort and warmth.
I'd prefer to see button fasteners for younger kids, but all the zips do have cord pulls. The hood is a good size but non – adjustable, offering adequate rain protection for the face, although less so if the rain is accompanied by wind (we live in the Highlands!).
The fit is fairly generous, which allows for layering as well as important details like tucking a buff in at the neck and face, and we've been using a size larger and turning up the wide, elasticated sleeves (which have stayed turned up), all of which will prolong the useable life of the jacket.
The hem is not adjustable and is slighter shorter on the waist, which has been useful for cycling. Sprayway are Fair Wear Foundation members, which assures buyers that some attention is paid to working conditions in their factories.
It's available in a few bright but gender neutral colours, too, which as a parent is a huge relief ('shrink it and pink it' for female clothes should be banished to the dark ages by now, surely?).
The Hergan is a really practical, no fuss jacket to throw on over a puffy, a jumper or a t shirt and covers most eventualities and extremities.