On a recent month-long walk on the Cape Wrath Trail, Alex Roddie had the opportunity to test a wide range of meals and snacks created for the outdoors.
This feature was first published in the June 2019 issue of The Great Outdoors.
Contents
---
By Alex Roddie
In February 2019, I hiked 299 miles from Ardnamurchan Point to Cape Wrath. This is a long way to walk in winter and, during the planning stage, I knew I'd have to think carefully about nutrition. The body needs a lot more energy in lower temperatures and when carrying a heavier pack, especially if there's snow to wade through. Food must be rich in calories yet as light as possible. Balanced nutrition is also important to keep the body performing at its best. Dehydrated meals have clear advantages in these areas, so for my February CWT I sourced a range of outdoor meals to see how they compared on the trail.
On a long route variety is as important as good nutrition. If you haven't recently checked out the range of outdoor meals available, you might be surprised. There are many different brands of outdoor meals available in the UK and most offer an extensive range of quality food, including vegan, gluten-free and organic options. Most do breakfasts as well as main meals, plus large packs for more calories. Texture and flavour have both improved significantly in recent years.
Any review of food will be subjective, but I have taken many factors into account in this review in addition to flavour: quality of ingredients, price, calories, ease of preparation, and more. A few meals stood out as being particularly good, but the overall standard was high. I also tested a range of snack bars from Primal Pantry.
A bit about Base Camp Food

Base Camp Food, who supplied most of the brands, offer the widest range of lightweight expedition meals in the UK, including:
LYO Expedition
Mountain House
Expedition Foods
BeWell
Blå Band
REAL Turmat
Wayfayrer
TentMeals
Forestia
Extreme Adventure Food
I found that Base Camp Food was an excellent one-stop shop that made it very convenient for planning ahead and making sure I had a good range of different flavours and meal types. Carrying a varied range made it easy to get the calories I needed while always having something new to look forward to. Each brand often has a particular set of characteristics – for example, Blå Band with their convenient packaging, Summit to Eat with their low prices, REAL Turmat with their slightly more unusual dishes – and being able to pick and choose between such a huge range enables you to tailor your meals to a precise degree. Again, this is more of a factor on a longer trip. While I'd be quite happy just eating meals from one brand over a few days, in a multi-week context I feel it's vital to have more variety. Base Camp Food is a great place for this.
Trail cooking tips
You need fewer utensils than you might think for basic food preparation on the trail. While lightweight knives, forks, spatulas and more are available, all you really need are a long-handled spoon (better for scooping out the contents of dehydrated meal pouches) and a small knife.
In colder conditions, a pot cosy cosy comes into its own. This is a simple insulated pouch or sleeve designed to fit your cooking pot (or dehydrated meal packet). This helps to keep food hot for up to 15-20 minutes, during which time it'll continue to simmer and rehydrate – this can save a surprising amount of fuel! You can also wrap dehydrated pouches in your sleeping bag.
If you can spare the weight, it's worth bringing along a little fresh food, especially for the first night after a town stop.
Even if you intend to rely on dehydrated meals, two things worth carrying are a head of garlic and a small bottle of olive oil. These can help add flavour and extra calories to any meal.
Don't forget to treat yourself with a pub or restaurant dinner every once in a while when you can. Good as modern outdoor meals are, you'll appreciate the luxury of real food.
---
Food review
Blå Band
Blå Band offer a good range of meals, with some unusual choices as well as the classics. Several vegetarian and gluten-free options, but many contain palm oil and other additives. Packaging is very convenient, with a wide opening – no long spoon required! Pricing is competitive and rehydration times are about average.
Top choices
Skinnarmo's Pasta Carbonara / 4 stars / 650kcal / £6.75 / 143g
A delicious and filling carbonara, made with beef. It has a very cheesy flavour. Like all Blå Band meals, the packaging is convenient to fill and eat from. The main downside is the low calorie count, but the price is good.
Tropical Breakfast with Cereal Flakes / 4 stars / 572kcal / £5.75 / 139g
This tasty breakfast can be prepared with hot or cold water, but I found it best eaten warm. It made a great change from the porridge breakfasts I'd been eating from other brands.
Other products tasted
Expedition Foods
A good range of classic, British-made dishes available in packs up to 1,000kcal, including some vegetarian and gluten-free meals. Price, weight and calories are good. Rehydration times often slightly longer than average and no internal fill line in packaging.
Top choices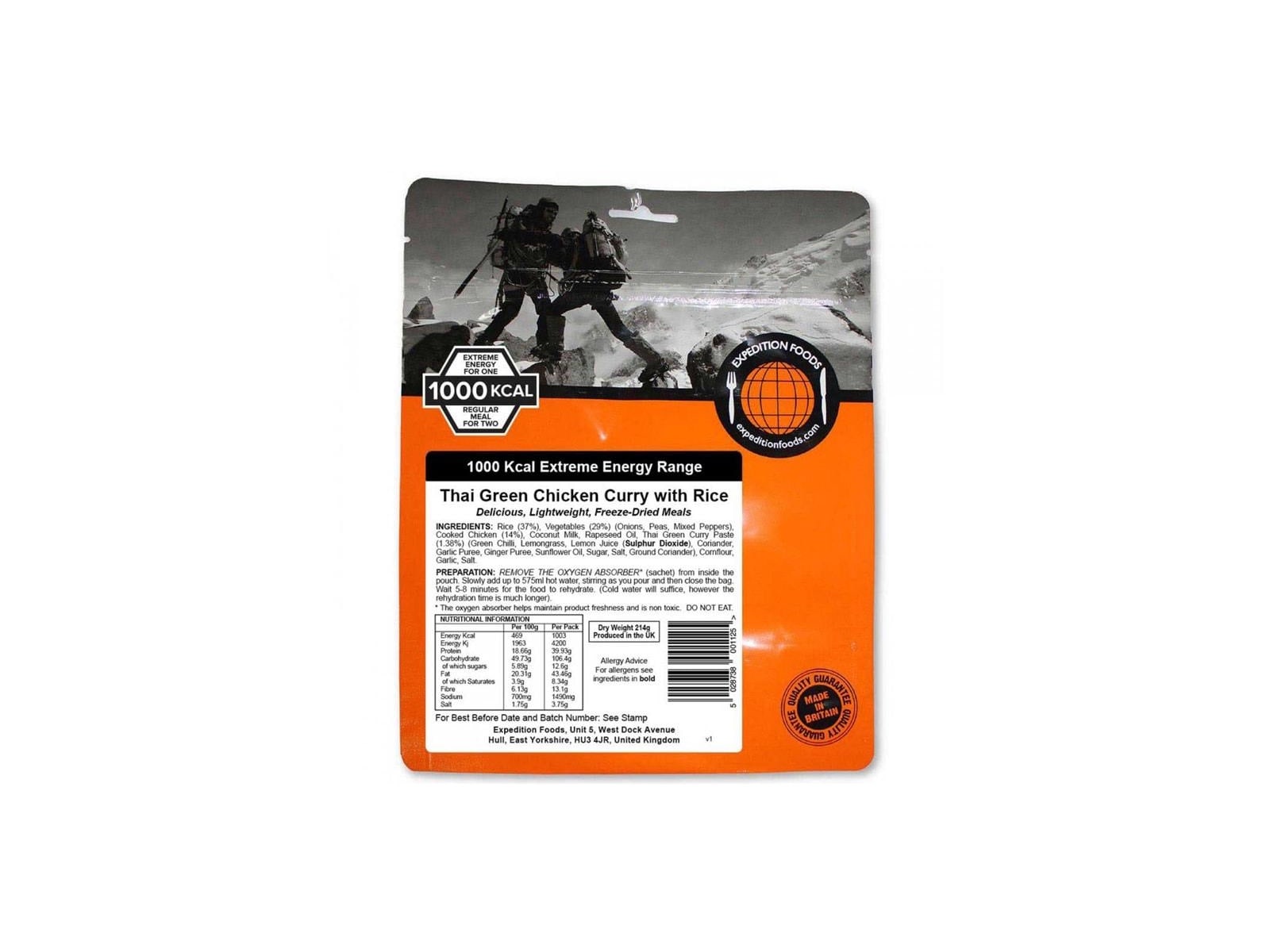 Thai Green Chicken Curry with Rice (High Energy) / 4.5 stars / 802kcal / £7.49 / 171g
This is very tasty with a great texture, and has a lot of energy – it made a filling and satisfying main meal. However, I found it slow to rehydrate.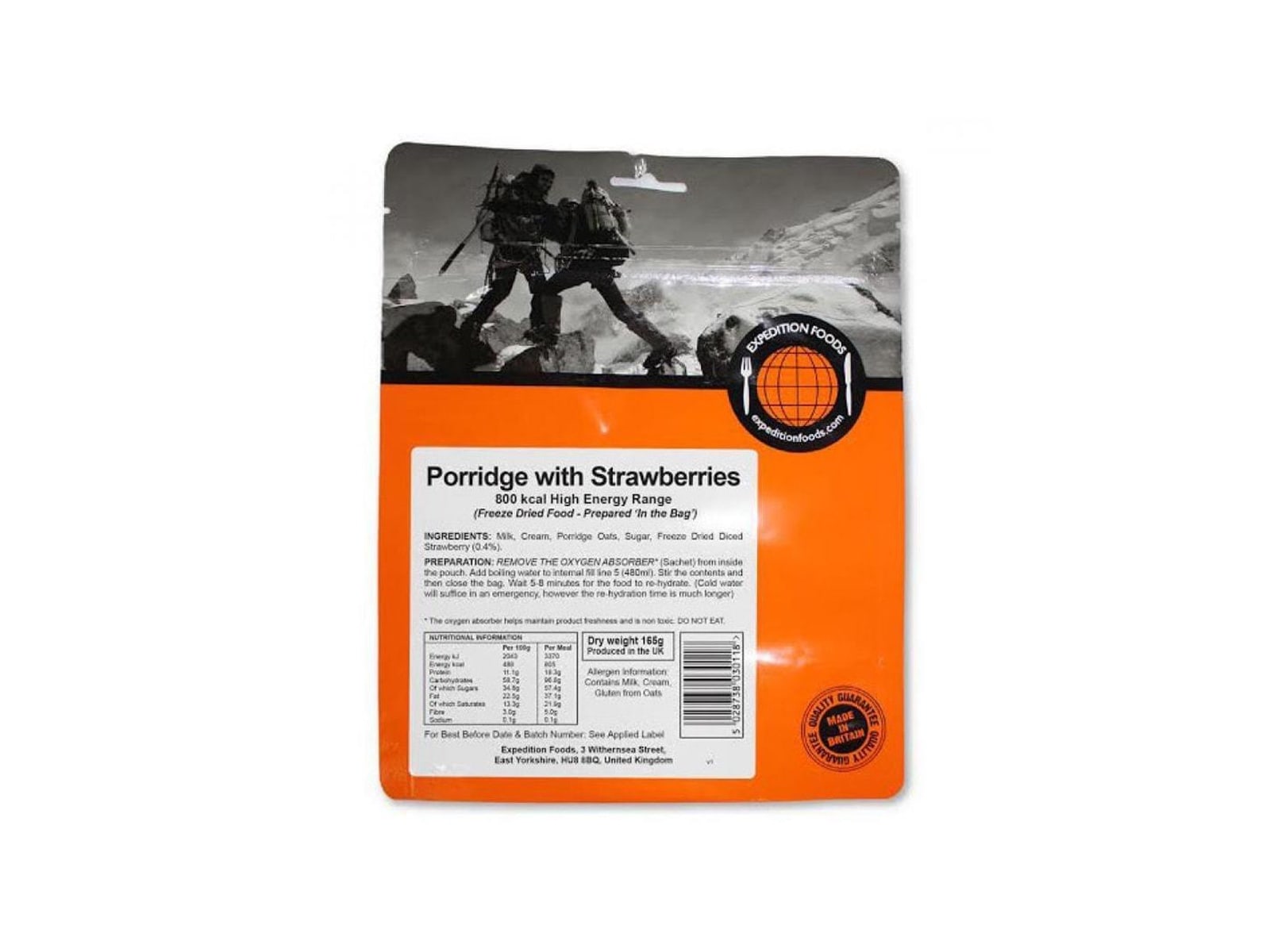 Porridge with Strawberries (High Energy) / 4.5 stars / 805kcal / £7.49 / 165g
One of several varieties of porridge from Expedition Foods, these were breakfasts I soon came to look forward to! The option of having breakfast meals with over 800kcal was fantastic, something missing from other brands.
Other products tasted
Firepot
This Dorset-based brand offers a small but growing range of meals with a focus on quality ingredients – no artificial additives, flavourings or preservatives, and no palm oil. Firepot recently launched the option of compostable eco packaging and there are several vegan products. Rehydration times can be slow.
Top choices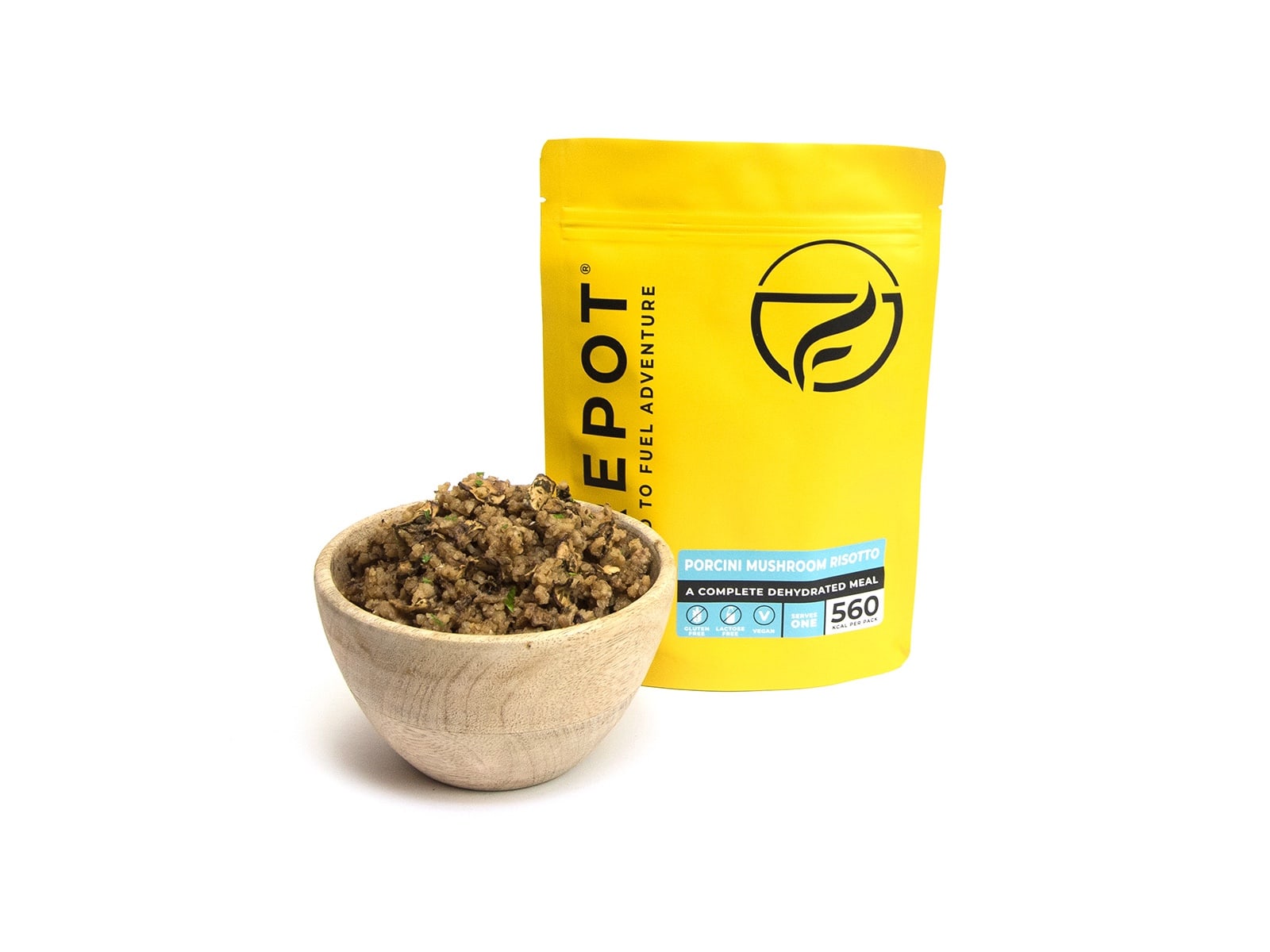 Porcini Mushroom Risotto (XL) / 4.5 stars / 830kcal / £8.95 / 200g
This spicy and delicious mushroom risotto is one of my favourite dehydrated meals from any brand, and one I keep coming back to. It even tastes delicious cold soaked (you have to rehydrated it for several hours if using cold water). The XL pack offers a filling meal. Like many Firepot products it can be slower to rehydrate, though.
Other products tasted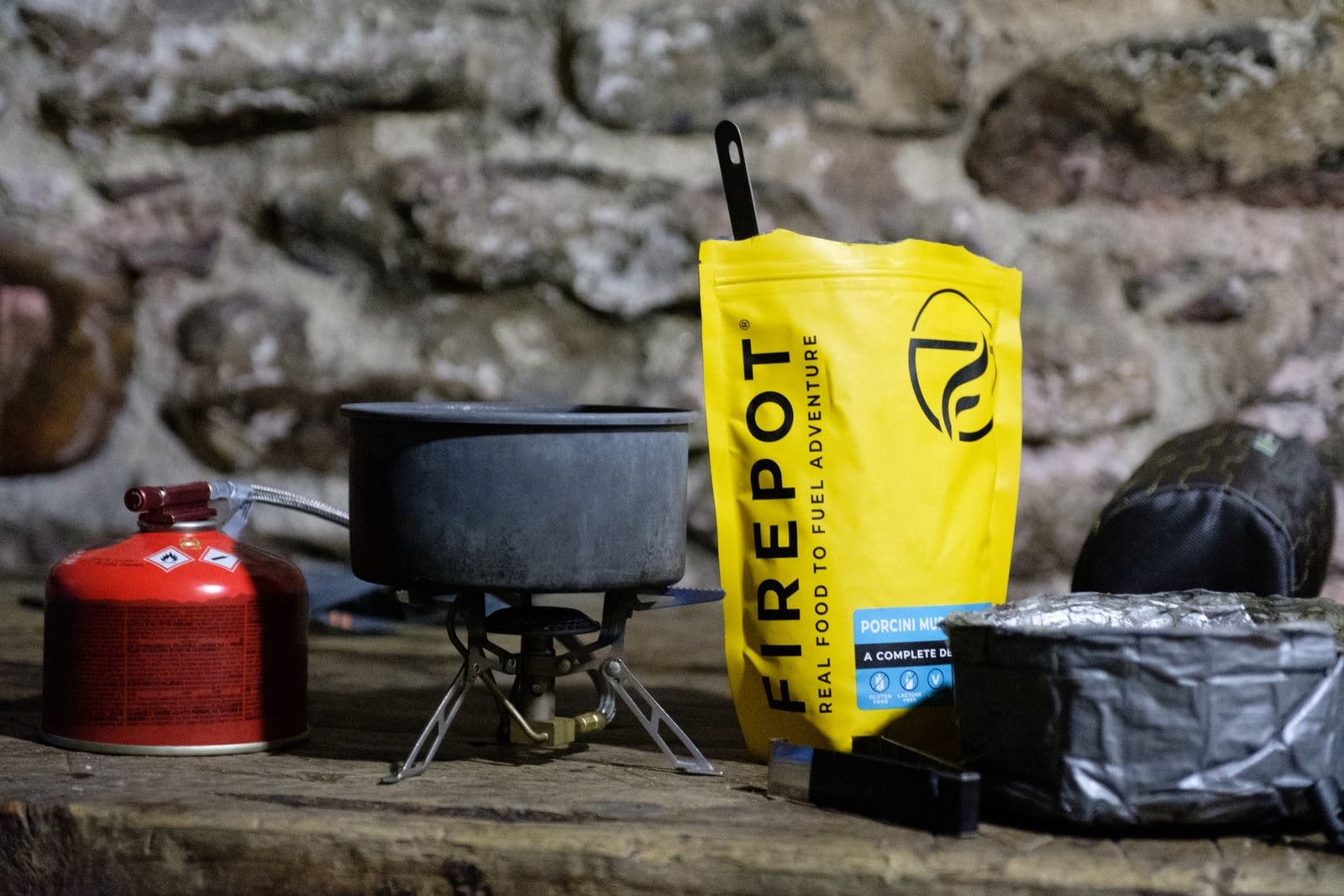 LYO Expedition
All meals are free from artificial additives and preservatives, with several gluten and lactose-free options. Convenient resealable packaging. LYO Expedition meals often have very satisfying flavour and texture with bigger 'chunks' than other brands. Pricing is about average per meal but poor for the calories you get.
Top choices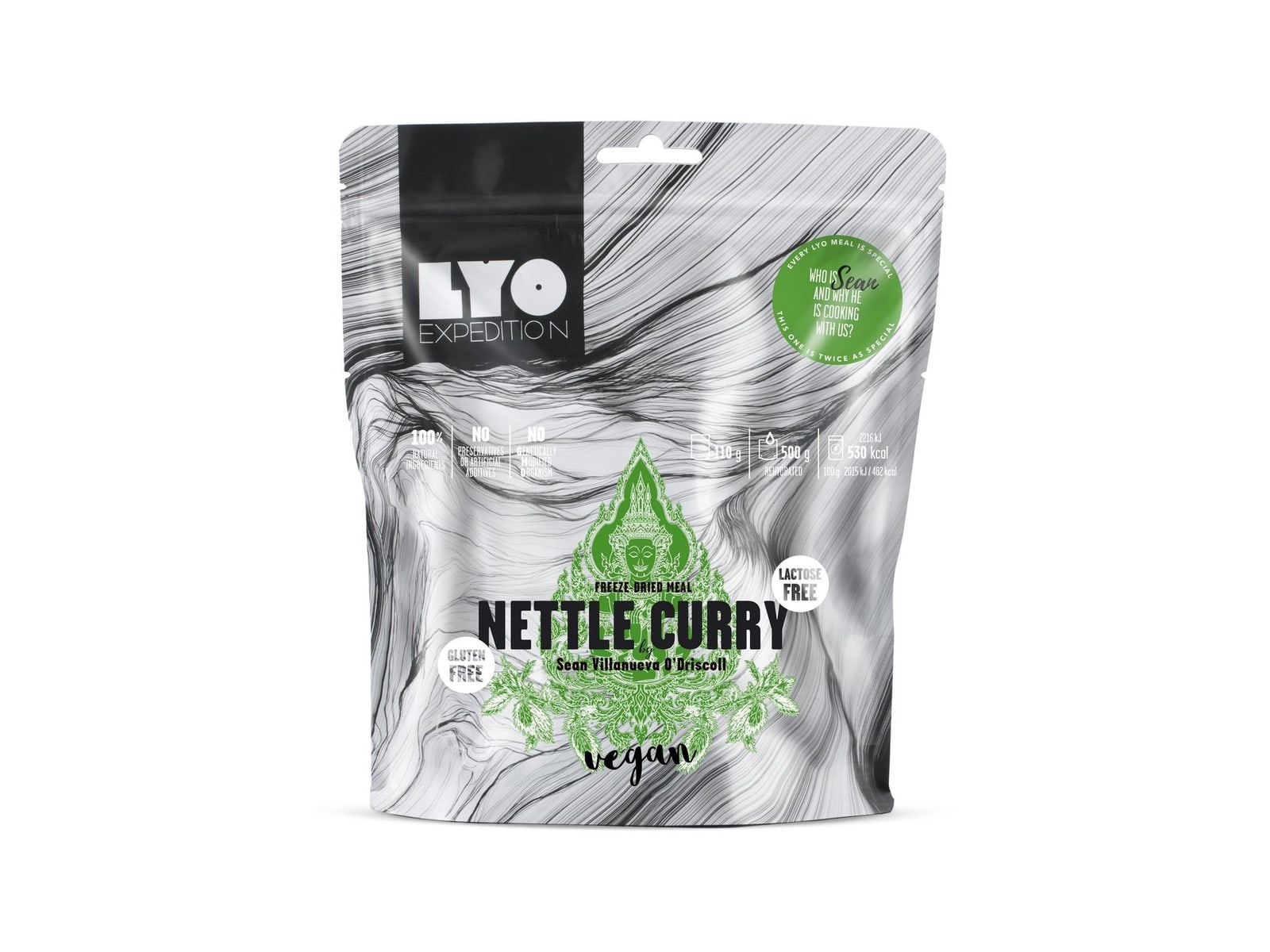 Vegan Nettle Curry / 5 stars / 530kcal / £7.99 / 110g
The best meal of the trip! Superb flavour and texture, with large chunks of vegetables that actually tasted like vegetables. The excellent taste made up for the low calorie count.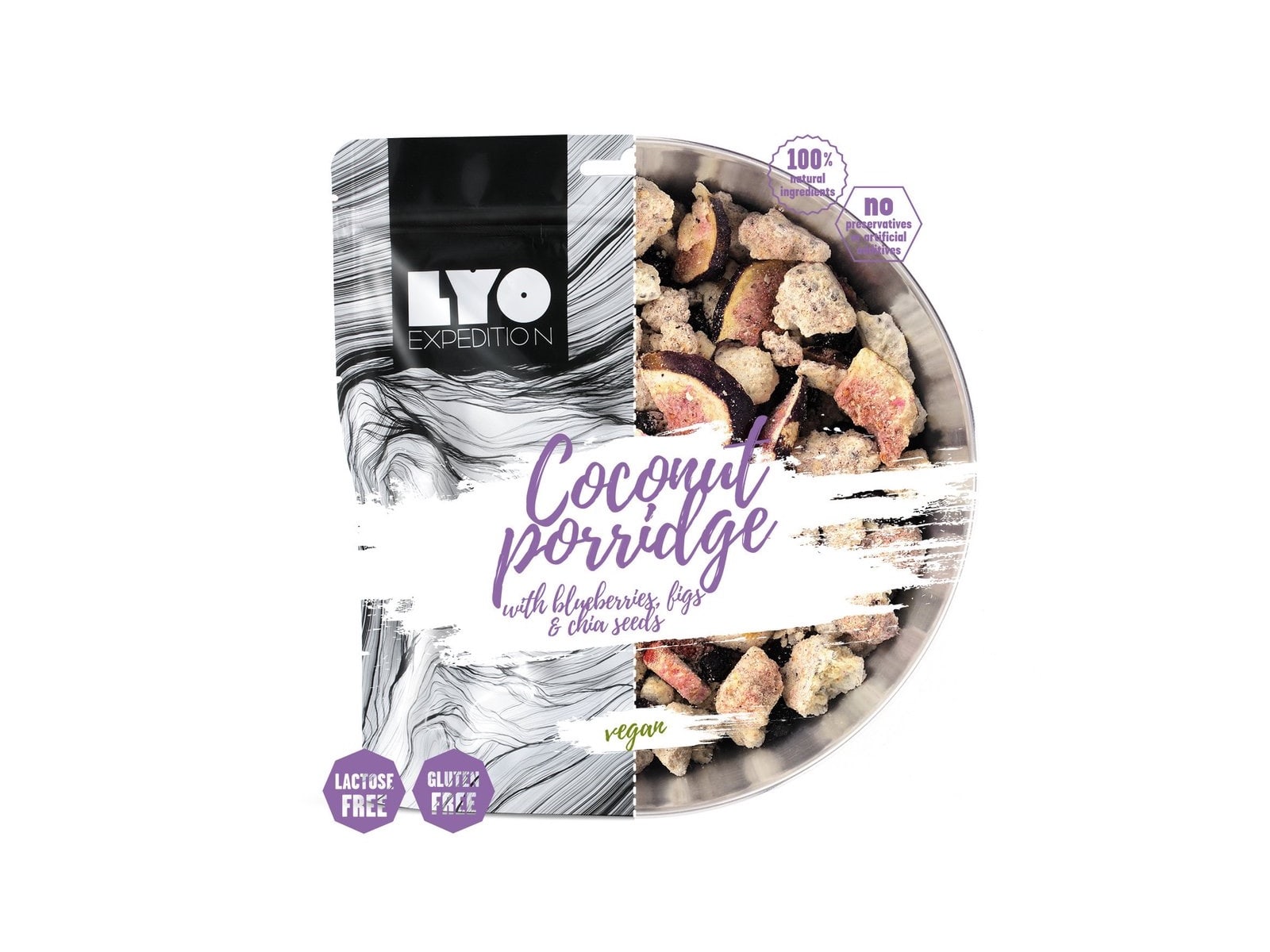 Coconut Porridge with Blueberries, Figs and Chia Seeds / 4.5 stars / 518kcal / £5.50 / 100g
The best breakfast of the trip, and a real treat with some fantastic flavours. As with the nettle curry, the texture was particularly 'realistic' – it was easy to forget I was eating a dehydrated meal.
Other products tasted
Primal Pantry
Primal Pantry make high-protein snack bars made from quality, whole-food ingredients. The range is gluten-free, dairy-free and vegan. Portion sizes are small, so best thought of as a trail treat when you fancy something more nutritious than a Mars bar.
Top choices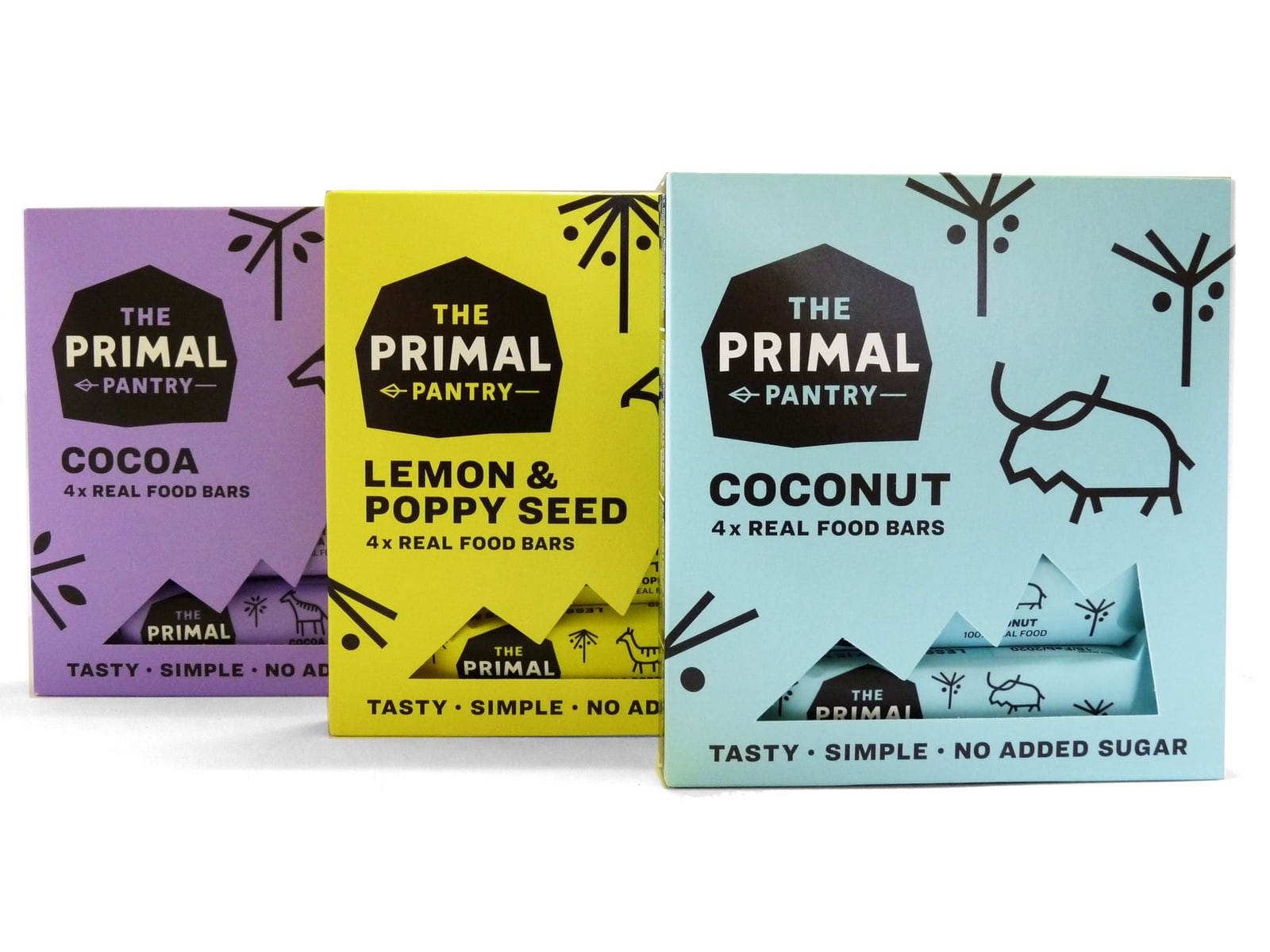 Cocoa Fruit & Seed Bar / 4 stars / 127kcal per bar / £2.50 (4-bar multipack) / 30g each
These small bars were a great pick-me-up on the trail for the occasions when I got bored of my usual snacks. They don't make a big mouthful, but the flavour is good and I looked forward to these.
Other products tasted
REAL Turmat
Made in Norway, REAL Turmat provide a range of Scandinavian flavours. Meals are gently freeze-dried, which helps to preserve texture. Rehydration often quick (but claimed times sometimes optimistic). Many vegetarian, milk-free, lactose-free or gluten-free options; prices often high and calorie counts low.
Top choices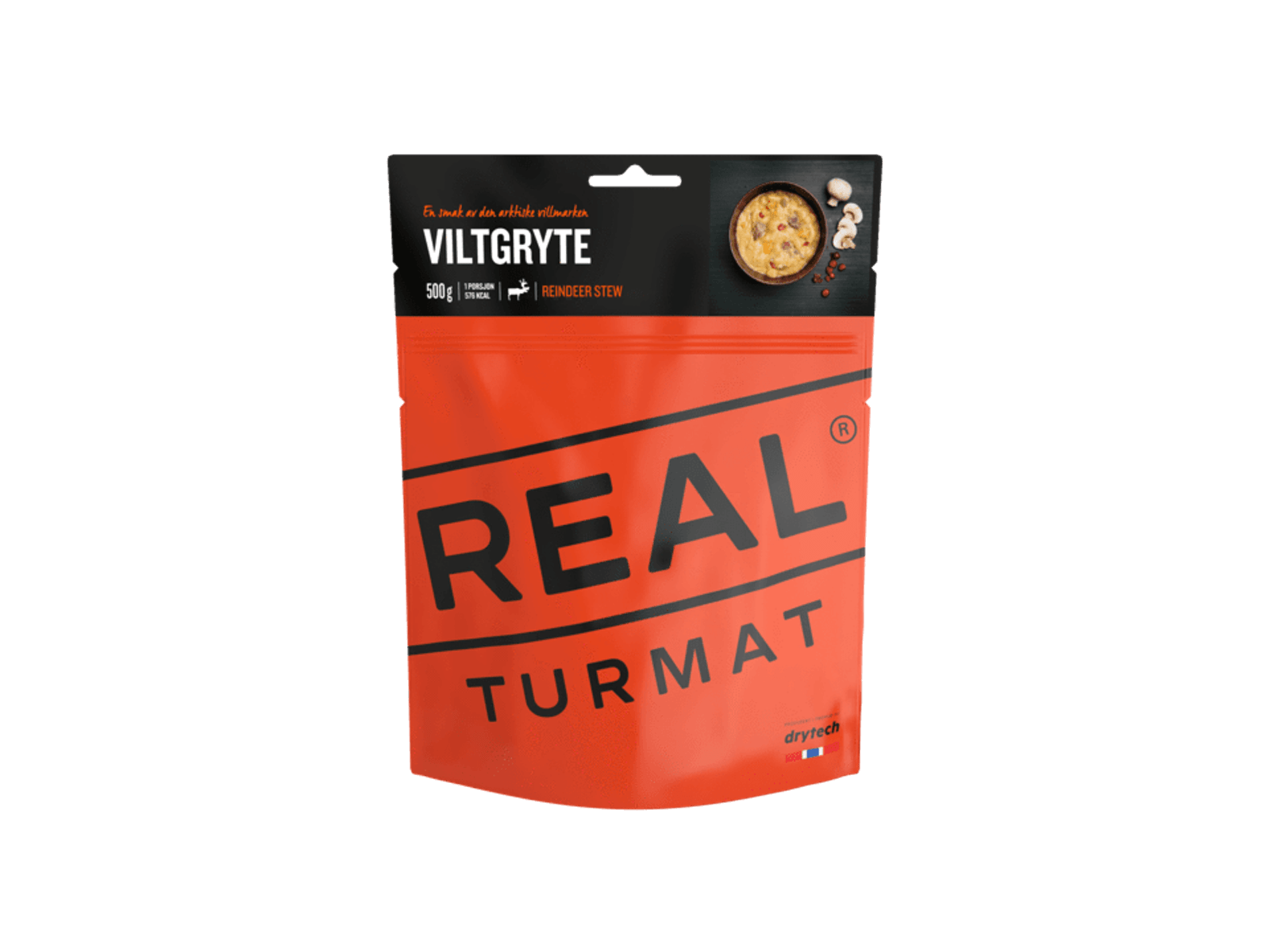 Reindeer Stew / 4 stars / 578kcal / £11.99 / 111g
This hearty stew was delicious and really hit the spot after a cold day in the mountains. However, the calorie count is low and the price is very high.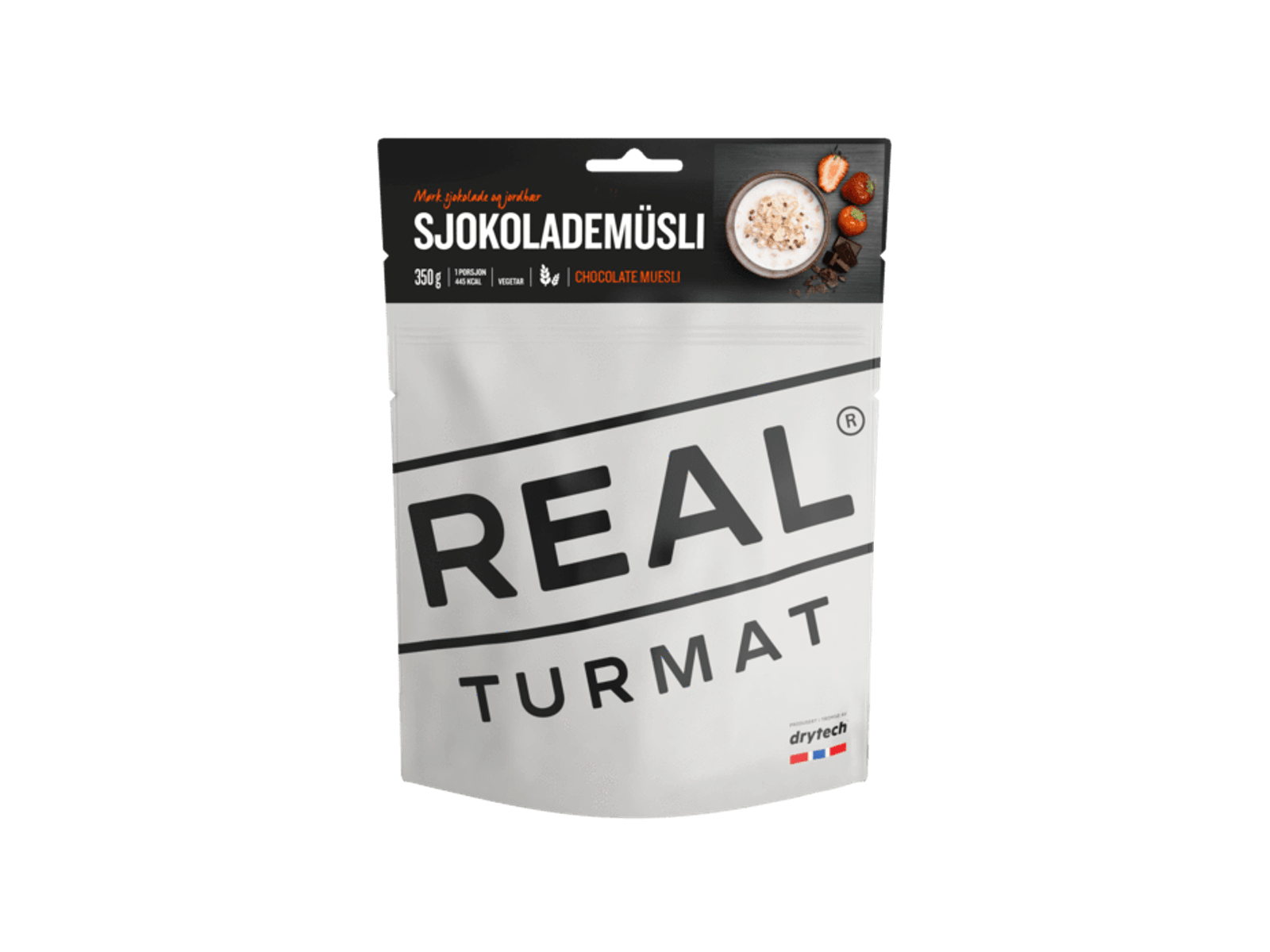 Chocolate Muesli / 4 stars / 447kcal / £5.99 / 114g
Another breakfast that can be prepared with hot or cold water, and is ready to eat immediately. There are some artificial additives but the flavour is good.
Other products tasted
Summit to Eat
Summit to Eat offer a basic range with some vegetarian options, but less choice than other brands, and some contain highly processed additives. Rehydration times average. Cheaper than most other brands.
Top choices
Vegetable Chipotle Chilli with Rice / 3.5 stars / 628kcal / £5.50 / 136g
This was the best of this brand's main meals that I tried. The chilli flavour was good, but the texture was not as satisfying as chilli options from other brands.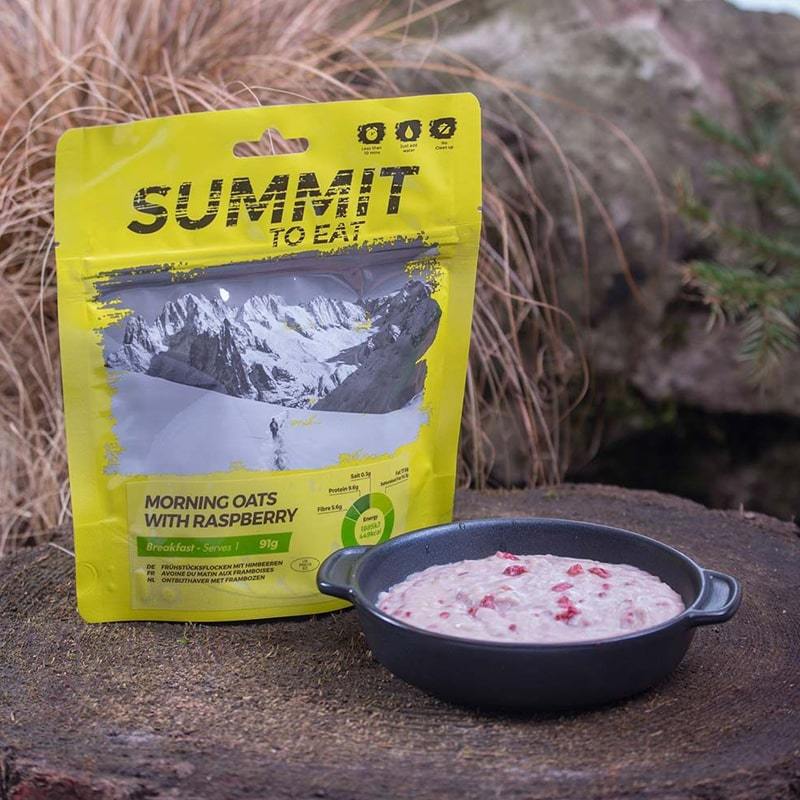 Morning Oats with Raspberry / 3 stars / 449kcal / £4.50 / 80g
A decent porridge breakfast and at a good price, but the pink appearance and sloppy texture were not very appetising – it looked rather artificial.
Other products tasted
---
Transparency disclaimer
The products mentioned in this review were provided free of charge by the brands. However, this does not affect our impartiality in any way. Unlike some of our competitors, who only review items from brands that advertise with them, advertising relationships aren't a factor in our gear reviews here at The Great Outdoors.
We have a long and proud history of robust, authoritative and trustworthy testing. Our highly experienced testers know what works and what doesn't, and we always tell our readers the truth about a product. If an item has flaws, we'll tell you. Equally, if it's outstanding, we'll do our best to highlight its good qualities. Honest reviews are very important to us at TGO, and we take this responsibility seriously.