Our guide to down jackets: the features you need for walking and backpacking, fit, fill, fabrics, and more.
By Chris Townsend
This gear guide was first published in the January 2019 issue of The Great Outdoors.
Contents
---
Down or synthetic – which is best?
Despite all the advances in synthetic fills, down is still warmer for the weight and down jackets pack much smaller than equivalent synthetic ones. Down is generally more expensive than synthetics too, although this gap is closing, as it is with longevity, though down is still longer-lasting. Down is also soft and very comfortable, moulding to the body for near-instant warmth.
The big plus point of synthetics apart from the cost is resistance to moisture. They soak up less water and dry much quicker than standard down (though not hydrophobic down) – and nothing is very comfortable when sodden. In rain down clothing is generally too warm to wear while moving anyway and you probably won't need it at rest stops then – if you do, getting it on and then pulling a waterproof over the top can be done quickly. Also, down jackets usually have a DWR (durable water-repellent) treatment that keeps rain out for short periods. Whilst getting a down jacket soaked is best avoided, a little dampness isn't a problem. I've used down garments for two-week trips in very humid conditions with wet snow or rain most days, and they've stayed dry and kept me warm as they were never directly exposed to the weather for very long.
Loft
Down is made up of fine tendrils that trap warm air. When not compressed the down expands. This thickness is called 'loft'. The higher the loft, the warmer the garment. How much volume a specific amount of down will fill is called the 'fill power'. The higher this is, the warmer the down will be for the weight. In Europe the measure used is height in millimetres per 30 grams of down, whereas in the USA it is cubic inches per ounce of down. Because these methods are slightly different US measured down has a higher fill power than European measured down. Most makers don't tell you which measurement they have used however.
Construction and design
Whilst loft is the main factor in how warm a garment will be, construction and design do matter. Down has to be held in separate compartments. The seams of these may be sewn-through, which is simple, or have walls between them, which is more complex and expensive but also warmer as heat can't escape along the stitch lines. For British use sewn-through construction is fine. Down garments are most efficient if close-fitting whilst not being so tight that the filling is compressed. A bellows effect can push warm air out of cuffs, collar and hem so these need to be close-fitting too. A hood makes a huge difference to the warmth too.
Ethical down
Down comes from geese and ducks bred for food. Until a decade or so ago there was little concern about the conditions in which these birds were kept or how they were treated. However, investigations by environmental and animal rights organisations showed that some were force-fed for foie gras while others were live-plucked, and many were kept in poor conditions. This resulted in many companies setting standards for down supply. Here I've given the information currently provided by companies on their websites, if any.
Features
1. Fill
Fill power is the measure of how much down will rise or loft when uncompressed. The higher the fill power, the more loft the down has – making high fill power down warmer for the weight. Some down jackets have synthetic insulation at key points for moisture resistance. The latest technology blends down with polyester so it doesn't need baffles or a windproof shell. Hydrophobic down resists moisture far better than standard down (but it's still wise to avoid getting it wet).
2. Shell fabrics
Shells are usually made from tightly woven nylon or polyester fabrics as these are windproof, breathable and downproof. They dry fast too and can be quite water-resistant if they have a good DWR treatment. Pertex is the leading brand but there are similar fabrics. They are all usually quite thin and so don't have the tear or abrasion resistance needed for scrambling, say. However, they are mostly quite smooth, so a shell can be worn over them without it binding and restricting movement.
3. Pockets
Insulated handwarmer pockets are very useful in a warm garment. Pockets that can be accessed while wearing a pack hipbelt are the best if you plan on doing much hillwalking. Roomy pockets into which you can stuff hats and gloves when you're not wearing them for short periods are worth having too – ones inside the garment are especially useful for this as the stashed items will stay warm.
4. Hoods
Whilst not essential, a warm hood can be very welcome on a stormy day and replaces the need for a separate hat. Adjustable hoods are best as ones with just an elasticated brim can blow off in strong winds.
5. Weight and bulk
Down jackets are very light for the warmth provided. The heavier ones are suitable for temperatures well below freezing, while the lightest can be carried in summer for cool evenings and combined with other warm garments in sub-zero temperatures.
6. Size
Having the same size label doesn't mean that garments are actually the same size as each other. Some are sized to fit closely – these are often labelled slim or athletic cut – so if you want to wear them over a fleece or softshell a size larger than normal is needed. Other garments are sized to fit over several layers and feel baggy worn over just a base layer. Some of the Medium garments tested were as roomy as some of the Large ones. Overall, sizes seem to have shrunk. I checked some Medium-sized jackets I've had for several years and they're a bit bigger than many of the Large ones in this test.
Down jacket review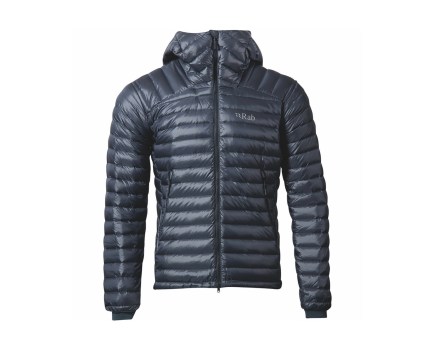 An excellent choice for cold-weather backpacking.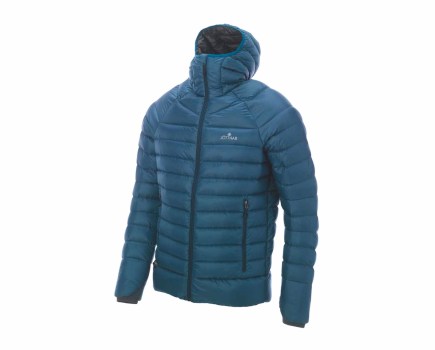 A close-fit down jacket that's warm for the weight.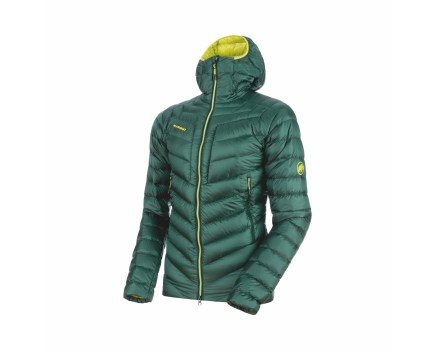 A more expensive jacket made with ethically sourced down.
A top-quality jacket made with water-resistant down.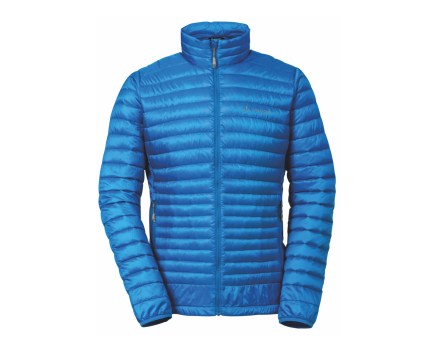 A very light jacket made with PFC-free materials and ethically sourced down.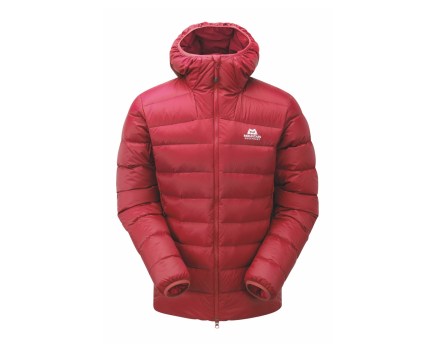 A warm and water-resistant jacket great for very cold weather.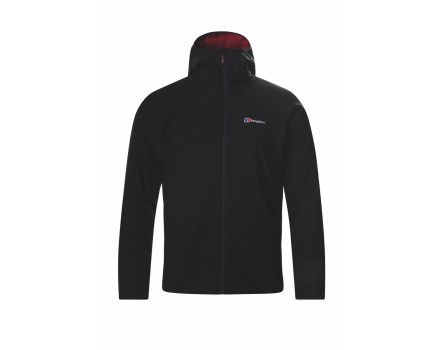 An unusual down jacket, breathable enough to be used as a midlayer in the coldest conditions.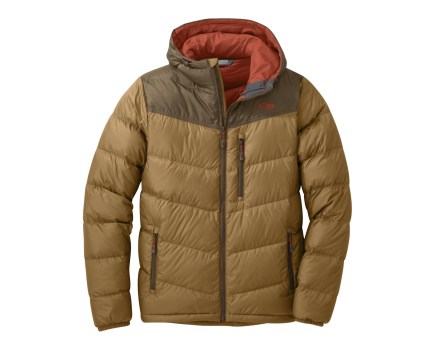 A more affordable option with ethically sourced down.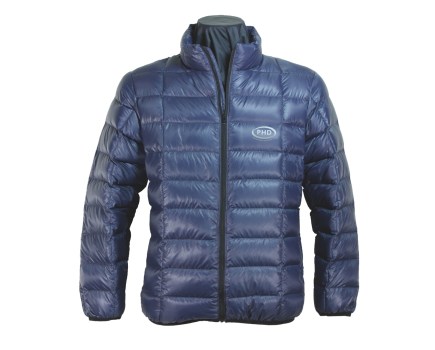 Unbeatable warmth-to-weight ratio.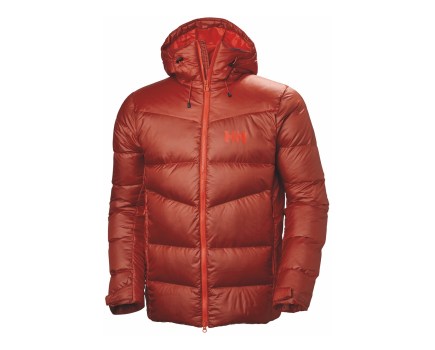 A PFC-free jacket great for the coldest weather.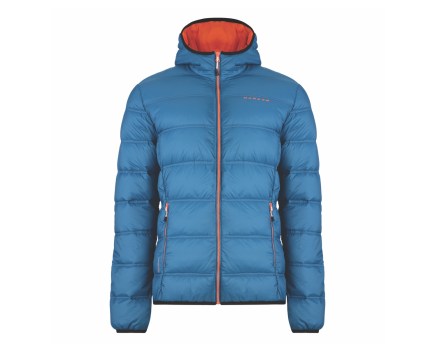 An affordable and lightweight down jacket.
Header image © Shutterstock / Vitalii Matokha