Waterproofing products will extend the lifespan of your waterproof jacket, trousers or other pieces of waterproof clothing. Enabling you to be kinder to the environment. David Lintern tests and reviews three of the best.
Products which restore the water-repellency of your waterproof clothing can significantly extend the lifespan of your kit, and should be seen as an essential part of your outdoor gear maintenance. 
They also have an important – and perhaps increasing – role to play in using outdoor gear in a way which is kinder to the environment. 
David Lintern gives some background on these useful products – and puts three of the best to the test.
Science behind waterproofing products
Perfluorocarbons, or PFCs, are the hydrophobic (water-repellent) chemical compounds often used in the membranes or finishes of the waterproof clothing that keeps us dry outdoors, sometimes called DWR (durable waterproof repellent).
They are well suited to outdoor gear because they are very stable, resisting wear and multiple washes. However, stability has turned out to be a double-edged sword.
The chemicals persist over decades in the environment and in our bodies, and are linked with cancers, reduced fertility, suppressed immunity and thyroid disruption – in both human and animal studies.
As a consequence, there's a move to detox outdoor gear, either using less harmful PFCs or removing them altogether.
The technical challenge is to maintain hydrophobic performance with less stable – and therefore less persistent and damaging – chemical replacements.
Practically, that means increasing the frequency of cleaning and re-proofing that we, the consumer, do at home. 
That's excellent news for the manufacturers of aftercare products, of course. It also makes this both a highly competitive market and quite confusing for us, the users!
The waterproofing test
Garments are made up and treated differently at the point of manufacture, and in the review process I would subject the clothes to differing conditions – rain, wind, exertion and so on.
I don't live in a lab, so my test would need to be 'real world'. That said, I wanted to be as objective as possible, so I used the same machines and the same garments each time. 
Exhibit A was an old, three-layer Gore-Tex Pro jacket from Arc'teryx, now showing signs of wear on the sleeves, shoulders and seams.
Exhibit B was an even older pair of Berghaus Gore-Tex Paclite trousers. Again, these have given sterling service but were ready for a refresh.
The washer and tumble-dryer in my house are both very standard and were purchased between 2012 and 2014. Both were cleaned prior to this process, something that's necessary in order to remove all 'normal' detergent.
Because dirt and oil inhibit the effectiveness of waterproofing products, I also used each brand's cleaning solution ahead of reproofing. I did not 'cross-test'  (use one brand's cleaner with another brand's proofer).
After washing and reproofing the garments each time, I did lots of walking in the rain. I aimed for medium to heavy rain, with an emphasis on 'persistent' in each case, over several hours or more for each waterproofing product.
Three of the best waterproofing products for clothing
BEST BUY 
Grangers claims to be the first aftercare brand to have developed a water-based waterproofing product, in 1947, and the first to be bluesign-accredited, in 2007, showing they meet a certain environmental standard.
Theirs is a two-stage process, but only one involves a washing machine. Performance Wash is now in a concentrated solution and is therefore great value – only 25ml per small load is needed. Again, I washed on a 1 hour, 30-degree cycle.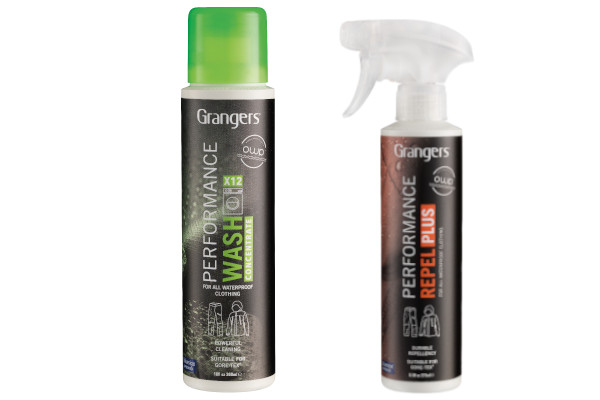 Performance Repel Plus is applied by hand using a non-aerosol spray, whilst  the garment is still damp, after which the clothing is left to air dry. I found I used about a third of a bottle on a full set of waterproofs.
All the packaging is 100% post-consumer recycled plastic (including ocean waste plastic) whilst the cleaning and proofing liquids themselves are PFC-free and bluesign-approved. 
I'm familiar with Grangers' wash-in proofer product but had reservations about the spray version. The brand says the spray allows extra on areas that need it most, while I was concerned about coverage around the hood and under the armpits.
Using a coathanger helped, and in practice the jacket beaded well and kept working. If anything, I found I stayed a touch drier using the Grangers treatment than the others here; but bear in mind that Grangers was the last test I did, so despite the fresh wash cycle my clothes may still have contained residues from previous waterproofing products. 
2. NIKWAX
Recommended
Nikwax claims to be the first to have introduced water-based, fluorocarbon-free cleaning products for use in home washing machines, in the 1980s. It uses the well-regarded Higg Index to measure its environmental impact, including packaging.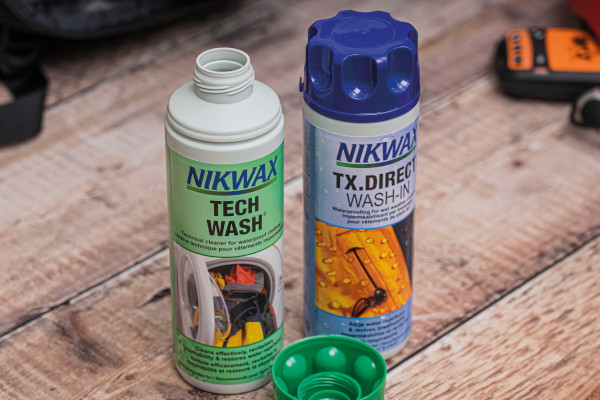 Both Tech Wash and TX Direct can be used in machines or by hand. In a machine, it's a two-cycle proposition – a 100ml for the wash, and another 100ml for the proofer.
A 30-degree cycle for an hour each time is recommended, before leaving to drip-dry.
I've used Nikwax for many years and in this test, as before, it performed well and kept me comfortable. As expected, my test jacket beaded well at first; but it is old and so I anticipated seeing 'wetting out' on more highly abraded or exposed areas during a good soaking.
However, as soon as the rain eased, the outer layer dried out a little and the inner carried less condensation and was comfier to wear as a result. 
My waterproof trousers (2.5-layer, not three-) fared less well. The most worn and exposed areas are the knees, and they began to wet out after about an hour each time. This was not instant or 'extreme', just the beginnings of moisture forming on the inside. 
3) STORM
Recommended
Storm has recently become the aftercare partner brand with Patagonia. It is perhaps less well known than the other two brands here, but that doesn't prevent it offering a well-thought- out waterproofing product that considers the environmental impact of the entire proofing cycle. 
First off, it's a one-wash process. There are two bottles; pop 75ml of the wash product into the detergent drawer, and 75ml of proofer in the conditioner drawer.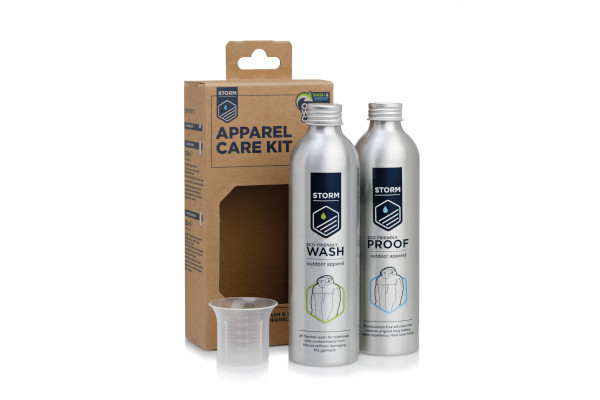 This keeps things simple and saves on water and electricity. The use of aluminium packaging is also excellent – 75% of all aluminium in existence is and has been recycled. I ran a one-hour cycle at 30 degrees. 
The brand recommend you tumble-dry, if possible, in order to bond the proofer to the fabric. I own a tumble dryer that has a gentle setting suitable for a waterproof, but I wouldn't suggest doing this at a launderette, as the machines can be too hot for synthetics. 
My waterproof jacket and trousers beaded water almost 'as new' when freshly proofed with Storm. Even a tatty old windshirt benefited. Because I'd never used Storm proofer before, I opted to give it a real run for its money, testing it on the Cape Wrath Trail. 
We had some appalling weather during the middle of the three-week trip and I remained dry on all but one of those days, when the arms of my jacket did wet out.
Interestingly, in just-as-wet but windier conditions the day after, the jacket kept me dry, suggesting that the proofer didn't simply wash out, but that atmospheric conditions were also at play on the previous day.
Given that this wash and waterproofing product is free of both long- and short-chain fluorocarbons (PFOS, PFOA and PFC) I consider this to be a success.