With summer upon us, Alex Roddie tests five packs to help with the all-important job of staying hydrated in the outdoors.
Water is something we all need in the mountains – summer or winter, we can't do without it. Having a reliable, easy to use hydration pack is vital not only for our health but for performance too.
Not surprisingly, warm weather usually presents the biggest risk of dehydration – but it can also be a real problem even on cold and wet winter days, because staying hydrated doesn't seem like as much of a risk and we can end up not drinking enough as a result.
You might find those uphills feeling a bit more strenuous than they should, and the net result is a day out on the hill that – at best – isn't enjoyable.
Traditionally, the advice has always been to carry enough water with you from the start of your walk (several litres may be needed on a hot day). There are many more options these days than simple water bottles.
Flexible hydration packs can either supply water to a hose that runs over your shoulder, ready for drinking through a bite valve at any time – great for fast-paced activity – or can be used as soft bottles, a hybrid between a bottle and a hydration reservoir.
One of the great things about our soggy British hills is that water is more widely available than elsewhere in the world, so you may not need to carry all that water with you right from the start.
This can save lots of weight, especially on a long-distance walk. But is water gathered from streams or rivers safe? In remoter areas at higher elevations, often the answer is yes, but sources can be contaminated by livestock or human activity.
Testing notes
Alex tested these hydration packs on a variety of day walks, short multi-day backpacking trips and trail runs in the Scottish Highlands, Lake District, and at home in the Lincolnshire Wolds. He's been getting into fastpacking recently, so has been using hydration reservoirs more than he normally would for walking.
What to look for in hydration packs
Size and weight
Larger reservoirs and bottles tend to be bigger and heavier. Some reservoirs have stiffened elements to make them easier to fill. This can add to the weight.
Larger bladders can bulge in the middle when full, making them hard to pack – look for an internal baffle that keeps the spread under control.
Opening
A wide opening is easier to drink from, easier to fill from a stream, and easier to squeeze water into from a filter. Wide-mouthed bottles are less likely to freeze in winter.
On a hydration bladder, the opening can be a weak point where leaks occur, so look for strong construction and a good seal. Bladders that open wide (or even turn inside out) are much easier to clean.
Design
Detachable hoses can be easier to dry and clean. A scale in millilitres is useful to help camp cooking. Bladders that can stand upright on the ground are easier to fill from a filter.
Mouthpiece
The mouthpiece on a hydration bladder must allow easy drinking but not leak. A shut-off valve is a handy feature.
Other features
Some products offer insulation options – handy for very cold or hot weather (hydration hoses easily freeze and keeping water cool is useful on hot days). Others include technology to keep bacteria growth under control. One of the options here has an integrated in-line filter, although this is unusual.
Best Hydration Packs to use when hiking
HydraPak Shape-Shift Reservoir
Best Buy | Stars: 4.5 | Price: £35 | Weight: 141 g
Pros: excellent mouthpiece, easy to fill, easy to clean
Cons: fiddly central baffle, bulgy in 2L mode
Materials: TPU, PP/POM, ABS, Silicone
Features: wide opening, detachable hose, mouthpiece with shut-off valve, expandable, reversible for cleaning, ml scale
Sizes: 2 L (tested), 3 L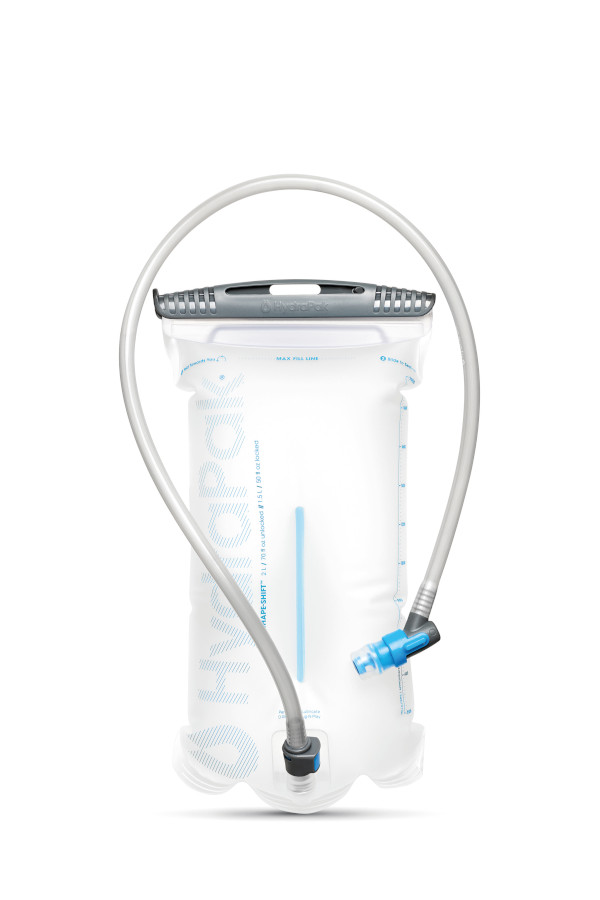 The Shape-Shift Reservoir is a practical and adaptable hydration system that ticks all the boxes. The design is tall and narrow – which helps it to fit in the hydration sleeves of most packs – and the entire top of the bladder opens for filling or cleaning.
It's secured by folding over and sliding a separate piece across. I've found this closure method more foolproof than a screwthread cap, and it hasn't leaked yet.
The headline feature is that the bladder can 'shape-shift' between either 1.5 litre or 2 litre capacity. In 2 litre mode, with the central baffle disconnected, it bulges out at the middle and can be harder to pack in a stuffed rucksack.
Clip the baffle back together again and you lose 500 ml capacity but it's more svelte and easier to pack. I usually used the bladder in 1.5 litre mode and didn't miss the extra capacity.
My main criticism of this feature is that once you've unclipped the baffle it's awkward to clip together again.
You can turn the bladder inside out for cleaning, and it can even go on the top shelf of the dishwasher. The hose is detachable, and the mouthpiece is the best of all the bladders tested, with a superb flow rate and no leaks.
There's also an integrated shut-off valve just behind the mouthpiece. HydraPak offer an optional ArcticFusion insulated hose for cold-weather use.
This is a premium-priced hydration bladder, but performance is superb. It's ideal for mountain use.
---
Hydro Flask Lightweight Trail Series Bottle
Recommended | Stars: 4.5 | Price: £39.95 | Weight: 272 g
Pros: lightweight insulation for hot or cold drinks
Cons: cap can be stiff to turn wearing gloves
Materials: 18/8 Pro-Grade Stainless Steel
Features: double-wall stainless steel insulation, flexible handle
Sizes: 21 oz (621 ml, tested), 24 oz (710 ml), 32 oz (946 ml)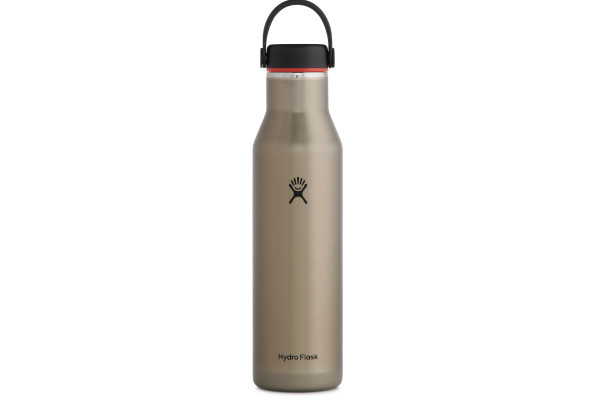 In winter, keeping hydrated can be a challenge, especially when backpacking – cold water soon freezes, and hot water doesn't stay hot for long.
Thermos flasks have, of course, been around forever, but they tend to be heavy and bulky. Adding the extra weight of an insulated flask will make weight-conscious backpackers pause for thought – is it really essential?
Hydro Flask's new Lightweight Trail Series makes that question a bit easier by trimming a decent amount of weight from their classic range of insulated bottles.
I tested the 21 oz (621 ml) narrow-mouthed version (a wide-mouth version is available). This has enough capacity for two or three hot drinks, and at 272 g the weight isn't that much more than some non-insulated bottles.
Construction is simple: a double-wall bottle made from stainless steel with an insulated plastic cap. There's no integrated cup – arguably not a downside for backpacking, as you'll likely be carrying a mug anyway, but less convenient for day walks.
In use I've found the cap to make a good seal, but it can be a little stiff and hard to turn when wearing gloves, partly thanks to the flexible hoop on the top.
It's claimed to keep liquid hot for 12 hours and cold for 24 hours. Although I haven't been able to test the latter claim, it'll certainly keep your tea or coffee hot all day on the hill – or will prevent warm water from freezing in your pack.
Cutting weight has had no discernible impact on performance. This makes it a great option for winter hillwalking.
---
HydraPak Recon Bottle
Recommended | Stars: 4 | Price: £15.49 | Weight: 202 g
Pros: 50% recycled materials, easy to drink from, durable design, wide mouth
Cons: silicone seal in lid can be stiff and squeaky, seal can freeze
Materials: Eastman Tritan™ Renew copolyester 50%, Silicone, TPU
Features: wide opening, flexible handle, ml scale
Sizes: 750 ml, 1 L (tested)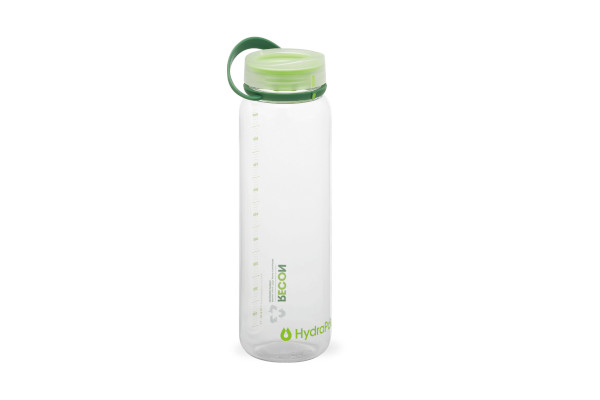 If you'd rather drink from a traditional water bottle than sip from a bladder, there's a broad range of options available.
HydraPak's Recon Bottle is made from 50% recycled Tritan Renew – an extremely durable clear plastic that is stain and odour resistant (it's also taste free).
The bottle is tall and narrow, which makes it perfect for sliding in your pack's side pocket, but the opening is still nice and wide – perfect for filling from a stream or filter, assisted by the flexible grab handle. You get a handy ml scale on the side.
The cap is where the innovation comes in. At first glance it seems like a conventional twist-off cap, but twist it to 180° and you can sip through an opening in the top.
I thought this was little more than a gimmick at first, but I've found it very practical. It makes this bottle quick to drink from but isn't as fiddly or difficult to clean as many sports caps.
Inside, the cap is sealed with a silicone seal. The seal can be removed for dishwasher cleaning. Although the seal does effectively prevent leaks, it also gets a bit stiff and squeaky after a while, which makes the bottle surprisingly loud to open!
Water droplets can also get trapped in the cap above the seal, and I've found it more likely to freeze than simpler designs.
Overall, this is an excellent bottle for use on the hill. I like the fact that it's made from 50% reusable materials, and it's easy to drink from.
---
Platypus Hoser
Stars: 4 | Price: £21.99 | Weight: 90g
Pros: lightweight, simple, great value, antimicrobial
Cons: no shut-off valve on mouthpiece, narrow opening on bladder
Materials: polyurethane, polyethylene, silicone
Features: basic mouthpiece, silver-ion antimicrobial treatment, 0.5 L scale
Sizes: 1 L (tested), 1.8 L, 2 L, 3 L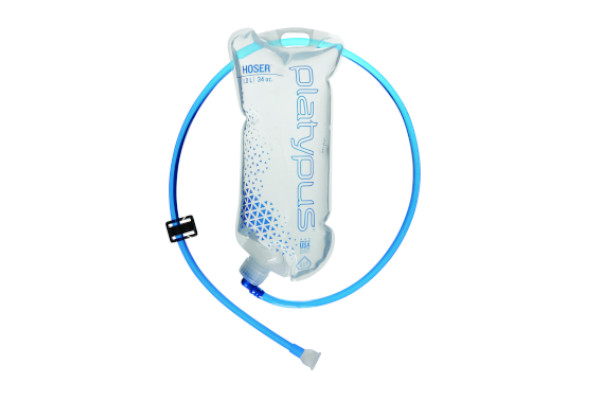 The Platypus Hoser is the simplest hydration reservoir you can buy: just a bladder, a hose, and a mouthpiece.
There is no internal baffle, no wide opening for easy filling or cleaning, and no shut-off valve. While some will miss these features, the price and weight are very attractive.
Due to the Hoser's simplicity, I found it ideal for use in smaller packs – it's also a perfect fit for my running vest.
If you use it in a smaller pack, you may find the included hose much too long (it's the longest of the hydration systems tested), but it can easily be cut to size.
The mouthpiece has an excellent flow rate and works well but can also be leaky – there's no shut-off valve included, which means that accidental pressure can lead to a dribble of water down your top.
However, you can add a shut-off valve if you want to.
Unlike other bladders tested, the opening is very narrow (standard 28 mm screw thread).
This is fine for filling from a tap but is difficult to fill from a stream. It can also be a challenge to filter water into it, and this design is a little more challenging to clean.
However, the Hoser has an embedded silver-ion treatment that Platypus say makes it resistant to mould and bacteria. I've certainly seen no evidence of nasty smells or tastes.
The Hoser's strengths are in its light weight, simplicity, and excellent value.
---
CamelBak Crux Reservoir Filtration Kit filtered by LifeStraw
Stars: 3.5 | Price: £64.99 | Weight: 282 g
Pros: integrated solution, antimicrobial, good mouthpiece, easy to fill and clean
Cons: expensive, bulky, difficult to suck water through filter
Materials: polyurethane
Features: mouthpiece with shut-off valve, wide opening, antimicrobial treatment, 0.5 L scale, detachable hose, in-line filter
Sizes: 2 L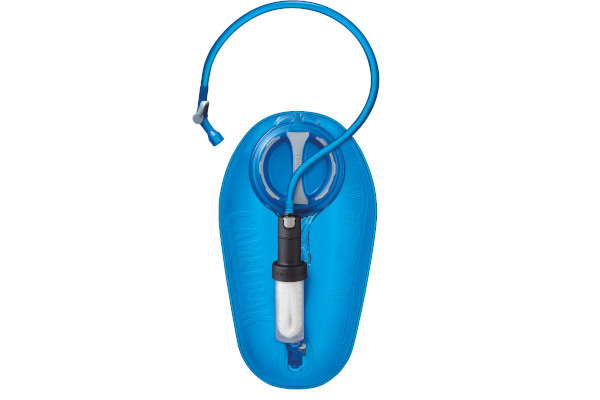 Camelbak's Crux hydration reservoir has been around for a while, but new to the range is the Filtration Kit including an in-line LifeStraw filter.
The idea is that you don't need to worry about filtering dirty water into your reservoir using a separate filter. Instead, just fill up the Crux from any water source and drink normally. You can use it either with or without the filter attached.
The reservoir itself is excellent. You get antimicrobial treatment, a very good wide opening with leak-proof screw cap and a handle for easy filling and cleaning, a detachable hose, and a superb mouthpiece – one of the best tested, with good flow rate and a shut-off valve.
The reservoir also has an internal baffle to stop it from expanding too much when full.
The in-line LifeStraw filter connects at the hose port and offers two stages of filtration: a hollow-fibre filter (good for bacteria and protozoa but not viruses), and an activated carbon filter (to reduce taste and odour and remove some chemical contaminants). The activated carbon filter must be replaced after 100 litres.
In use, the system does work – but the filter makes the whole setup very bulky with the reservoir full.
The filter also reduces the flow rate, making it much more difficult to suck water through the mouthpiece, especially if the water is dirty. On the plus side, an integrated system makes the whole process much simpler.
The excellent Crux reservoir itself can be purchased separately for £35.
---