In our daily lives we need to take in on average about 6 to 8 cups of water a day and when hiking that volume, depending on the temperature and terrain, should be substantially higher. As a basic guideline (though not a given) we should be taking on at least a litre every two hours.
Realistically then, when you're hiking long distances off-the-beaten track, carrying all of that water on your back inside your hiking backpack is going to be hard – especially if you've got a backpacking tent, sleeping bag and camping stove to carry too – and then there's also the problem that in most parts of the world, drinking water straight from a natural source such as a river or lake can come with risks. There's a simple solution to this issue, however, and that comes in the form of a backpacking water filter.
Often designed to be big enough to fit inside the pocket of your hiking pants, the best backpacking water filters will allow you to access hundreds of litres of drinkable water right where you find it, allowing you to travel fast and light and easing you of the burden of having to plan your trip around water resupply points.
There are some important things to know about backpacking water filters, however.
The first and most essential thing to know about backpacking water filters is that they aren't able to filter out viruses. In places like the U.S, the UK and most of Europe, viruses by and large don't pose too much of a risk when drinking from water sources out in remote areas, but in some developing countries care needs to be taken. That's when you'll need a water purifier that will conduct full sterilisation.
When you're looking to buy a device to help you drink from water sources in the wild, other things to consider include whether it is able to remove dirt and debris, whether it alters the taste of water (for better or for worse!) and overall convenience: how light is it? How smooth and fast is the flow rate? How many litres can you get from it? That kind of stuff. Simply jump down to the bottom of this article if you're looking for a complete buyer's guide to choosing a backpacking water filter or purifier.
How we tested the products in this round up
The majority of the products in this review were assessed by Will Renwick over the course of backpacking trips in the UK though some items were also tested on ultramarathons and also on multi-day fastpacking trips. Locations for testing include the Brecon Beacons, Snowdonia, the Norwegian Fjords and the mountains of Spain.
Best portable water filtration and purification
Here's our list of the best portable water filters and purifiers. These products were all selected for their convenience, portability and performance for backpackers and anyone needing a large supply of safe water while off-grid and on the go. Some of these will cater just for individuals while others while serve groups of people. It's worth noting that there are a range of capabilities here; some of the products are filters that can't remove viruses while others are purifiers which can remove viruses.
Katadyn BeFree – best water filter tested
Lifestraw Peak
Sawyer Mini
MSR Trailshot
Waterwell 700ml Travel Bottle
Lifesaver Wayfarer
Grayl Ultrapress
Lifesystems Chlorine Dioxide tablets
Katadyn BeFree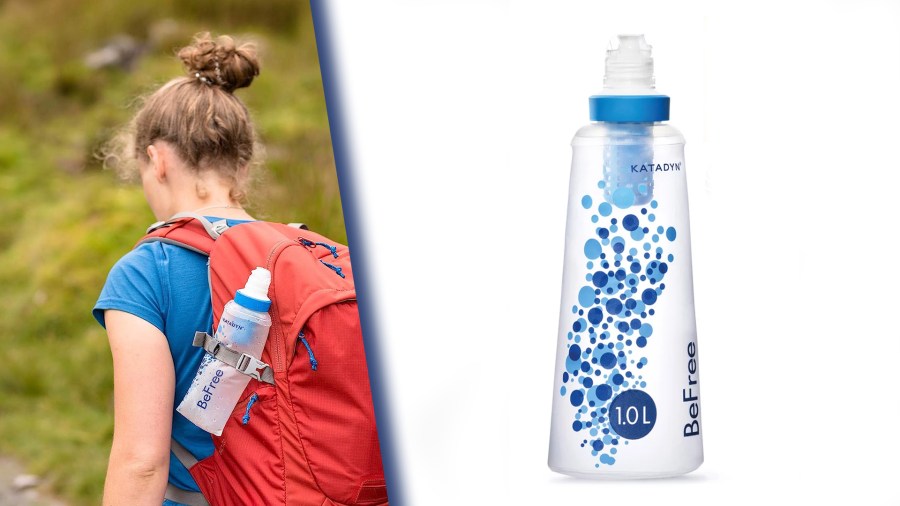 SQUIRREL_BUTTON_12925616
Price: £50 / $45
Weight: 2.3 oz / 65g
Type: filter
Pros: amazing flow rate, lightweight, easy to use
Cons: soft bottle vulnerable to punctures
While some filters such as those by Lifestraw and Sawyer can be a little bit tiring to drink through due to the amount of sucking that's required, this option from Katadyn involves minimal effort. It has the fastest flow rate of any filtered-by-sucking water filter we've used, giving you water that's free from bacteria and protozoa but not viruses.
In our tests, the flow rate was extremely impressive to start with but it did gradually begin to slow down the product was used. After a year of quite heavy use it was just about unusable – that's despite clearing it out regularly by blowing back through the filter and swishing it about in water, as advised by the brand.
Some reviewers online have commented that the squeezy bottle has burst at the seams under pressure. One of our testers has owned three different Katadyn BeFree bottles and they say that while they had to replace them due to the filters clogging, there were no issues with the squeezy bottles.
The BeFree does come with a flimsy plastic cap on the top that stops the bottle from leaking and we found this breaks easily. That's obviously not ideal, but you can at least replace it with the kind of caps you get on Gatorade and Lucozade bottles. Quality-wise, they're like for like.
Available at: ellis-brigham.com
Lifestraw Peak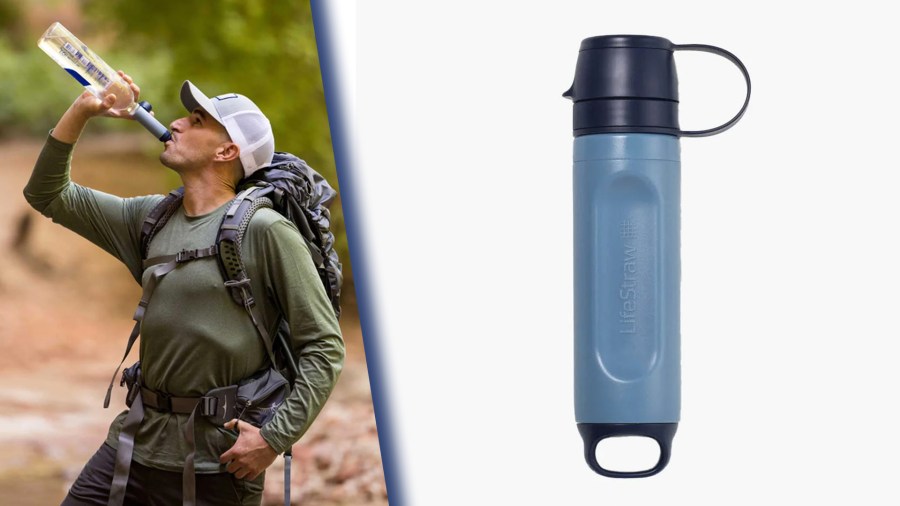 SQUIRREL_BUTTON_12925617
Price: $30 / £34
Weight: 2.3 oz / 65g
Type: filter
Pros: good value, light and packable, versatile
Cons: hard to filter for groups without a squeezy bottle
This is one of the lightest and compact filters around and, as such, it's another option that's ideal for lightweight hikers and trail runners.
A newer version of Lifestraw's classic filter, it's been reengineered to reduce the risk of clogs from sand and silt, ultimately meaning that the flow rate stays high for longer.
It's also now made from 50% recycled post-consumer plastics.
Just like the classic Lifestraw this can be used to suck directly from a water source, but it's also designed to screw onto a standard water bottle, so you can attach it to a squeezy bottle with a standard threaded mouth. You can also attach it to a gravity system to filter large amounts of water for groups.
Used with a squeezy bottle, it's capable of filtering 3-litres of water in a minute, removing bacteria, parasites and microplastics but not viruses.
Just like other personal filters, it needs maintenance in order to maintain the flow rate and it comes with a specially designed syringe to help you to backflush out any dirt and debris.
One final thing to know about this is that for every unit sold, Lifestraw will provide a year's worth of safe drinking water to a child in need. That's partly the reason why this product picked up an ISPO award last year, one of the major prizes in the outdoor industry.
Available at: lifestraw.com
Sawyer SP128 Mini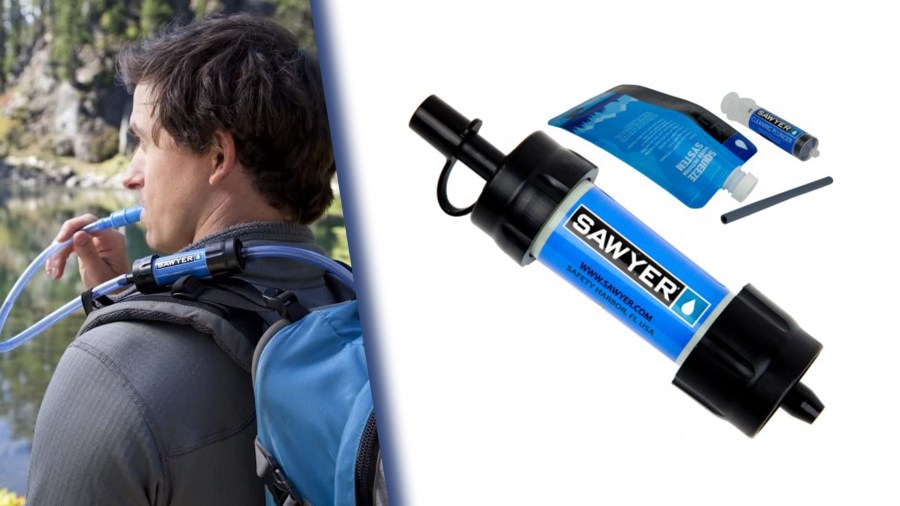 SQUIRREL_BUTTON_3190459
Price: £45 / $24
Weight: 2 oz / 56.5g
Type: filter
Pros: light and compact, versatile, good value
Cons: supplied squeezy bag is quite flimsy
With its compact build, lightweight and decent price, this is another extremely popular water filter that many a hiker has owned.
It's capable of filtering out debris along with bacteria and protozoa but not viruses, and it has a lifespan of up to 100,000 gallons of water – so basically a lifetime supply. Just like the Katadyn BeFree and the Lifestraw reviewed above this, the flow rate starts well but does slow down as the hollow fibre membrane starts to clog up. During our tests, we found that the syringe that's supplied with the filter to help to backflush and unclog it can only do so much after time.
In the Sawyer Mini package, you get the filter, a short-ish straw to help you reach water sources, the syringe and then a squeezy pouch. Handily, the filter can be attached to other water bottles (with a standard coke bottle-type top) and to bladder straws. You either need to squeeze this or suck it to get water, so using a hard water bottle with it requires sucking and means you can't filter water for other people.
Overall, this is a good value filter that works well out of the box but that needs careful use and maintenance in order to keep its performance up over time.
Available at: runnersneed.com
MSR Trailshot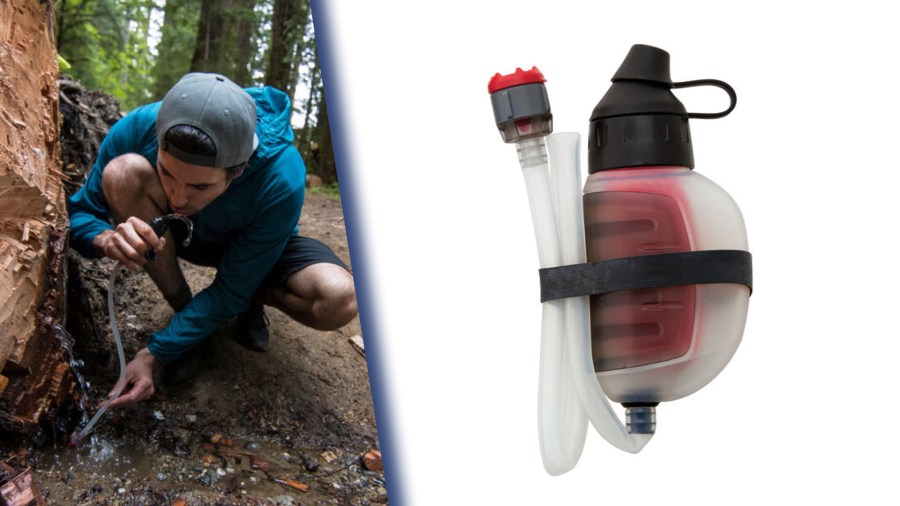 SQUIRREL_BUTTON_4319673
Price: £60 / $63
Weight: 5.2 oz / 147.5g
Type: filter
Pros: good for groups, packable
Cons: flow rate can slow quickly if filter clogs
This is a unique filter with a light weight and convenient size that makes it ideal for lightweight hikers and trail runners. Its pump-activated filtration also makes it great for group hiking as you can use it to fill up other peoples' water bottles.
To use it, you simply drop its hose into a water source and then squeeze on the other end. This will create a pretty fast flow of water at a flow rate of 1 litre a minute. You can also suck and pump at the same time to make the flow rate even faster.
The filter is made up of hollow fibres rated at 0.2 microns and it's capable of safely removing bacteria and protozoa from water sources, though it won't block out viruses. There's also a prefilter at the end of the straw that keeps debris from entering the main filter. Like all hollow fibre filters, it's important to ensure water isn't left inside this overnight when you're camping in freezing conditions as this could cause damage to it. Also, over time the flow rate will slow down as the filter starts to get clogged up. Shaking the filter with water inside it will help to clean it out a bit, but eventually the filter cartridge will need replacing. MSR states that the filter has a 2000-litre lifespan.
In our tests, the long hose was appreciated as, unlike many other smaller filters, it saves you from having to get right down to the water source – usually into mud. It proved especially useful for kayaking as it could simply be thrown over the side to give on-demand refreshment. We also liked the fact that you can attach the pump to the end of a bladder hose and use it to fill up your supply quickly and easily.
Available at cotswoldoutdoor.com
Waterwell 700 ml Travel Water Bottle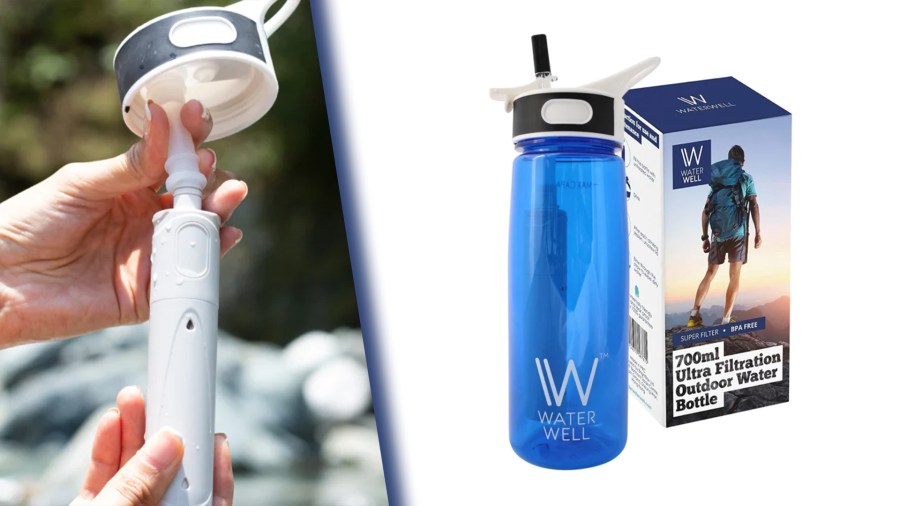 SQUIRREL_BUTTON_12925618
Price: $40 / £32
Weight: 6.87 oz / 195g
Type: filter
Pros: good value, good flow rate
Cons: heavy
At $40 or £32, the Waterwell Travel Bottle is a good value filter given its performance. In our tests, it was found to have a very good flow rate compared to other similar filters. The main downside to it is that it can't be used with squeezy bags to allow you to clean water for other people or into other containers. So the only way to filter with this is by sucking. Another drawback is that at 195g it's quite a hefty filter to carry around. It is, after all, made from a thick and tough plastic and the filter itself is on the hefty side.
Unlike filters like the Katadyn BeFree, the Sawyer and the MSR Trailshot, this uses a two-stage process. That means that it has a main hollow fibre filter that removes bacteria and protozoa and then there's a carbon activated filter that reduces things like taste, chemicals (including pesticides and heavy metals) and chlorine.
Like the other hollow fibre filters in this review, it's performance will deplete as the filter gets clogged up. You can clear it out by backflushing with the syringe that comes with it, but gradually the performance was found to deplete gradually. Waterwell state that it is only capable of filtering 1000 litres of water, which isn't that much compared to other similar personal filters on the market.
Available at: orderwaterwell.com
Lifesaver Wayfarer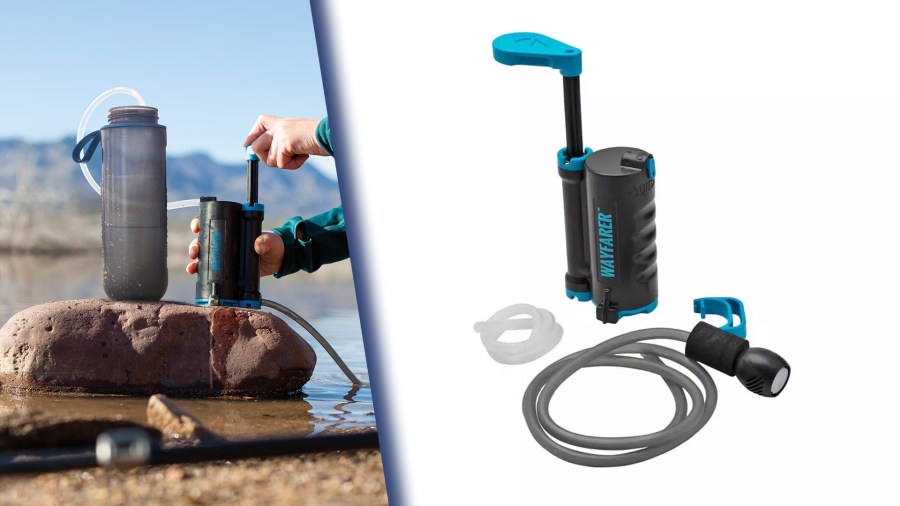 SQUIRREL_BUTTON_12925501
Price: £95 (international shipping available)
Weight: 11.4 oz / 323g
Type: filter and purifier
Pros: great for groups, good purification rate
Cons: the carbon discs have a short lifespan
This excellent water purifier won best safety device in The Great Outdoors Awards 2023. In our tests we were impressed by this purifier's compact size and reasonably light weight. We found it fitted perfectly in the side pocket of a backpack. OK, it's not as light as most water filters out there but it's one of the lightest purifiers we've tested (aside from simple tablets, of course).
To operate it, you simply drop its scavenger hose into a water source and then pump the handle to move water through its other hose and into whatever vessel you're filling. It's all very quick and easy, giving you the potential to filter and purify large quantities of water in a short space of time.
With its two stage purification system, it's capable of removing bacteria, viruses and cysts as well as chemicals and heavy metals like chlorine, lead and nickel. It's carbon disc will also remove taste and odour.
The Wayfarer comes with a replaceable cartridge and carbon disc which have a lifespan of 5000 litres and 100 litres respectively. When they come to the end of their lifespan you can purchase replacements on the Lifesaver website.
To clean it, you just need to disassemble the components (this is easy to do) and run them under a tap. For extra thorough cleaning, they advise pumping some water treated with chlorine tablets through the purifier.
Available at: iconlifesaver.com
Grayl Ultrapress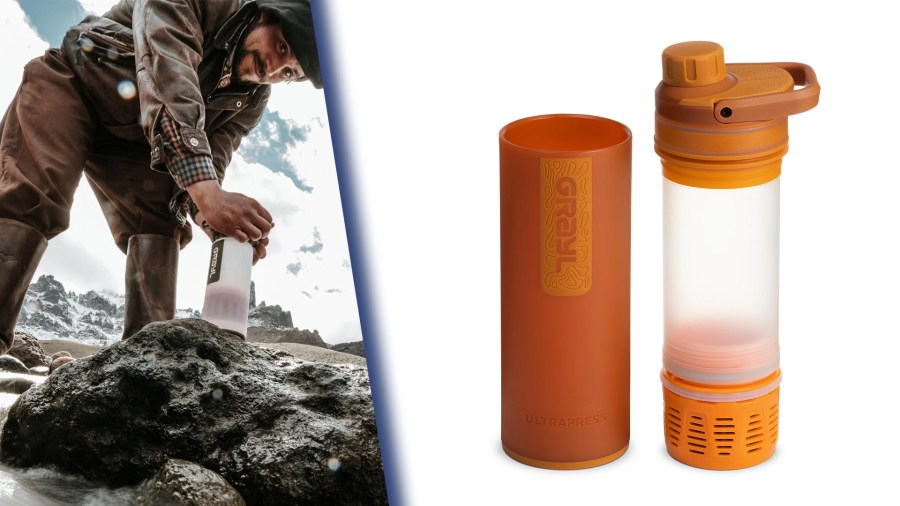 SQUIRREL_BUTTON_12925619
Price: $90 / £70
Weight: 16.9 oz 479g
Type: filter and purifier
Pros: innovative, durable
Cons: small volume, cartridge has a relatively short lifespan
This is unique product is a bottle that is able to purify water that's stored within it. Capable of removing viruses, bacteria and protozoa as well as microplastics and other particulates, to operate it you simply fill the vessel up with water and then press the top down so that water is forced up through its purifier. There's also a carbon activated filter within the purifier that helps to reduce flavours and odours.
The main downside to the Ultrapress is that it's only able to store 500ml so you'll need another storage vessel if you want to filter any more water. The filter cartridge is also only rated for 150 litres which is quite small compared to other filters and purifiers on the market. When it runs out a new one will need to be purchased from Grayl (£30/ $30).
Available at: alpinetrek.co.uk
Lifesystems Chlorine Dioxide Tablets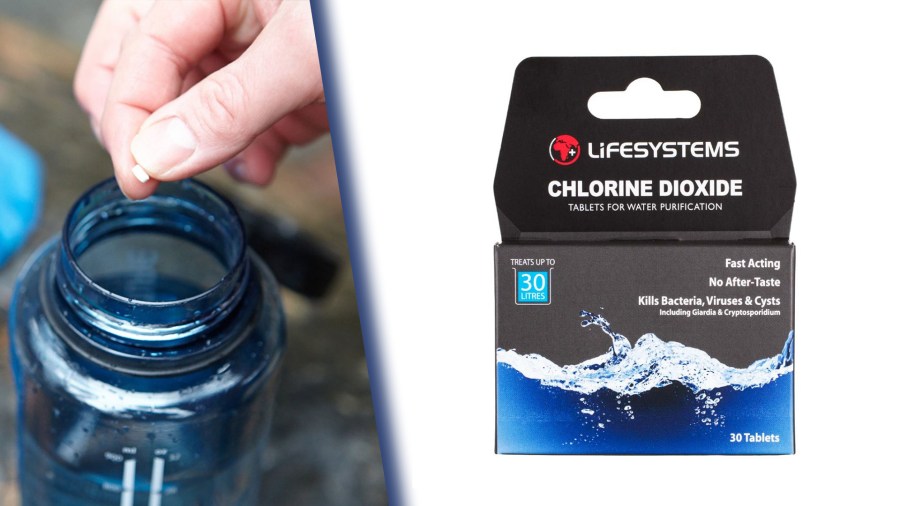 SQUIRREL_BUTTON_12925620
Price: £11 (not available in U.S.)
Weight: 40g / 1.41 oz
Type: purifier
Pros: very light and packable, low cost
Cons: slow and can only purify a limited amount of water, doesn't filter detritus
Using chemicals to purify water was common practice by Allied soldiers during the Second World War and even today this method is still favoured by many for its simplicity, reliability and portability.
This kit from Lifesystems contains 30 tablets that will each treat a litre of water, removing bacteria, viruses and cysts with no unpleasant aftertaste.
Unlike the other filters and purifiers in this round up, what these tablets won't do is remove any detritus from water, meaning that you need to find another means to do that if necessary. Some people have been known to call upon one of their socks for this!
If these aren't your primary means of purification they are at least a very useful back-up to keep in your first aid kit, just in case your filter breaks or goes AWOL.
Available at: ellis-brigham.com
---
How to choose a backpacking water filter or purifier
First, let us just define the difference between a backpacking water filter and a backpacking water purifier.
Water filters and water purifiers serve the same purpose of providing safe drinking water while backpacking, but they differ in their filtration mechanisms and effectiveness. Water filters can physically strain out bacteria and protozoa, and some may include activated carbon to remove certain chemicals. However, they might not be able to eliminate viruses, making them more suitable for use in clear water sources. Water purifiers, on the other hand, employ advanced technologies such as chemical treatment or ultraviolet light to filter out bacteria, protozoa, and viruses, offering a higher level of water purification and suitability for diverse water conditions.
Generally, in places like the US and UK a filter will do the job – in the mountains at least – while in some developing countries, where water sources could be contaminated, it's wise to turn to purification over filtration.
Things to consider when choosing a backpacking water filter or purifier
Even a quick browse online can present you with a seemingly endless amount of filtration and purification options. To help you narrow down your search, here's what you should be considering.
Weight and portability
For many of us, every ounce counts when backpacking, so selecting a water filter that is lightweight and portable is crucial. The lightest option isn't necessarily always the best option, however. For instance, purification tablets are extremely light, but these are only able to purify a small amount of water and they won't filter out sediment. Conversely, there are filters that can supply large volumes of water but that weigh so much they're difficult for one person to carry. Choosing the right water filter or purifier is therefore all about balancing the weight and portability with other factors.
Filter and purification Types
There are several types of water filters to choose from, each with its pros and cons:
Pump Filters: These filters use a hand pump to force water through a filter cartridge, removing contaminants. They are effective and versatile but can be bulky and require more effort to use.
Gravity Filters: Gravity filters work by letting water pass through a filter under the force of gravity. They are easy to use and great for larger groups but tend to be heavier and slower than other options.
Squeeze Filters: These filters allow you to squeeze water through a filter, which is quick and easy. They are lighter than pump filters and faster than gravity filters, making them a popular choice for solo or small group backpackers.
Straw Filters: Straw filters are simple and lightweight, designed for drinking directly from the water source. You can, of course, crouch right down to a source to slurp with one of these but the best thing to do is to use them with a cup that you can scoop water into. Bear in mind that many straw filters are designed to integrate with a standard plastic bottle or a specific bottle that the brand supply.
UV Filters: These filters use ultraviolet light to kill bacteria and viruses. They are lightweight and compact, but they require batteries, and water must be relatively clear for the UV light to work effectively.
Chemical Filters: Chemical treatments like iodine or chlorine tablets can also purify water. They are lightweight and easy to use but may leave an aftertaste, and their effectiveness can be impacted by water temperature and clarity.
Lifespan
Consider the products lifespan when making your decision. Some filters and purifiers have replaceable cartridges or elements that can extend their usage, while others are designed for single-use or require frequent replacements. Check the manufacturer's specifications for the estimated filter lifespan and how many liters it can treat before needing a replacement. A longer lifespan may justify a higher upfront cost if it saves having to purchase replacement filters often.
Flow Rate
The flow rate refers to how quickly the water passes through the filter. A higher flow rate means you can fill your water bottles faster and involves less effort. With squeezy or straw filters, flow rate is particularly important. You don't want a filter that you really have to work hard to get water from!
Maintenance and cleaning are essential to keep your water filter functioning optimally throughout your trip. Filters can become clogged with debris, affecting their flow rate and filtration efficiency. Some filters come with backflushing mechanisms or cleaning accessories, like syringes, that make the process easier, while others might require more intricate cleaning. Consider the ease of cleaning when choosing a water filter, especially for longer backpacking trips and try to avoid any products that can't be cleaned out as, in most cases, these won't last very long.
A final word on cold weather use
It's important to bear in mind that many filters and purifiers, particularly any with hollow fiber filtration, can become damaged if they're left with water within them in sub zero temperatures. In such conditions, make sure to suck, squeeze or pump any remaining water right through the device once you're done.
You may also like:
Best three-season sleeping bags