Long-distance walker David Lintern thoroughly tests the best backpacking packs in the 60+ litre range to help guide your buying choice.
Here are some of the best backpacking packs for men, these hiking backpacks, suitable for the likes of multi-day walks, backpacking and wild camping, can be a very personal decision, comparable to choosing a pair of walking boots. What works well for the individual varies. We come in a variety of shapes and sizes, and rucksack fit is absolutely critical, as aches and pains can get worse over a long trip.
Main image: the author in the Scottish Highlands. Photo: David Lintern
The backpacking packs for men that we're looking at here, in the 60 – 75 litre range, will need to carry heavier loads than usual for more than one day at a time; and the more time we spend on the journey, the more we will notice any problems if they exist. Ideally, most of the weight should be carried on the hips, which are much more able to bear heavy loads than the shoulders, and an adjustable back system goes a long way to ensuring a custom fit.
Backpacking packs come in more than one length, with men's and women's designs that reflect differing body shapes and centres of gravity. Personal preferences also have a part to play as we all have different styles of travel. Some like to have everything neatly contained within a simple tube design, allowing for maximum freedom of movement over rough terrain and in strong wind.
For others, being able to access essential items whilst on the move is important, with snack pockets on hipbelts, attachments for gadgets, and large external pockets. Rain covers are often included, but it's worth noting that they don't perform well in strong winds.
There are lots of handy additional features to look out for such as whistles, internal pockets and compartments, and compression straps (very useful for tucking away trekking poles and roll mats). 
Those wishing to travel 'fast and light' may sacrifice a bit of functionality and durability in favour of a lower-weight pack; whilst others would prefer something that may be heavy but will last longer.
---
Contents: best men's hiking backpacks
---
Atom Packs – TGO Best buy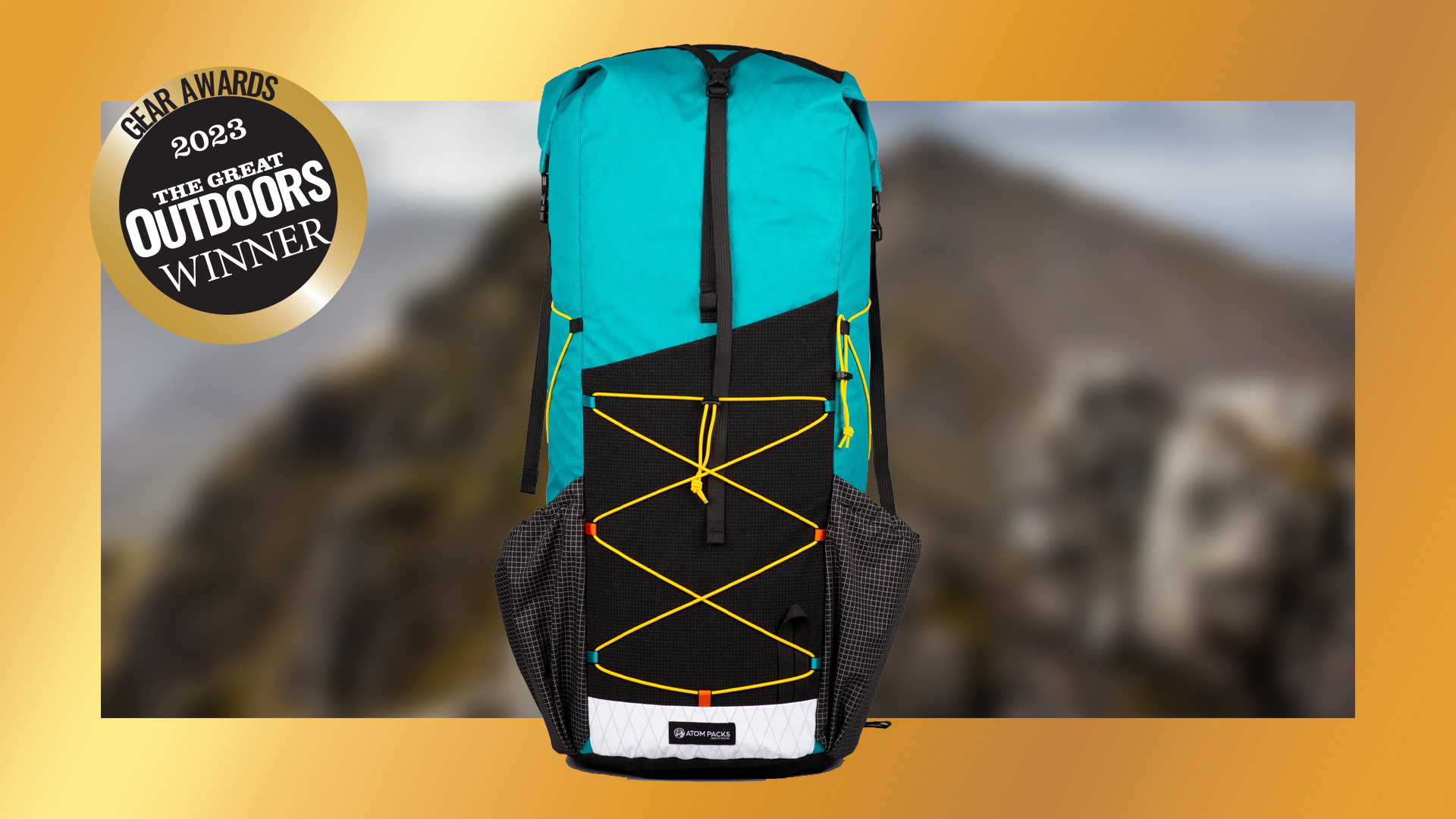 ---
Price: £285 | Fabric: various options, including VX21 (210D nylon) | Frame: non-adjustable HDPE (high-density polyethylene) sheet, with removable alloy stay | Sizes: small, medium & large | Model: Unisex | Rating: 4.5
---
First on our list of the best backpacking packs for men is the Atom Pack. Atom Packs are a relatively new UK business focusing exclusively as a hiking backpack manufacture, but founder and designer Tom Gale's packs have proved very popular with participants on the TGO Challenge.
Packs are sized via a guide on the brand's website. Knowing my personal preference for a shorter back length, I requested a medium – and this proved a perfect fit. The frame inside the Mo is non-adjustable and comprised of a foam-backed plastic sheet further strengthened by an aluminium stay.
Other than the slight curve and flex in this arrangement, there's no other suspension and this keeps the pack close to the body and exceptionally stable. Weight is transferred well to the integral, very adjustable hipbelt; and along with low-profile load lifters and a sternum strap, the pack becomes almost 'invisible' when it's on. That's the highest compliment I can give!
I requested a more robust VX21 fabric, however marginally lighter options are available. The fabric has a useful amount of stiffness, making packing simple and further stabilising the load. There are elastic compression straps although I've found less need to use these than on other packs.
That structural integrity does mean there's little extra fabric stretch for squeezing things in, giving the impression of a pack that's a modest rather than a generous 60L. Atom Packs offers a host of customisable features, including a bottom pocket, elastic shoulder pockets and removable hipbelt pockets, as well as some eye-catching colours.
As standard, there's also a stretchy mesh front pocket, a single axe loop, a roll or fold top closure and a Y strap over the top, useful for attaching a tent or mat. 
---
Sierra Designs Flex Capacitor 60-75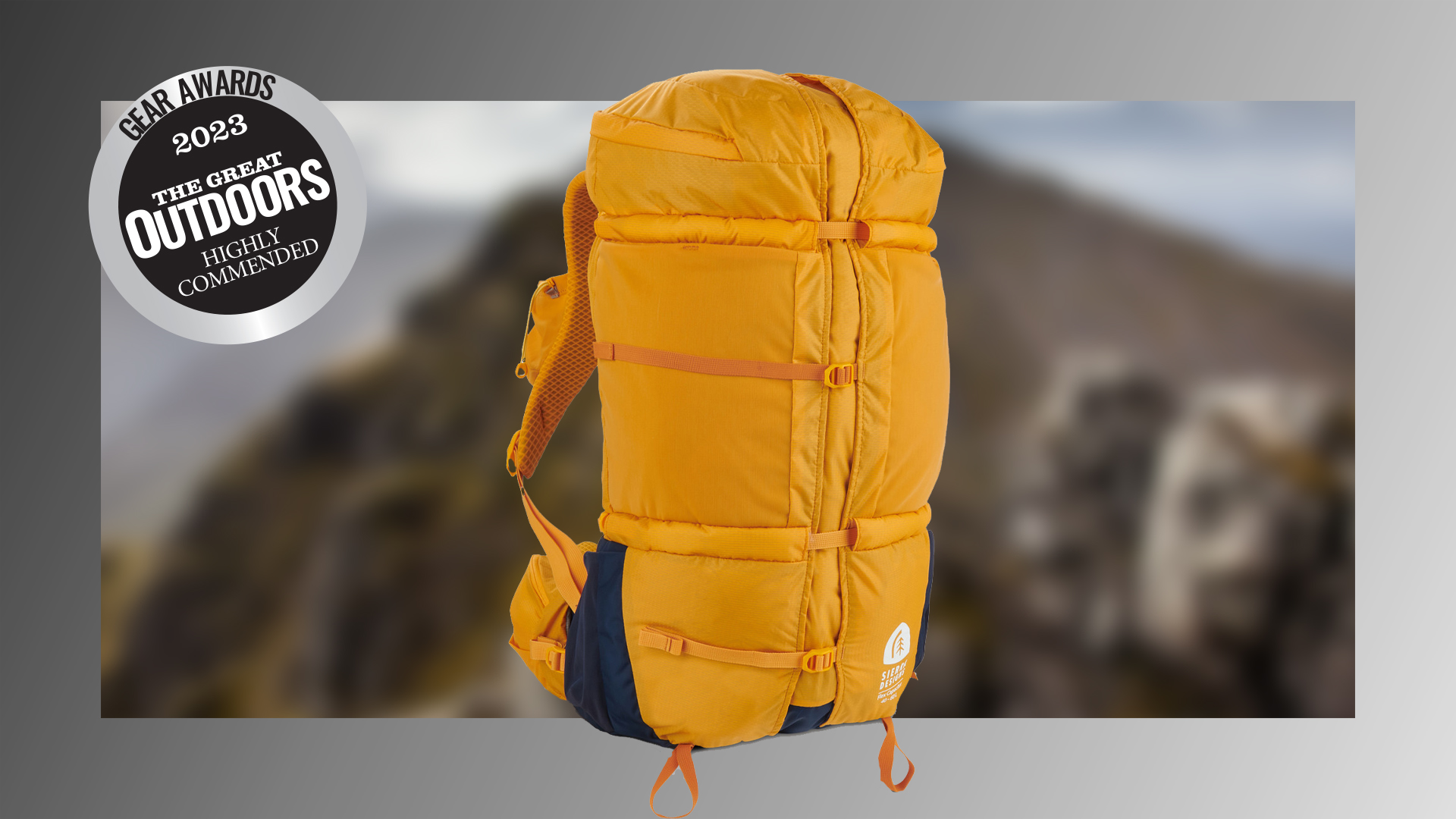 ---
Price: $179 / £164 | Fabric: 100D nylon-poly ripstop/420D nylon Oxford | Frame: internal Y frame flex DAC aluminium | Sizes: various hipbelt options, but Large back length only | Model: Unisex | Rating: 4
---
Next on the list of the best backpacking packs for men is the Flex Capacitor. Designed by American thru-hiker par excellence Andrew Surka, I was excited to try this large-capacity hiking backpack out. It comes equipped with a minimal Y frame aluminium pole, which is curved and has some flex to it, providing some suspension.
I found this transferred weight to the wide, removable hipbelt very well, allowing comfortable transportation of full winter loads in relative comfort, with just one important caveat – back length.
The larger volume (60-75 litre) versions of the Flex Capacitor only come in a longer back length, which means that the bottom of the pack hangs over the end of my spine and can touch my bottom. This became uncomfortable over extended trips.
Otherwise, there's a good level of comfort from generous foam lumbar and shoulder pads, the sternum and load lifters work well, and there's reasonably sized top lid (which opens in reverse) to access the single main packing area.
Side bottle pockets are stretchy mesh, as are shoulder strap pockets (beware snagging) but hipbelt pockets are solid nylon – all are useful for gloves, bottles, sunnies, headlamps and snacks on the move.
There's an additional mesh sleeve inside the back, too.
The flexible compression system that gives the pack its name works well to prevent the gear inside rattling around too much… although careful packing is needed to prevent strange lumps appearing!
This is a great multi-day hiking backpack with lots of room, but it's best suited for people over 5'9″, or with a slightly longer back. (The smaller 40-60L version comes in two back sizes.)
---
Osprey Aether 65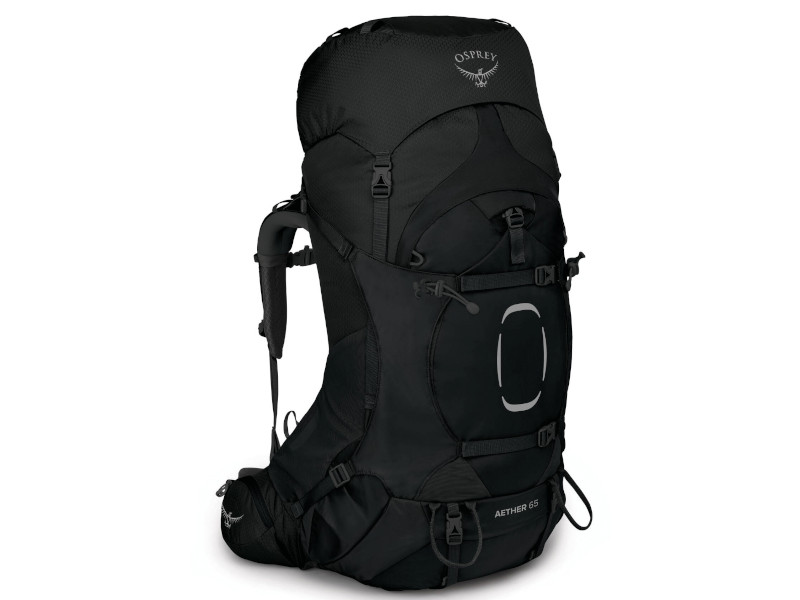 ---
Price: £220 | Fabric: 420D high-tenacity bluesign-approved nylon | Frame: 'Airscape' composite | Sizes: adjustable frame | Models: Women's version available | Rating: 3
---
The Aether is a very well-appointed adjustable-framed pack that should prove very durable. It's built around the brand's 'Airscape' frame: a composite of foam, plastic and a U-shaped aluminium stay that is very stiff, provides ventilation without too much 'float' in the suspension and should transfer the load to the hips well. The lumbar pad is chunky but I'd prefer a wider hipbelt on a pack of this weight. 
The side pockets are stretchy and accessed from the top as well as by the hip, and there's a front stuff pocket and a large floating lid, plus a lower compartment that I found too small for a winter sleeping bag but would suit a summer one. The main body of the pack can also be accessed from the front, a feature often found on packs used between hostels and hotels for international backpackers.
These sections are accessed with well-made zips and buckles that can be fiddly to deal with wearing gloves. There are two ice axe loops and the compression straps are well-placed, allowing for extra items (in my case, a tripod and snowshoes) to be attached.
I couldn't get comfortable in this pack. The sternum strap was too high, even at its lowest point; and however I adjusted the back length and load lifters, the pack remained uncomfortable. The Aether is clearly well-built and feature-rich, but my test proved once again that fit is more important than features.
---
Exped – Lightning 60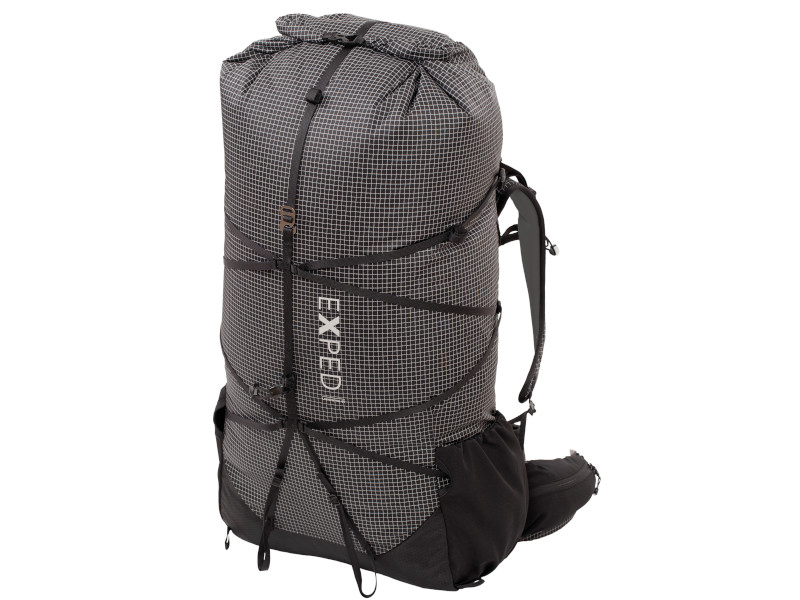 ---
Price: $239.95 / £184.99 | Fabric: 210 D HMPE ripstop nylon | Frame: aluminium stay | Sizes: adjustable frame | Model: Women's version available | Rating: 3.5
---
As an adjustable-framed, trekking-volume pack with a weight of around a kilo, the Lightning 60 is an immediately interesting proposition. The weight is kept low with a minimum of bells and whistles, and a single aluminium bar frame.
A very ample lumbar pad sits on a Velcro adjuster and the shoulder straps are suspended from the top of the bar.
It took me a few walks to get comfortable with this very economical system, but once sorted it gave me no more trouble.
The frame transferred weight to the hips well, the load lifters and sternum balance the top half of the pack, and the hipbelt itself is wide and well-built for handling sizable loads.
There are mesh bottle pockets on either side (prone to snagging in undergrowth), capacious hipbelt pockets and a top pocket equipped with a water-resistant zip, designed almost as a slot or laptop pocket, which sits inside the main body of the pack.
A single top opening that can be either rolled or folded over allows access to a large inner. 
The compression system is extensive and very versatile, but it's a little too fussy for me personally.
Packs that use lighter fabrics in the body tend to need more compression, and while the webbing here does permit you to compress the pack down well, it can also mean loose straps that catch the wind or get tangled when packing.
I'd also prefer to see a more durable ice axe attachment, given that this pack is otherwise well-suited to summer alpine use.
---
Gregory – Katmai 65 – TGO Recommended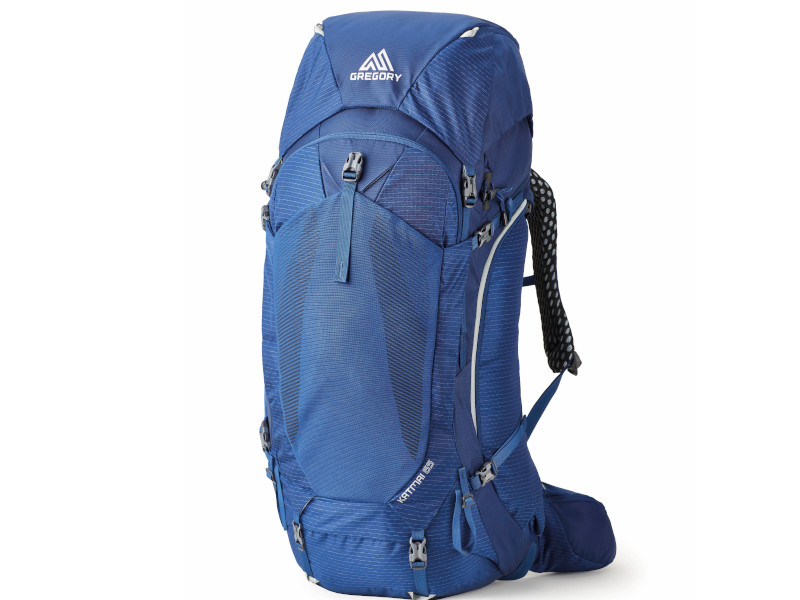 ---
Price: $309.95 / £250  | Fabric: mix of recycled and non-recycled nylons, 210D and 410D for high-wear areas | Frame: alloy steel frame & fibreglass cross-stay & HDPE | Sizes: small/med and med/large | Model: Women's version available | Rating: 4
---
Last on the list of the best backpacking packs for men is the Gregory, which is perhaps the Rolls-Royce of a hiking backpack company, and accordingly the Katmai prioritises comfort and features over weight. Rather than having an adjustable frame, the pack comes in two sizes.
I found the sizing to be accurate and, as a result, the frame transferred weight to the beefy integral hipbelt exceptionally well. There's plenty of ventilation via a tough, almost 'string vest' style mesh.
Suspension back systems can sometimes feel unstable on more challenging terrain, but the load lifters are equally excellent here and while it's clearly not built for fast n' light, the Katmai feels connected to the torso and very steady when negotiating steps or awkward transitions underfoot.
There are more features here than I personally know what to do with, but I did find the hipbelt pockets generously sized, and the bottle pocket was big enough for a mini tripod and perfectly sited.
In addition, there's a good floating lid with two zipped pockets and a useful mix of internal compartments which are fairly easy to access.
Compression straps are kept fairly concise, which minimises whiplash in UK winds, but there are two, well-made axe attachments as well as loops at the base for a tent or mat.
This is an excellent, well-made and well-featured pack. The only real downside for me is the weight, which feels onerous for something with a 65 litre capacity.
What to look for in a hiking backpack
1) Fabric
Hiking backpacks have changed a lot over the years, and most fabrics in use are now synthetic. They're lighter, thinner and hydrophobic to varying degrees, whilst the very latest are laminates developed out of competitive sailing technology.
Most backpacks are still not waterproof, and indeed they need to be able to drain once the inevitable happens and water gets in. As a result, they should be used in conjunction with drybags to store and organise your clothing and equipment within the pack.
If your pack promises to be waterproof, check to see if the seams are taped. Without that, it may 'resist' water but won't be water 'proof'.
2) Back support
Whether you call it a frame, a stay or a 'back system', the most important part of the pack is the bit that sits between you and it. This can be anything from a sheet of plastic to an aluminium strut.
Others offer a composite of materials or sprung frames for increased comfort or ventilation – usually at the cost of weight and stability.
For larger loads, we think it's useful to have some sort of frame, in order to move the weight to the hips most effectively.
3) Fit
Getting the fit right is essential. If the pack is too long or short for your torso, the weight will not be distributed properly, and the carry will be very uncomfortable.
Products vary widely, from adjustable frames designed to work for all, to set sizes available at point of purchase.
However, most packs will come with some form of lumbar pad, which protects the base of the spine from undue pressure or abrasion.
4) Hipbelt
Essential for carrying heavier loads. A correctly sized hiking backpack will distribute most of the weight to your hips, which are best placed to support the load.
Larger-capacity packs should come with more supportive belts. Some have pockets, whilst others can be folded behind the pack or removed altogether.
5) Sternum strap
This strap holds the shoulder straps together across your chest. Naturally, women and men have different needs.
Either way, make sure that the sternum strap is adjustable and comfortable when the pack is fully loaded.
6 Load lifters
Another vital part of weight distribution mechanics, these pull the top part of the pack – which tends to be loaded with heavier items – closer to your back.
Too loose and the pack will feel unstable and 'drag' you backwards, too tight and it may restrict head or arm movement or place too much weight on the shoulders.
7) Compression straps
When properly cinched down, compression straps create a compact carry by preventing the contents moving around inside. Again, designs vary widely.
They often feature on the sides of packs but can reach across the front and over the top as well. They are also used as attachment points for mats, tents (and even tin mugs or cuddly toys if you want to go old-skool).
Arguably, the use of lighter fabrics has meant that compression straps systems have become more important in creating bag structure and keeping your load secure and stable.
8) Lid
Some closures are simple roll tops, and others have zipped pockets for items you need to access during the day.
Winter or climbing hiking backpacks often feature 'floating' lids, which can accommodate extra bulk of a rope or crampons stuffed underneath.
9) Internal organisers
Once again, an area that varies hugely across hiking backpacks. Some offer only a single space in which to put all your kit, whilst others have one or more compartments that can be used to organise your possessions.
As a general rule, the simpler the pack, the lighter it is (and the less there is to malfunction, as access to each of those compartments will mean more zips and buckles), so bear that in mind when choosing.
---
Atom Packs – TGO Best buy