Chris heads out for a winter camp in the Cairngorms to test an inner for Nigor's superb tipi tent for solo campers
---
When I reviewed the Nigor Wickiup 3 tent for this column back in April (click here to read) I commented that if you wanted a half size inner tent for solo use you had to buy a third party one as Nigor only offered a full size one. I'm very pleased then that there is now a half size Innertent available.
The upper of this inner is two-thirds breathable ripstop nylon and one-third mesh. The groundsheet is 40 denier ripstop nylon with a laminated thermos-plastic polyurethane coating that gives a hydrostatic head of 10,000mm so it should stay waterproof for a long time.
To fit in the hexagonal Wickiup 3 the Innertent has a trapezoid shape. The door has a curved two-way zip that means half of the long-side can be opened up. There are half-buckles at each corner that fasten onto ones on the lower edges of the Wickiup plus little clips that attach to loops on the walls and the apex – these are a little awkward to fasten with cold fingers.
No pegs are needed in theory but I have found that sometimes one of the buckles wouldn't reach quite far enough so I ended up pegging down a corner. There are adjustable loops for this. These can also be used for pitching the Innertent on its own, which you might want to do in summer to keep off biting insects when there was no likelihood of rain.
The shape of the Innertent means that although it fits half the space inside the Wickiup it's only big enough for one person. For solo use it's roomy, with plenty of storage space for items you want inside with you. If you're tall though you might find the walls rather close to your face when lying down. For me, at 5' 8", it's fine. The other half of the Wickiup 3 makes a vast porch with room for cooking and storing your pack, footwear and any wet gear.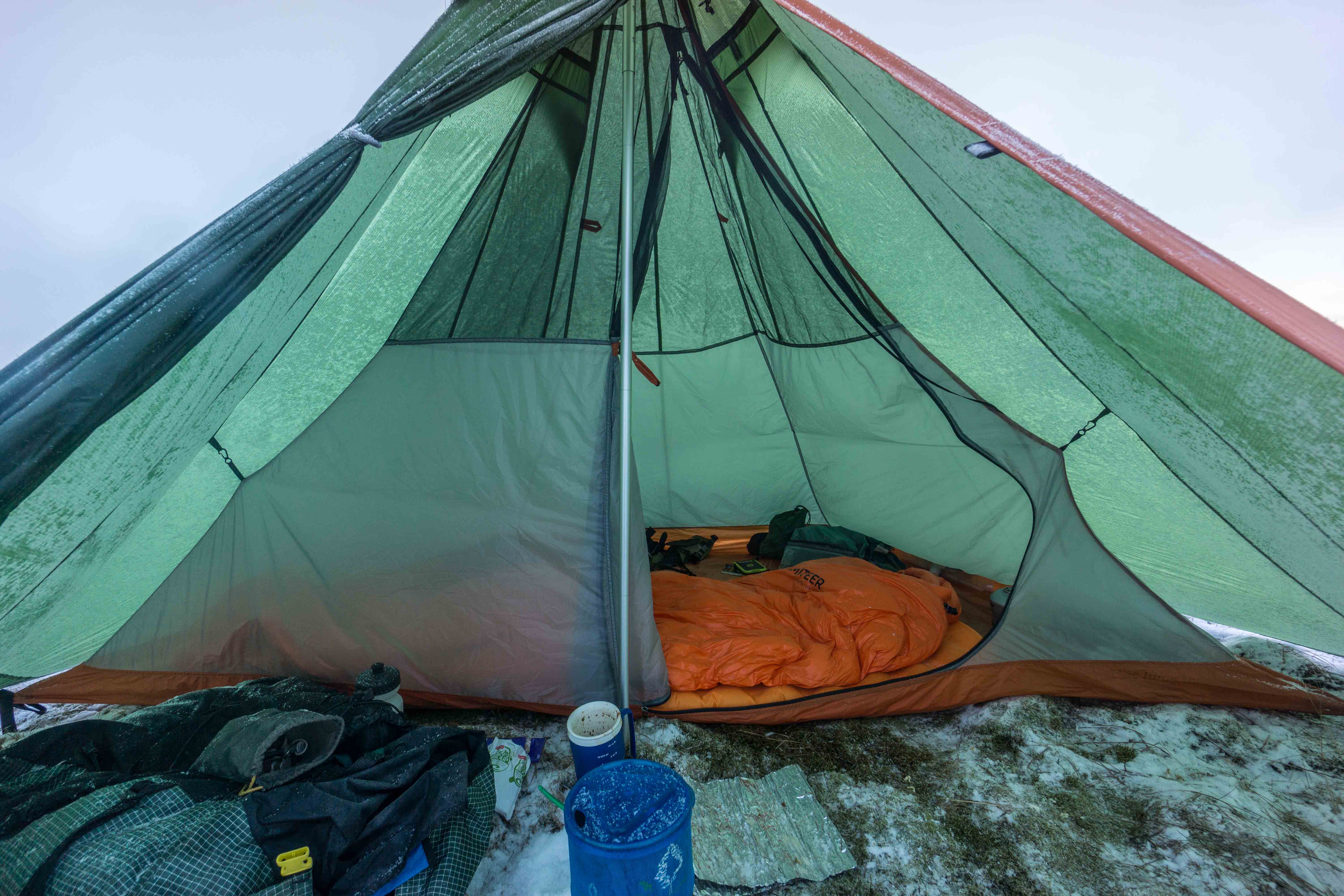 Nigor says the Innertent is for three-season use, which I guess is because the mesh upper section could let spindrift through and won't be as warm as a solid inner. I used it on a -7°C December night at 1,000 metres in the Cairngorms. There was a gusty wind and thick damp cloud and the Wickiup 3 was white with frost inside and out by dawn but none came through the mesh.
Due to the weather I spent the whole of the long hours of darkness inside and was glad of the space.
I think the Innertent really extends the usefulness of the Wickiup 3 as a solo tent – as well as providing more protection in stormy weather it will keep out midges in summer. It's well-made from top quality materials and should prove durable.
The Innertent weighs 540g. This gives a total weight of 1625g with the Wickiup 3, which is reasonable given the space. It comes with a stuffsack weighing 22g but it can be packed in the same stuffsack as the Wickiup 3.
£195