Our gear editor finds an excellent replacement for the GoLite Shangri-La 3
---
For many years the GoLite Shangri-La 3, a roomy hexagonal pyramid tent (the original version was called the Hex 3), has been a favourite of mine, especially for snow camping. I like having the huge amount of space, especially the headroom, on long winter nights and it's something I've used frequently, including for the film I made with Terry Abraham, The Cairngorms In Winter.
However with GoLite's sad demise a few years ago the Shangri-La 3 disappeared off the market. I'd been hoping someone would pick up the design so I was really pleased when Nigor announced the Wickiup 3, which is essentially the same as the Shangri-La 3 with a few modifications that I think have improved the design. These are a lighter weight silnylon flysheet fabric and, most significantly, more guyline attachment points. The tent was already very storm resistant – my first usage of the Hex 3 was on an exposed site above 10,000 feet in the Rocky Mountains during some ferocious thunderstorms with powerful gusting winds and torrential rain. I was impressed with its performance and fell in love with the design immediately. The extra guylines help keep the sides from moving as much in strong winds but aren't essential.
I've now used the Wickiup 3 in fierce winds and heavy rain and it's performed well. Like many silnylon tents the seams aren't taped. I haven't sealed them and so far haven't had any leakage.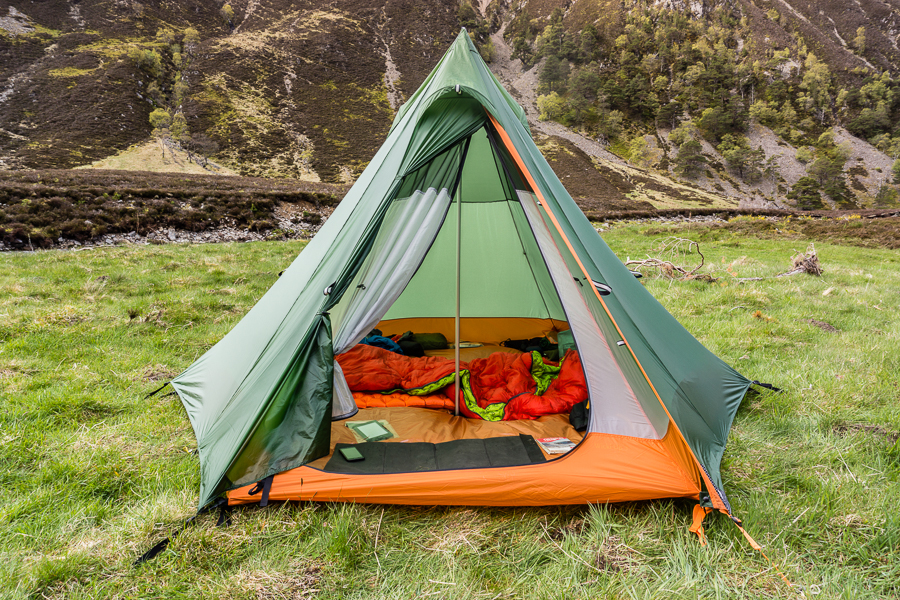 At first Nigor sold the Wickiup 3 as a complete unit with a large inner that can just about sleep three . There's no porch though and the outer door zip is above the groundsheet, which isn't good when it's raining. This inner can be pulled back to create a porch when using the tent for one person but it still means carrying the full weight of 1920 grams. Without the inner the tent weighs 1085 grams – very light for the vast amount of room. I use a silnylon groundsheet with it that weighs 215 grams for a total weight of 1300 grams. That includes the sturdy pole, which weighs 320 grams. Pitching it with trekking poles (two attached together) is possible but I haven't found this very stable and prefer to use the supplied pole.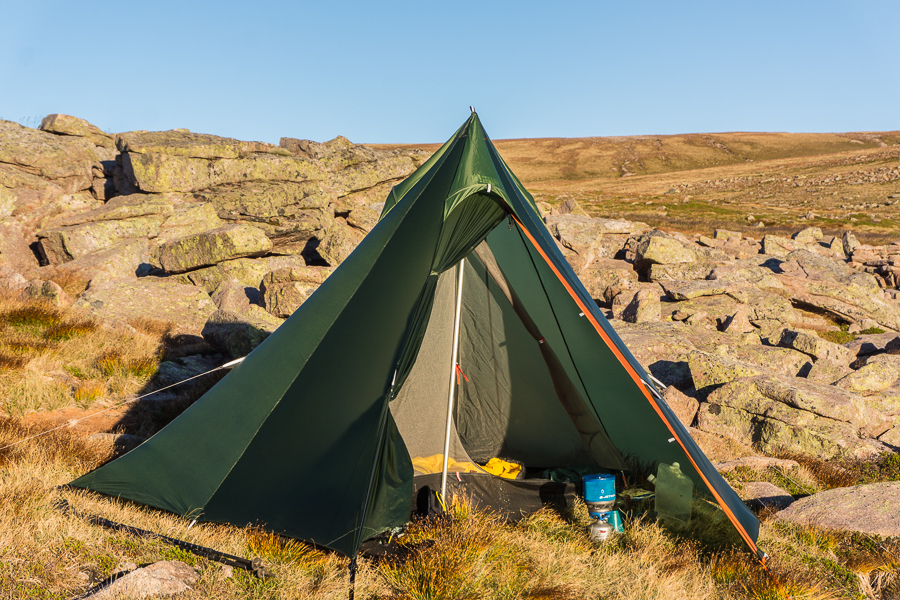 Nigor is now selling the tent and pole separately from the inner, which is good as many people won't want the latter (I don't). It costs £269.99. What happens if you prefer to have an inner tent though? Or if you want to use the Wickiup 3 in midge season? Nigor don't make smaller inners but others do. Backpacking Light sells the Hex Peak V4 solo inner, which fits the Wickiup 3. It weighs 600 grams and costs £69.99.