Gear Editor Chris Townsend looks at Coleman's weather-resistant stove and pot unit, the Fyrestorm
---
Coleman's latest component stove unit looks like a heat exchanger stove but it isn't. There are no heat exchanger fins welded to the bottom of the pot. However there is a windshield that covers the burner and in which the pot sits. I reckon this windshield keeps much of the heat in and whilst not as efficient as a heat exchanger it certainly makes a difference.
The stove is a remote-canister one with a three-legged burner and a long hose (with a piezo igniter) leading to the canister attachment and the control lever. There is a preheat tube in the burner so a canister can be used upside down when it's really cold to turn the stove into a liquid feed one for much better efficiency. The canister has to be propped up if you do this though and the control lever can't be used unless you tilt the canister to access it.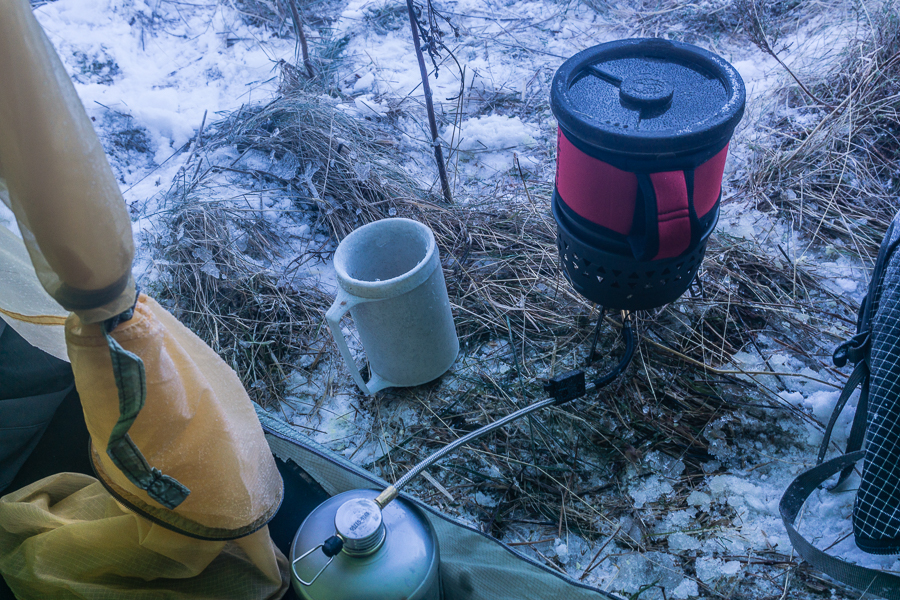 Many years ago Coleman made the first stove designed to be used with an inverted canister – this was also called the Fyrestorm. It had a stand for the inverted canister and a control lever that could be used. It's a pity this wasn't carried over to the new Fyrestorm.
The legs and pot supports fold in slightly for packing. Other pots can be used with burner and the one supplied can be used without the windshield.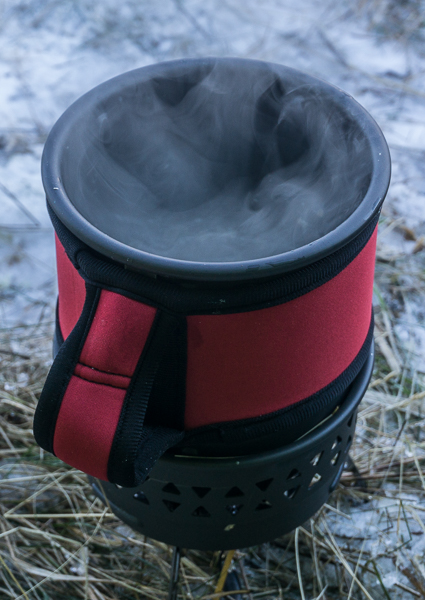 The 1.3 litre aluminium pot has a neoprene pot cosy cover with handle and a tight-fitting plastic lid. It tapers at the base, with the diameter reducing from 12cm to 9.5cm. The height is 14cm so this is a tall fairly narrow pot. A long-handled spoon is needed to stir food without putting your hand inside.
In use the Fyrestorm is 23cm tall. Packed it's 19cm. The burner fits inside the pot along with a 220 gas canister but the windshield sits on top and clips into place so it won't come off in your pack.
Coleman makes no claims for the Fyrestorm's sub-zero temperature performance. I found it pretty good at a frosty camp where the temperature was -2°C in the evening and -7°C in the morning. I left the Fyrestorm out overnight and it was covered in frost by dawn. When lit it burned fine and boiled water fairly quickly. Coleman gives a boil time of 4 ½ minutes for a litre of water when there's no wind and 6' 35" when there's a 3 metres per second wind. No information as to air or water temperature is given – I doubt either was anywhere near freezing. My boil times weren't far off those claimed though and the stove certainly works OK in a stiff breeze. I wasn't using one of Coleman's cold weather canisters either but a GoSystems one. The latter worked OK even though Coleman says the stove must only be used with their own canisters (which aren't available locally).
RELATED: Chris tests out Coleman's Xtreme gas
Given the conditions I was quite happy with the burner performance, including being able to turn the flame down to simmer, though the igniter didn't always work. Despite the height the Fyrestorm was reasonably stable when used on rough ground though care was needed not to tip it over, especially when stirring the pot.  The latter I didn't find ideal. Because all the heat is concentrated on the narrow base I found food stuck easily unless I stirred it most of the time.
The plastic lid is hard to get on and off, especially when the pot is full of hot food or water. I ended up resting it on top rather than fitting it properly. Some form of handle or pronounced lip would be useful. The soft neoprene handle is quite small – I can just get three fingers inside it – and when the pot was full it didn't feel very secure. I'd rather have a more rigid handle such as a fold-out metal one.
The Fyrestorm weighs 598g, which is a reasonable weight for a unit large enough for two. It's a bit heavy for one – it would be good to see a version with a smaller pot. The price is good considering it includes a pot.
£64.99