An environmentally friendly wind resistant softshell jacket
Regular readers will know I really like windproof jackets and wear one more than any other garment. The latest windproof I've been trying is the Vanadis 2.0 from Klättermusen. It's made from a softshell abrasion-resistant material called Light WindStretch, made from 85% of the wonderfully named Ultramid Bio-Mass Balanced Polyamide and 15% Elastane. Klättermusen says that the Ultramid fabric "has the same high-quality features as conventional polyamide but is far more sustainable". This is because "a certain amount of fossil resources is replaced with an equivalent amount of renewable feedstock, such as biogas or bio-naptha" which contributes to lower greenhouse emissions and a saving of fossil resources. Klättermusen is the first outdoor company to use this fibre. The jacket is also bluesign approved.
The environmental credentials of this jacket are good then, but what about design and performance? This is a jacket rather than a windshirt and styled as an outer garment. It's longer than most windproofs and has a full-length zip that curves away from the chin at the top, a distinctive Klättermusen styling. There's a stiff flap inside the zip with a soft fabric lining where it widens out at the top to protect the chin. The jacket has a big hood with a slightly stiff foam-filled peak and a rear adjustment cord. The hood moves well with the head but the adjustment cord is locked by pulling it into little slots, which is fiddly and difficult to do one-handed. There are two big mapsize front pockets. These are just usable when wearing a pack hipbelt but the bottom of them is cut off. There's also a large rear pocket with a horizontal zip. This is usable with a pack with a thin waist strap but not with a padded hipbelt. The cuffs are elasticated and non-adjustable and there's a drawcord at the hem.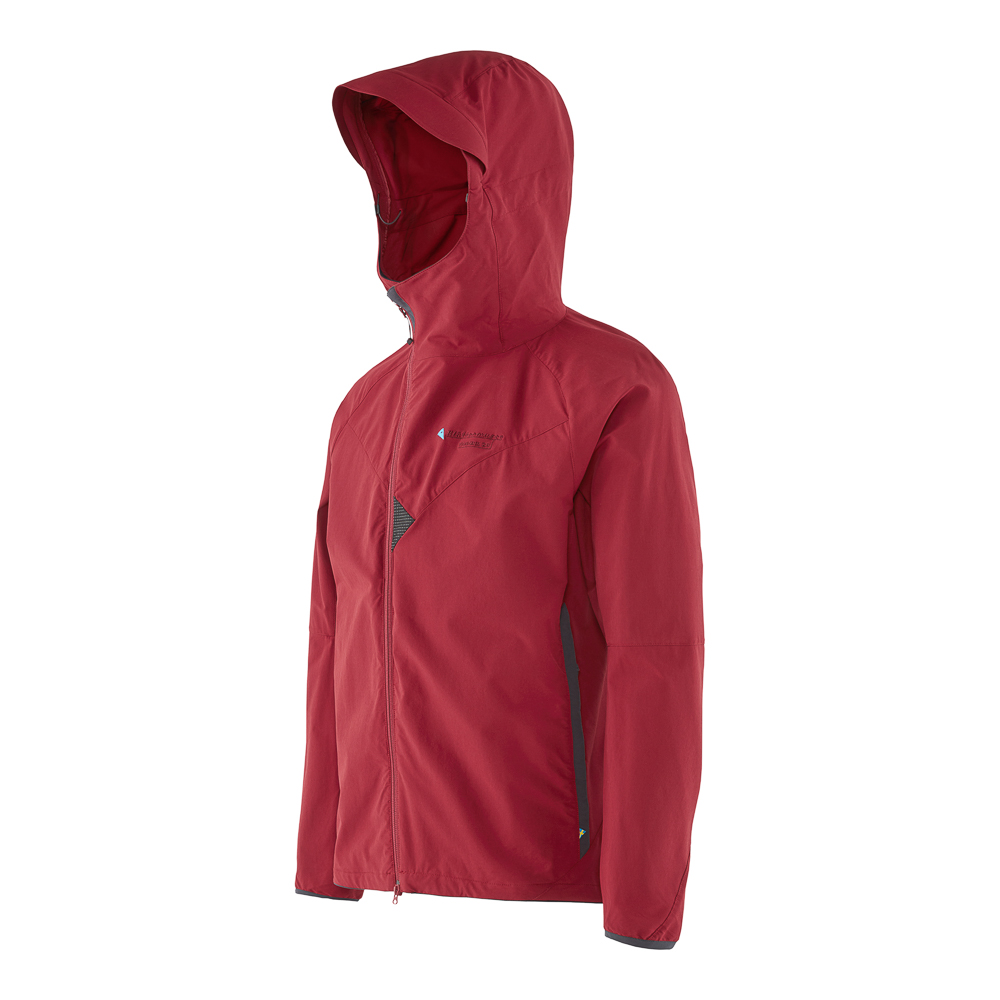 The material is soft and comfortable to wear and stretchy enough to move with you. It's not fully windproof though. I'd describe it as very wind-resistant. Strong cold winds can blow through it. I've worn it in the Cairngorms on winter days (see the top picture) and it's been fine in light winds. But when the wind picks up a shell is needed over it. Breathability is excellent, as is drying time. It resists light rain, like most windproofs, but anything heavier soon soaks through.
This is a lovely jacket to wear and I do like it. But it is expensive and quite heavy at 535 grams (size L). I wouldn't take it on a multi-day trip. For day and overnight trips it's fine. The stretch is good for scrambling and for those who prefer a close-fitting jacket.
Last summer I reviewed the similar Klättermusen Loride 2.0 jacket. This is made from organic cotton. It costs much more but weighs less (475 grams) than the Vanadis 2.0 and is more wind-resistant. I prefer the Loride hood and the cuffs are adjustable. It doesn't stretch though. I'd choose it over the Vanadis 2.0. They're both good jackets though.
£230