Devoted Collie owner and Munro Society President, Anne Butler, shares her expert advice on how to look after your best friend on the hill.
Sharing a day on the hill, hiking with your dogs, is an enormously rewarding experience, but as dog owners, it's our job to look after them as well as make sure they behave themselves around people and wildlife. 
Most dogs approach a day hiking on the hills with nothing less than total enthusiasm. They live in the moment, and the sights and smells invigorate them.
But we can't just take a dog into the hills, expecting it to walk for miles while knowing how to behave in unfamiliar terrain.
Introduce them gradually, teach them how to behave appropriately, and over time they'll become a trusted hilldog that will do you proud.
---
Responsibility when Hiking with your dog
If you're planning on hiking with your dog, then you need to know that as owners, we are responsible for keeping our dogs safe and under control at all times.
The Countryside Code states that dogs should 'always be kept under control and in sight'. In England, dogs must be kept on a lead around livestock on Open Access Land.
The Scottish Outdoor Access Code stipulates that dogs must be 'kept under proper control' and must not worry livestock.
Dogs must not be taken into fields where there are young animals; must be kept on a lead in fields where livestock are present; and must not disturb wildlife or ground nesting birds, which are particularly vulnerable between April and July.
It's also important to remember that many people are not comfortable around dogs and can feel threatened by a loose dog running up to them.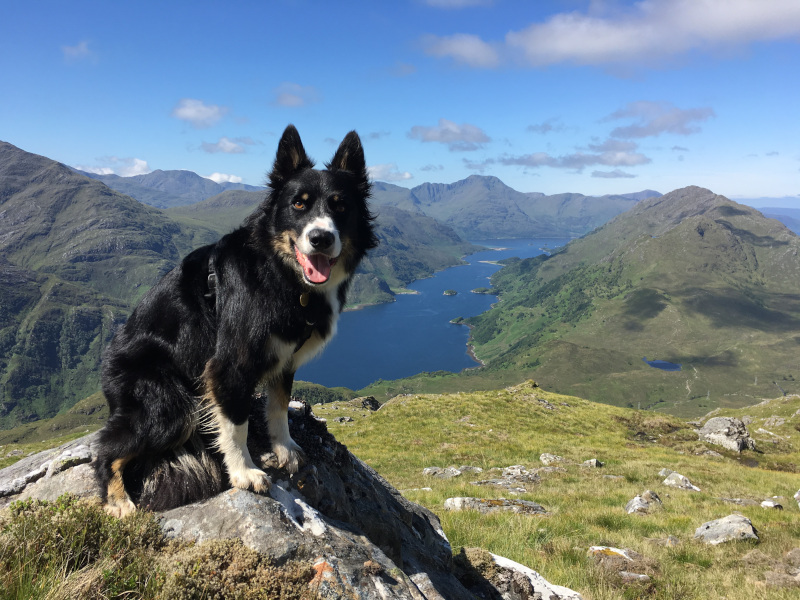 ---
Training and fitness
Hiking with your dog will need sufficient preparation, almost any breed of dog can be trained to become a reliable hilldog. It's important not to over exercise a young dog or risk long term musculo-skeletal damage, so take advice from your vet on a suitable age to start them hillwalking. 
Like people, dogs need time to build up their fitness for long hikes. Start off with shorter walks, building up the time, distance, and ascent as they become fitter. 
Dogs are blessed with a natural sense of balance and will be able to negotiate steep ground with ease, but again, they will need to learn how to do this safely.
Guide them slowly across rough terrain using a harness and lead and soon it will become second nature.
---
Health and wellbeing
Our four legged friends are natural athletes and will end up tired and in need of rest after a long hike. They will use up huge amounts of energy on the hill and will need food and water during the day.
Kibble or a pouch of moist dog food will give an energy boost. Soft paws can become grazed or bruised when exposed to rocky terrain, but extra walks on pavements, tracks and paths will toughen paws up naturally over time.
It's inevitable that your dog will pick up ticks during a walk and carrying a tick removal device is highly recommended. Check them over thoroughly at the end of the day.
It's worth knowing what to do in an emergency if your dog becomes injured or unwell on the hill. Attending a dog first aid course will ensure you're prepared to deal with an emergency.
As a last resort, Mountain Rescue teams may respond to a canine emergency if you are unable to get them off the hill yourself.
---
Hiking with your dog in warm weather
Dogs don't cope well with heat, which is key to note when hiking with your dog in warm weather or through the summer months.
Plan your route via as many water sources as possible to allow them a drink and a paddle make sure you carry additional water and encourage them to drink regularly.
Wet food is better than dried during hot weather, and pink noses are prone to sunburn, so sun cream should be applied regularly. 
In wet and windy conditions, dogs can get cold very quickly. An insulated, waterproof jacket is needed to prevent the dog losing body heat and developing hypothermia. Regular snacks will also help to keep it warm during cold weather.
Crampons and paws don't mix, and it is important that your dog is trained not to walk under your feet whilst wearing them. They don't understand the danger of cornices and are best kept on a lead if there's a chance of these on your planned route.
In soft snow, snowballs may form between the dog's toes and will become painful. Paw wax or baby oil applied throughout the day will help prevent this. Long haired dogs are also prone to snowballing.
Try rubbing baby oil onto their legs, belly and tail to reduce this.
---
Equipment
It's worth carrying a few extras when out with your newly trained mountain buddy. They should already be equipped with a collar and name tag with owner contact details, and you've remembered plenty of poo bags and their food and snacks.
A lead is essential, and a harness with handle is useful to assist the dog on steep ground. Add gauze dressings and Vetwrap self-adhesive bandages to your own first aid kit in case of a canine cut or scrape.
Lastly, while they are not infallible, a GPS tracker is one of the most reliable ways to locate a dog on the hill.