In an extract from her new book, TGO contributor Phoebe Smith shares some of her top tips for creating the perfect camp kitchen – plus two yummy recipes.
Travel writer, broadcaster and presenter Phoebe Smith likes to sleep wild – from caves to mountain tops, disused farmsteads and under giant boulders; if it's a wild place she wants to take out her sleeping bag and bivvy and experience a wild night out.
As such, she knows how important it is to be well-fuelled for such adventures and over the years has honed her skills to cook the perfect wild camping meals with limited ingredients that are light enough to carry into the wilderness.
The Wilderness Cookbook: A Wild Camper's Guide to Eating Well (Bradt Travel Guides, £11.99) is launched on November 22 at Stanfords, London (buy tickets here).
If you tend to survive on tins of beans and packets of supernoodles when wild camping, the book's blurb alone might be enough to tempt you:
"Following on from the huge success of her previous titles, Wilderness Weekends (2015) and Britain's Best Small Hills (2016), outdoor guru Phoebe Smith returns with her top tips about wilderness cooking on a single stove, including fifty recipes for breakfast, lunch, dinner, dessert and snacks. She also adds that secret extra ingredient to each recipe – an incredible sense of place, from moorland to coast, woodland, mountains or riverside. This innovative title is packed with advice on how to get the most out of walking in wild places, wild camping and wild cooking."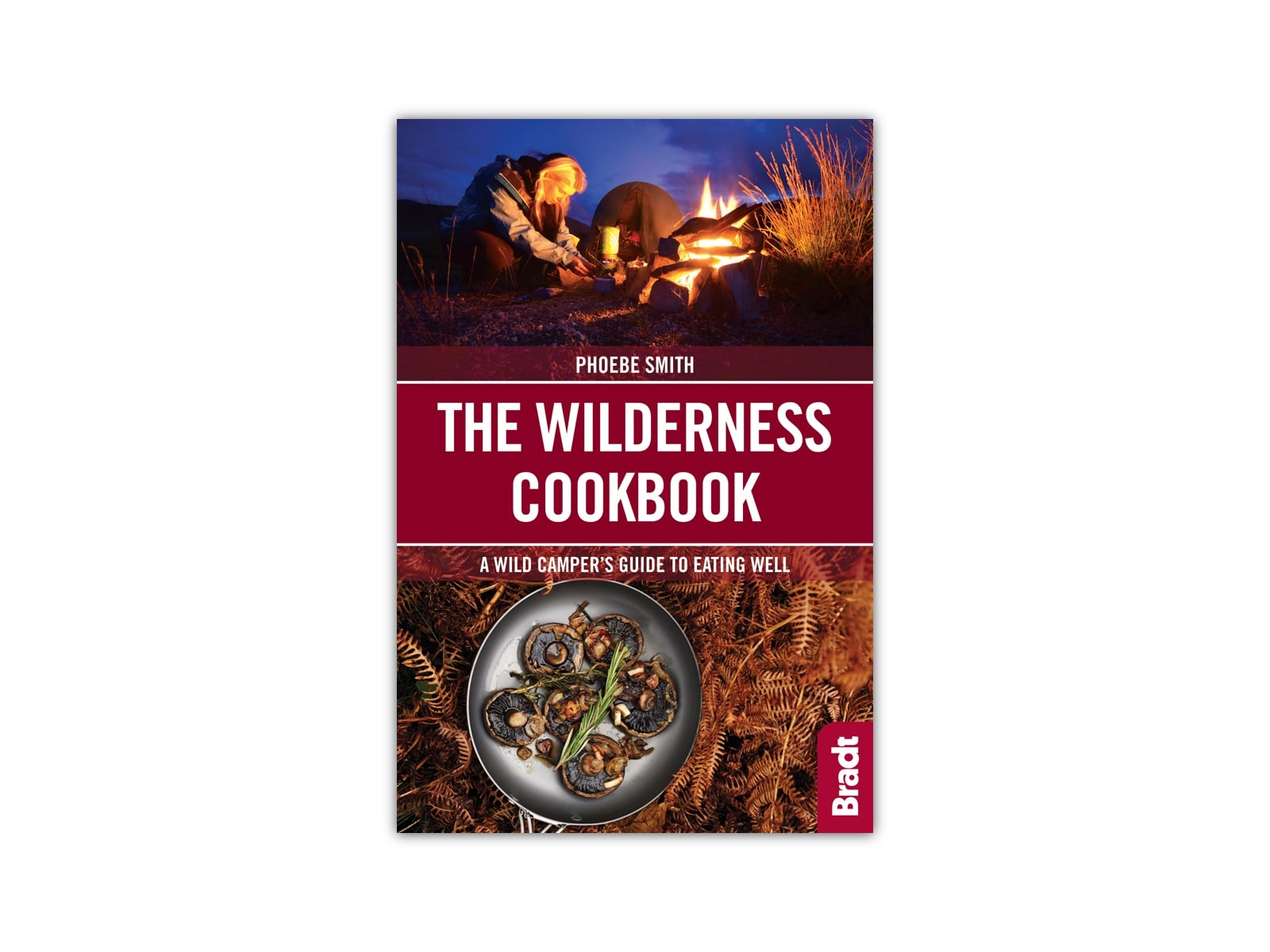 Here are some tips and recipes from Phoebe Smith's new book to whet your appetite.
---
Finding & creating the perfect camping kitchen
By Phoebe Smith
My expectation, given that you are reading this book, is that you are planning on 'going wild' with your cooking, rather than 'cheating' in a campsite offering such luxuries as sinks, running water and rubbish bins merely feet away! Assuming that to be the case, here are some features to think about when looking for the perfect camp/cook spot:
1. Ground
Look for level ground on which to position your camping stove. Ideally, place it a little distance away from your tent, just to be safe. Never ever cook inside your tent!
2. Outlook
A good view is mandatory!
3. Wind
If the weather is bad then look for natural wind blocks to shelter your stove. In some terrain, your tent and/or body may be best placed for this job.
4. Water
If there is a water source available, then it's handy to park yourself within a reasonable distance. Doing so means you can quickly source water for cooking and cleaning. But don't go too close, particularly to still waterbodies, as water can be a breeding ground for midges.
5. Set up your waste collection first
There's little more annoying than getting stuck in to your cooking then having nowhere to put the handful of rubbish you generate. So get a rubbish bag ready before you even start chopping that aubergine. In woodland, hang it from a tree; in open landscapes, use a convenient bush or hold it down with a rock to stop it blowing away.
6. Set up a 'prep' station
Lay out your raw ingredients on an empty dry bag or a plate. Read through the recipe before starting. Check all your required utensils are close to hand. Then chop all that needs chopping and slice all that needs slicing, and grease all that needs greasing (as these will be hard to do once cooking proper is underway).
7. Get cooking!
8. After you've eaten…
Don't be lazy and simply crawl into your sleeping bag – no matter how tempting it is to 'wait until the morning'. First, pack away excess food, clean the pots and bag your rubbish.
The recipes
1. Chickpea & kale one-pot stew
Bursting with flavour and packed with protein, this single-stove stew proves that a dish with kale is more than just a temporary fad.
Ingredients
1 tbsp olive oil
Pinch ground cumin
Pinch paprika
Pinch of cinnamon
1 small onion, chopped
2 garlic cloves, chopped
50g canned chickpeas
50g curly kale, stalks removed 2 tomatoes, chopped
100g passata
Here's the plan…
Turn on the camping stove, heat the oil in a pan until it bubbles. Add the spices and sizzle for a few seconds, stirring, then add the onion, cover and cook until the onion starts to brown, stirring occasionally.
Add the garlic and stir. Reduce the heat and cook for a couple of minutes then add the chickpeas and kale.
Stir until the kale begins to wilt and then add the tomatoes. Heat for 2 minutes, then pour in the passata. Leave to simmer for as long as you can (at least 10 minutes) and then serve.
2. Real ale pancake
Forget the milk and substitute with a good craft brew – for an indulgent and apt mountain treat.
Ingredients
60g plain flour
2 tbsp caster sugar
1⁄2 tsp of baking powder
Pinch of salt
1 egg
125ml real ale (preferably local to the mountain you're on)
Knob of butter or cooking oil spray (page 17)
Whipped cream, or butter and sugar, to serve
Plus Spatula
Here's the plan…
Place all the ingredients, except the butter or oil, into a bowl and stir well to form a smooth batter.
Turn on the camping stove and add the butter or oil to a frying pan. Heat over a high heat and once bubbling pour the batter into the pan.
Heat for a few minutes, using a spatula to loosen the mixture around the edges to ensure the pancake doesn't stick. When the mix begins to bubble, flip it and cook the other side, then flip several more times to ensure even cooking (it's all about showmanship!), then serve.
The Wilderness Cookbook: A Wild Camper's Guide to Eating Well is published by Bradt Travel Guides, available from 19th November 2018.
Header image © Liz Seabrook