Are you an advocate of carrying 'the kitchen sink' to cater for every eventuality on the hill? Or do you prune the contents of your pack down to the bare minimum to save lugging excess weight around? Heather Morning, Mountain Safety Advisor with the Mountaineering Council of Scotland, shares her thoughts on striking the right balance in winter
---
I am a strong advocate of only carrying what I need. Let's face it, if you end up taking a tent "just in case", there is a strong argument you are more likely to need it! Carrying a big, bulky weight on your back is going to slow you down, drain your energy and possibly increase the likelihood of an injury – perhaps losing balance, slipping or even getting blown over. Conversely too little equipment could result in disaster if the worst case scenario happens and you don't have an essential piece of kit.
Do your research and take a careful look at the weather forecasts prior to your trip to the hills – I would recommend the Mountain Weather Information Service and the dedicated Met Office Mountain Weather site both of which give you detailed weather information for the summits.
In addition, take the time to learn from other people's experiences – the Scottish Avalanche Information Service has great blogs that are worth checking out if you are heading into the Scottish hills. These blogs provide up-to-the-minute visuals and descriptions of the latest conditions. Research regarding wind speed, temperature and underfoot conditions should give you a good handle on what to wear and what to take with you. As an absolute golden rule, I would always have a bivvi bag and a synthetic duvet jacket stashed away in the bottom of my rucksack just in case of that 'worst case scenario', along with a first aid kit, spare gloves, extra layers, a hot drink, mobile phone and snacks.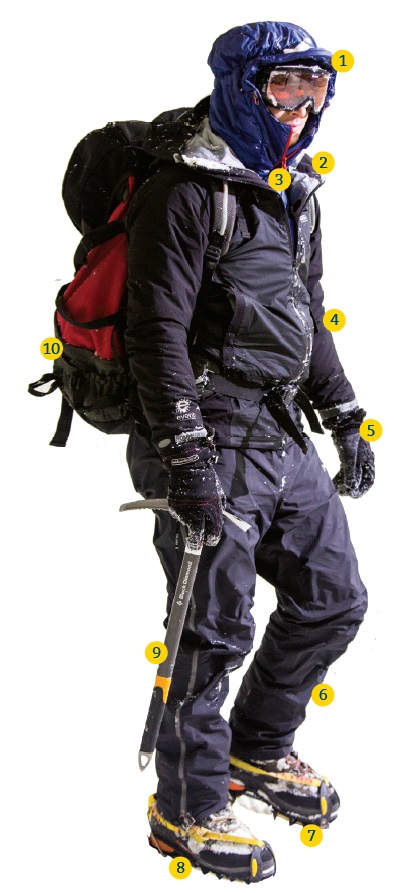 1. Ski goggles
Will protect eyes and face from wind-blown snow. A yellow or amber tint can make it easier to pick out snow forms in whiteout conditions. In bright sunny weather, goggles or wraparound sunglasses will shield the eyes from UV glare reflected from the snow.
2. Balaclava, scarf or Buff
Can be pulled up to stop your face from freezing.
3. Insulated mid-layer
A lightweight and packable down or synthetic fill mid layer will provide essential warmth. This one has a hood.
4. Shell jacket
Although a softshell will cope with much in winter, at some point you're likely to descend below the freezing line (or it will rise up to meet you) so a waterproof hardshell is more suitable for many UK winter days. The hood should cinch down snug in a storm, and pockets should be big enough to hold a map and compass, a couple of snacks and any other bits and pieces you need quick access to.
5. Gloves
Warm, windproof and dextrous even with liners underneath. Gloves tend to get wet in winter (or blow away if you're not careful) so have at least one spare pair in your pack as well. Big, insulated mitts are good for extra warmth – pile and pertex types are good value and robust.
6. Shell trousers
These should be able to be tightened around the ankles to avoid snagging on crampon spikes. Full-length zips make them easier to take on or off over boots and crampons, and reinforced instep patches protect against accidental crampon damage.
7. Boots
Warm, waterproof, comfortable to walk in all day, with good edges and a heel step for security on snow. It's essential that they're compatible with your crampons – a stiff sole and heel welt help here.
8. Crampons
Those pictured are semi-step in with a heel clip and toe straps. 12 points including two horizontal front-facing ones make them suitable for steep ground.
9. Axe
Carried in the hand on steep or slippery slopes, tucked safely away, either on the pack or between the shoulders and the rucksack when not needed.
10. Pack
Things placed on the ground in winter tend to blow away, so your pack should be large enough to rummage around in without needing to remove everything to get to what you need. You'll be carrying a bit more kit than in summer, so 35–40 litres is a good minimum size for a winter daysack. Strap ends should be captured so they can't whip about and catch you in the face (that really stings).