Audiobooks make great bothy companions – but be careful what you listen to, says author John Burns
Most backpackers and bothy-goers will want to pack some form of entertainment to keep themselves occupied during those moments of downtime. After you've set up your tent or unrolled your sleeping bag in the bothy, after you've cooked something to eat, there's nothing better than relaxing and forgetting about the rigours of the trail for an hour or two.
Music is a popular choice, but if you're a book lover than hill time can make great reading time. Some walkers are starting to appreciate the benefits of audiobooks:
You don't need a light source.
You don't need to prop yourself up at an angle to read from a page or a screen.
Because your phone's screen is off, audiobooks are much easier on battery life than reading an e-book on your phone (although a dedicated e-reader usually has very long battery life).
Just like e-books, you can fit a large number of audiobooks on your device – but unlike e-books, audiobooks can be loaded onto any MP3 player, many of which are compact, cheap and ultralight.
The experience of listening to an audiobook is very different from reading text on a page. The narrator's voice adds an extra emotional dimension, and audiobook lovers often report that it's more immersive – like something halfway between a book and a film.
If you haven't given them a go already, audiobooks are worth trying next time you head into the hills. But, as author John Burns tells in this short story, it's worth paying extra attention to the genre you choose to load up on your MP3 player…
---
The Bearnais Horror, a short story by John Burns
I lean against the rough stone wall of Bearnais bothy and stare out at the rain from the porch as hefty droplets leap gleefully down my neck. I am a lover of wild, remote places, and usually revel in the unpredictability of the weather, but today the grey drizzle that saturates the landscape dampens even my enthusiasm.
I haven't spoken to another person for three days and have been looking forward to walking out to the little Highland village of Lochcarron to enjoy renewed contact with my fellow humans. The only things I've met over the last three days walking across this high, windswept landscape are sheep and deer – and their conversation is limited. The thought of trudging out through the cascades of rainwater fills me with dread.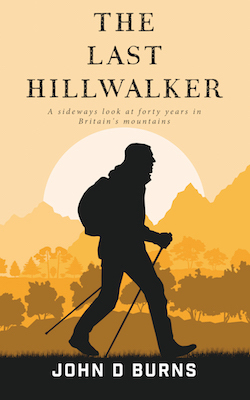 I pick through my remaining food. A few bits of pasta, a tin of tuna, a few teabags; just enough to sustain me through one more night so that I can walk out in the dry the following day. I'm sure the weather forecast is promising for tomorrow. Inside the bothy it is dry at least. But it's also silent, and I crave the sound of a human voice. Then I remember I have an audiobook I haven't listened to; so, even though my phone has no signal, it can keep me company.
I'm not normally a fan of the horror genre, but the dark tale told by the narrator slowly draws me in. It's about a man alone in a cottage who is slowly becoming convinced that there is something else in there with him, something dark and mysterious. I listen intently, my mind focused on the headphones, shutting out the sound of the rain as the narrator tells of the man searching in every room for the source of a strange moaning sound, the cry of a terrified creature.
I hear the narrator's voice capture the growing tension as the hero grows ever more convinced that he is being watched from the shadows. I hear the story of this awful presence coming ever closer. What I do not hear, cocooned in my earbuds, is the bothy door open as a fellow walker enters, saturated from the storm. I don't hear his cheerful "hello" from the bothy door, or his footsteps as he approaches me from behind. I'm unaware of his presence until he places a cold, wet hand on my shoulder.
In the village of Lochcarron they cannot agree. Some say it was the cry of an enraged golden eagle; others that it was the call of a stag. There are even those who say it came from the mouth of a beast, half man, half bear. What they all agree is that on that day, as the rain cascaded down, they hear the distant moaning cry of a terrified creature.
I don't listen to horror audiobooks in bothies any more, preferring lighter tales, and now I always sit facing the door.
---
John Burns is the author of The Last Hillwalker and Bothy Tales. He has recently published The Last Hillwalker, his first book, as an audiobook available via Amazon/Audible. TGO readers can listen to a sample of his audiobook here.
Full disclosure: Alex Roddie, TGO's Online Editor, edited both of John's books and continues to work with him. However, he receives no financial compensation after the books have been published.