The Zonda 4EP sits purposefully at the 'family camping tents' end of the spectrum. At nearly 30kg this is not a backpacking tent – but it is exceptionally well-designed and well-made.
The shape is a simple, large rectangle and it has a relatively modest footprint as a result, despite the roomy living quarters internally. There's ample headroom and three living spaces – a four-person sleeping area with a subdivision to create two rooms, both with plenty of leg room, a floored living space and a much larger porch (which can be left floorless for wet gear and cooking, or floored using the supplied groundsheet).
Anyone with kids will understand the benefits of dark fabric in the sleeping space, and there are plentiful pockets both inside and outside this area, as well as lantern hanging spots.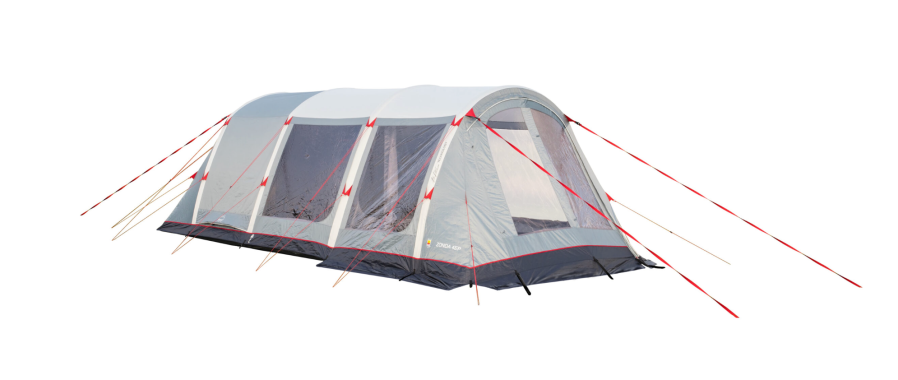 There are numerous windows. The porch and living 'room' have one door each, and the latter can be tied up to create a mini awning.
Features-wise so far, so good – but it was the build of the shelter that really impressed. A long, high tent is liable to act as a sail, especially at exposed, beachside sites, but all pegging points are burly, 1in Dyneema and there are 13 guylines that run down each side and the rear (sleeping end) of the tent. There are also four 1in Dyneema storm straps – two at each end – to really pin this to the ground.
There are no poles as such – instead, one inflates four 10cm diameter chambers using the supplied pump to 7psi. I was sceptical but they seem very wind-resistant, and repair materials are included in the case of punctures. Even the supplied pegs seem especially tough. All zips have chunky ring pulls.
The fly hydrostatic head is more than enough to keep rain at bay and the groundsheet is thick and should prove very durable. PU-treated polyester fabrics are less breathable than silicone-treated ones but there are vents on three sides of the sleeping area and another four in the living area.
The manufacturer warns of possible condensation, but there is several centimetres of clearance between the inner and outer
at the sleeping end, and we weren't troubled by any.
The Zonda is very heavy and expensive, but otherwise I cannot fault it. It's clearly been designed with young, active families in mind and it makes a fantastic base camp.
Flysheet: 150D PU-coated, polyester ripstop PU 6000mm, fire-retardant | Inner: 68D breathable polyester, fire-retardant|  Groundsheet: 120g/m2 polyethylene, fire-retardant | Poles: 10cm diameter Air Flex poles | Pegs: supplied with 54 pegs, 3 types | Porches: x1, 240cm x 3m | Inner: 2 sleeping areas (removable partition): each 205cm long x 140cm wide, height 195cm | Living room area: 180cm x 3m, height 210cm; 1 cooking area/porch (supplied with removable groundsheet): 240cm x 3m, height 210cm.
Price: £1350 with carpet and footprint, £1,155 without
Weight: 29kg
More info: terra-nova.co.uk