While this tent from Robens might have an old-school look to it, it's actually fairly high-spec, and it has loads of handy features to make a night out a bit more comfortable. 
Instead of that heavy (and often quite smelly) canvas material that you'd normally associate with bell tents, the Klondike is made from a polycotton that's hard wearing, surprisingly light, water resistant and very breathable. The zip-in groundsheet is a 210T Oxford polyester, with a 10,000mm hydrostatic head. It's thick, heavy and I've found it to be reliably waterproof. The telescopic main pole and the U-shaped pole that forms the door arch are made from anodised aluminium.
I've used this tent a number of times now and I love it. I think it's absolutely excellent. 
Pitching it for the first time was relatively straightforward. There are instructions in the pack, but I chose to follow some instructions from a handy video I found on Youtube. I called upon the help of my partner for the first pitch and have been able to put it up alone ever since, though it definitely helps to have an extra pair of hands. 
Inside, it really is cavernous, with plenty of space to stand up and to move about in. Four people would sleep comfortably in this. Six would be doable but a bit of a squeeze. Bear in mind that it's all 'open-plan' inside though you can purchase an inner compartment to split things up. 
Performance
I've found it to be very sturdy and reliable for a family-sized tent, even in strong winds, thanks to the numerous guying points throughout and the tried and tested design. Moisture ingress has never been an issue for me, and, while the sides do get slightly wet inside in heavy rain, the moisture doesn't drip down the walls. That's all thanks to the polycotton material – which also does seem to let the tent breathe, preventing any clamminess inside.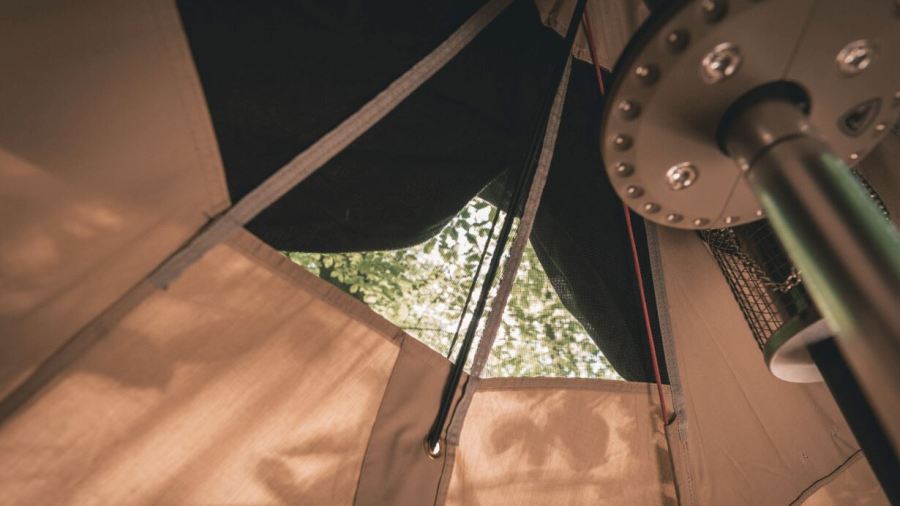 Nice details include: chunky zips; thick guylines; mesh-lined windows right along the base that you can open up to let more light in, or to increase airflow through the tent; a hood/socket at the roof that allows the integration of a stove pipe and there are large vents throughout. There are lots of extra Klondike accessories that can be purchased separately too, including a fleece carpet, porch tarp, a footprint and organiser pockets. 
Other things to know
The sack that the tent comes in is just a large polycotton bag with a drawcord toggle and webbing straps and there is a bit of a technique to getting the whole thing packed into it. I'd recommend turning to Youtube again there. Once you've got the method dialled, packing up becomes pretty easy. 
Bear in mind that the fabric takes a fair bit longer to dry out than standard tent fabrics. I had to pack the tent down while it was wet once, meaning I had to re-pitch it to dry out at the other end of my journey. That's to expected from this kind of tent though.
At £980 the Klondike isn't too cheap – not so many family tents are. At least with this, however, it's the kind of thing that will last a long, long time if you look after it. It'll be much easier to repair than standard tents as well, should an accident ever happen.
Price: £980
Weight: 16.7kg
More info: robens.de