Alex Roddie taste tests the REAL Turmat Pulled Pork with Rice dehydrated meal, a meaty portion that comes with a price.
Another Scandinavian brand, REAL Turmat is known for hearty meals with a bit more chunkiness than you'll find from other brands (I'm particularly fond of its reindeer stew). This is achieved thanks to its Drytech freeze-drying technology – another method of preservation that aims to retain the food's original characteristics.
Price: £9.99
Weight: 155g
Pros: High energy, superb flavour and texture
Cons: High cost
Rating: 4/5
Calories: 700 | Calories/100g: 452 | Calories/£1: 70.07 | Time to hydrate: 8 minutes | Vegetarian/vegan: no | Allergens: soy sauce
REAL Turmat meals are also vacuum-packed. All the air is removed from the packaging, reducing its bulk, although this can actually make them slightly more awkward to pack in your rucksack as the packets are hard rather than pliable, and don't stack together as easily.
My other minor packaging gripe is that calories/100g are displayed far more prominently than the (more useful) calories per pack, which can be confusing when you're tired at the end of a long day. This is another brand with a secondary tear point for ease of eating, although it's closer to the top than other brands tested, and I found a long-handled spoon essential.
This pulled pork with rice offers a respectable 700kcal per pack, it's gluten- and lactose-free, contains no palm oil, and the meal rehydrated very quickly – it was fit to eat within 5 minutes. Flavour was delicious and the pulled pork retained its texture admirably.
It was a very satisfying meal, although I note that the ingredients list is quite long compared to some other meals tested and contains a few (natural) additives such as rapeseed oil and ascorbic acid. The cost is high, but if you like a meaty meal after a big hike then this is a fine choice.
See more reviews of the best backpacking meals as tested by The Great Outdoors' expert testers.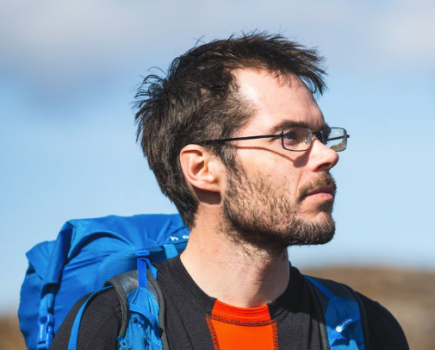 Tested by Alex Roddie
Alex tasted these meals out in the mountains whilst backpacking or fastpacking. Although trail hunger is the best sauce, he also finds that real-world testing is essential for checking out whether meals agree with him after a big hill day – as well as for testing details such as how glove-friendly the pack opening is. This review was originally conducted in July 2022.