The Dash 5 is an economical family tent option, and it's designed with formal campsites and small families in mind. It's a traditional three-hooped pole, tunnel-style arrangement, and therefore easier to pitch with two people in attendance.
The darkened sleeping area can be split into two, and offers reasonable height and width, but taller people may find the sleeping space a little on the short side. I'd suggest it's more comfortable for three to four people, rather than five. There are three internal pockets in each berth.
The porch has a single, large front door, plus several windows – I'd prefer to see a side door in addition on a tent of this type, as it gives more pitching and privacy options on busier sites. However, the porch is a very useful size, and accommodated a foldable table with chairs as well as another single chair, plus plenty of cooking gear and a few rucksacks, whilst the Scottish spring weather did its worst outside.
That weather more than proved the waterproofness of the flysheet; and a long, single rear vent meant we suffered no damp through condensation, either.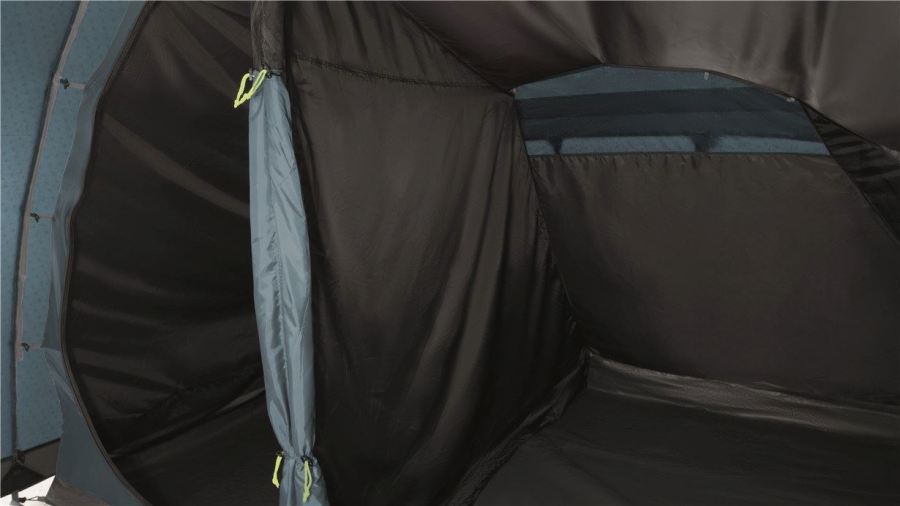 There are 12 guying points, which more than proved their worth in the high winds we experienced, although there were not enough pegs supplied, and I'd recommend replacing at least some of the cheaper aluminium ones included with stronger Y pegs.
As part of our tests of the latest family camping tents, we really put the Dash 5 through its paces during our Easter trip, and from a design point of view it has the capacity to be a good small family option, but our particular test sample suffered from what we believe was a poorly cut porch. This put the front pole under undue strain and led to a damaged section (easy to replace with the spare supplied) and subsequently, a burst seam on a corner pegging point (not so easy to repair). The fault was reported, and the brand has since renewed its quality control and dispatch checks.
Flysheet: 100% polyester, 3000mm hydrostatic head | Inner: 100% breathable polyester | Groundsheet: 100% double-coated waterproof polyethylene | Poles: 3x fibreglass | Pegs: 23 round aluminium supplied | Porch: x1, 210x 280cm, 195cm height, optional groundsheet | Inner: x2 sleeping areas (removable partition): 1: 210x150cm, height 150cm, 2: 210x120cm, height 150cm
Price: £348
Weight: 1.10kg
More info: outwell.com