Chris Townsend sees how suitable this smartphone is for the outdoors
Following my review of the Find X5 Pro smartphone, Oppo asked me to try the lower spec and lower cost Oppo Reno 8 Pro. As with the Find X5 the phone was supplied for review as a camera and described as "tailor-made for lowlight photography, perfect for snapping nature, trails, and memories on your outdoor activities, whatever the weather" so my review is based on how it performs as a camera and a phone for the outdoors.
I've been using the Reno 8 Pro for the last two months on low- and high-level walks in the Cairngorms during which I've taken hundreds of photographs and shot half a dozen videos in every sort of weather and lighting conditions. I've also used it for navigation, posting to social media, checking websites (mainly weather forecasts), reading e-books, and even as a phone. It does all of these fine.
Design & Construction
The Reno 8 Pro has an aluminium frame, a Gorilla Glass 5 screen and a glass back, available in black or pale green. Gorilla Glass 5 is okay for durability, but three new versions have appeared since it was launched so there are tougher screens available. The phone is quite slippery and slides off smooth surfaces.
The phone has an IP 54 rating, which means it should keep out most but not all dust and is resistant to water splashes but isn't waterproof. I haven't used a case but I have treated the phone more carefully than ones with an IP 68 rating – fully dust and waterproof – and tougher Gorilla Glass like the Find X5 Pro.
For long-term use, I think a protective case would be a good idea to protect against drops, dust and water.
Display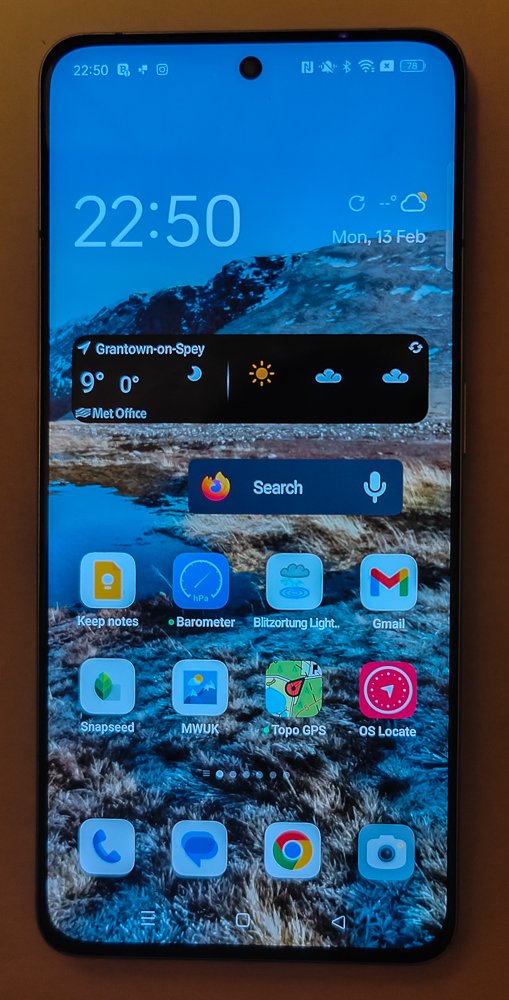 The 17cm (diagonal) screen just about fills the front of the phone. It's bright and easy to see even in sunlight and the response rate is fast. The colours are good.
Software & Storage
The Reno 8 Pro came with the Android 12 operating system but has since been updated to Android 13. On top of this is Oppo's ColorOS which has various features that I didn't find particularly useful but which aren't as obtrusive as those on some phones.  There's also the usual ready-installed software, including stuff I'd never heard of. Any that are unwanted can be easily deleted.
The internal storage is a big 256GB. This is good as there's no micro-SD slot so it can't be increased. I have all my photos and videos, two mapping apps with downloaded maps, and various other apps on the phone and have only used 42.4GB. More photos, more mapping, and, especially, longer videos could soon fill up much more so downloading photos and videos to a computer every so often is a good idea to free up space.
Battery
The battery has a capacity of 4500 mAh, big enough to last over a day with careful use though not as long-lasting as the 5000 mAh battery on the Find X5 Pro. The phone comes with a superfast charger and using this it takes less than an hour to go from no charge to full charge, which is extremely fast. This is great when you have access to an electrical socket. In the hills with a portable battery pack charging time is similar to other phones.
Cameras
The Reno 8 Pro has a rear camera with three lenses and a front selfie camera. There are many options, including a Pro mode in which you can adjust the settings manually and view the histogram.  The Pro mode is useful for contrasting light but fiddly to use, especially with cold fingers. There is no option for shooting raw files.
The three rear lenses are a mix of good and poor. The main lens is fine. At 23mm full frame equivalent it's a wide angle one, as usual on smartphones. There's also an ultra-wide angle lens that's okay in good light but not up to the standard of the main lens.
Then there's a macro lens that's best forgotten. It's difficult to use as the depth of field is so shallow and results are poor.
There's no telephoto lens, which is disappointing. There is a digital zoom which goes up to 20X. Above 2x the results aren't very good however and above 10X is really not worth using. I had better results cropping images taken with the main lens.
The front selfie camera is the same as on the Find X5 Pro and works well.
None of the lenses are stabilised, which I think is a big drawback for handheld, low-light photography.
A shutter grip makes holding the camera steady easier. I'd definitely get one for this camera.
Photo Quality
The image quality from the main and selfie cameras is good in bright light. The phone captures detail well, especially with objects in the foreground. Distant ones tend to be less sharp. Low light images varied, mostly due to how steady I held the phone. Some are okay, too many are soft and mushy. I really missed the stabilisation of the Find X5 Pro. It's spoilt me!
On a small phone screen most of the images look okay as long as you don't zoom in. On my 68cm computer monitor the difference between the main and selfie lenses and the ultra-wide angle lens is noticeable with noise and softening noticeable in images from the latter.
Video
Videos come out well, as long as you turn on the Ultra Steady option (it's not on by default). I took handheld videos while standing still and moving and they look fine. As with the still cameras, there are many options and it's worth experimenting to get results you're happy with.
Conclusion
The lightweight Reno 8 Pro is a good but limited phone camera with two good lenses and two not so good. For video it's fine. It's not as tough as I'd like for a hillwalking camera though. This isn't a rugged phone. The heavier Find X5 Pro is much tougher and also better as a camera. But it does cost almost twice as much. However, there are phones that cost considerably less that are tougher, and have adequate cameras.