Chris Townsend is impressed with the camera on this phone.
This review of the Oppo Find X5 Pro Smartphone was first published in September 2022.
Smartphones have quickly become the standard cameras for most people, on and off the hills. Responding to this companies now compete to produce the phone with the best camera. Perhaps we should think of them as cameras with a phone attached rather than the other way round. Of course these tiny computers do more things as well, the other common use in the hills being for navigation. This is dependent as much on the app as the phone though and there's little difference between how different phones perform this function.
The Oppo Find X5 Pro was supplied for test on the basis that it has 5-axis stabilisation for shooting steady video and still photographs rather than as an actual phone. Oppo says this is "the industry's first mobile device with SLR Level stabilisation".  To find out just how good it is as a camera, and how suitable it is for outdoor use, I've taken the Find X5 Pro on every walk since it arrived in late May. I've taken well over 300 photographs and shot half a dozen short videos in every sort of weather and lighting conditions. I've also used it for navigation, posting to social media, checking web sites (mainly weather forecasts), reading e-books, and even as a phone. It does all of these fine.
Design & Construction
At a glance the Find X5 Pro is a typical black slab, perhaps a bit shinier than other phones. The back is a little different though as the camera unit, set in a top corner. Is raised up, supposedly to make it less likely you'll touch the lenses with your fingers. I found this is the case when holding the phone but not when removing it from a pocket.
The phone has an aluminium frame, a tough Gorilla Glass Victus screen and a ceramic back, available in black or white, that's said to have better scratch and crack-resistance than glass. The ceramic has also been sculpted to wrap round the sides of the phone to create a smooth curved design. This back looks smart but there are two problems. A minor one is that it's a fingerprint magnet so if you want to keep it looking smart it needs wiping frequently. More serious is that it's very slippery, easily sliding off most surfaces or out of your hands. I've dropped it a few times (unintentional testing for durability!). No harm has been done and I soon got used to holding it more securely and being careful where I put it down. However, I recommend a protective case, even though it will hide that lovely ceramic.
As well as being made from tough materials the Find X5 Pro has an IP68 rating, which means it's dustproof and waterproof.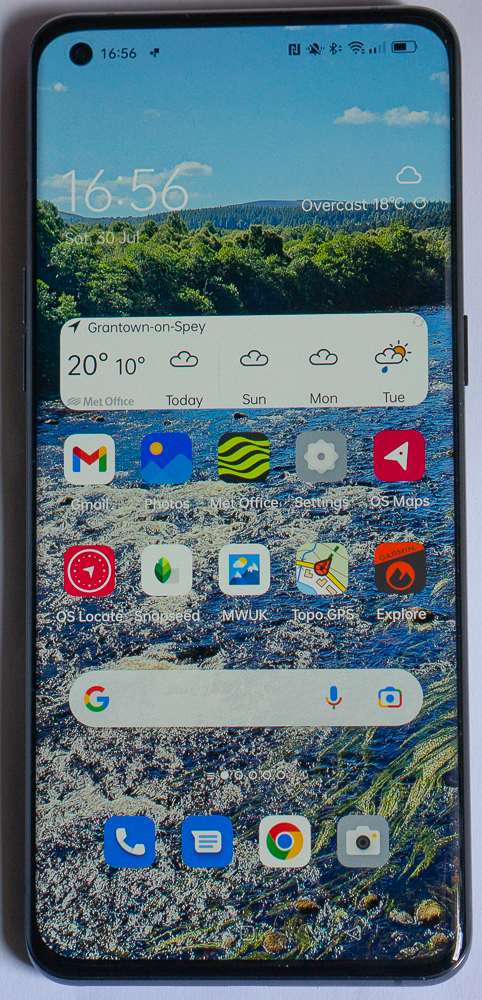 Display
The 17cm (diagonal) screen just about fills the front of the phone. It's bright and easy to see even in sunlight and the response rate is fast. The colours are good.
 Software & Storage
The Find X5 Pro comes with the Android 12 operating system. On top of this is Oppo's ColorOS which has various features that I didn't find particularly useful.  There's also a mass of bloatware – Facebook, Amazon Shopping, TikTok and others I'd never heard of – but any that are unwanted can be easily deleted.
There's a big 256GB of storage. I have all my photos and videos, two mapping apps with downloaded maps, and various other apps on the phone and have only used 19%. Of course more photos, more mapping, and, especially, longer videos could soon fill up much more. As there's no micro-SD slot the storage can't be expanded so downloading photos and videos to a computer or laptop every so often is a good idea to free up space.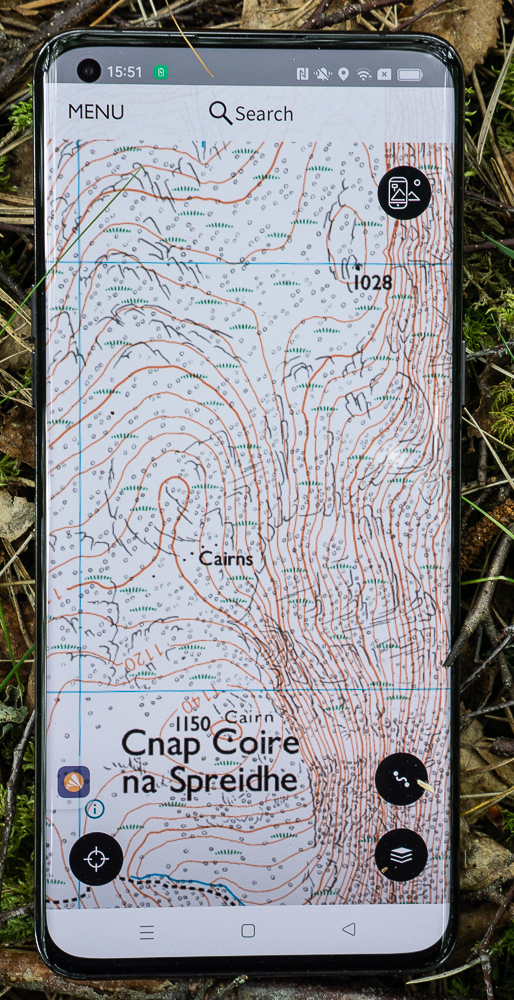 Battery
The battery is 5000 mAh, big enough to last a couple of days with careful use. The phone comes with a superfast charger and using this it takes less than half an hour to go from no charge to full charge, which is extremely fast. On any trip where I'd have frequent access to electrical sockets I'd take it with me. It weighs 162 grams so I wouldn't carry it otherwise. With a portable battery pack the phone takes several hours to fully charge, much the same as other phones.
Cameras
The Find X5 Pro has a rear camera with three lenses and a front selfie camera. It's a sophisticated camera with much the same features as a good quality standalone camera (more than my camera in fact) including a Pro mode in which you can adjust the settings manually, view the histogram, and shoot raw files as well as JPEGs. Oppo has also partnered with top Swedish camera maker Hasselblad, whose name is on the back, to improve the colour of images. The Pro mode is useful for contrasting light – I sometimes used it when the results in standard mode didn't look quite right – but I didn't find shooting in raw and processing the results in software made much difference to images taken in more even light and adjusting settings on the phone screen is much harder and more fiddly than with dials and buttons on a camera.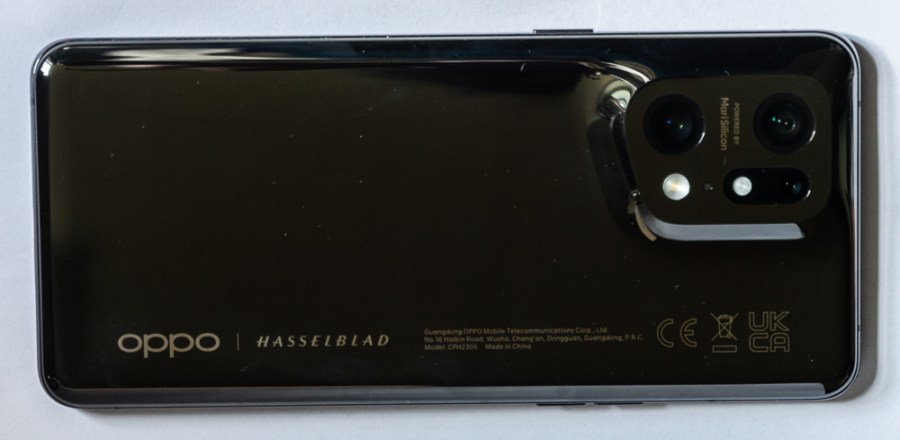 The three rear lenses are a mix of superb and disappointing. Luckily two are the first and only one the second. The two superb lenses are a wide-angle (25mm full frame equivalent), which is the main lens and the only one with five-axis stabilisation, and an ultra-wide angle (15mm equivalent), both 50mp. The third lens is a telephoto, or at least that's what Oppo calls it. The focal length is only equivalent to 52mm however, which would be a standard lens on a full frame camera. It's only 13mp too. There is a 20X digital zoom but as with all such zooms the quality quickly deteriorates. In fact I had better results cropping images taken with the standard lens. The front selfie camera is 32mp and wide at 21mm equivalent. Only the main wide-angle lens has five-axis stabilisation, something to remember when taken hand-held shots in low light.
Photo Quality
I'm impressed with the quality of the images. They are certainly the best I've seen from a phone. The main and ultrawide angle images are sharp and clear. Those from the telephoto are okay in bright light but somewhat noisy and less sharp in low light. The selfie camera is good too, and it has two options. With the wider one more than one person or else some background can be included. Colours from all the lenses are bright and punchy, perhaps a bit too much at times. However adjustments can be made in the phone software to get the colours you prefer. I also made minor adjustments to some of the images on the phone in Snapseed. The phone captures detail well, especially with close-ups – there is a macro option.
On a small phone screen virtually all the images look fine. On my 68cm computer monitor differences start to appear, especially between the two wide lenses and the telephoto in low light. I compared images from the two 50mp lenses with ones from my Sony a6000 camera and the difference in shots taken in good light was minimal even when I zoomed into details. I also made two A4 prints of the same image taken with the phone and the camera and it's just about impossible to tell which is which. When I hadn't look at either of them for a few weeks I couldn't tell. Both are fine.
You can just treat the Find X5 Pro as an automatic point-and-shoot, but I think this is a waste of its capabilities. To get the most from it you need to delve into the various options and learn how to use them. This takes time – there are still ones I haven't done much with.
Video
Video is when the five-axis stabilisation really shows its worth. I took handheld videos while standing still and moving and they look fine on my computer monitor. As with the still cameras there are many options and it's worth experimenting to get results you're happy with. Again, the quality of videos is better than the mid-range phones I've used and more comparable with my camera.
Conclusion
The Find X5 Pro is a fine phone camera, especially for wide and extra wide-angle images. The limited telephoto is disappointing though. The camera is tough and suitable for rough outdoor usage. I haven't treated it gently. If you want good quality photos from a phone it's certainly worth considering. However, while you can just use the Find X5 Pro as an automatic point-and-shoot I think this is a waste of its capabilities. To get the most from it you need to delve into the various options and learn how to use them. This takes time – there are still ones I haven't done much with – but is well worth while.