Alex Roddie finds the LYO Expedition Vegan Barley and Lentil Risotto another deliciously unusual recipe that makes a welcome change from the norm.
One of the best backpacking meals I've tried in recent years is LYO Expedition's nettle curry, and this brand has a reputation for coming out with unusual recipes that make a real change from the norm when it comes to dehydrated meals, so I was intrigued to try its vegan barley and lentil risotto with avocado mousse.
Price: £8.99
Rating: 4.5/5
Weight: 128g
Pros: Excellent flavour and texture, top-quality ingredients
Cons: Poor calorie-to-weight ratio
Calories: 504 | Calories/100g: 394 | Calories/£1: 56.06 | Time to hydrate: 9 minutes | Vegetarian/vegan: vegan | Allergens: none listed
First impressions were very positive. The packaging is intelligently designed, with two sets of tear points (one at a lower level for ease of eating) and clear pictorial instructions for preparation. I found the 9-minute stated rehydration time to be conservative; it was adequately hydrated after only about 6 minutes.
For me – and I stress that this is subjective – this was easily the best-tasting and most satisfying meal on test. In terms of texture, the combination of lentils and pearl barley meant that the food had an excellent bite to it, whilst the hint of avocado was delicious after a long day in the mountains.
It surprised me by how good it was! Looking at the ingredients list, there are no artificial additives or preservatives whatsoever, and no palm oil.
The calorie count is low, so hungry hikers may want to pair this one with a dessert – I'd prefer a slightly heavier pack with about 200 extra calories. However, in my opinion the low calorie count is offset by this meal's superb quality.
The LYO Expedition Vegan Barley and Lentil Risotto got Alex's 'Best Buy' accolade. See more reviews of the best backpacking meals as tested by The Great Outdoors' expert testers.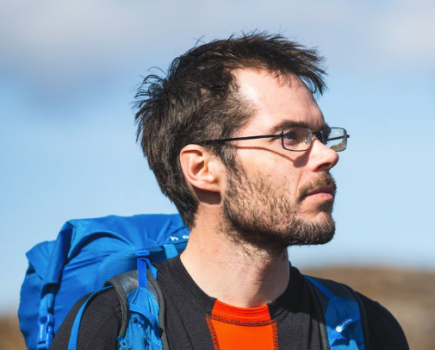 Tested by Alex Roddie
Alex tasted these meals out in the mountains whilst backpacking or fastpacking. Although trail hunger is the best sauce, he also finds that real-world testing is essential for checking out whether meals agree with him after a big hill day – as well as for testing details such as how glove-friendly the pack opening is. This review was originally conducted in July 2022.