The Octapeak is a pyramid-style (actually an octagonal shape, as the name suggests) tent and is one of only a handful of family tents or group-sized shelters that is of a weight suitable to backpack longer distances with.
My family have used it over the last 4 years for wild camping on foot or bike. It can be pitched inner or outer-first (an advantage in rainy conditions) and used with or without the inner. We have the standard F8A, which is bundled with a single, four-person inner (half solid, half mesh, with a shallow PU bathtub floor), but there are several other options available, with anything from hot tenting chimney ports to two inner vestibules.
The central sleeping space is huge, with enough room to (almost) stand upright in the middle, and a single pole hole (with a long gusset to prevent groundwater ingress) for the central support. Inside the inner, the four pockets aren't the best and there's a single hanging loop. 
There are two doors and two porches. These are ample for stashing rucksacks and hiking boots and can also be cooked in, although care is needed to do so if the doors are closed. The shelter vents are above the doors but we've yet to suffer condensation in the roof, or anywhere else. One disadvantage is that because of the sloping walls, driving rain can enter the inner when the doors are fully open.
There are 15 pegging points around the base of the shelter, and a further eight places to attach guylines. We currently have four guys attached, and high mountain camping would warrant the additional four. Zips have all proved very durable. It does need seam-sealing and I'd recommend the stronger pole (not supplied) and extra guylines, but don't let any of that put you off.
We tend to use it less at formal sites because of the smaller porch space, but otherwise the Octapeak is a superb-value, lightweight, flexible and robust family tent, which has withstood plenty of remote camps in all weathers on or below the treeline.
More info: luxeoutdoor.de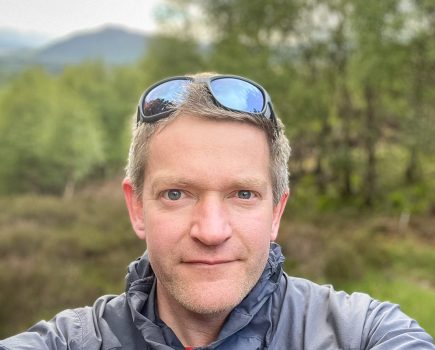 Tester and writer: David Lintern
David, our commissioning editor, is a hiker and photographer based in the Cairngorms of Scotland. His first feature for The Great Outdoors covered a walk across the Pyrenees in 2011 and he's been a regular contributor ever since.